The Most Unusual Places to Stay in Asia
Because normal is boring.
by Seph Montajes | June 14, 2016
Staying in a unique place has become the newest trend for vacationers all over the world. People find themselves wanting new experiences where they can be comfortable and entertained at the same time. If you're tired of seeing the same, typical hotel interiors, fret no more! Here's a list of quirky places to stay in case you catch yourself touring around Asia.
Hang Nga Villa (Dalat, Vietnam)
Accommodations cost around PHP2000.00/night
Also labeled as "The Crazy House", Hang Nga Villa is known to be one of the strangest hotels in the world. Just look at that architecture! Instead of rectangle buildings, you will find yourself inside brown, weird-looking treehouses. Animal statues and other unique interiors also surround the hotel. The place is perfect for fun yet nature-loving individuals.
The Henry Hotel (Cebu, Philippines)
Accommodations cost around PHP5000.00/night
The Henry Hotel is guaranteed to boost your creative juices! It's like a hotel and an art gallery in one. On the outside, it seems like an ordinary building but once you step inside, you'd probably be taken aback with all the color surrounding you. The lobby itself is already enclosed with art and the rooms contain pretty much the same vibe. It's like this: your usual furniture collides with burst of color and this place is the outcome.
Overwater Bungalow Family Villa (Sepang, Selangor, Malaysia)
Accommodations cost around PHP9000.00/night
This bungalow in Malaysia is located in Golden Palm Tree Resort & Spa. What's great about this is that you can jump directly from your terrace and dive into the tropic waters! The view is wonderful as you are surrounded by the unending sea.
Panda Inn (China)
Accommodations cost around PHP2000.00/night
If you're going on a vacation in China, on a low-budget, and have an obsession with pandas, then this is the perfect place for you! Those who have stayed in the hotel say that although it's cheap, the place is clean and welcoming. It's ideal for family trips and children will surely go crazy over the panda-themed interiors!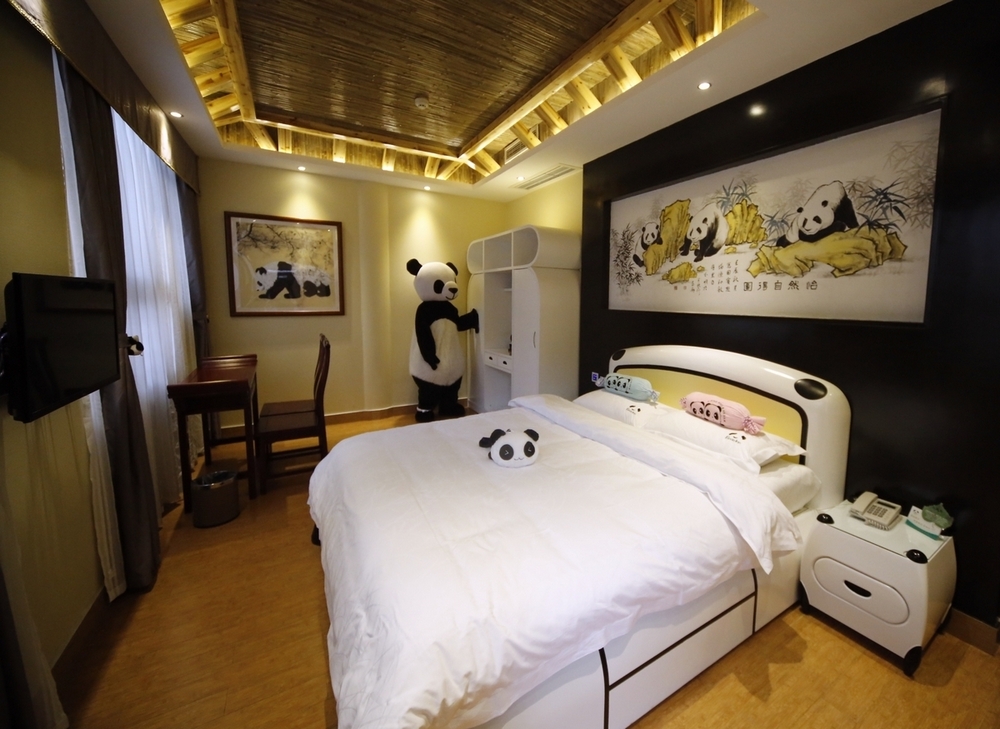 Bangkok Tree House (Greater Bangkok, Thailand)
Accommodations cost at least PHP5000.00/night
Looking for a place to stay that's really bound to make you feel like you're away from the city? The Bangkok Tree House is the one for you. This would be most enjoyable for couples who are in for a romantic and peaceful experience together. This place's architecture is like no other, and it will make you feel like you're really connected with nature.
Traditional Hanok (Seoul, South Korea)
Accommodations cost at least P8000.00/night
This place allows you to experience what it feels like to live in a traditional hanok. This hanok has been preserved since the 1930's and has been renovated only in 2012. The host of this particular Airbnb is said to be very welcoming as she exclusively shows her guests around the house and sometimes even in town. Although the place is not exactly budget-friendly, staying in a traditional hanok would instantly make one feel somewhat connected to South Korea's culture.
Kumbuk Hotel (Buttala, Sri Lanka)
Accommodations cost at least PHP9000.00/night
People all over the world visit this place because Buttala is an exclusively cultured place in Sri Lanka. While Wi-Fi is not available, you can do a lot of things such as going to the Yala Reserve to see peacocks, elephants and other endangered species. You can also check out one of the best surfing beaches in Arugam Bay, or you can simply stay in the hotel to relax, eat, and spend time with your loved ones.
Seaventures Rig Resort (Pulau Mabul, Malaysia)
Accommodations cost at least PHP19000.00/3 nights
Rooms are of standard quality, but no need to complain – that is not what you'll go here for. The oil rig-turned-resort has become a popular tourist spot for divers and non-divers all around the globe. Haven't tried diving yet? No need to worry as there are professional divers who can teach you there. All you need is a heart for adventure and an ecstatic frame of mind.
Also read:
6 of the Hippest Places to Stay in Baler
8 of the Hippest Accommodations in Baguio City
The Hippest Accommodations in El Nido, Palawan
4 of the Best Airbnb Beach Houses in the World