Visiting Palawan? This Rustic Cottage Offers Respite on the Outskirts of Puerto Princesa
Enjoy a good cup of coffee among coffee trees.
by Ina Louise Manto | April 19, 2022
Unless you fly to Coron or El Nido directly, chances are you're going to fly to Puerto Princesa first or include it in your Palawan itinerary when visiting the island province. Also known as the capital of Palawan, Puerto Princesa is home to the Underground River, Honda Bay, and various white sand beaches. To make your trip to the dreamy province even more memorable, try spending a night or two at Felice Cafe:
Felice Cafe
If you're the type of traveler who enjoys ending an adventure-filled trip with relaxing slow days, you'd find delight at Felice Cafe, a rustic cottage surrounded by coffee trees on the outskirts of Puerto Princesa. Perfect for tourists who simply can't get enough of nature and greenery, a stay at this cottage would let you wake up to the sounds of birds and the gentle breeze from the trees.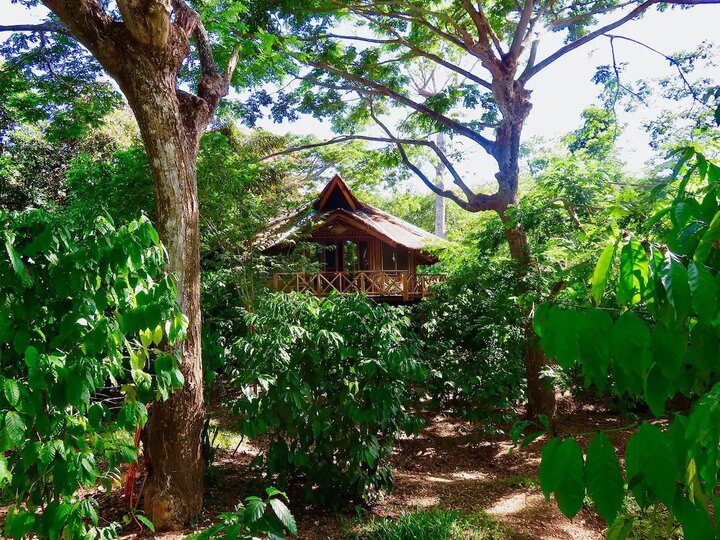 There's only one bedroom in this quiet nest, but it's spacious enough for up to a group of four guests. The cottage features local materials you'll typically find in bahay kubos such as nipa, bamboo, and wood. These materials also make the space feel homier and more relaxing, just like the feeling when you return to a childhood home.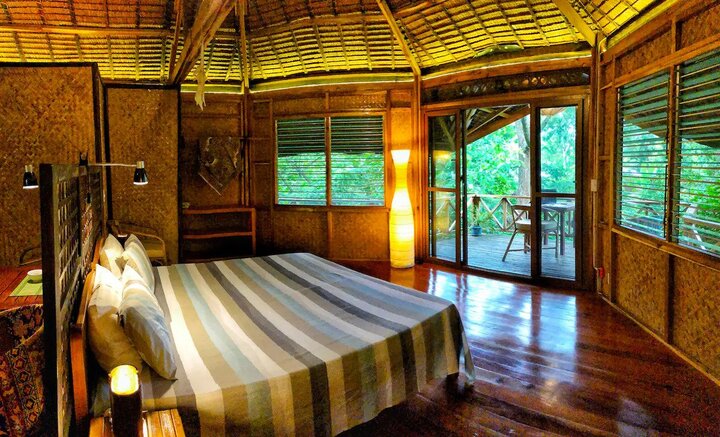 The main sleeping area has a double bed and floor mattresses and faces the front yard of the property. Separated by repurposed Capiz shell windows, the other side of the cottage has the dining area and kitchen. Felice Cafe will feel like just a home away from home. And don't worry about goods when you want to cook; you will still be close to establishments for quick errands!
Amenities
Appreciating slow days in nature is best as Felice Cafe's outdoor amenities, including the spacious veranda where you'll find a hammock and an alfresco dining setup.
The cottage is surrounded by coffee trees – you can enjoy their coffee on your private veranda or head to the outdoor lounging area by the pool and dive deep into a new read. When the weather gets hot in the afternoon, lazily float around the pool, which is shared with other guests.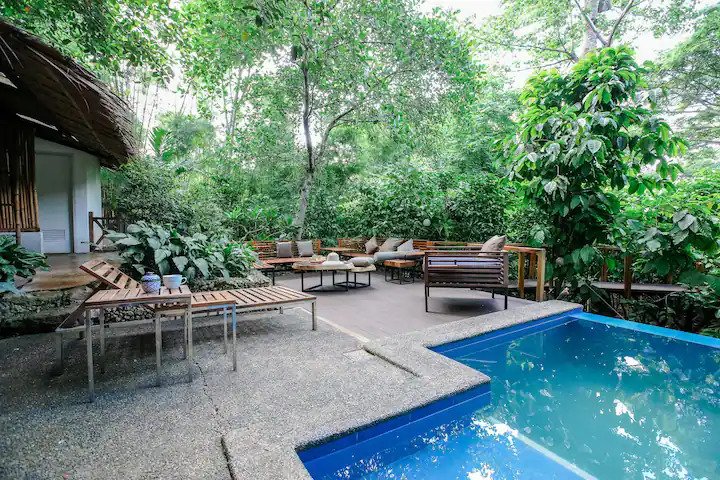 Rates at Felice Cafe start at P2,900 per night. Book your stay here.
Where to Stay in El Nido: Embrace the Island Life at These Stylish Airbnbs
Where to Stay in El Nido: Embrace the Island Life at These Stylish Airbnbs
Ina Louise Manto | Mar 31, 2022
For inquiries and more information, contact the Airbnb host.