Going On a Local Trip Soon? Here's How You Can Get a *FREE* RT-PCR Test
Available for a limited time only!
by Meryl Medel | November 03, 2021
As travel restrictions ease around the country, more and more Filipinos are planning trips outside their city. Still, many local government units require the negative result of at least a RT-PCR test before you can enter their boundaries, and this means another added line in your travel budget. But you're in luck, because we know a way you can get a free RT-PCR test this holiday season.
A project by Tourism Promotions Board
The board announced on October 29 that they would be offering *free* RT-PCR tests for travelers within the country. The free test is applicable for travelers — both Filipino and foreigners living in the Philippines — departing for a domestic leisure trip from November 1 onwards.
A limited offer


350 travelers per day can apply for and avail of the fully subsidized RT-PCR tests at the Philippine Children's Medical Center (PCMC) in Quezon City. The regular price of this test with PCMC costs PHP 3,577, so you'd be saving a lot if you get a subsidized test. So how do you sign up for this free test?
[read more]
Step 1. Register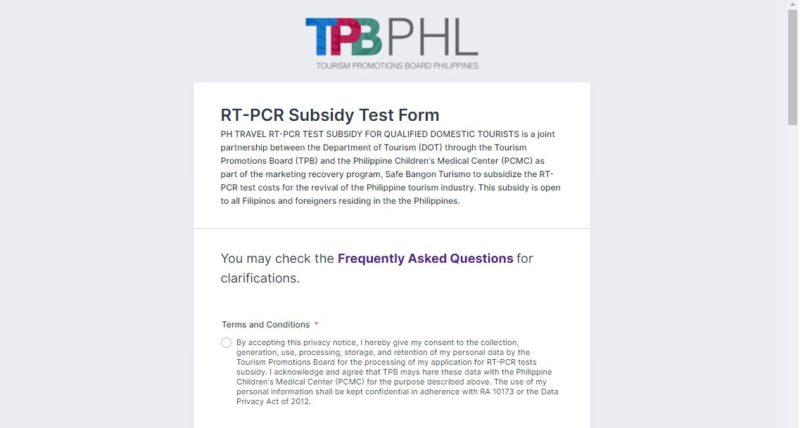 Head to the Tourism Promotions Board (TPB) website and fill out the RT-PCR Subsidy Test Form in the link. You need to do this at least five days before your intended date of departure. You are also required to indicate your travel destination, as well as your date of return.
Step 2. Submit required documents
Through the form, you will also need to submit digital copies of the required documents. You need to make sure they are clear copies of the original document in PDF or image format only. The required documents are as follows:
2 valid government-issued IDs, namely Driver's License, Passport, PRC License, Postal ID, UMID, SSS, Voter's ID, TIN ID, PhilHealth ID, PWD ID, or Senior Citizen ID;
if any of the IDs mentioned above are unavailable, a secondary ID such as a student ID, police clearance, NBI clearance, Pag-ibig ID, and the like;
if the applicant is a minor, IDs such as Philippine Statistics Authority (PSA) Certificate of Birth, Passport, or School ID
roundtrip transportation ticket (airline/bus/ferry) indicating your name, travel dates, and booking reference number, if applicable; or the OR/CR and photo of your vehicle with its plate number, if you're taking a private car;
proof of confirmed accommodation booking with DOT-accredited properties.
Step 3. Keep an eye on your email
The Tourism Promotions Board will evaluate your documents and inform you of your application's results through email. If your application is approved, you will receive an email from PCMC COVID-19 Testing Laboratory with a swab schedule and a copy of the Client Investigation Form.
Should your application be rejected, you may view the possible reasons on TPB's website or email them through phtravel_pcmc@tpb.gov.ph.
Step 4. Show up on schedule
Once you have your confirmed schedule, make sure you show up on time. The testing site is accessible through Gate 3 of PCMC, along Agham Road, Diliman, Quezon City. You'll need to bring a printed copy of the filled-out Client Investigation Form and a valid government-issued ID.
After the test, you only need to wait for the result that will be sent through your email. It is usually released the next day.
If you need to reschedule your swab test, you must contact PCMC at least three days before your departure date. If you fail to show up on your schedule, the subsidy will be forfeited.
Until when is it available?
The offer began its roll-out last November 1 and will be available until December 31, 2021, or until funds for the project are all used up by the subsidy, whichever comes first.
If you have already submitted an application and have been approved, you no longer need to submit a new one.
Reminder: Travel responsibly
While the government has eased restrictions, you should still practice standard health and safety protocols, especially when traveling. Wear a mask. Sanitize frequently. Keep an eye on your temperature and overall health. And if you're feeling under the weather, maybe think about rescheduling your trip for now.
This article was republished with permission from 8List.ph.
[/read]