Getaway to Zambales for the Weekend
Zambales, anyone?
by Jaime Perez-Rubio | August 05, 2016
Zambales, the second largest province in Central Luzon, is packed with beaches as well as other tourist activities–like a safari, historical sites, and even a yacht club. While there are many towns here, they are all fairly near each other so you can easily explore what each has to offer.
Here are some recommendations if you don't know where to start:
Camp at Anawangin Cove
If you're the adventurous type and are willing to camp in a place that's far from any sort of technology, Anawangin Cove is perfect. Mostly untouched by modern commercialism, there are no stores or restaurants in the vicinity, and there's also no electricity. Campers will need to cook their own food, eat them on banana leaves, and enjoy the beach in its least-adorned form. To get to the cove, get to the jump off point in Barangay Pundaquit and take a 45-minute boat ride to the shores of Anawangin Cove.
Surf in San Felipe, San Narciso, and San Antonio
Zambales is the nearest surf beach to Manila and it's the ideal place for beginners to ease into the waves and learn how to surf. It's also great for advanced surfers, as the swell size has been known to hit way over one's head. The famed "Magic Left" can be located in Pundaquit Beach, San Antonio and is considered a local favorite due to its smooth long ride. Hit up Crystal Beach in San Narciso Town for waves that break both left and right; perfect for both regular and goofy surfers.
Finally, Liw-Liwa beach, located in the quiet town of San Felipe, is a great spot to ride modest waves. When the waves aren't breaking, Liw-Liwa also has a vibrant nightlife as a lot of tourists and regulars frequent the area.
Skate the Half-Pipe at Good Karma, Liw-Liwa
No waves? No problem. Hit up Good Karma resort at Liw-Liwa beach and pay a small fee to skate a five-foot half-pipe, which perfectly mimics the waves of the ocean. You can also opt to rent out a bungalow and stay the night at Good Karma to enjoy what Liw-Liwa has to offer. There are many places to buy good food and drinks in Liw-Liwa's small community so don't worry about bringing your own. End the night watching the stars over a bonfire and some beer, and your perfect beach trip is complete.
Island-Hopping
Zambales is well-known for island hopping. There are many islands you can visit in Zambales that will give you a chance to explore untouched forests, waterfalls, and view majestic landscapes. Get to the jump-off point in Barangay Pundaquit to start your journey.
There are several packages offered but you could also negotiate with a boatman to visit the islands of your choice. Check out the lakes and waterfalls that Nagsasa Cove has to offer; go to the Capones Islands to visit an abandoned Spanish lighthouse that offers a fantastic view of the Zambales Coast; and don't forget to pass by Zambales' own version of Boracay in Potipot Island, which offers pristine white sand and clear blue waters.
Finally, get in the ocean and snorkel in the coral reefs of Magalawa Island. All these islands and more are accessible via boat so be sure to plan your trip well so you can get the most out of everything.
Kayak the Mangroves in Subic
Check out Camayan Beach Resort and avail of their kayaking package. This package includes kayaking to the mangroves where wild monkeys and ducks reside. Kayaking will take a fair bit of stamina so it's good to be well rested. The whole activity takes about an hour and half but it's definitely worth the sweat. And, get this, all of this will only set you back PHP500. Now, that's a bargain!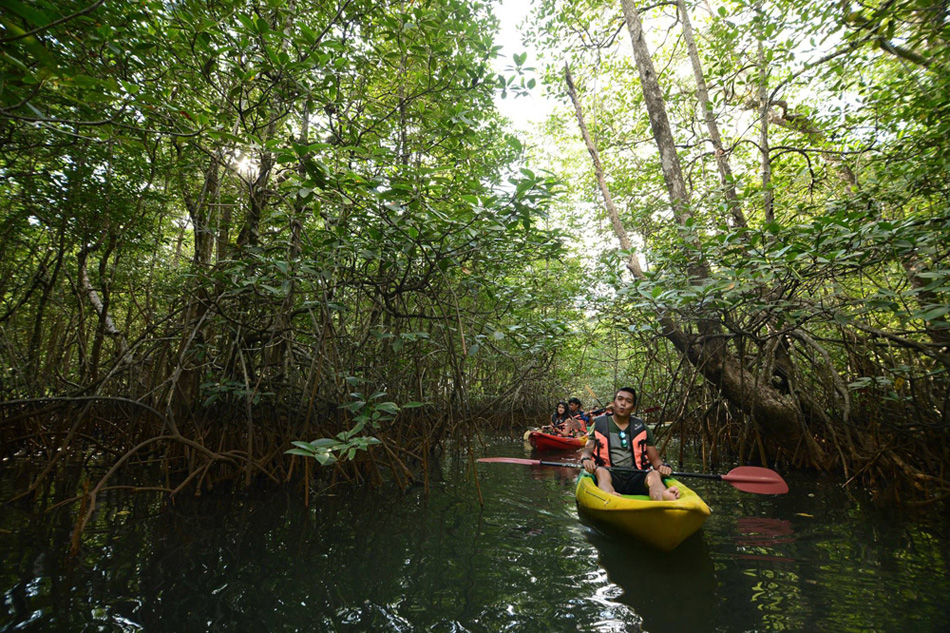 Also read: 
A Weekend Away: Liwliwa Zambales
The Best Surf Spots in the Philippines