Why You Should Stay at Hue Hotels & Resorts Next Time You're in Puerto Princesa
Experience different shades of comfort and hospitality at Hue Hotels & Resorts.
by Ina Louise Manto | July 05, 2022
With local destinations relaxing their borders and requirements, it's definitely revenge travel season. If you're planning to make the most out of your first trip in years, you'll never go wrong with Palawan. Also known as the country's Last Frontier, the province is home to world-class destinations such Coron, El Nido, Tubbataha Reef, and Puerto Princesa.
Puerto Princesa, Palawan's capital, is often regarded as the jump-off point to other destinations in the province. But the vibrant city is already a tourist destination itself, being the home of white sand beaches and islands, and the renowned Puerto Princesa Subterranean River National Park or Underground River. If you're planning to explore the city, here are reasons to discover and experience the different shades of comfort at Hue Hotels & Resorts Puerto Princesa:
Strategic location
Tired from your flight or don't want to miss your ride home? The hotel is just a six-minute ride from the new Puerto Princesa International Airport, right in the heart of the city. Forgot to bring something for your trip or looking for pasalubong? Hue is located right beside Robinsons Place Palawan, so you'll have your needs covered.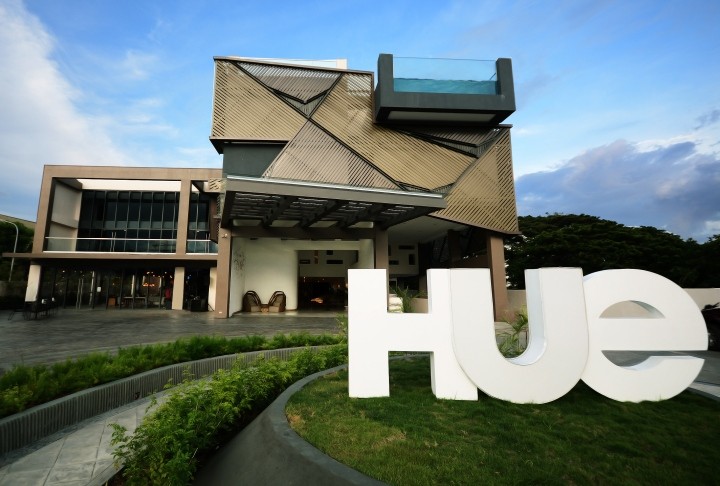 And if you're planning to experience the famous Honda Bay tour, you'll be kick-starting your adventure in just a short 20-minute drive. Its location alone offers convenience not only to tourists but also for MICE (Meeting, Incentive Travel, Conferences and Exhibitions) travelers.
Supporting everything local
Hue Hotels prides itself in infusing "glocal" inspirations on the property. "['Glocal' is] a mixture of local materials, local inspirations, while catering to the global market," explained Christian Guballa, Group General Manager of Hue Hotels & Resorts. "From the design concept alone, we really wanted something different. We don't want a hotel that's cookie-cutter or just a box."
Just from entering its lobby, you can already see how the hotel juxtaposes local elements with modern architecture. Guests are greeted by the wood carvings of the endemic Balingsayaw, and mangrove-inspired black-and-white tiles in the lobby. The property uses local materials and inspirations to bring culture from the entrance to its public areas. At Hue, everything is IG-worthy!
View this post on Instagram
Hue Hotels also plays a major role in bringing livelihood among locals. 95% of the hotel staff are from Palawan. They also ensure to partner with local businesses right from the materials of the property to the suppliers for their in-house restaurant.
Managed by Hospitality Innovators, Inc. (HII), Hue Hotels & Resorts Puerto Princesa also practices eco-friendliness by putting reusable glass bottles in rooms and refillable containers in bathrooms.
Stays for every type of traveler
Whether you're traveling solo, with family, or with a partner, Hue Hotels has 122 rooms designed with modern aesthetics infused with local influences. All rooms are also equipped with high-speed internet, perfect for when you can't wait to share your adventure online or need to go on a quick call for work.
Best for solo and business travelers, the Deluxe Room is a 25-square-meter space with either a king-sized bed or two twin beds. A work desk is also located in one corner, providing ample space to get things done.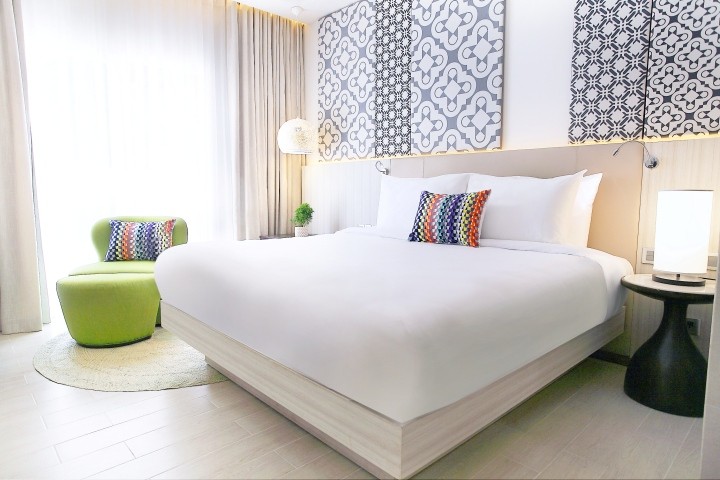 Ideal for guests up to six pax, the Family Room features two connecting rooms with two en suite bathrooms and two work tables. Guests can choose from one king bed or two bunk beds for accommodations.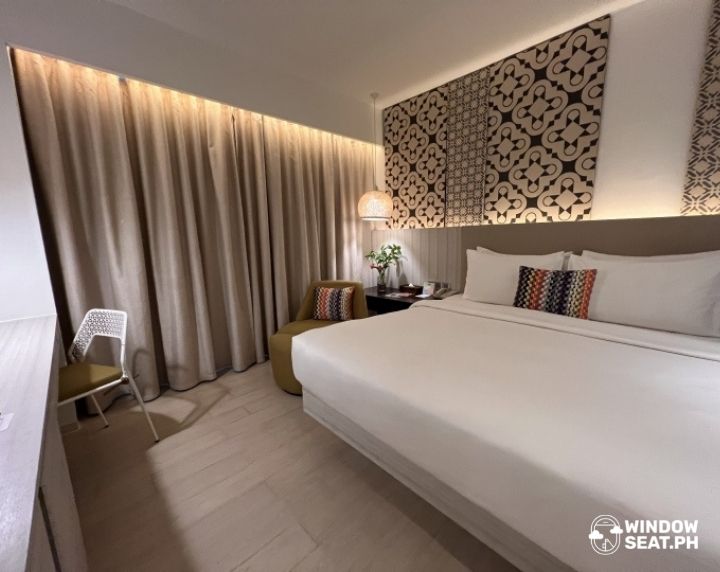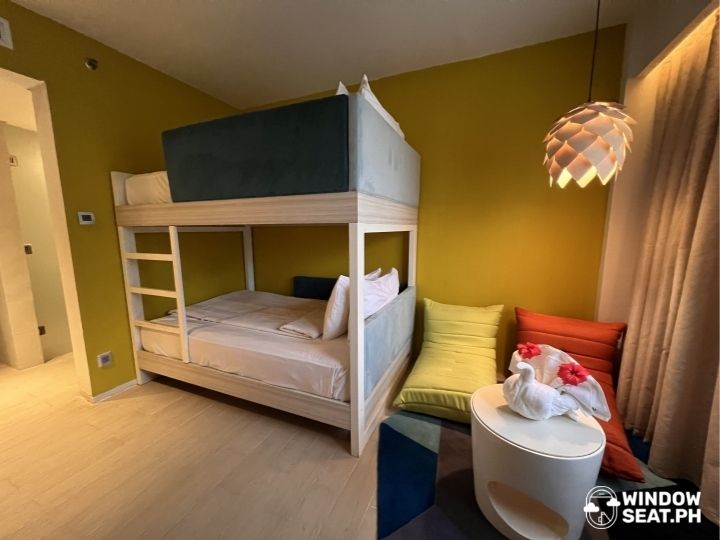 Whether it's for a honeymoon or you simply want to treat yourself, go for the Suite Room. The 25-sqm room comes with either a king or twin beds, a coffee or dining area, and a bathtub where you can unwind after a day of exploring.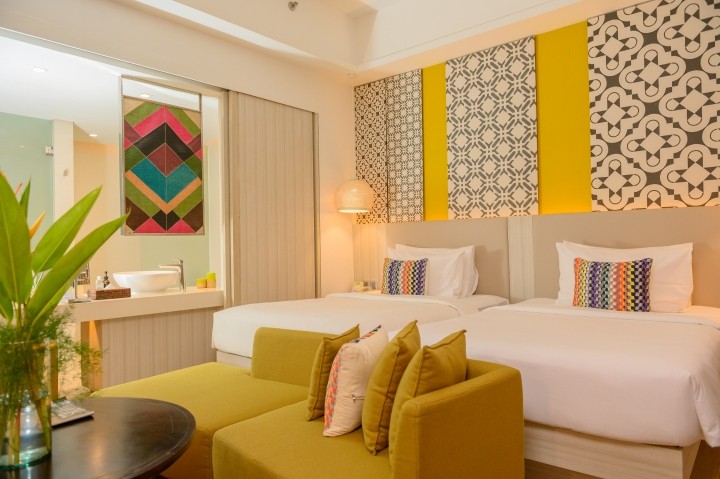 In an interview, HUE Sales and Marketing Head Kristine De Guzman also shared the hotel is planning to bring the Digital Nomad Package to Puerto Princesa, which is an already existing offer in their Boracay property.
Relaxation in the heart of the city
Hue's rooms aren't the only venues for your well-deserved rest and relaxation. Located on the hotel's fifth floor is a spacious outdoor space where you can find two swimming pools that overlook the city, lounging chairs, a pool bar, and a fitness center. Nothing's more relaxing than enjoying happy hour with a stunning city view!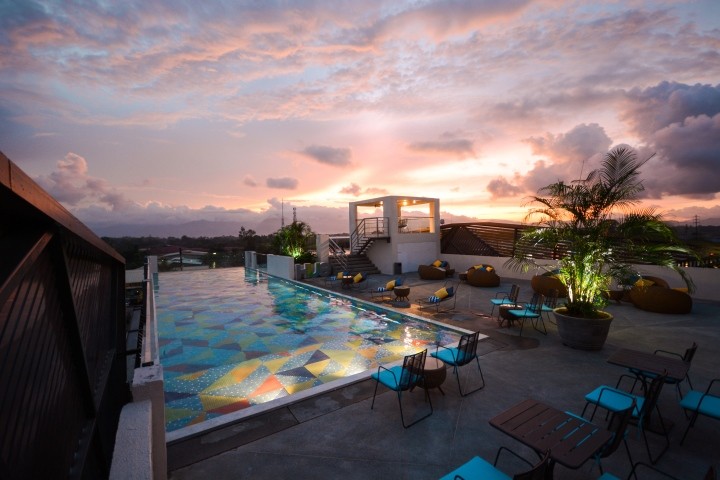 View this post on Instagram
Got aching legs and back after walking around the city? Hue's home to Aminah Spa, where you can enjoy traditional massages and spa services. And if you don't feel like leaving your room anymore, you can also arrange to have your massage in-room.
Comfort Filipino food at LA-UD Restaurant
Sure, you'd want to explore the many restaurants around the city and you can start with Hue's in-house restaurant LA-UD. Here, you can indulge in classic Filipino comfort food made with only the freshest local ingredients.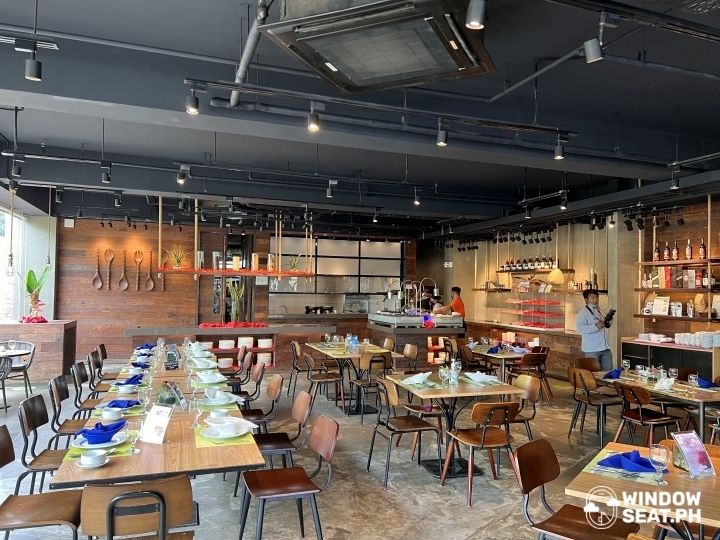 Must-tries include Laud's signature Octopus Salpicao, Gambas, Smoked Pork Ribs, Crispy Pork Binagoongan, and iconic Halo-Halo.
Convenient tours
There's no need to worry about your Puerto Princesa itinerary as they've made it easy for guests by partnering with CML Travel and Tours Palawan. During our stay, we got to enjoy a day of island hopping in Honda Bay and see what Puerto Princesa has to offer during a city tour.
All you have to do is wait for the accommodating staff and at the lobby!
Venue for business and celebrations
As previously mentioned, Hue is an ideal venue for MICE (Meeting, Incentive, Travel, Conferences, and Exhibitions) travelers as well as celebrations. Located on the second floor of the property are two ballrooms that can hold up to 100 people each, and two meeting rooms, which can hold up to 40 participants.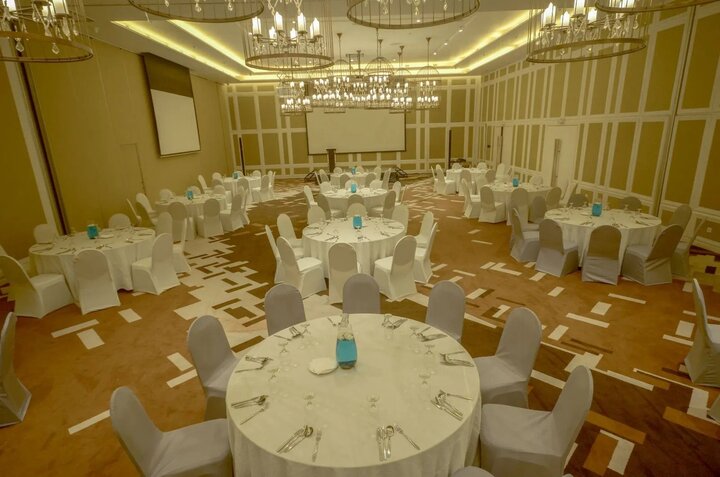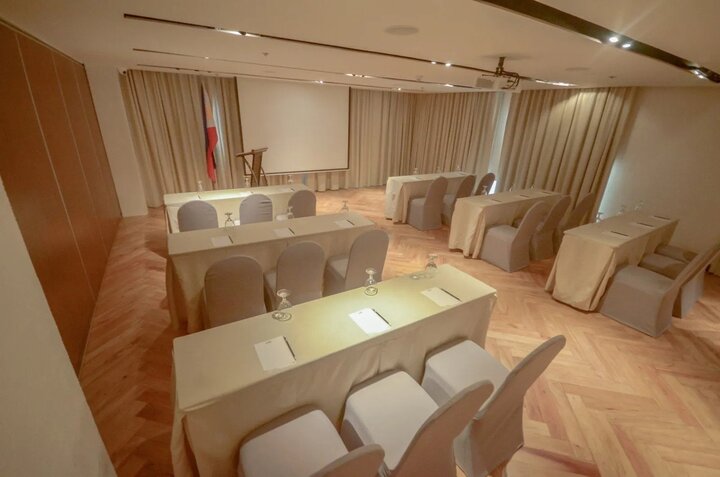 The function rooms can also be combined to handle larger events.
Health and safety
Though travel is slowly up and coming again, health and safety are still the priority when traveling. Hue Puerto Princesa is an official Lysol partner – cleanliness is their top priority! the property is also sanitized and well-maintained, and employees received training on COVID-19 prevention measures.
Puerto Princesa travel requirements
Gearing up for your travel? All you need to enter Puerto Princesa are:
Proof of identification with Philippine residency for local tourists; or passports for foreigners, OFWs, and OFs.
Proof of vaccination; which can either be a vaccination certificate from VaxCertPH, a locally-issued vaccination certificate, or a foreign-issued vaccination certificate
Unvaccinated tourists are required to present a negative antigen test result taken within 24 hours prior to the date and time of flight.
Hue Hotels & Resorts Puerto Princesa is located at Km. 3 Puerto Princesa North Road, Brgy. San Manuel, Puerto Princesa, Palawan.
Aloha Palawan: New Discoveries at Puerto Princesa
Aloha Palawan: New Discoveries at Puerto Princesa
Kyzia Maramara | May 30, 2018
For bookings, more information, and the latest promotions, visit their official website, Facebook, Instagram, or send a message via email.