Best of 2016: Our Favorite New Restaurants
Here are four that stood out this year.
by Meg Santibanez | December 12, 2016
Here we have an array of great restaurants consisting of concept and private dining places that opened this year and it's quite hard to decide which ones to try.
But we're here to make life a little easier for you by rounding up four of our favorite new restaurants that you should try before the year ends.
Sunnies Café
B3 Unit 748 Bonifacio High Street, BGC, Taguig City
Open from 11am to 11pm (Sunday to Thursday); 11am to 12am (Friday to Saturday)
+63 2 949 2251 | Facebook | Website
It's not just a pair of shades anymore but it's also now a restaurant that's sure to treat you any time of the day from brunch to dinner, coffee to cocktails — it's the ultimate go-to place in BGC right now. Its menu has a different take on comfort food that we enjoy — it's made up of goodies like Roasted Bone Marrow Rice Bowl, Baked Squid Ink Lasagna, and Salted Caramelsutra.
Tahanan Bistro
22 Loresville Drive Lores Farm Subdivision Barangay San Roque, Antipolo City
Open from 11 a.m. to 4 p.m. (Saturday -Sunday) and 6 p.m. to 10 p.m. (Friday to Sunday)
*Reservation Required
+63 925 880 1487 | Facebook | Website
Tahanan Bistro requires you to go barefoot upon entering — it's called tahanan, after all. The wooden floors breathe a certain warmth that calms the soles and makes you feel at home. Its menu boasts a modern interpretation of a Filipino dishes that aren't too complicated, just that they're dishes one can simply enjoy.
Guests can choose up to three five-course set menus all priced at PHP1,200 — affordable considering the aesthetic and gastronomical experience waiting for the guests.
The first set called Aranga serves lengua. The courses consist of fried ox tongue, mushroom risotto, ox tongue ragu, cherry tomatoes and grana padano cheese. The set ends with the classic Saba mixed with homemade short crust sweet pastry, jack fruit puree, banana custard and blueberry and mint coulis.
Meanwhile the second menu called Balayong has baboy damo. It's a smoked home-grown black footed pig tapa flakes with dried herring or tuyo, some Caesar dressing, romaine, Parmesan cheese and soft boiled egg. Its capped by a Cassava with a twist — cassava chips dipped in coconut milk chocolate, cassava fritters and coconut caramel.
And their third set and perhaps the famous one is Katmon where liempo takes the stage. Roasted pork belly with soft sugar beetroot polenta and house-made liver sauce that is topped with grilled asparagus. It's concluded with suman, a special from Antipolo, mixed with the classic Chocnut, mango coulis, and dark chocolate ganache topped with mango whipped cream.
Noche: Dine in the Dark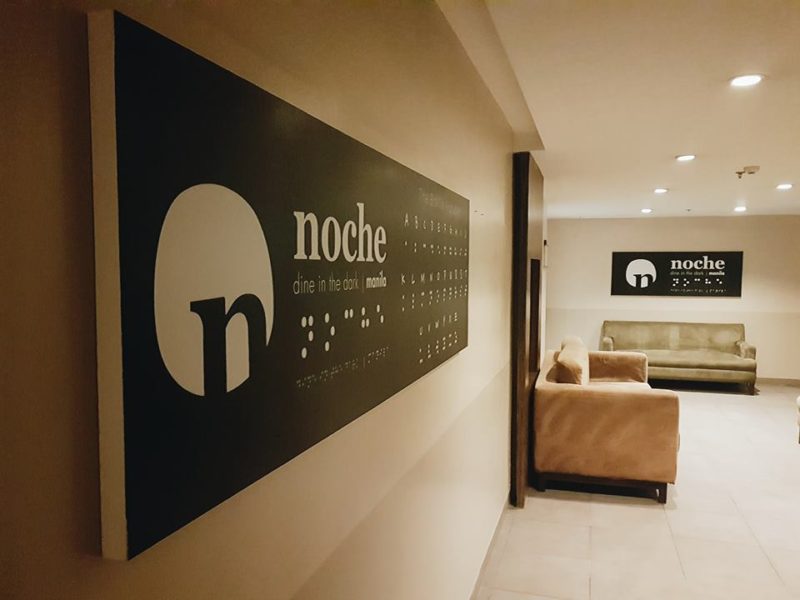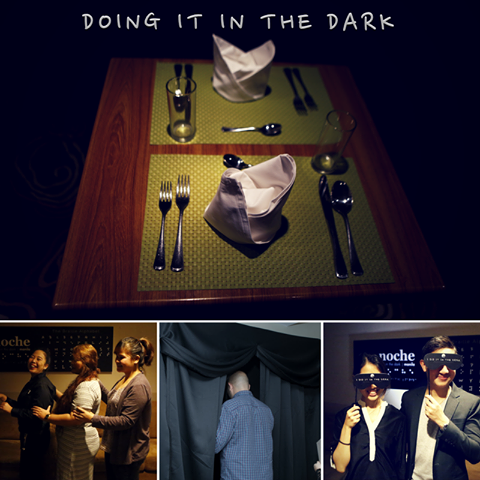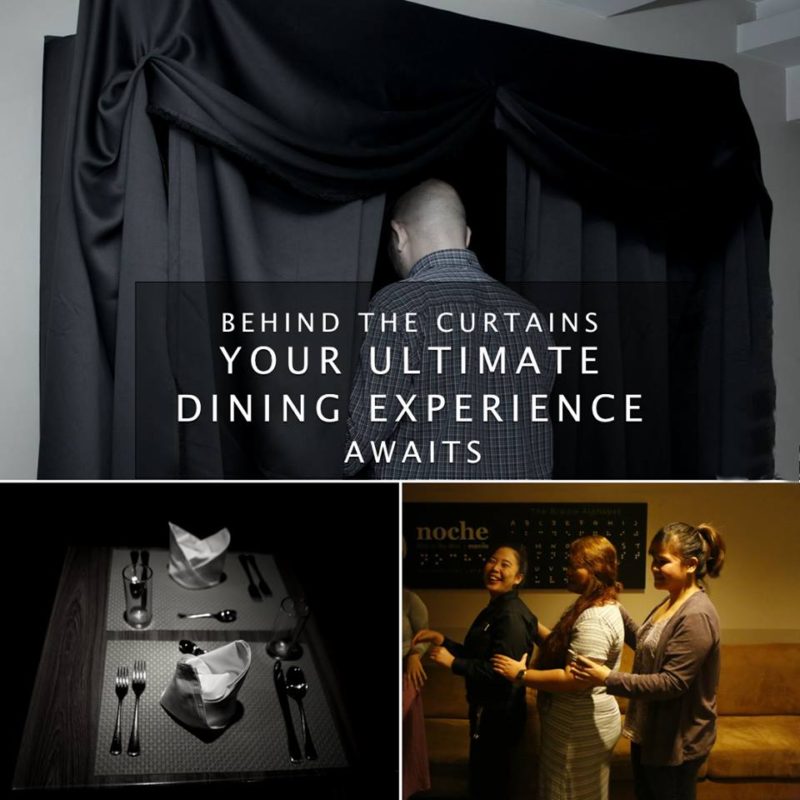 7835 Makati Avenue Corner Eduque Street, Makati City
Open from 6 p.m. and 8 p.m. (Friday, Saturday and Sunday)
*Reservation Required
+63 927 740 7322 | Facebook | Website
Noche (which, yes, means night in Spanish) is the very first blackout restaurant in the country where darkness and a gastronomical feast are fused together to deliver an unforgettable experience. Even the menu (available at two-course for PHP999, three-course for PHP 1,499, or five-course for PHP 1,699) is a mystery and will be only disclosed once you're guided back to the lounge.
Guests are asked to choose between meat, fish, vegetarian or simply the chef's surprise. It starts with the salad, starter, entree, main and finally dessert; or in Noche's phrasing it is called the Prelude, the Opening Act, Rising Action, Ne Plus Ultra and Finale — and they do make it sound much more dramatic.
It's hard to speak about the whole anything else because you just really need to experience it first hand.
FOO'D by Chef Davide Oldani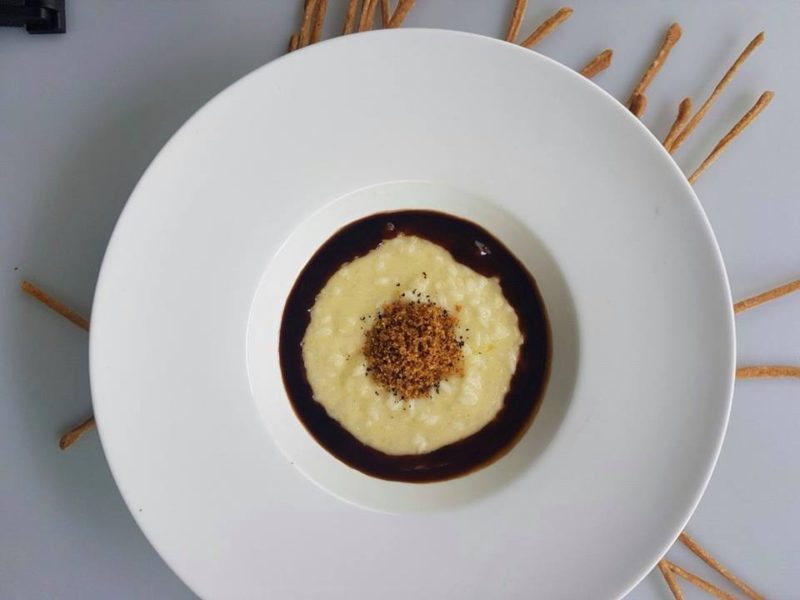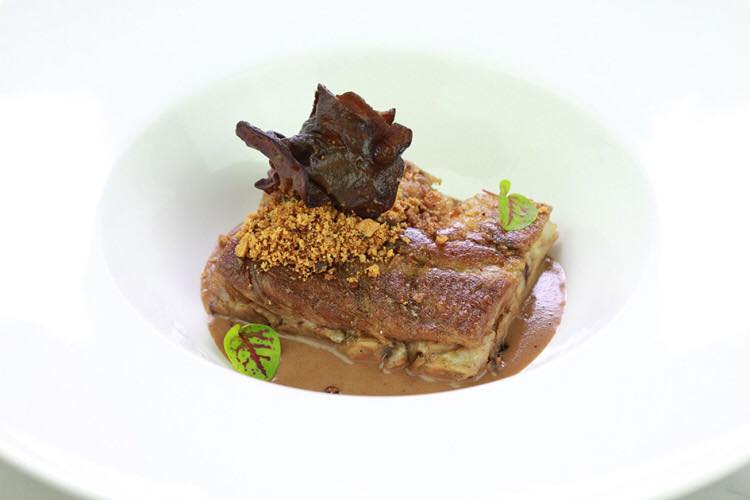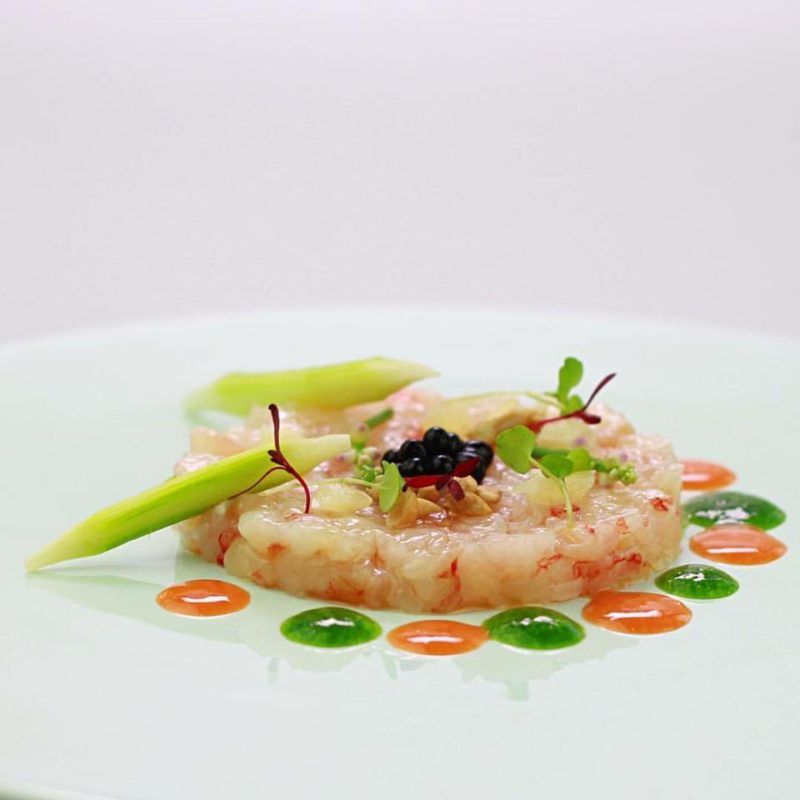 G/F (High Street Park), Shangri-La at The Fort, 30th St. cor. 5th Ave., Bonifacio Global City, Taguig
Open from 11 a.m. to 10 p.m. (Monday to Saturday)
+ 63 917 711 4469 | Facebook
Ever wondered how the food tastes in a Michelin restaurant? Well, now you can try it with the latest opening of FOO'D by Michelin Star Chef Davide Oldani at Shangri-La at the Fort.
FOO'D is the very first concept store by Chef Oldani and we're lucky that he launched it here in the Philippines. He's known for his Cucina Pop Style, where he creates simple dishes with surprising twists with an affordable price tag.
The set starts with their Bagoss Mousse with an Aged Grana Mousse as its highlight. Meanwhile the second course continues with Chef Oldani's speciality, the Cipolla Caramellata or basically a caramelized onion. The third course is the Iberico Pork Ribs, where the meat is flown from Spain, it's topped with Muscovado sugar and licorice. Chef Oldani caps of the night with his Dark Chocolate Mousse and Lemon Curd where the latter is rather the famous one with its small bits of meringue.
You can enjoy a three-course meal for PHP800 and a four-course meal for PHP1,200 — now, that's amazing.
What are your favorites from this year? Tell us about them!