Take Your Furbabies on a Staycation at These Pet-Friendly Tagaytay Airbnbs
No more leaving your furbabies behind.
by Ina Louise Manto | May 06, 2021
One of the reasons that make leaving home difficult, even just for a short errand, is the look on your pets' faces. They just want to have you around all the time and sometimes, you just can't easily bring them everywhere. So the next time you plan a getaway, why not bring them along with you? Looking into staying in Tagaytay for a day or two? Check out these pet-friendly Airbnbs in Tagaytay:
Moon Garden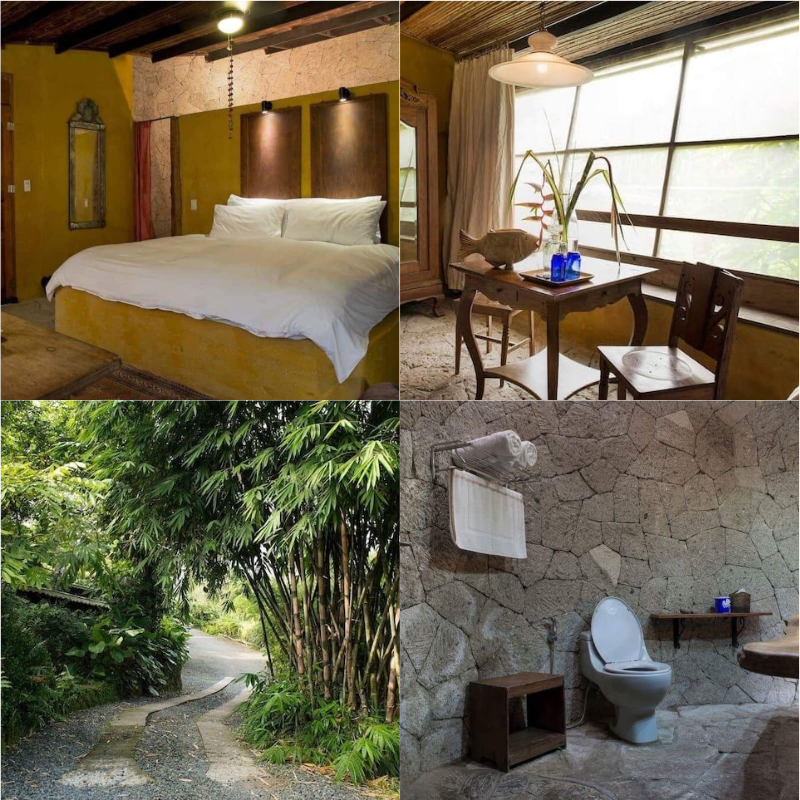 Nestled among seminaries in Tagaytay, this rustic casita is one of the relaxing stays you can find at Moon Garden. The 40-sqm has a Cali-king size bed, which can comfortably sleep up to three guests as well as an en suite bathroom. It's surrounded by a large tropical garden where you can enjoy your free breakfast in one of its Bali-style pavilions.
Rates start at P5,400 per night. Book your stay here.
Summer House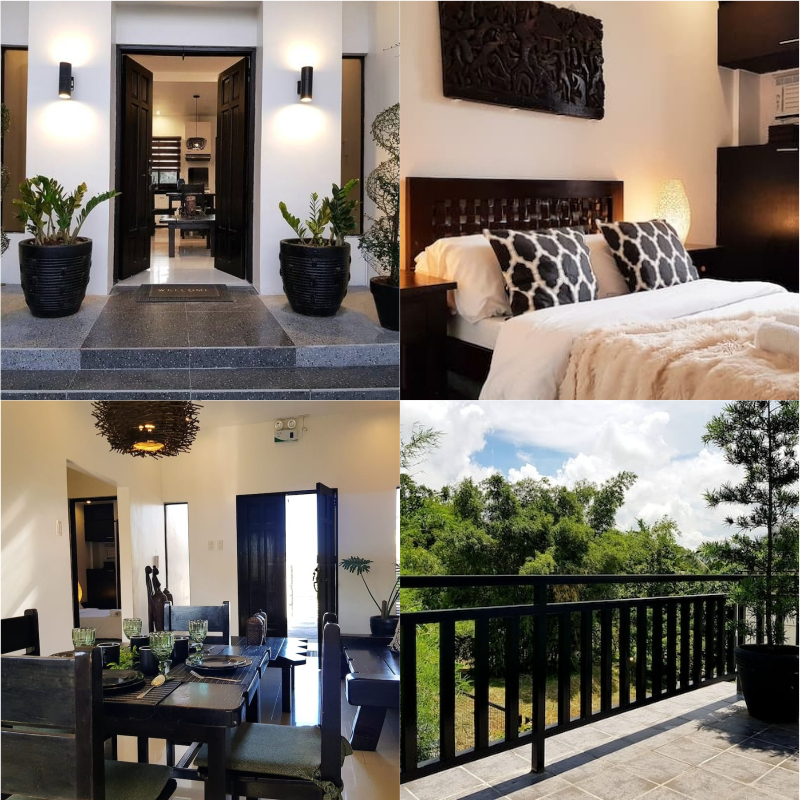 Exploring nearby establishments won't be a problem when you book a stay at this summer house as it's conveniently located in the heart of the city: just behind the Our Lady of Lourdes Church and Ayala Mall! This two-bedroom home is fully furnished and can accommodate up to eight guests. All you have to do is sit back, relax, and enjoy the view from the balcony or chill at the front yard's veranda.
Rates start at P5,000 per night. Book your stay here.
John's Hammock Vacation House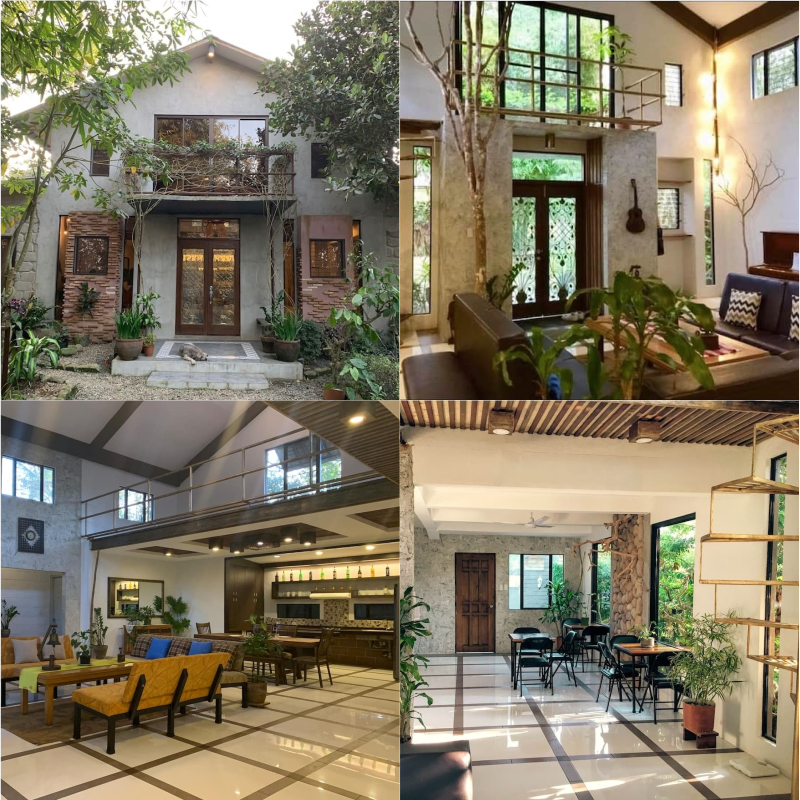 John's Hammock Vacation House will let you experience farm living where you can enjoy the peace and quiet for a relaxing stay. Its interiors alone would make you appreciate nature more! This spacious home has four bedrooms and can accommodate up to 15 guests, which is perfect for holding small events. P.S. It has a swimming pool and a gorgeous gazebo in the middle of a garden.
Rates start at P15,000 per night. Book your stay here.
Relaxing guest house with a pool
Looking for a venue for your next intimate celebration? This three-bedroom guest house sits on a 2,000 sqm property with a 100 sqm adult and kiddie pool, and a spacious garden that isn't only spacious enough for table and chair arrangements but also provides plenty of space for your furbaby to run around. The fun doesn't just stop here; check the basement and you'll find a game room with cool lights and a billiards table.
Rates start at P16,429 per night. Book your stay here.
Chill Chill House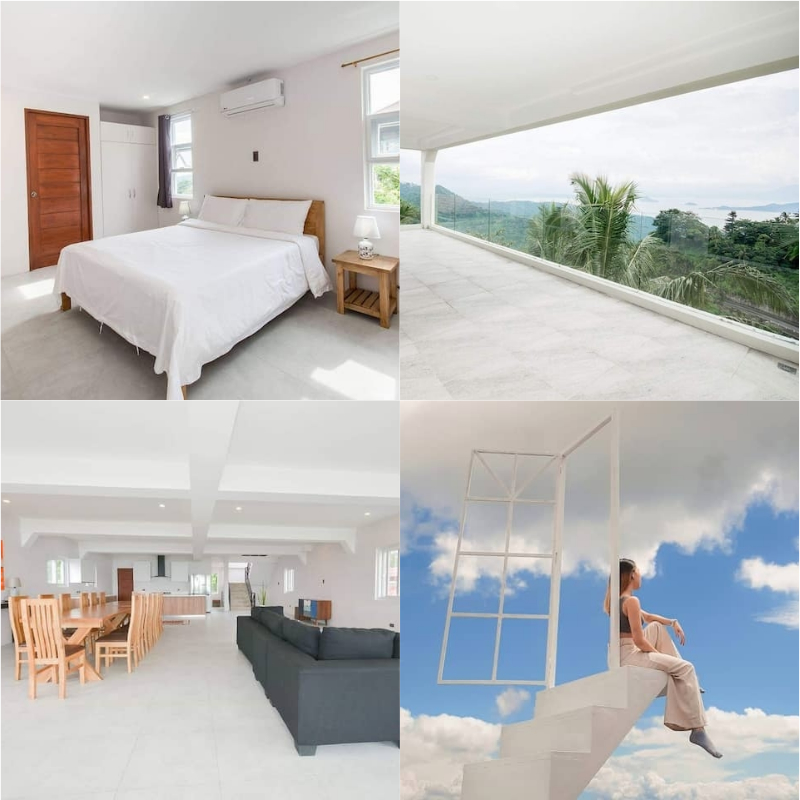 This Japanese-owned guest house has one of the best views of Taal Lake right from its spacious balcony and it's just IG-worthy all over. If you can't get enough of the cozy house, they also have a photo spot on their rooftop, where you'll find an IRL Stairway to Heaven-like installation.
Rates start at P2,700 per night for one room. Book your stay here.
The Green Olive Garden
Surrounded by hills and a lush garden, The Green Olive Garden is an exclusive private house that's perfect for holding your next reunion with the angkan. It's a go-to venue for events in Tagaytay, where you'll get to enjoy a large swimming pool, jacuzzi, karaoke, theater, and five luxurious bedrooms with different sleeping arrangements. It also has a café where gourmet food catering can be arranged.
Rates start at P33,600 per night. Book your stay here.
Casa Novato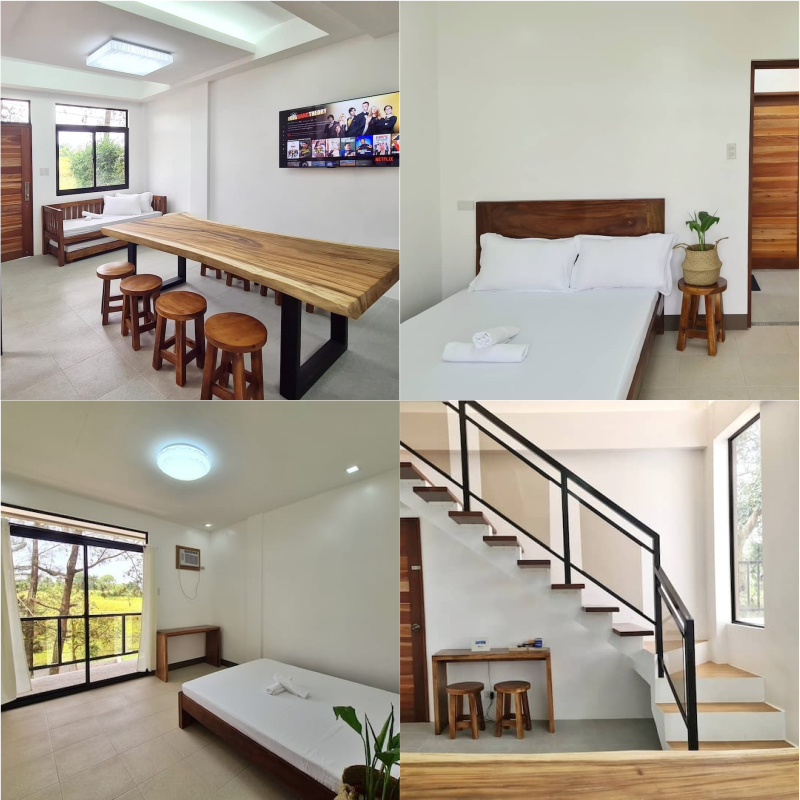 Fans of white walls and wooden furniture would swoon at Casa Novato. This minimalist and modern country home is surrounded by tall trees, making you feel like you're in Baguio. It's a 120-sqm two-story house with three bedrooms, a fully-equipped kitchen, smart TV with Netflix, and card and board games.
Rates start at P4,143 per night. Book your stay here.
Forest Cabin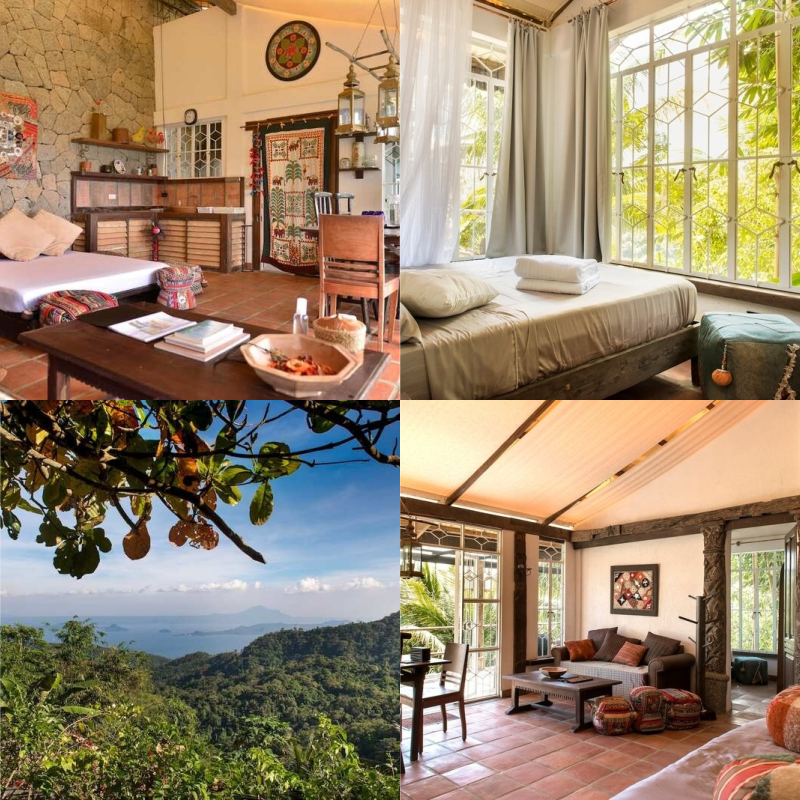 If you want to be away from the usual Tagaytay crowd, this secluded forest cabin will give you the privacy you need. Overlooking the Taal Lake and a virgin forest, this spacious cabin has a living area, kitchen, dining area, and plenty of outdoor space for lounging. The sofa in the living room also doubles as a bed, which will allow you to wake up to the beautiful view upfront.
Rates start at P3,490 per night for two. Book your stay here.
Nature Lodge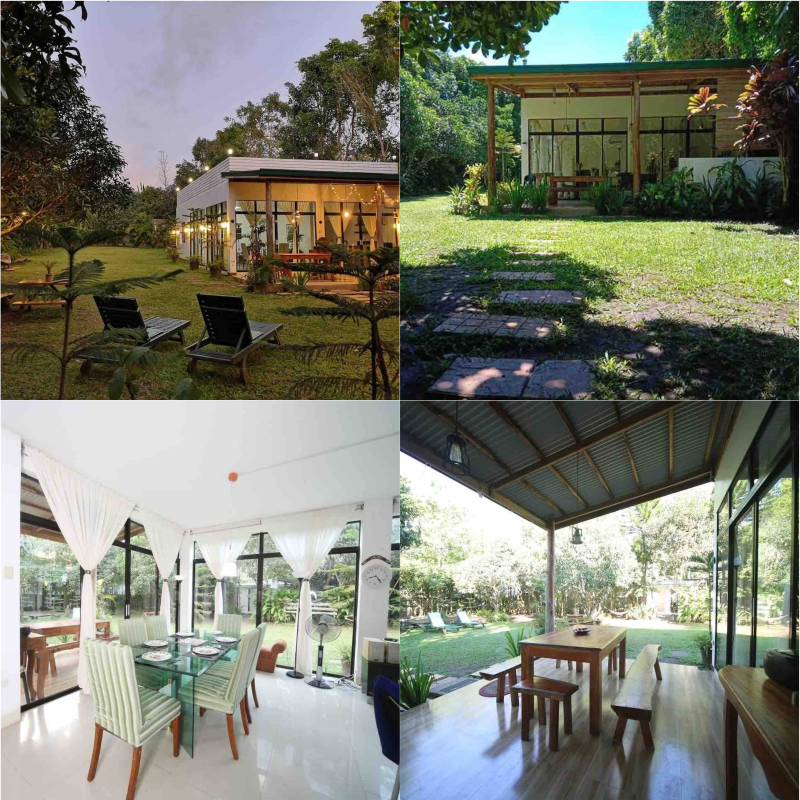 The Nature Lodge is a cozy modern bungalow with plenty of outdoor space – 2000 sqm to be exact, and it's a favorite venue for outdoor weddings. The bungalow is just 77 sqm but it has a queen-sized bed and a double-sized bed that can accommodate up to six guests. It's surrounded by mango and mahogany trees, and the outdoor space is perfect for setting up a tent for stargazing at night or a simple bonfire setup.
Rates start P6,714 per night. Book your stay here.
Cedera Thermal Pool Exclusive
Cedera is a gorgeous loft-type vacation house with a thermal aquarium-type pool – the only of its kind in Tagaytay. The main house has four bedrooms while the pool house has two lofts and bunk beds. Pre-pandemic, this spacious home can accommodate up to 40 guests, which is more than enough to host your entire angkan. Be ready to live your mermaid dreams and take lots of photos in the unique swimming pool!
Rates start at P15,371 per night. Book your stay here.
ALSO READ:
The Loft in Tagaytay is A Modern Cabin Staycation Dream
Wake Up to the Best View of Taal Lake at this Rustic Chalet in Tagaytay
7 Tagaytay Venues for Your Dream Intimate Garden Wedding
Live Out Your Boho Dreams at This Unique Trailer Airbnb Near Tagaytay