Phuket, I'll Eat it if it's Good: Discovering Patong Beach's Street Eats
Phuket, just go!
by Timmy Potenciano | May 05, 2015
[article_carousel images="https://windowseat.ph/wp-content/uploads/2015/05/Phuket-Car1.jpg, https://windowseat.ph/wp-content/uploads/2015/05/Phuket-Car2.jpg, https://windowseat.ph/wp-content/uploads/2015/05/Phuket-Car3.jpg"]
Thailand is arguably one of the most famous destinations along the Banana Pancake Trail, a nickname given to the Southeast Asian route usually traveled by backpackers and tourists.
Part of its allure comes from the dizzying sensual overload of activities: the stunning scenery, the gritty nightlife, and of course, the food.
Phuket, Thailand's largest island, is located on the southern coast overlooking the Andaman Sea. I recently found myself on Phuket's sunny shores, but since I am not the hard-partying type to begin with (save for the one night on Soi Bangla where I met a British boy with soft eyes and a cute smile, but that's another story), I decided to make this trip about two things: getting some sun, and eating all the street food I possibly could. "F_ck it, if it's good, I'll eat it," was basically my mantra throughout the entire trip.
Cheap Cheap
One of the most beautiful things about Thailand is that everything is unbelievably cheap, ESPECIALLY the food. You can get full on a meal for less than 100 Baht (approximately 130 $3). And the great thing is, even if it's "cheap cheap," quality is never sacrificed when it comes to food.
There's so much to choose from! If you're in Phuket, staying in Patong Beach provides you with no shortage of eateries, from the sit-down restaurants that serve American, Russian, Middle Eastern and fast food, to the holes in the wall and ambulant vendors that can be there one minute and gone the next.
Must-Tries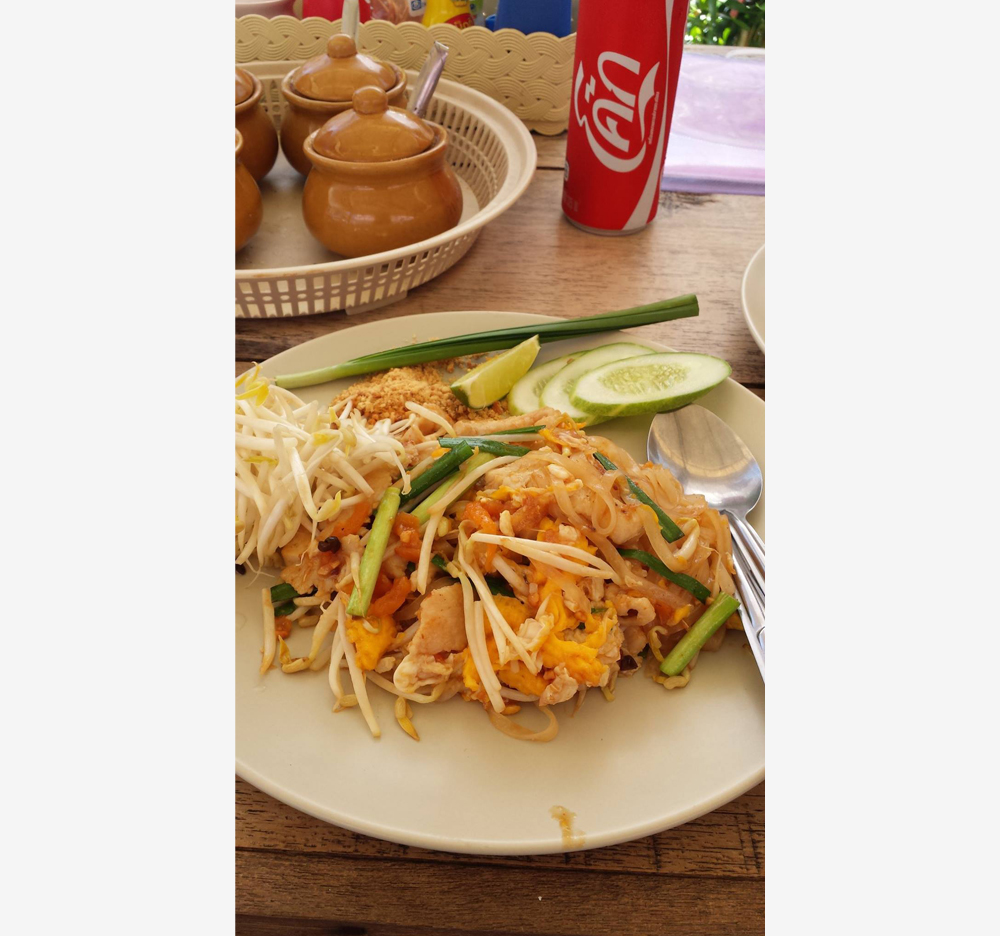 Pad Thai. No trip to Thailand is complete without eating pad thai, Thailand's ubiquitous stir-fried noodle dish. While there are many other noodle dishes you can try, pad thai is good for even the least adventurous of palates. You can also season according to your taste if overly spicy food isn't your thing.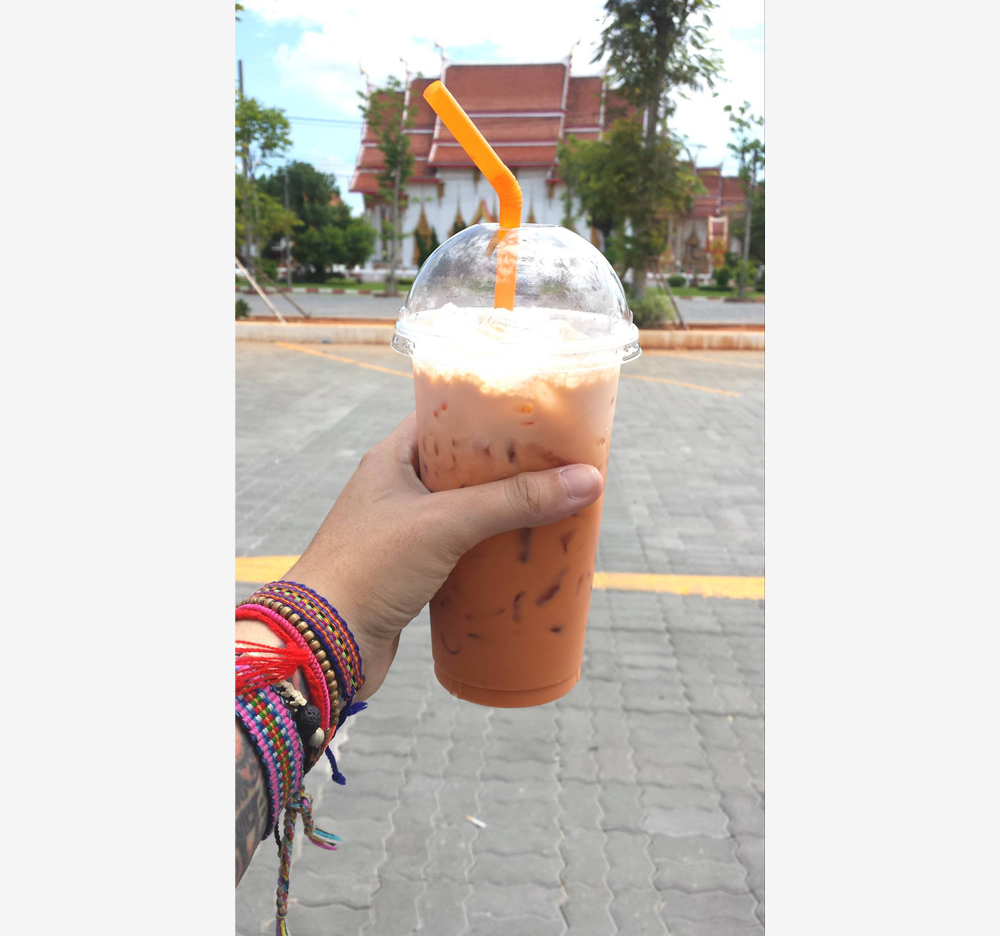 Thai Milk Tea. The best milk tea comes from the ambulant vendors that are scattered all over Patong. I was lucky to have a milk tea vendor right outside my hotel, right next to the 7-Eleven and pharmacy. Score! There is nothing like authentic Thai milk tea (or iced matcha) to quench your thirst on those notoriously hot days that Thailand is known for. These carts also sell flavoured sodas and milk drinks that you should also definitely try!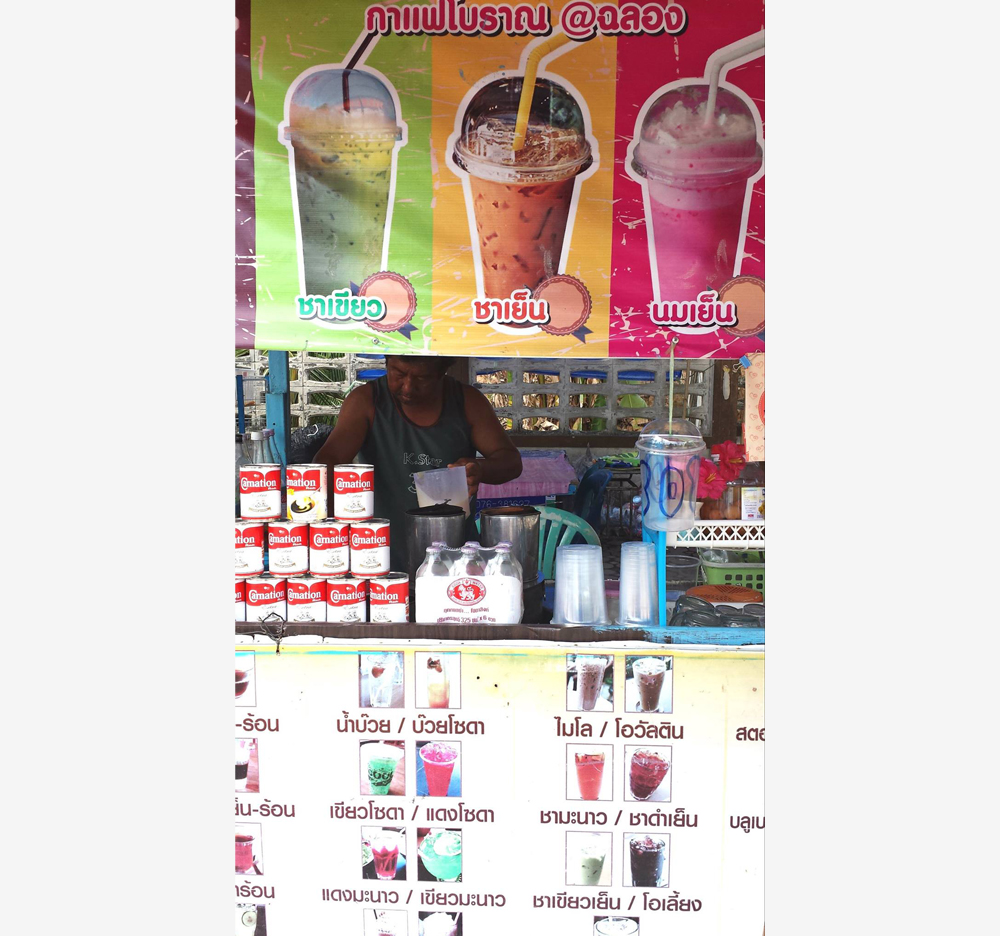 Fruit Shakes. Fresh, cheap fruit shakes and smoothies are abundant all over Patong, and nothing beats a fresh pineapple or banana shake to beat the heat.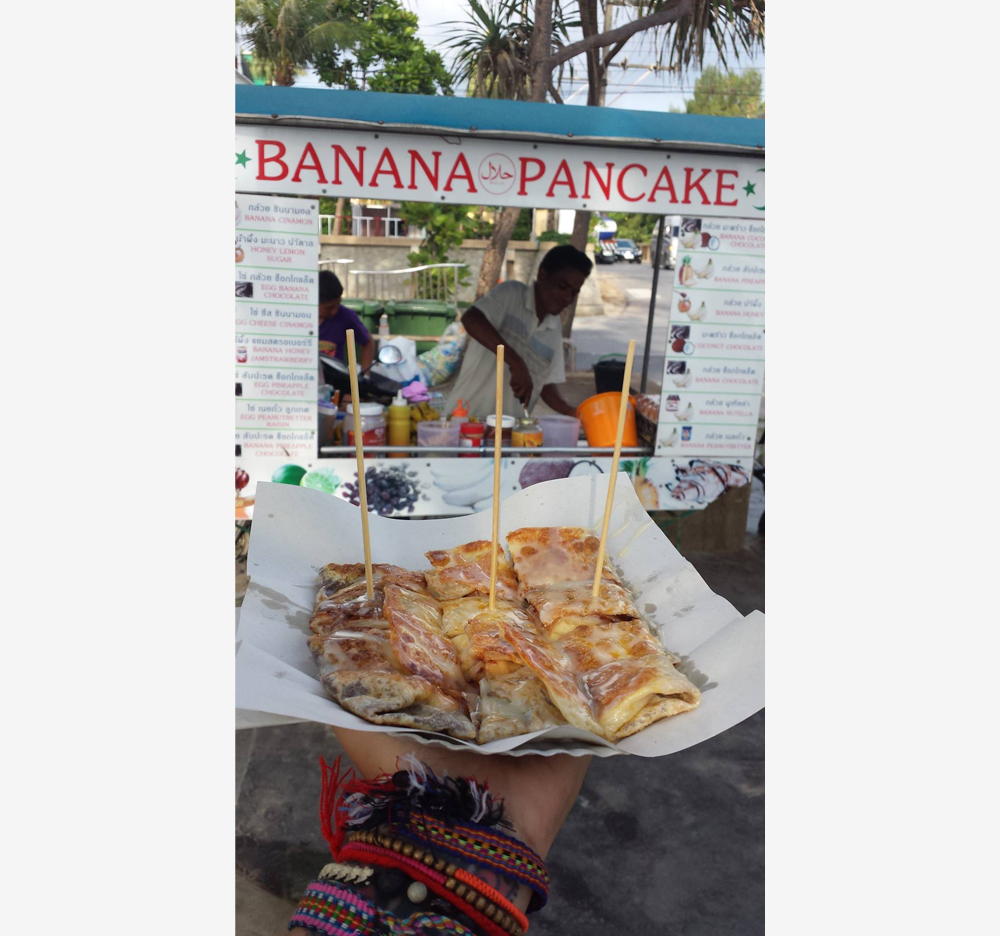 Banana Pancakes. What kind of tourist would you be without trying the famous dessert that Southeast Asia is known for? For about 50B, you can order a fresh pancake that's made on a little crepe grill, filled with your choice of toppings, and drizzled with condensed milk and chocolate syrup. My favourite is Nutella and banana!
Samosas. The Muslim community in Thailand is very large, and it's no surprise that halal food carts are commonplace around Patong. Unlike Indian samosas,  these are made with spring roll wrappers instead of thick pastry, but are just as good. And for 15a piece, they're excellent for staving off hangovers from the night before.
Barbecue. Do NOT miss out on Thai barbecue! Anywhere you look, you'll find hawkers that sell roasted squid, deep-fried food on sticks or grilled skewers.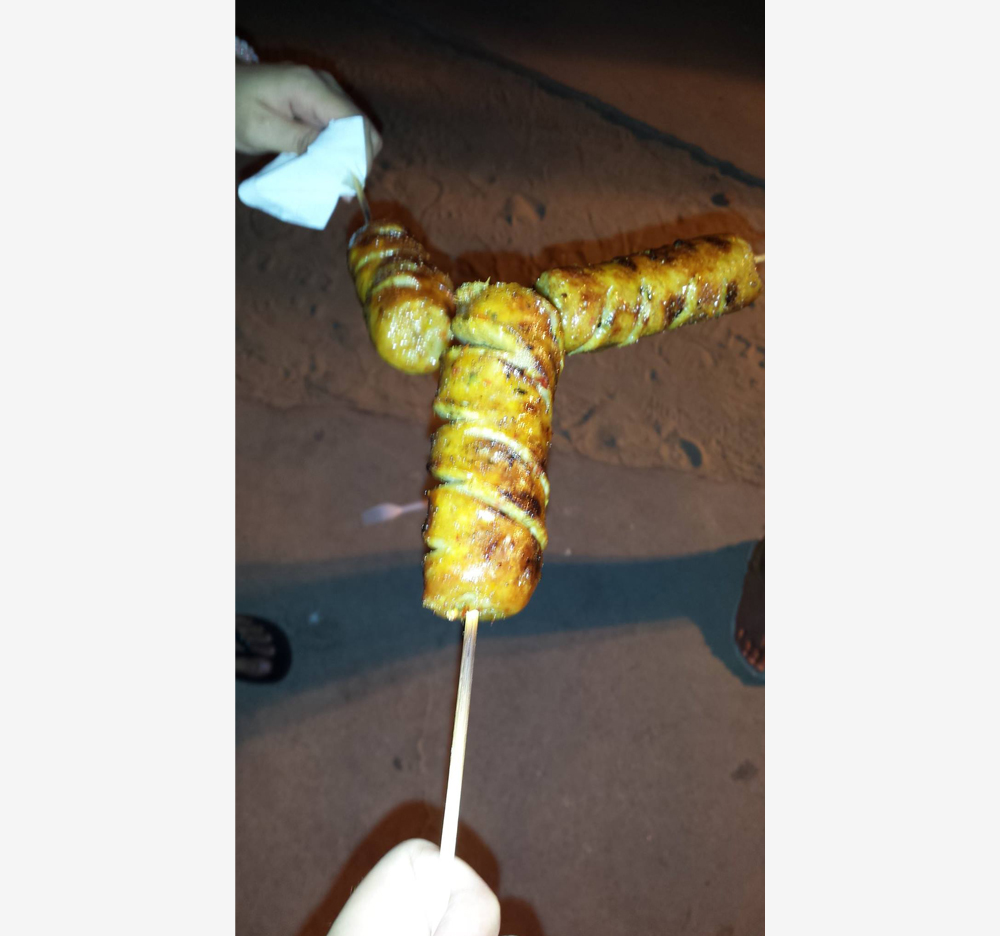 Sai Oua. Have you ever eaten something so delicious that you were temporarily robbed of your ability to speak? This happened when I ate Sai Oua, quite possibly my favorite culinary discovery on this trip. I could not speak the moment I bit into this strange, yellow sausage, handed to me by a smiling vendor with an amazing tan and curly hair. Think of a German bratwurst, but flavoured with Asian spices like galangal, lemongrass and chillies instead. They also have a fermented sausage made with pork and vermicelli, which can be an acquired taste to some. Be adventurous!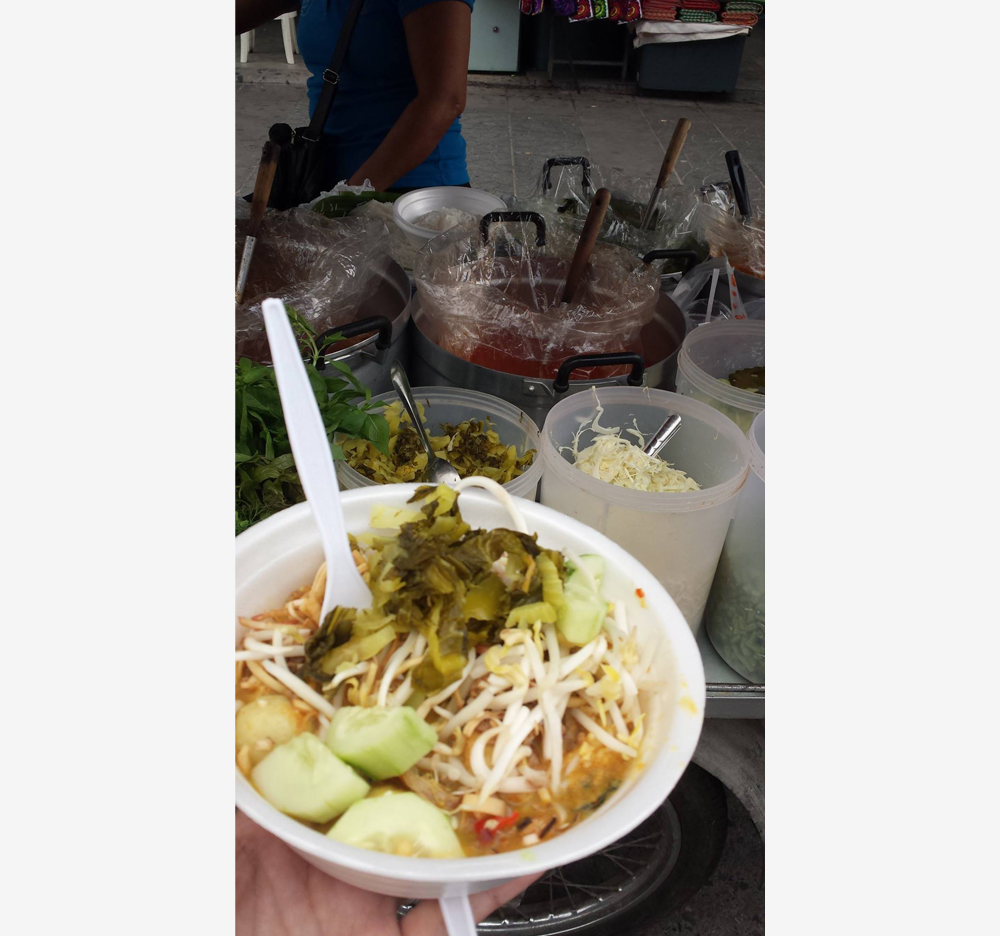 Khanom Jeen. Trying to run away from oncoming rain on Soi Bangla one hot afternoon, I came across a noodle stand selling vermicelli with a buffet of fresh and fermented vegetable toppings and vats of curry with gnarled chicken feet and liver peeking out of it. Khanom Jeen stands out because of its extremely spicy and tangy flavor. My conversation with the vendor was lost in translation, and I allowed her to choose the soup base, while I put chopped vegetables and chilli on my food instead. It was so spicy I was banging the table with my fists, but still very good.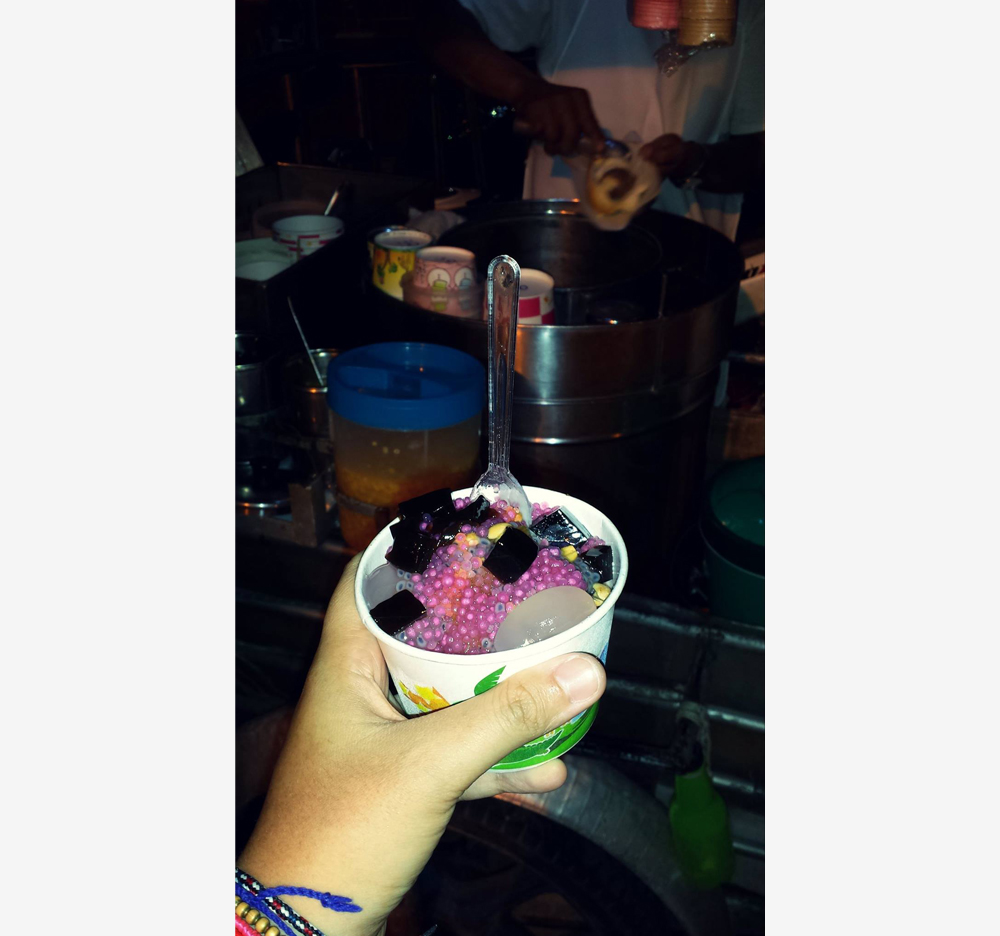 Coconut Ice Cream. Much like the Philippines' dirty ice cream, the Thai take it a notch higher by serving it with sticky rice on the bottom, and toppings like sweet corn, peanuts, grass jelly, pink sago and basil seeds on top. Basically, it's a hybrid of suman and halo halo and dirty ice cream, all rolled into one delicious bowl. They even serve it in bread, just like we do at home!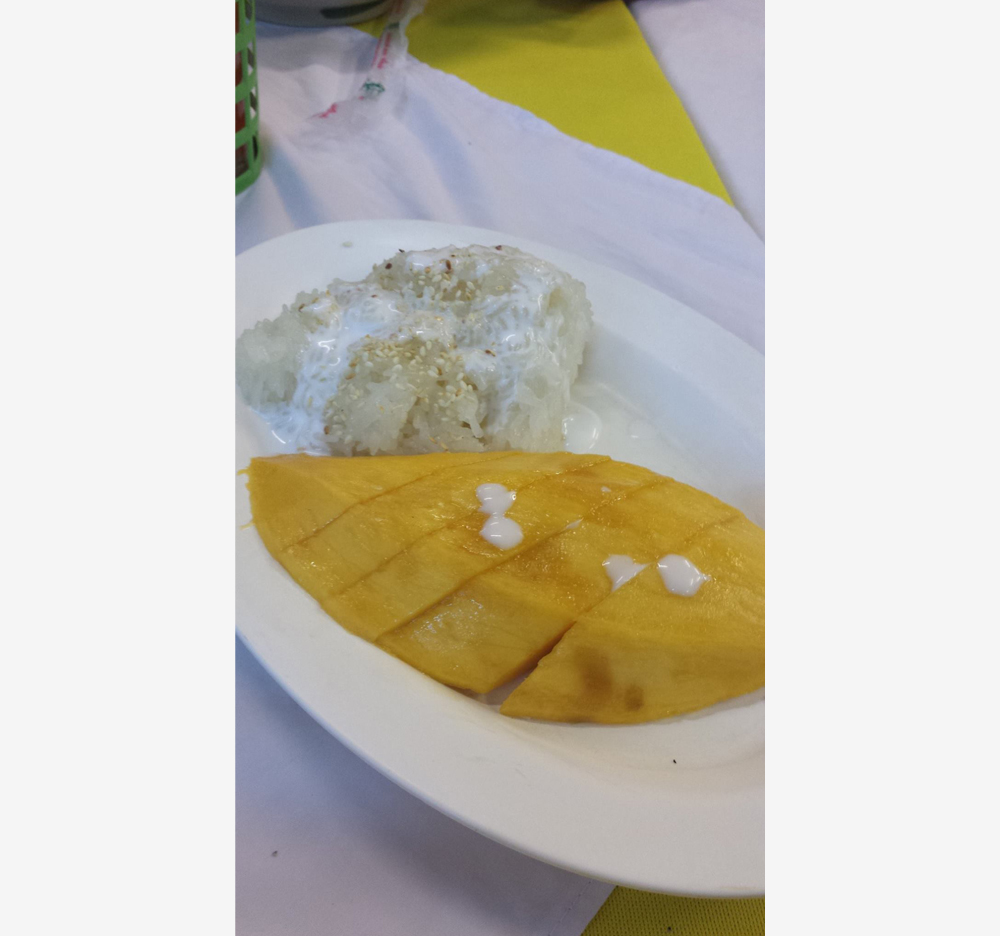 Mango Sticky Rice. This ubiquitous dessert can be found everywhere in Thailand, and the combination of freshly-sliced mango cheeks and sticky rice covered in a generous dollop of fresh coconut cream is the stuff that comfort food dreams are made of.
My only regret is that I was unable to try every single street food on Patong. The only solution I can think of is to save up to go back, and eat my way through Thailand once again.

From Manila, take a straight flight via Cebu Pacific to Phuket. From the airport, a taxi to your hotel will cost 500 baht one way. Tuktuks in Phuket cost 200 baht one way, unless you charter them for specific destinations.