Spend a Night Under the Stars at This Cozy Glamping Site in Taal, Batangas
Get your slice of outdoor adventure in the heritage town.
by Ina Louise Manto | September 24, 2021
When you hear of Taal, you're reminded of the well-preserved heritage houses built during the Spanish era, Asia's largest church, the Minor Basilica of Saint Martin de Tours, beach resorts, and Tapang Taal. But the heritage town has more to offer, including this glamping and camping resort that would give you a slice of peace and quiet without driving too far from the city.
Plantacion Isabel
After a day of exploring the heritage town and traveling back in time, you might want to stay overnight and fall asleep under the stars at Plantacion Isabel. Surrounded by verdant trees and garden space, the property makes the perfect venue for roughing it out, communing with nature, and enjoying the cool breeze the province offers. From a cozy one-bedroom house that would remind you of your grandparents' provincial home to a space dedicated to camping, Plantacion Isabel will give you the peace of mind you've been craving.
Glamping
Relive one of the childhood pretend games you played at Plantacion Isabel's Bahay-Bahayan glamping huts. Good for 2 pax, the glamping hut is perfect for those who don't want to sacrifice comfort while experiencing the fun of camping. Located in a spacious garden, these nipa huts are perfect for couples looking for a unique accommodation experience. The grounds also have a bonfire pit where you can stay warm and toasty while watching the stars.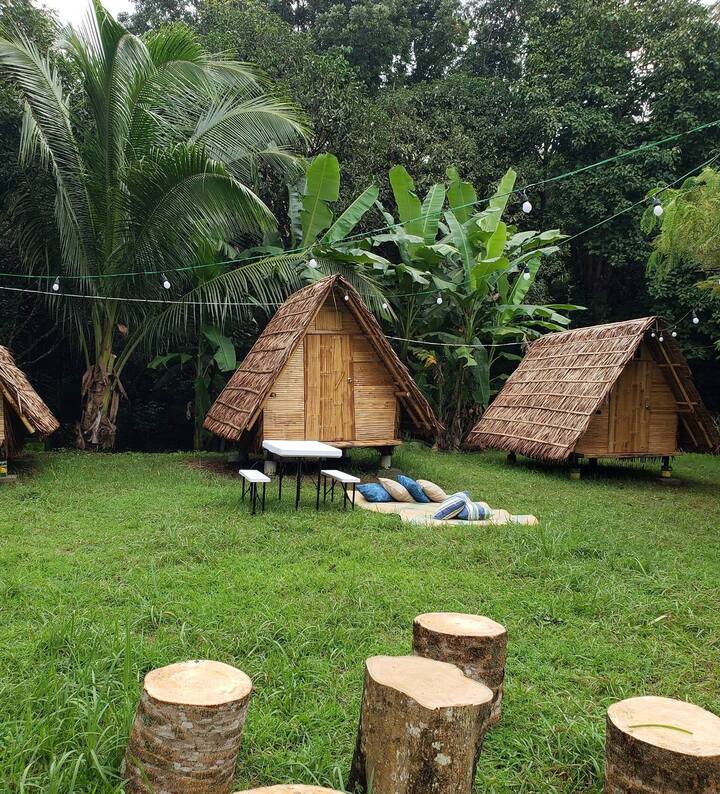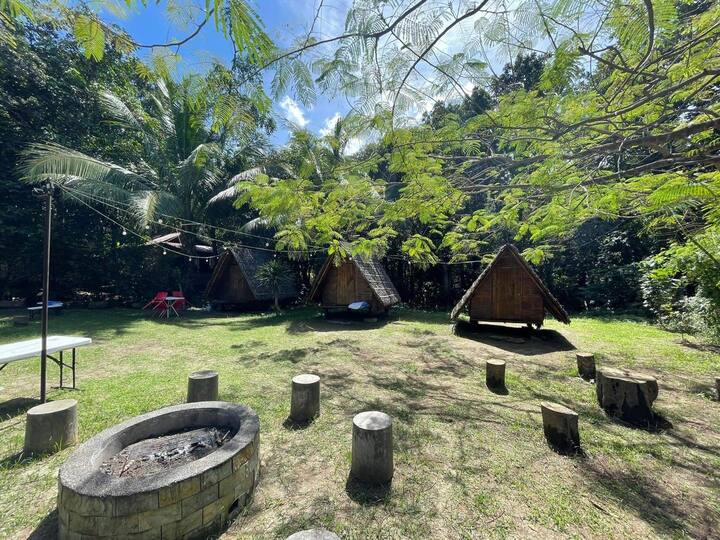 The overnight rate is at P1,900 for 2 pax inclusive of breakfast.
Dampa
If you're planning to go on a road trip to Taal with your barkada, you'd want to stay at the Dampa. Made with bamboo and nipa, this cozy hut is ideal for a group of four. It has a veranda with comfy bean bags – all you'll need is some beer and your best stories, and you're bound to have a good time. There's also a bonfire pit up front, which you'll enjoy exclusively.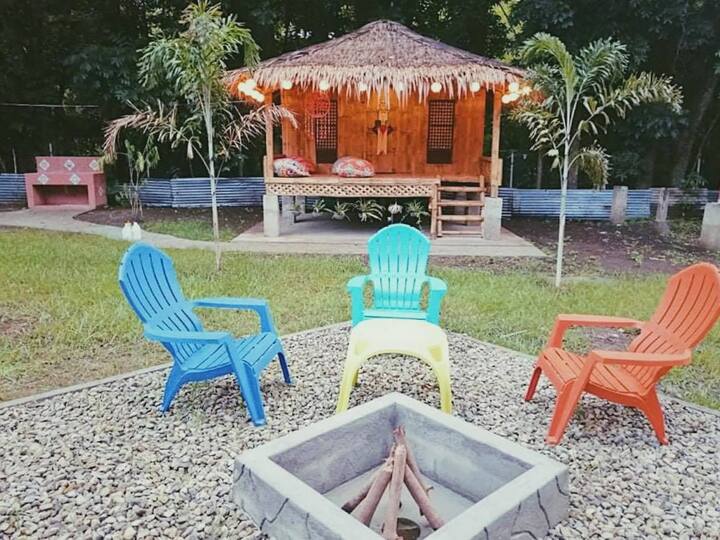 The overnight rate is at P4,000 for 4 pax inclusive of breakfast. Up to 6 guests can be accommodated with an additional fee of P700 per head.
Balai ni Joaquin
If you want to enjoy the cool and crisp province air during your stay, go for the two-floor Balai ni Joaquin. It has a lounge area on the ground level and a cozy room upstairs. The room has a view of the grounds, but don't worry about your privacy, you can draw the chic white curtains when you sleep.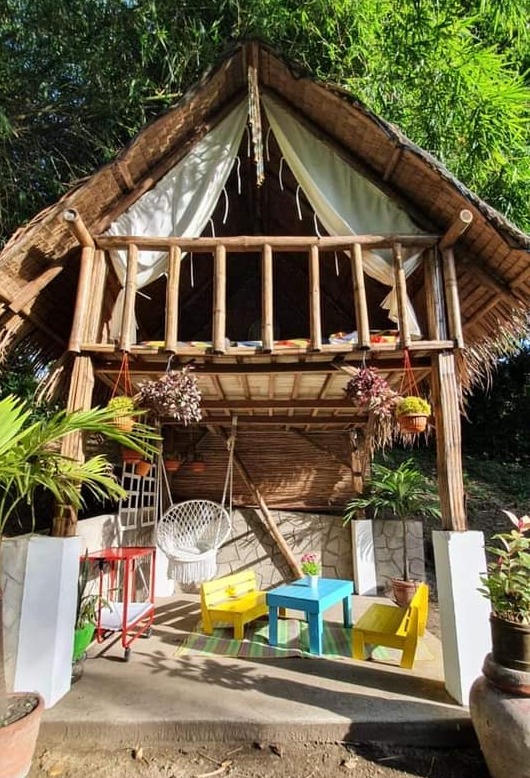 The overnight rate is at P2,200 for 2 pax.
Camping
Here's to the bunch who wants to completely rough it out – you don't even have to bring your tent as they're for rent! All you need to bring are essential camping gear and you're good to go.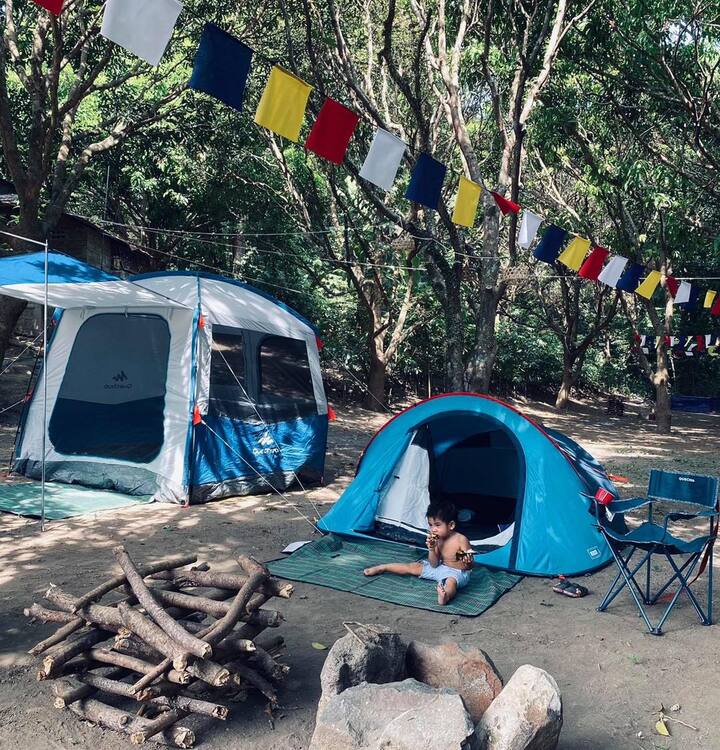 Tent rentals at Camp Lucas start at P1,000 for 2 pax.
Missing the Great Outdoors? Check Out Some of the Campsites Just Outside Metro Manila
Missing the Great Outdoors? Check Out Some of the Campsites Just Outside Metro Manila
Jon Christoffer Obice | May 04, 2021
For inquiries, bookings, and more information on accommodations and travel requirements, send a message to Plantacion Isabel's Facebook page.