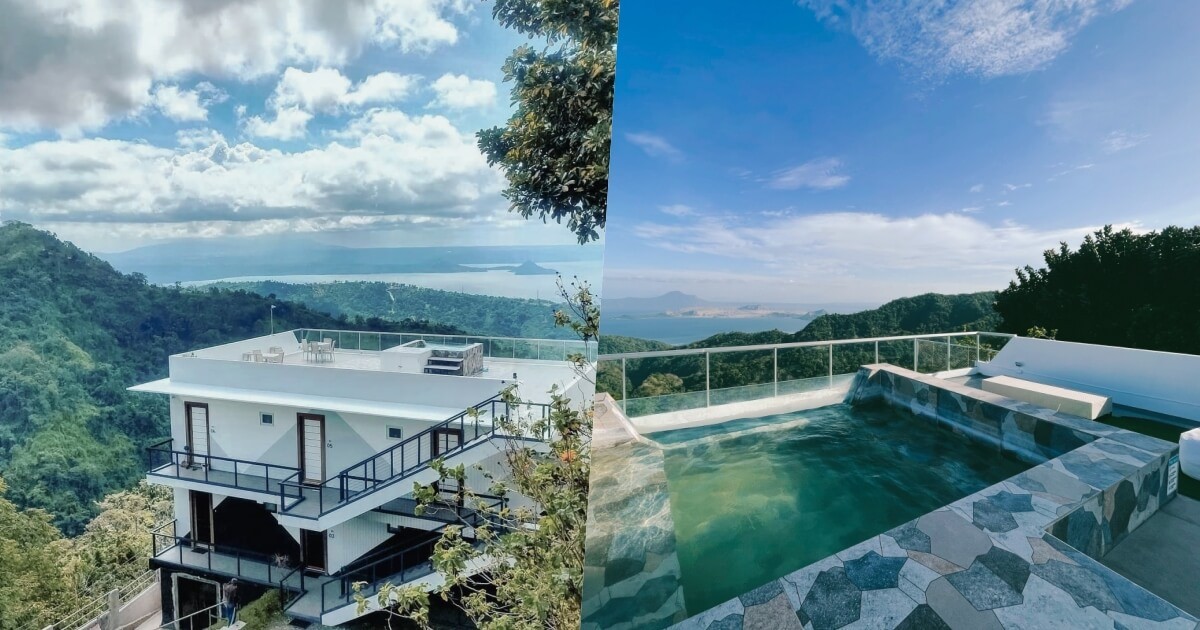 Wake Up to a Breathtaking View of Taal Lake at This Hidden Gem in Tagaytay
Pro tip: Book the corner rooms for the best views!
by Cristina Morales | April 07, 2022
Tagaytay is easily one of the most accessible destinations for people wanting to just get away from the craziness that is Metro Manila. Just over an hour away from the metro (sans traffic), Tagaytay offers scenic tourist spots, amazing local cuisine, a cool atmosphere with an ever-present breeze, and all the creature comforts you'd expect to find in a city.
If you're planning a trip to Tagaytay soon, there are plenty of well-known hotels to choose from, but it's the hidden gems that make trips extra special. If you're looking for something with Instagrammable interiors, amazing views of Taal Lake, and affordable prices, you can't go wrong with Raffi's Suites, one of the newer hotels in the area (it started operations just last year!).
Raffi's Suites
Located at The Enclave, Talisay Road, Raffi's Suites is a boutique hotel nestled in the slopes just below the ridge. Raffi's Suites faces Taal Lake, so every single room in the hotel is guaranteed to have a breathtaking view.
View this post on Instagram
(If you're already familiar with the designer villa Raffi's Way, you've probably already guessed that Raffi's Suites is owned by the same people. Raffi's Suites has a similar feel, but is more affordable and is ideal for smaller groups.)
This hotel houses six rooms that can sleep two to three people comfortably. Three rooms feature a white theme, while the other three have a black theme.
The Black Suites
Found on the second floor, the three black suites are unlike any other in the area. They're modern, moody, and look amazing at night.
All rooms are furnished with a queen-sized bed, an electronic safe, and an air-conditioning unit.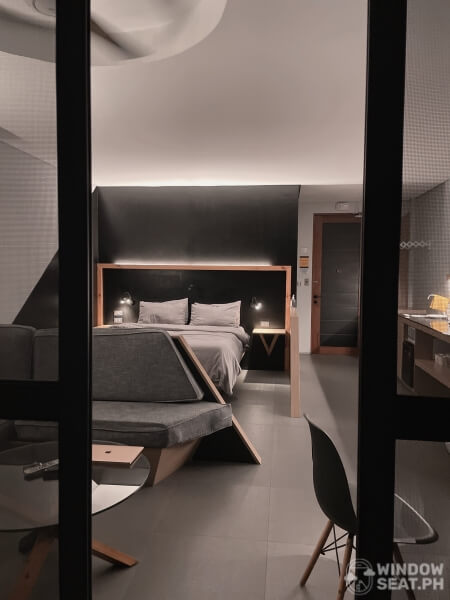 The living area has a flat-screen television and a five-seater sofa that's perfect for lounging around in. The TV's got Netflix, YouTube, and other popular streaming apps, so movie marathons are totally doable.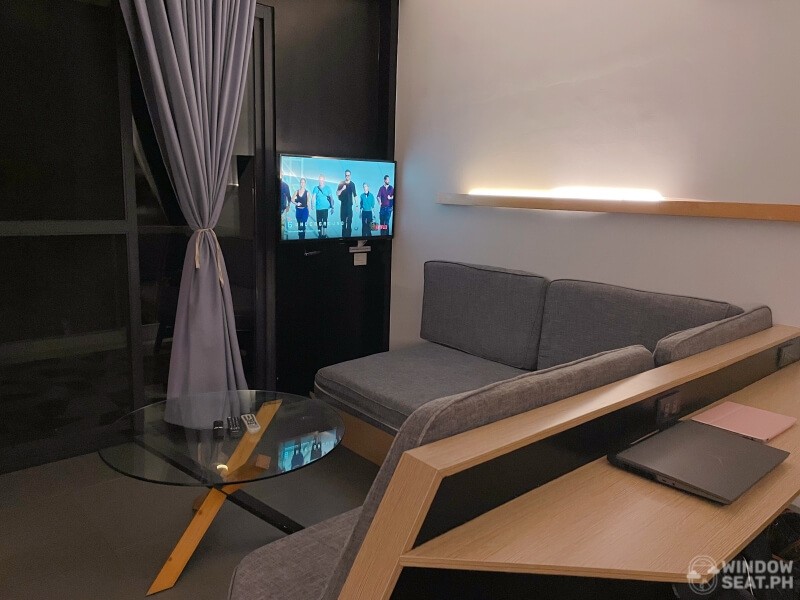 Meanwhile, the kitchenette comes with an induction stove, a microwave oven, a rice cooker an electric kettle, and a refrigerator. It also has dinnerware, cutlery, and you can also request to borrow additional cooking utensils and wine glasses.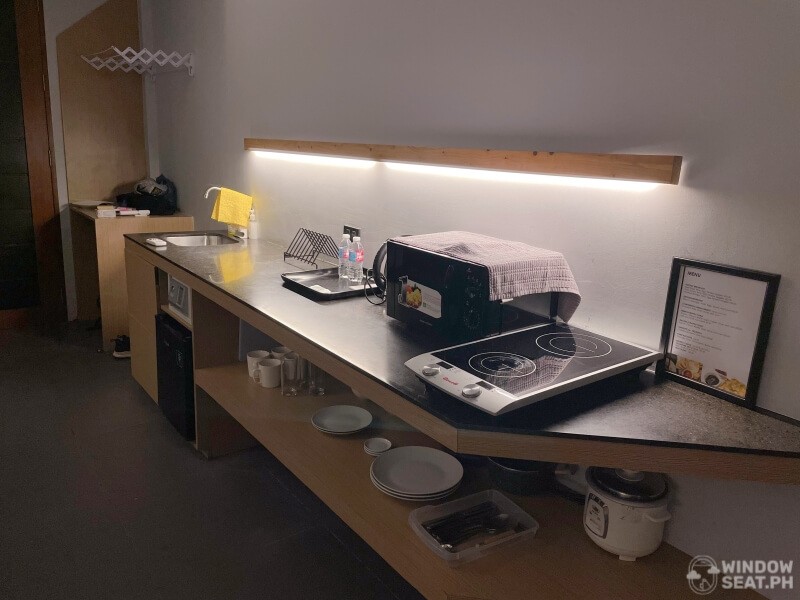 The suite also has a small dining area. The hotel doesn't have an in-house restaurant, but it does offer breakfast at an additional fee. Just give your order to the staff the day before so they can have it ready by the morning.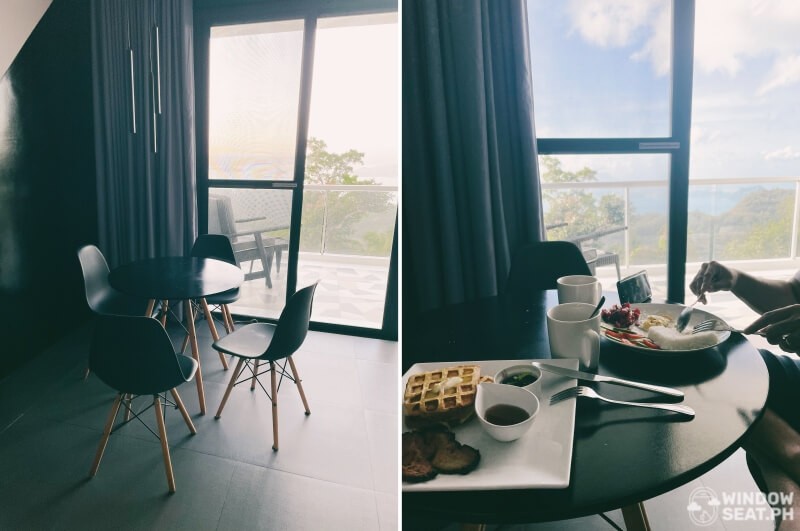 Though most of Raffi's Suites guests visit for just the weekend, some stay for extended periods of time. Because the place has WiFi, it's great for people who want to spend a longer time away from the city. The hotel also has a laundry service.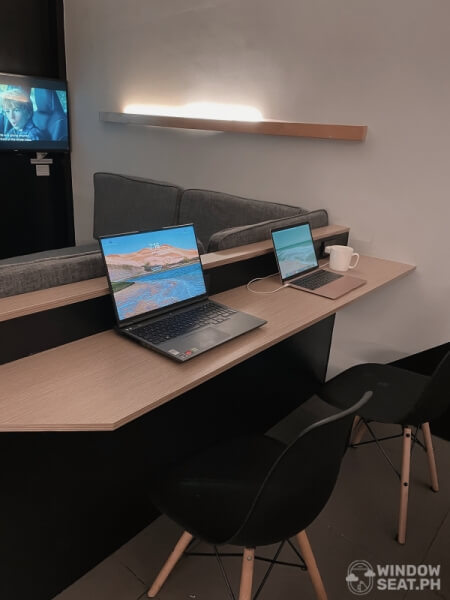 Each suite also has a generously-sized private balcony facing Taal Lake. Even on warmer afternoons, the cool Tagaytay breeze makes this area a comfortable place to lounge around in.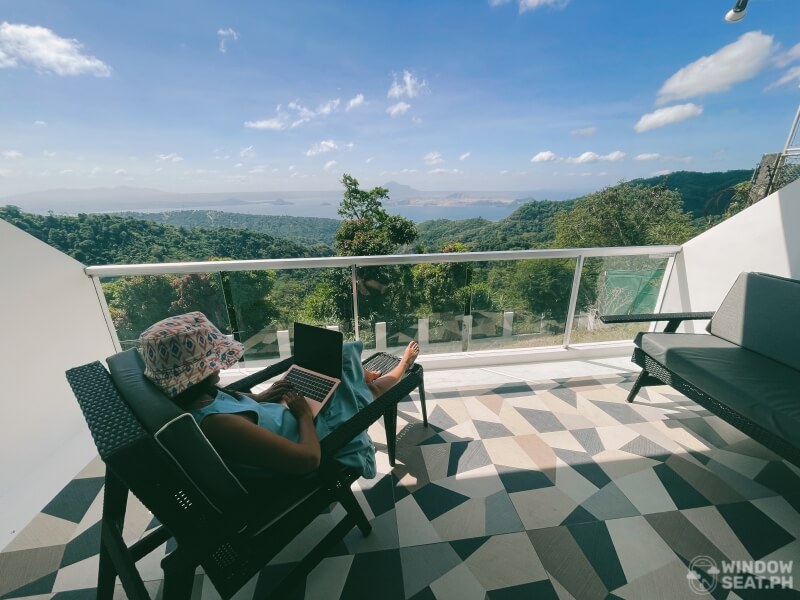 The private bathroom has a hot and cold rain shower. Hand and body towels are also provided, as well as basic toiletries and a hairdryer.
Taste Farm-To-Table Goodness at This Gorgeous Alfresco Restaurant in Tagaytay
Taste Farm-To-Table Goodness at This Gorgeous Alfresco Restaurant in Tagaytay
Jon Christoffer Obice | Jul 26, 2021
The White Suites
If you're looking for something more along the lines of the Korean minimalist aesthetic that's all the rage right now, the hotel's three suites will probably be right up your alley.
Located on the third floor, the white rooms' bright and airy interiors can instantly make you feel lighter.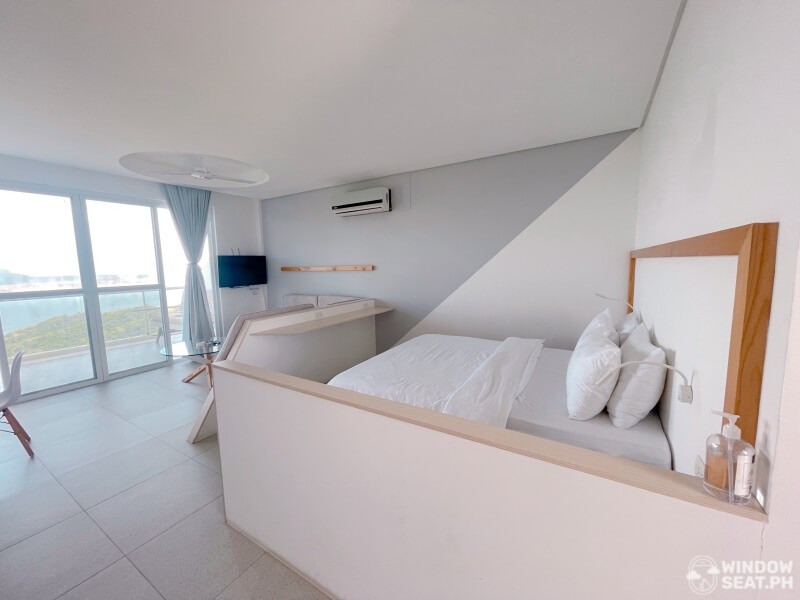 The white minimalist interiors are easy on the eyes and will look great on the 'gram!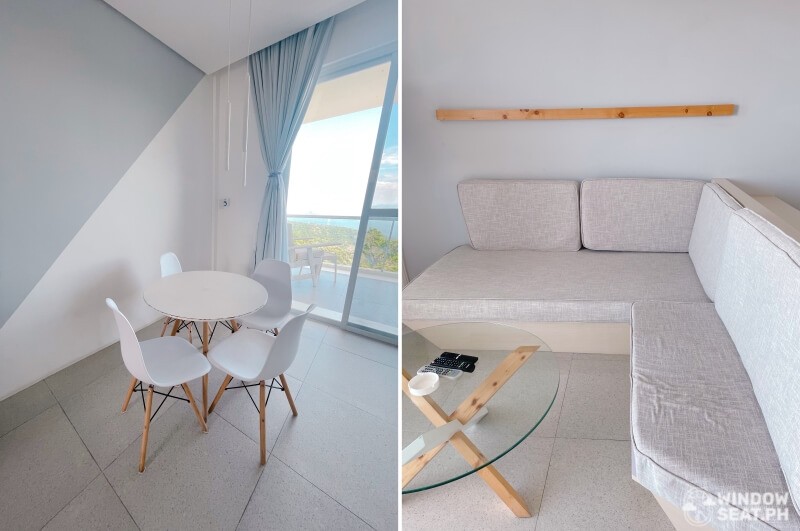 Other features
The hotel has a shared roof deck with plenty of chairs to lounge around in, as well as a jacuzzi-type pool you can take a dip in.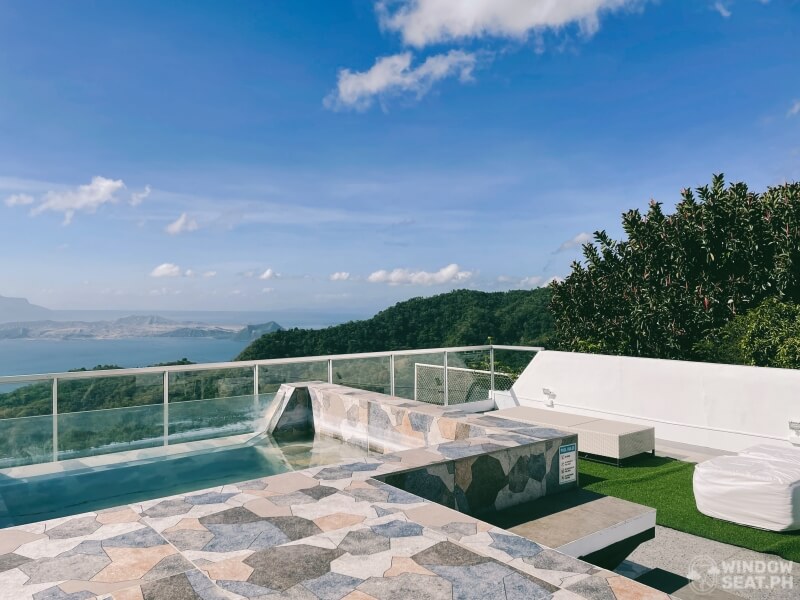 As it's the hotel's highest spot, the roof deck has the best views of Taal Lake, making it perfect for photo ops.
Note: It does get quite windy around sunset, so make sure to pack a warm hoodie (and a thick towel, if you're planning to take a dip)!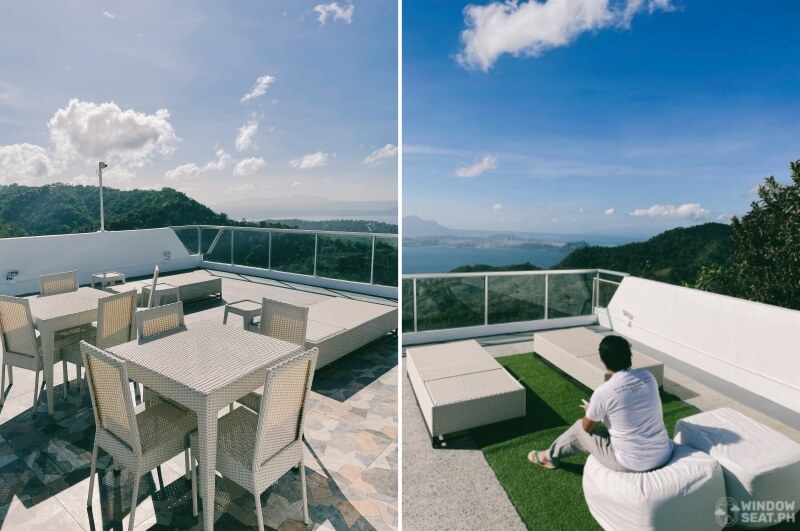 Because the hotel faces east, you can expect to see gorgeous views of the sunrise — weather permitting.
And if waking up at 5:30 am doesn't exactly appeal to you, Raffi's Suites makes it easier than ever to catch the sunrise. You can easily wake up, take in the sunrise from your balcony, then go back to bed. You could even take a nap right in your balcony as the world wakes up!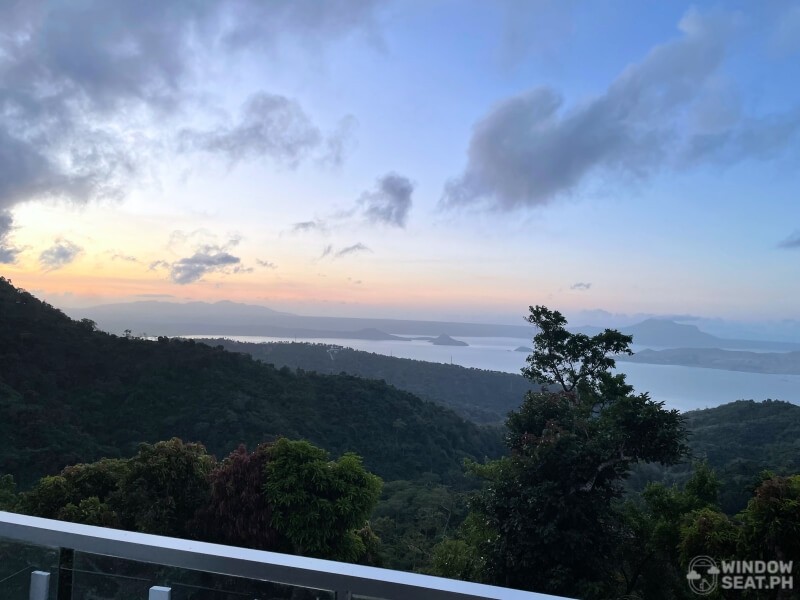 Guests can also make use of the hotel grill to cook their meals. The grill is available on a first to request, first to use basis. The place is also planning on offering pizzas soon, so you can watch out for that!
There's also a small convenience store in the lobby on the first floor, so if you're feeling peckish for a snack or in need of some essentials, you can just drop by. The lobby also serves as a mini boutique for Seva Manila, a local womenswear brand.
Raffi's Suites is also just five minutes away from Tagaytay Rotonda, so it's easy to access popular tourist spots such as Sky Ranch Tagaytay and Tagaytay Picnic Grove.
Take a Picturesque Pitstop on Your Way to Tagaytay at This Minimalist Container Van Cafe
Take a Picturesque Pitstop on Your Way to Tagaytay at This Minimalist Container Van Cafe
Cristina Morales | Sep 09, 2021
How much is a stay at Raffi's Suites?
Here are Raffi's Suites room rates for 2022:
Regular Rooms
P5,000 per night (Weekdays: Monday-Thursday)
P5,500 per night (Weekends: Friday-Sunday, Holidays)
Corner Rooms
P5,500 per night (Weekdays: Monday-Thursday)
P6,500 per night (Weekends: Friday-Sunday, Holidays)
What's the difference between a regular room and a corner room? The corner rooms are located at the corner have an extra window, giving the room more natural light.
If you're a sucker for a good view, the upgrade is definitely worth it. You won't even have to get up from bed to catch the sunrise!
View this post on Instagram
Some additional reminders
Raffi's Suites is a self-catered private vacation accommodation service, so it doesn't offer daily housekeeping or room service.
Check-in time is at 2 PM while checkout time is at 12 PM. If you have a car, you can park it for free at the hotel's parking space.
For reservations and the latest updates, you can visit Raffi's Way Suites on Facebook or Instagram.