As Sagada Reopens to Tourism, Listen to These Reminders from Locals on How to Be a Respectful Traveler
Ready to go for a road trip up north?
by Ina Louise Manto | January 04, 2022
Where do broken hearts go? Sagada. Kidding aside, Sagada has long been a popular destination in the northern region for its cool weather all year round, scenic mountains for the best sunrises, cuisine, and more. It's made even more popular when it was featured in the movie That Thing Called Tadhana in 2015 and after closing its borders due to the pandemic, the travel destination is slowly reopening to tourists again this year.
But just like the other new places we travel to; we have the responsibility to respect and live like locals to make the most out of the travel experience. As the popular local destination slowly reopens to the public, an old tourism campaign by Sagada Municipality has started to recirculate again. Though originally shared in 2019, these reminders are still relevant today:
On taking photos and videos
Today's internet culture has alarmingly made taking photos and videos of strangers the norm (which shouldn't be). Remember that the natives, especially those dressed in traditional clothing aren't doing so for your satisfaction; they aren't artifacts for display. They're simply living their way of life. Instead of posing with the elders, just appreciate the destination; in case they need to be included in the photo, always ask for permission.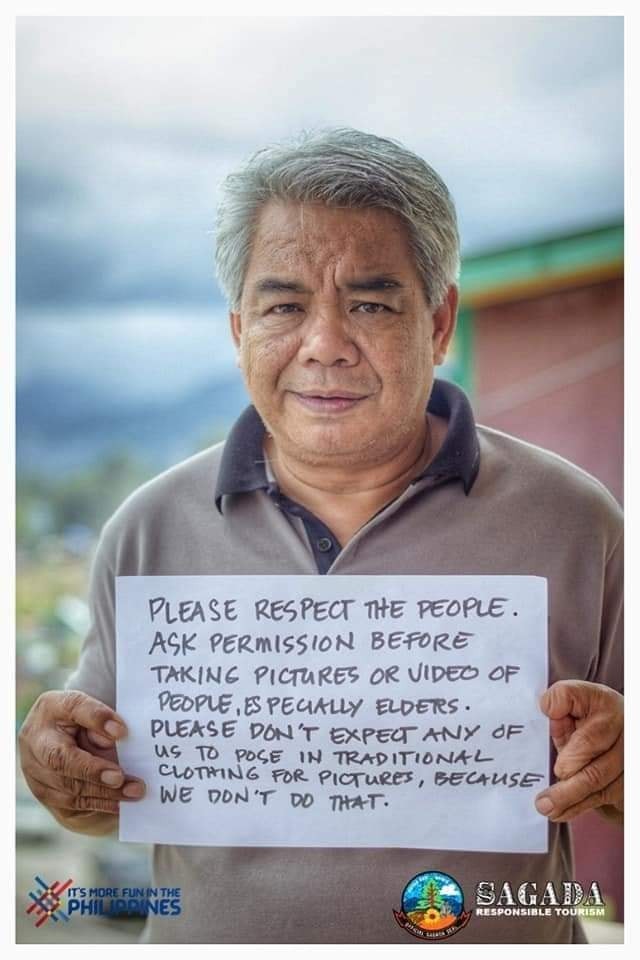 The same goes for its community.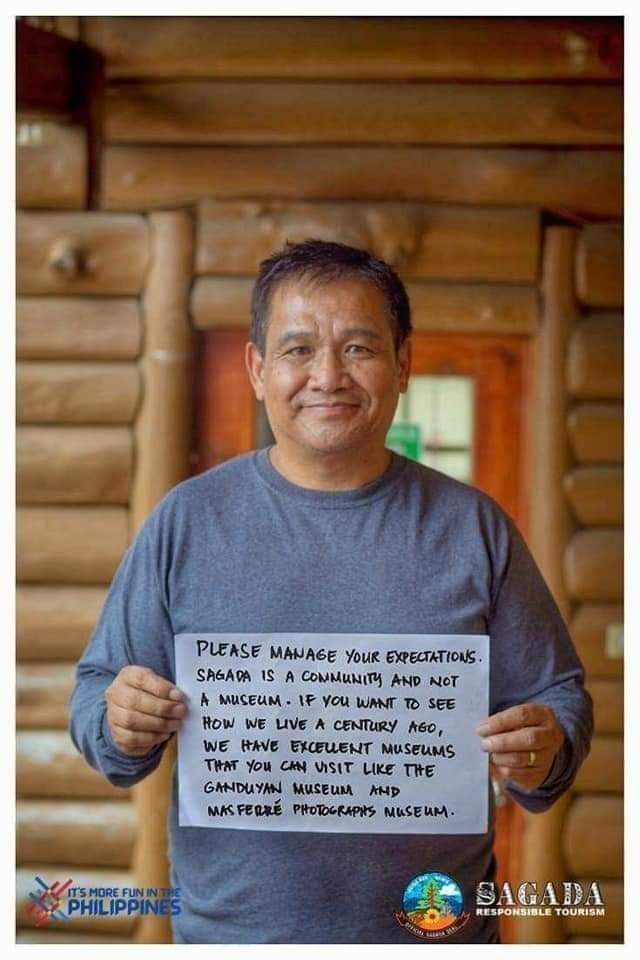 On your safety
We all have that adrenaline from the revenge travel, making us feel invincible and up for any adventure when on holiday. But Sagada is surrounded by cliffs, caves, and forests, making it prone to accidents. No one wants that during vacation! Sure, you can DIY your itinerary but don't forget to get a guide; they'll make your experience both safe and enjoyable too.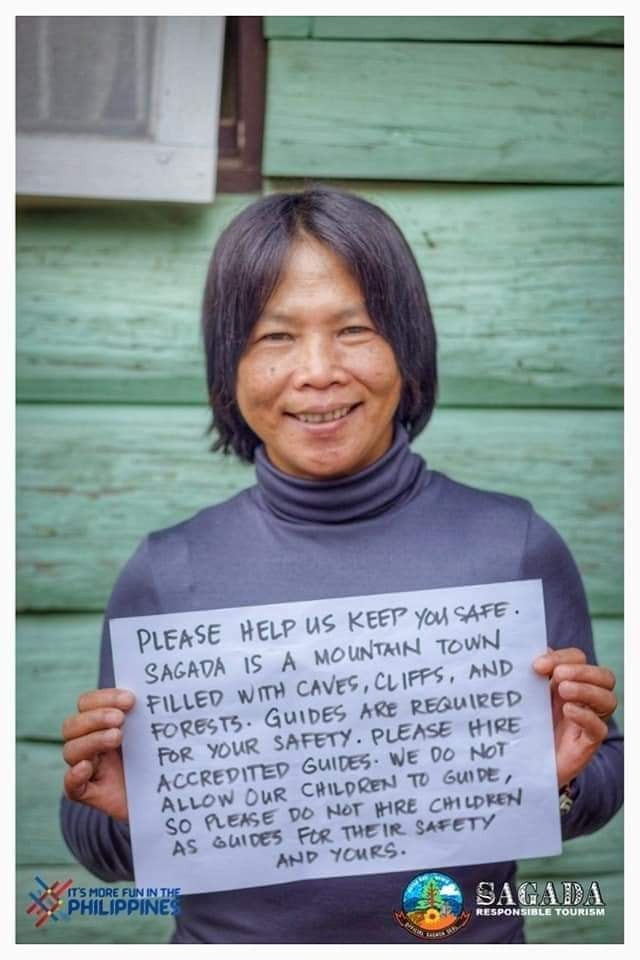 On modesty
Traveling with a partner? Sure, the Sagada weather will make you feel cuddly, but save that for when you're in a private space. Many tribes remain conservative until today, and they keep it that way. And if you're looking for some fun, know that Sagada isn't the place for that. Soak in nature, appreciate the culture, and reflect – there's no wonder why the municipality is known for soul searching.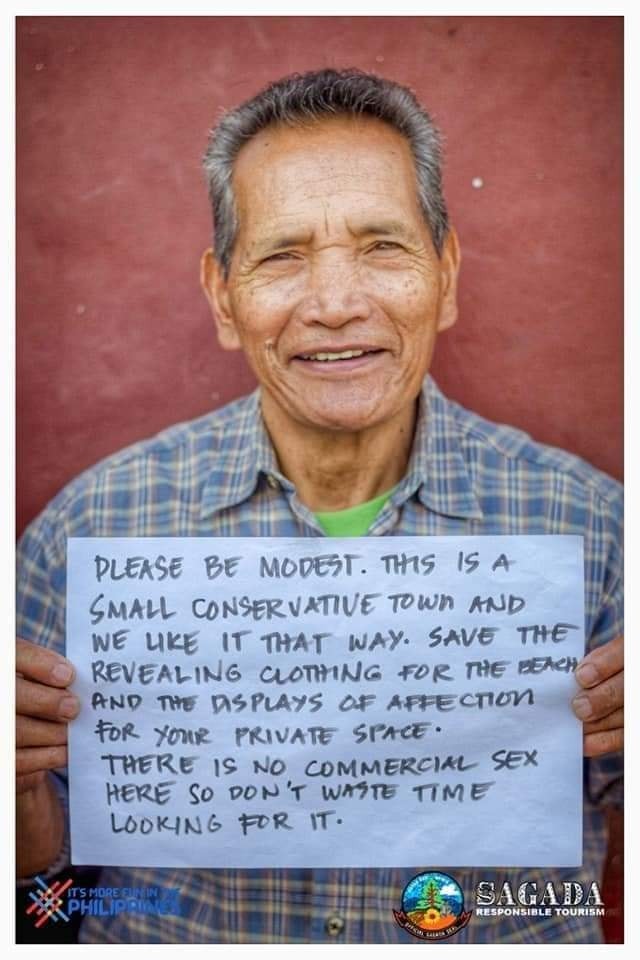 On public transportation
While where on the topic of soul searching, it's best accompanied by walking a.k.a. the best way to see the beauty of Sagada. There are just places you get to appreciate more when you simply blend in and contemplate. Nature is your playground in Sagada; make every step count! Also, after being crammed in a car for the long drive up north, wouldn't you be too tired to sit in a vehicle again during your trip?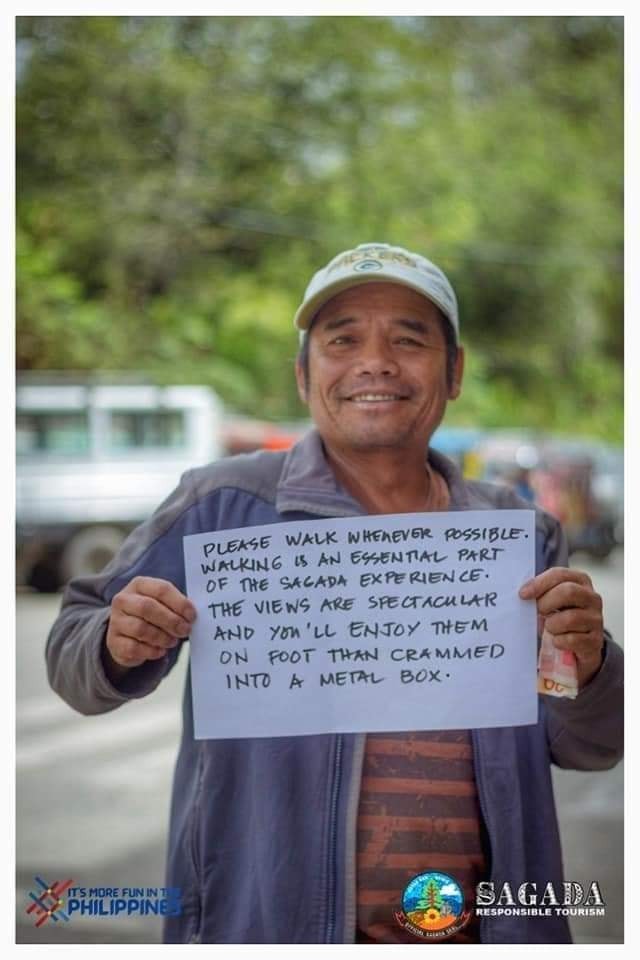 On conserving water
Sagada is the home of rice terraces and farms; these aren't just tourist destinations but the livelihood of natives.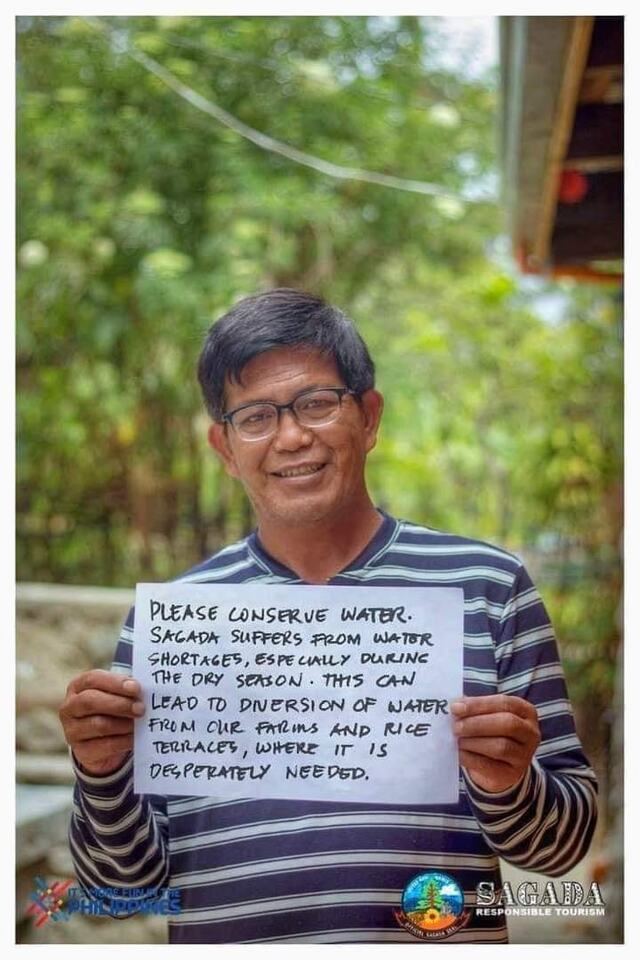 On culture
Many popular tourist destinations around Sagada are tied to the natives' culture, just like the Hanging Coffins. When told not to touch or disturb sites, simply don't.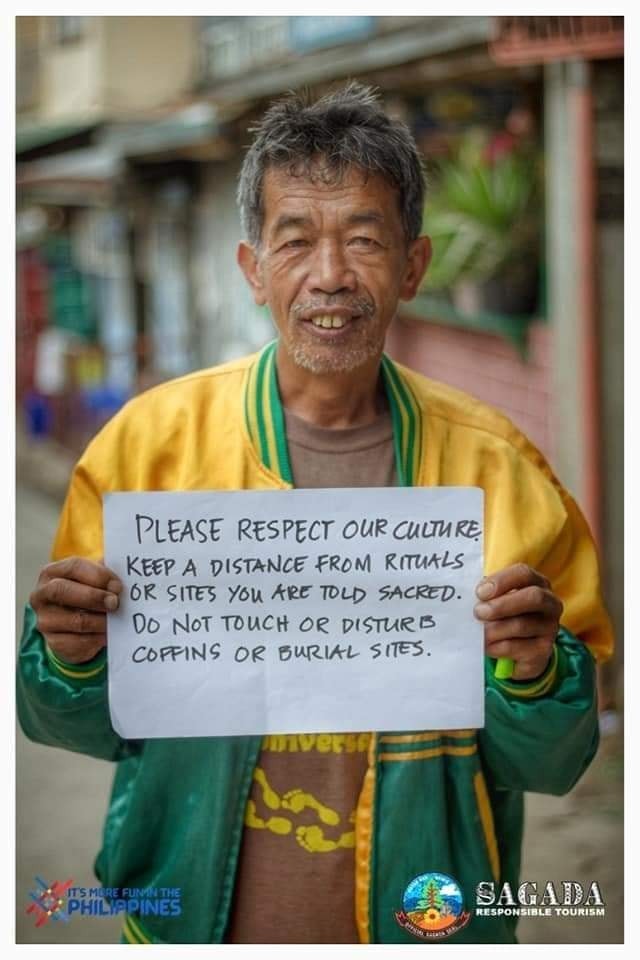 Most importantly, be kind
Tourist or not, it's the most decent thing you can do every day. Remember that as a tourist, you're simply passing by and your actions and choices will leave marks on natives even long after your trip. Practice patience and kindness, and you'll make your much-needed vacation more memorable.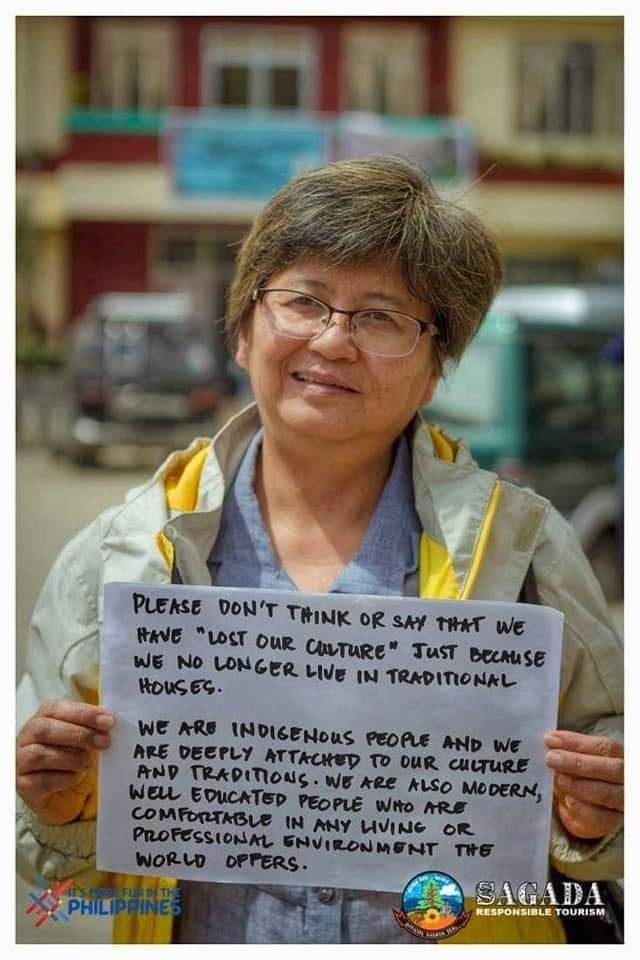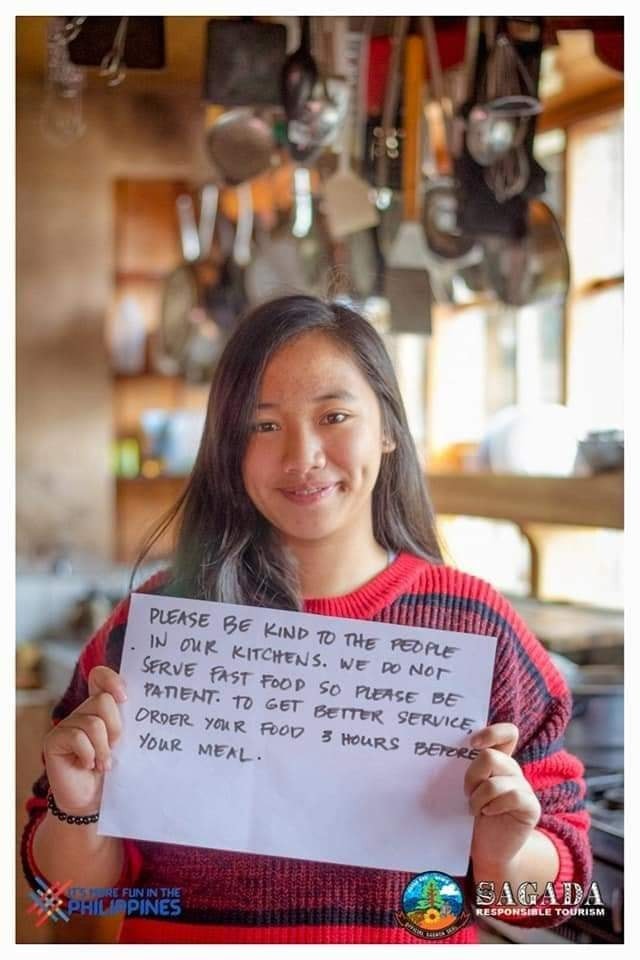 Sagada Travel Requirements
Ready to go on a drive to Sagada? Here are the important documents to take note of:
Book a minimum of a 1-night stay in a DOT-accredited and LGU-certified accommodation establishment. Once the booking is confirmed, the accommodation will provide a passcode to be used for online registration. Guests must book at least 2 days before the date of arrival.
Register at the UMALI KAYO portal at least 2 days prior to arrival. https://umali-kayo.sagada.gov.ph/
Present a vaccination card or certificate indicating full vaccination. Individuals aged 11 and below shall be exempted from this provided that they are accompanied by a parent or guardian.
Present at least one of the following:
Negative Rapid Antigen Test (RAT) result and Official Receipt (OR) of the transaction. The test must be taken at a medical government office or hospital institution.
Negative RT-PCR swab test result from a DOH-certified testing laboratory valid 48 hours since the date of release.
Negative RT-PCR saliva test result from the Red Cross valid 48 hours since the date of release.
RAT is also available at the Pegeo Border control point at P960 per test.
Guidelines for Tourists
Tourists must take the Dantay-Sagada Road when entering Sagada and the Sagada South Road when exiting. The advised ETA for arriving tourists is between 8:00 AM to 5:00 PM to avoid delays in the checking of requirements.
Upon arrival at Pegeo Control Point, tourists are to:
Present QR code or registration confirmation in the UMALI KAYO registration system
Present vaccination card and negative RT-PCR test or RAT result
Undergo triage
Once cleared, tourists may proceed to the Tourism Hub for orientation and receive their tourist kit. Tourists may proceed to their accommodation after.
For more information and regular updates, visit Sagada Tourism's Facebook page. Travel safely and responsibly!