Perfect for Short Getaways, This Cozy Loft in Baguio Is a Plant Lover's Haven
A stylish and cozy space that wouldn't hurt the wallet.
by Ina Louise Manto | January 18, 2022
Can't get enough of the cool weather in the city? This weather isn't going away any time soon and one of the best places to bust out your fave jackets is at the Summer Capital. Whether you're looking for a refreshing solo trip to begin the new year or a quick getaway to enjoy the weather before the summer heat arrives, this affordable and stylish loft is worth adding to your travel plans.
Cozy loft for a quick Baguio getaway
Going on a memorable trip away from home doesn't always mean you'll have to shell out a huge chunk of your savings. This loft in Baguio maximizes its space to provide a cozy, insta-worthy, and budget-friendly stay. Adorned with plants that will make any plant lover swoon, the well-designed loft is perfect for a laid-back stay. Whether it's for a solo trip, a romantic getaway, or a spontaneous trip for the barkada, this accommodation is perfect for making new memories in the cool city.
It's located in Summer Pines Residences along Marcos Highway, which is just a few minutes' drive from the city center. If you wish to enjoy the conveniences of being close to where the hubbub is but still want to enjoy a slice of peace and quiet at the end of the day, this stay might be your cup of tea.
The loft
The main floor area features a modern and cozy space, equipped with everything you'll need for a comfortable stay. Incorporating the fresh air and greenery Baguio offers, the space is made brighter and more relaxing with its huge glass doors, which makes the interiors look brighter and more spacious.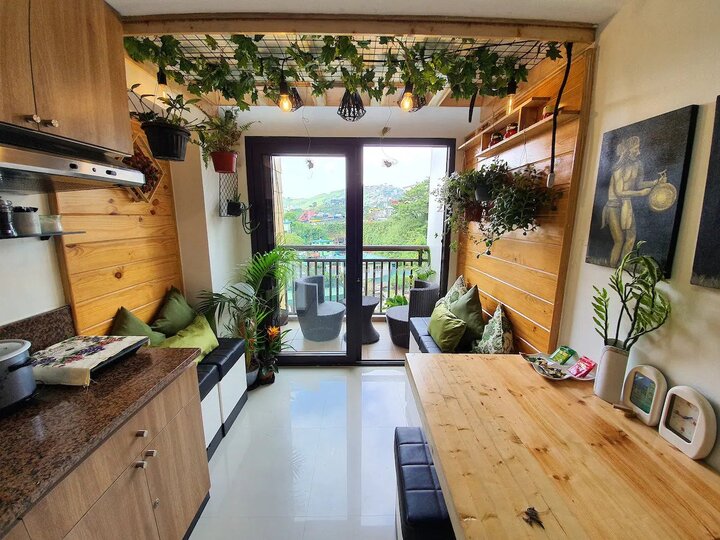 You'll find an equipped kitchen that will help you save on the cost of eating out, a scenic dining area, and a bedroom that has a queen bed.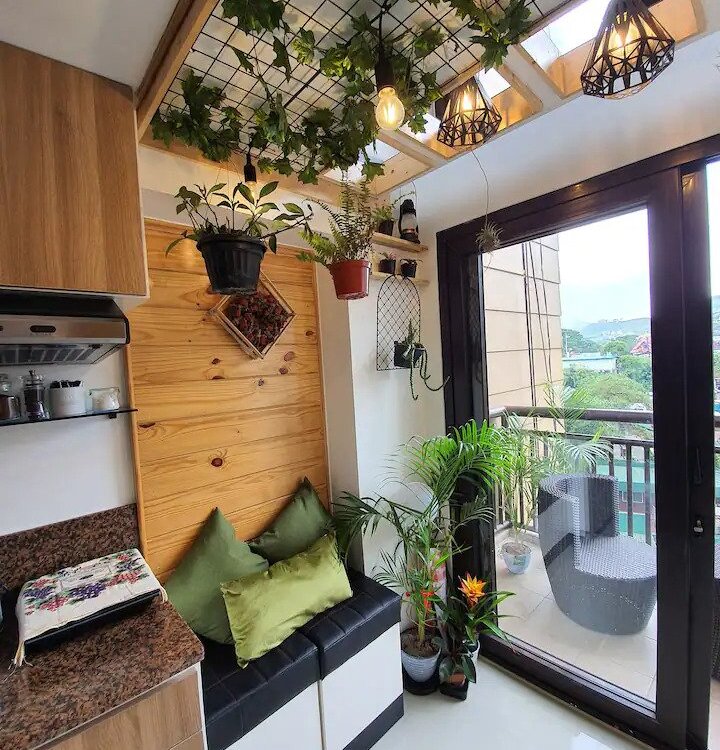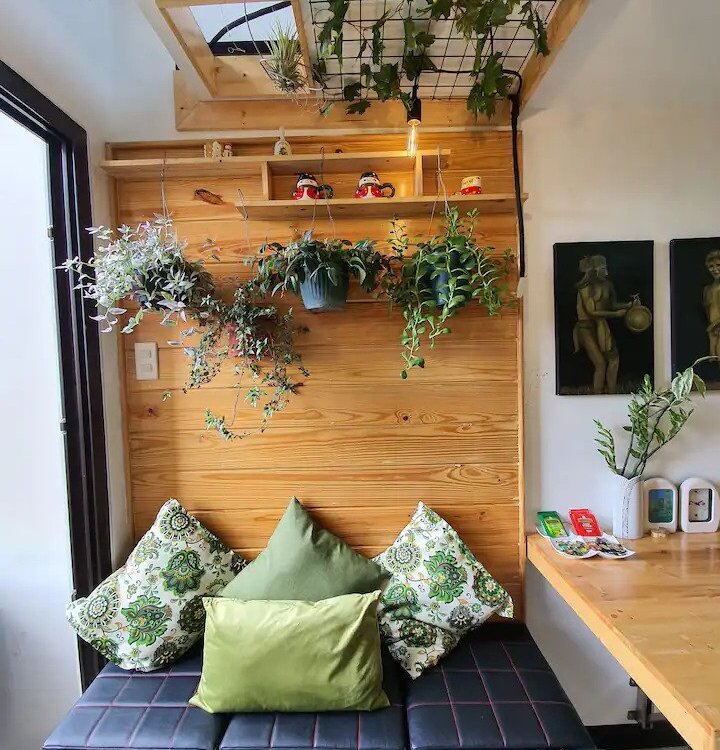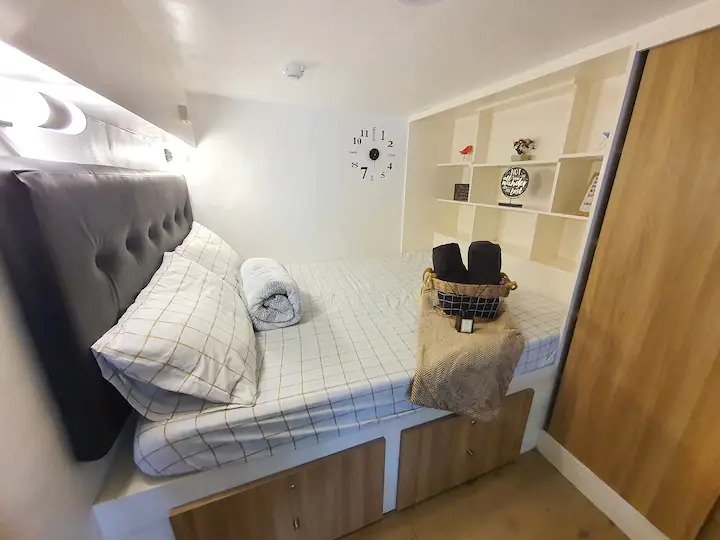 The property is ideal for two guests, but up to four can be accommodated here as the sofas in the living area can be converted to a bed. It's located in the loft, equipped with a Smart TV, perfect for when you want to stay in.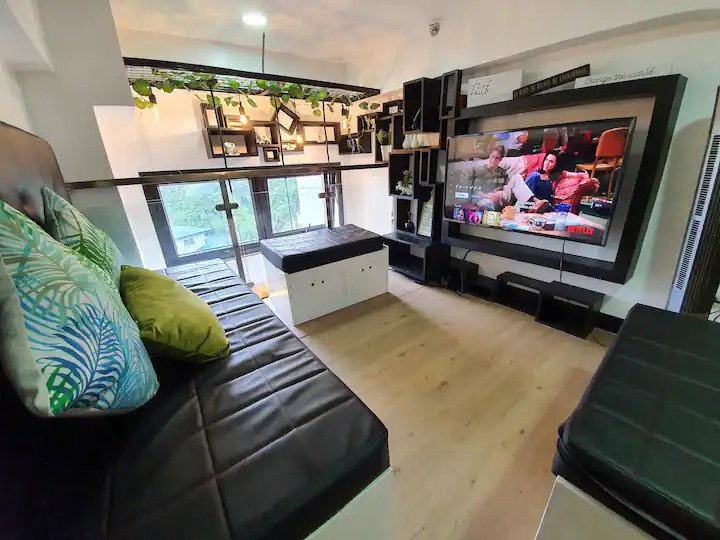 Aside from taking late-night walks, the balcony is perfect for some late-night muni-muni, especially for solo travelers. With a warm drink on hand, it's the best spot to enjoy the cold weather as well.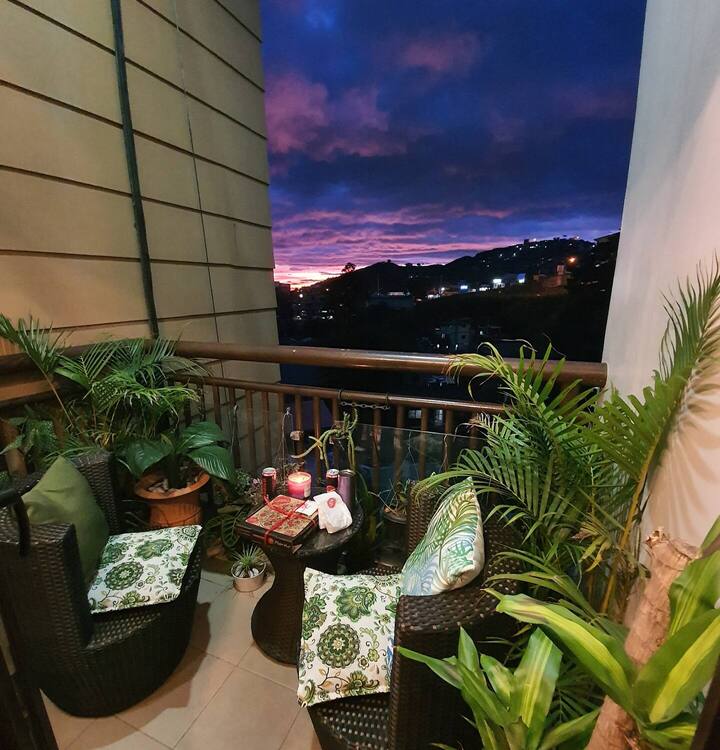 A stay at this modern loft also comes with free parking space.
Rates at this loft start at P2,286 per night. Book your stay here.
Make the Most Out of Your Baguio Getaway at These Cozy Cabins for Rent
Make the Most Out of Your Baguio Getaway at These Cozy Cabins for Rent
Ina Louise Manto | Jun 21, 2021
For inquiries and more information on travel requirements, contact the Airbnb host.