Miss Singaporean Food? Take the Flavors of SG Home with This Year's Singapore Food Festival
Delish!
by Cristina Morales | August 27, 2021
Being a melting pot of many cultures, the food scene in Singapore is like no other. From Little India to the CBD, you can indulge in beloved dishes like chilli crab, laksa, bak kuh teh, oyster omelette, and more. If that short list of popular Singaporean dishes just made you salivate — here's some good news: you can enjoy authentic Singaporean flavors without getting on a plane.
Now on its 28th year, the annual Singapore Food Festival (SFF) is back, bringing the best of Singapore's F&B scene to the world from August 27 to September 12. With the theme "Savour Singapore in Every Bite", SFF and the Singapore Tourism Board (STB) is presenting a hybrid of 50 physical and online gastronomic activities, highlighting the country's food heritage and inventive culinary spirit. Pinoys can enjoy Singapore's flavors through virtual food tours, docu-features, partner recipe videos, ordering from SFF's partner merchants, and more! Here's what you should know about Singapore Food Festival 2021:
The Boyster Omelette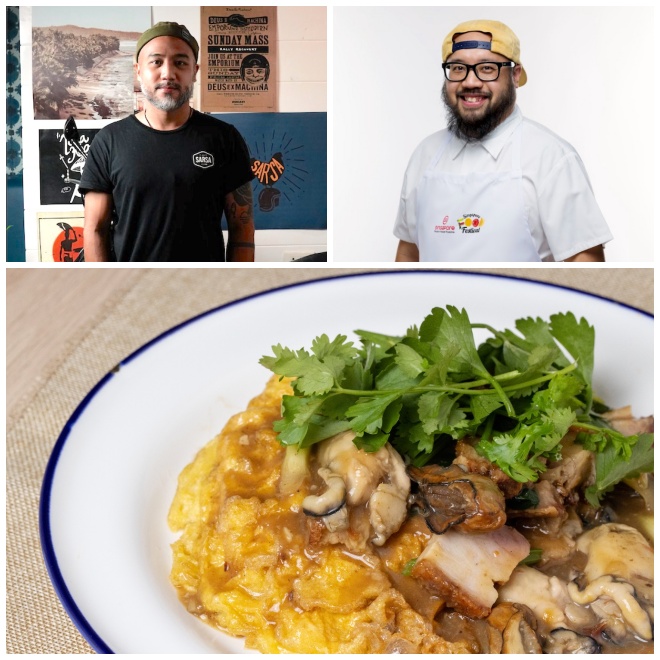 If you're a foodie who knows their way around the kitchen (or even if you're still figuring things out), you can immerse yourself in the SFF through the live masterclass of Chef JP Anglo of Sarsa Kitchen and Chef Bjorn Shen of Artichoke. The two (who are actually close friends who met in culinary school) will feature their own renditions of the Oyster Omelette, a Singaporean favorite that has been a staple in hawker stalls around the city-state.
In the Boyster Omelette Four-Hands Masterclass, which will happen on 29th August, the two chefs will demonstrate various spinoffs of the classic local dish. Interested participants can register on this link or watch via the VisitSingaporePH Facebook page.
Experience Singapore flavors with Pick.A.Roo
Pinoys can experience the best of Singapore flavors through STB's partnership with the homegrown delivery app, Pick.A.Roo. Choose from any of its 11 partner merchants — Putien, Hawker Chan, Babu, Marriott Cafe, Shang at Home, James & Daughter, Banana Leaf, Your Local, Char Express, Nanyang, and Wee Nam Kee — and get a discount worth PHP 150 for a minimum purchase of PHP 1,000 with the code PICKSFF.
"STB is excited to bring the Singapore Food Festival to audiences around the world through these online classes, tours, and activities. We invite Filipino foodies to indulge in Singaporean cuisine from the comfort and safety of their own homes and find out more about Singapore's culture through food," said Ruby Liu, Singapore Tourism Board (STB) Area Director for the Philippines.
New to Singaporean food? Liu recommends getting a crash course through Netflix by watching the Singaporean episodes of Somebody Feed Phil and Street Food. Meanwhile, Chef Bjorn thinks the shrimp paste chicken (or Har Cheong Gai) is a good "gateway dish" for Pinoys as it features flavors that are already familiar to the Filipino palate.
More ways to reimagine travel, dining through SFF
The SFF has so much more to offer, from docu-features about Singaporean farms to virtual tours of Little India and Tiong Bahru. There are so many FREE virtual activities to check out — just visit singaporefoodfestival.sg to find something you're interested in.
With the Singapore Food Festival, Filipinos can still rediscover and explore Singaporean cuisine, see surprising similarities and new food innovations that they are free to experience now.
For more information, visit: www.visitsingapore.com.