What's Your Dream Travel Destination? Travel Expectations VS Reality for 2021
Try again next year?
by Ina Louise Manto | May 23, 2021
Here's to everyone who thought they'd be using their passports and walking in airplane aisles this 2021 – we feel you. After drowning in remote schedules in 2020, we all expected we'd be living our dream holidays this year. With lockdowns both domestically and internationally still in implementation, we can only live with the reality of our travel-less existence right now. Here are some travel expectations and realities that would make you miss traveling more: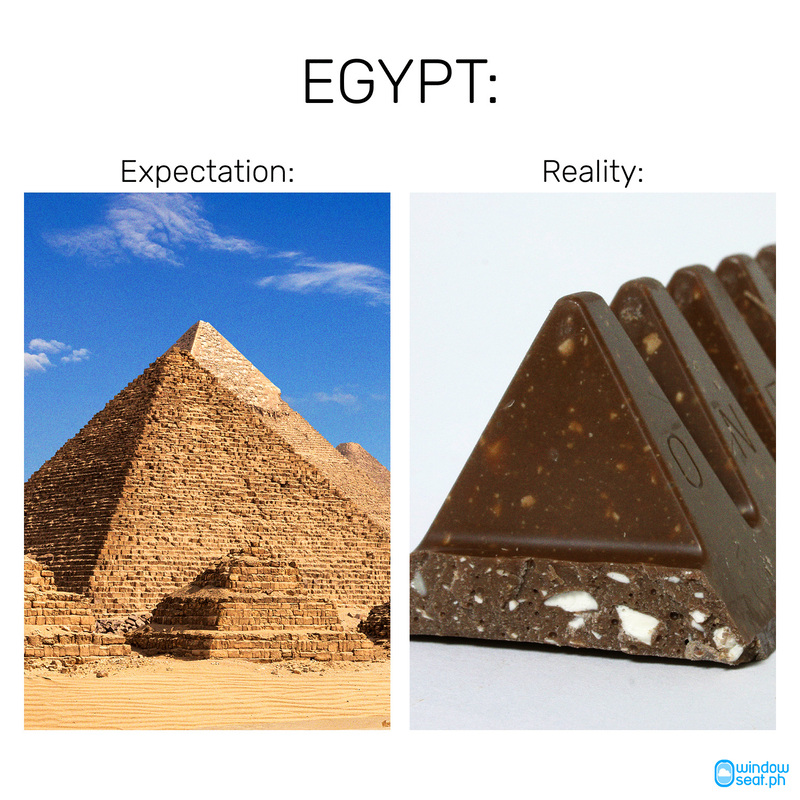 Whether you grew up loving films about mummies, want to learn about ancient history, or want to work your way through seeing the Seven Wonders of the Ancient world, a visit to The Great Pyramids of Giza is worth the travel amid the desert heat. But let's face it; the pyramid-like structures we're only seeing now are the boxes of Toblerone we've consumed from stress eating. Chocolates are one of the best pick-me-ups on a rough day and if you think you're consuming too many sweets lately, you're not alone.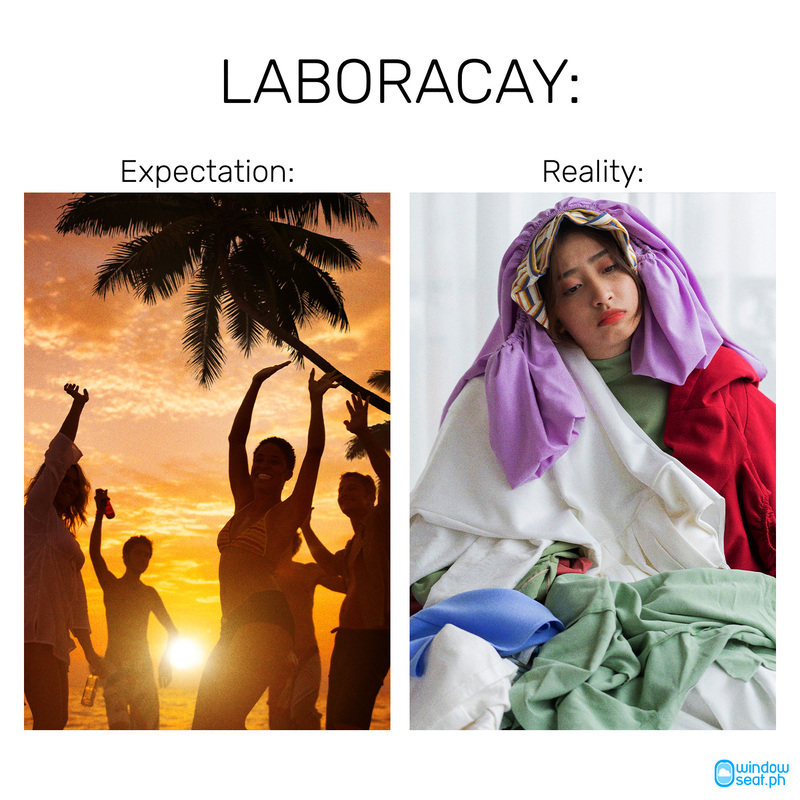 LaBoracay 2021? More like laba, day! Though Boracay has been open to tourists since October 2020 to support the travel industry, having to go through paperwork, testing, and other expenses doesn't seem so appealing for just one getaway. Instead of going on a sunset cruise, snorkeling, or sun bathing, the only thing we're getting close to a beach getaway is the piles of laundry we have to go through each week.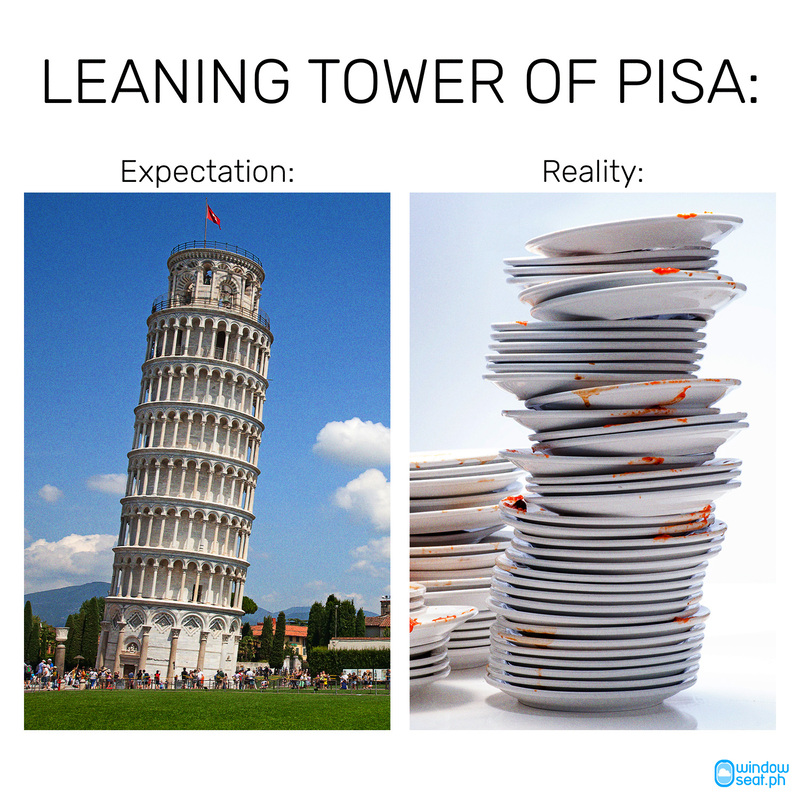 Usually packed with tourists getting the right angles for that iconic slanted shot, The Leaning Tower of Pisa is one of the top locations to visit when visiting Italy. You could be out there trying to get the perfect shot too, but the only leaning tower you'll get is the piles of plates and dishes you have to wash. Washing dishes is actually therapeutic – as long as you won't get yelled at and when you pair the chore with a good playlist. If you're seeing a leaning tower in your lababo, take this as a sign to stop delaying the chore and prevent your mom from screaming at the top of her lungs.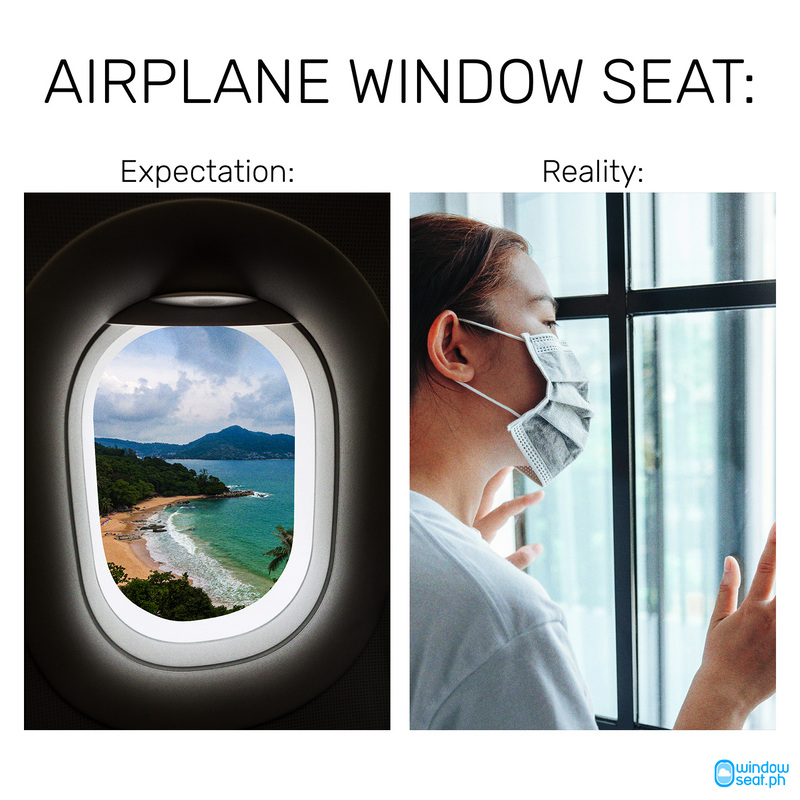 At this point, the only aisle I'm willing to walk is an airplane's or a movie theater's. We all miss the feeling of being woken up by our moms to prepare for a flight that's still eight hours away; it used to be annoying but oh boy, the things we'll do to have the same feeling again. When setting up a workspace, it's often recommended to work by the window for productivity, and it's the only window seat we're getting. Instead of feeling the excitement of exploring a new destination and seeing the rest of the world from a thousand feet above, we're all stuck with our usual workstations with a view of our neighbors.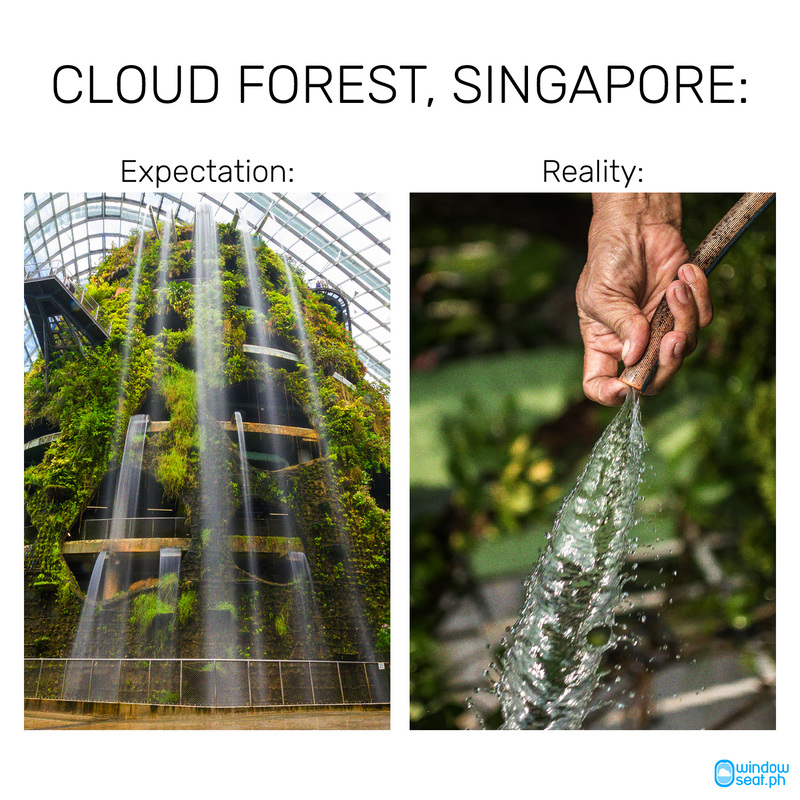 When visiting one of Asia's tiger cities,  a trip to Gardens by the Bay is a must especially if you're a plantito or tita, or visiting filming locations seen in Crazy Rich Asians. The Cloud Forest boasts verdant vegetation, where you'll learn and see different species of tropical plants. But you don't have to fly to Singapore in order to learn about new plants; just go outside and explore your mom's garden, which she grew over the past year. Your mom's obsession with plants is probably enough to build a forest at home! Cloud Forest? I only know Mama's Forest.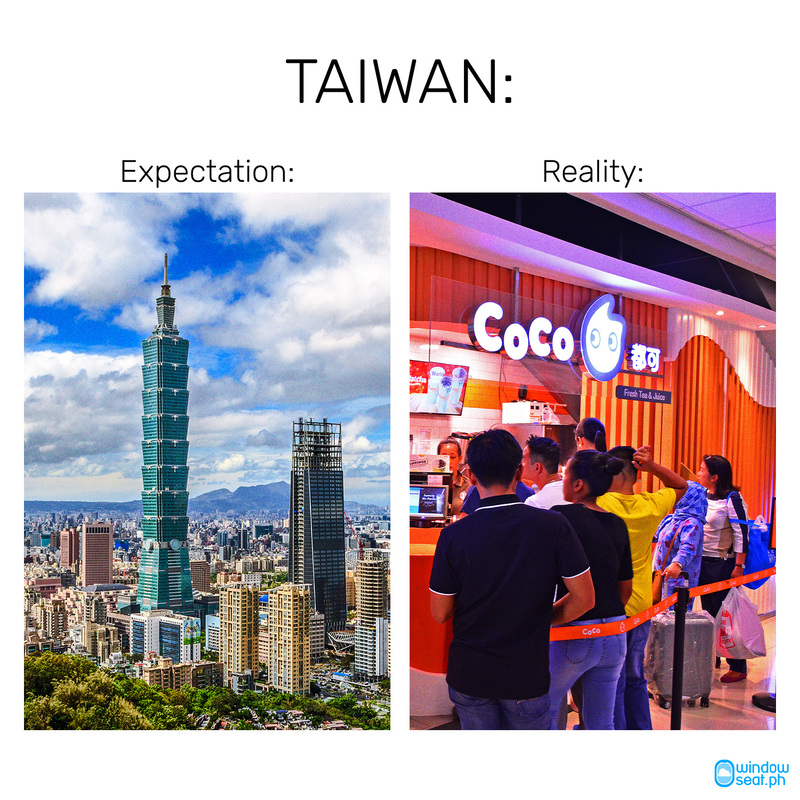 Your trip to Taiwan isn't complete without trying some of the country's best dishes: beef noodles, soup dumplings, and a refreshing cup of bubble tea. It's the country's most famous drink, best paired with chicken cutlet! Fortunately, Taiwan is just one click away. Several milk tea shops are now available in your fave delivery apps. They may not be as good as the must-try shops in Taiwan, but they're enough to satisfy your sweet tooth cravings. What's your favorite milk tea flavor?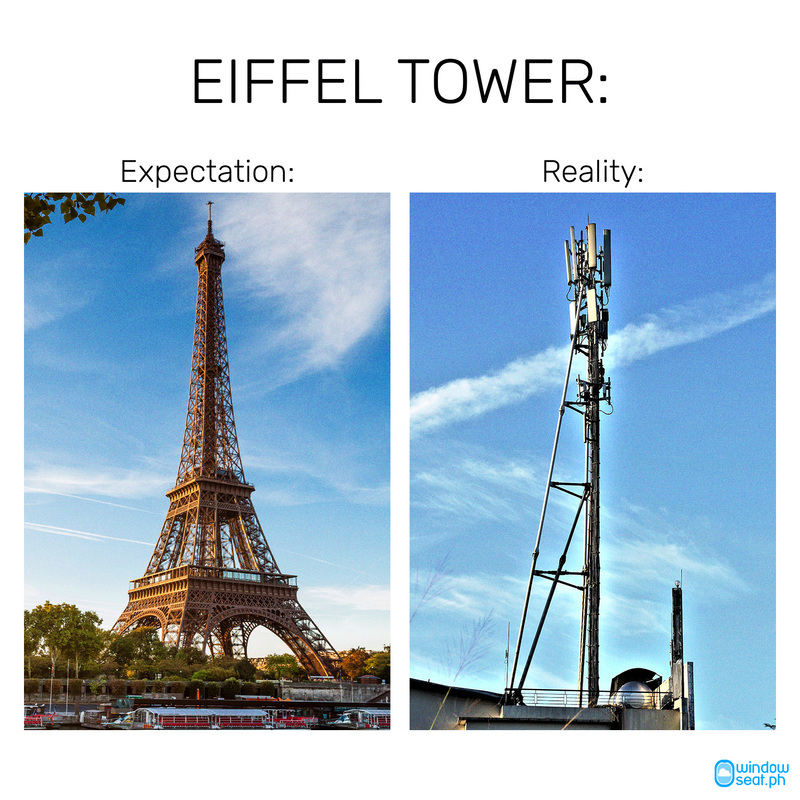 Ah, Paris – the City of Love. You could be walking the streets of Paris with a pain au chocolate like Emily in Emily in Paris or having a romantic dinner at Le 58 Tour Eiffel overlooking the city but the only tower you'll get to see now is the cell tower near home. At least you'll get to save up more for the travel fund and get the well-deserved meal at one of Eiffel Tower's restaurants someday!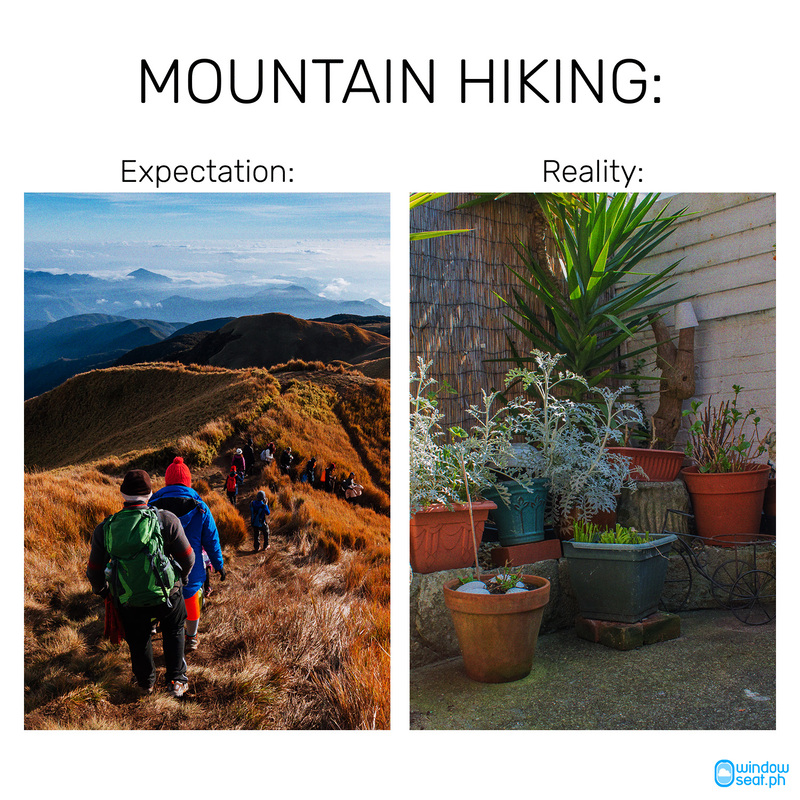 When the world is back to normal again, hiking may become bigger than it already is as more people appreciate the great outdoors. Current travel restrictions make it difficult to visit favorite hiking spots but at least you've got mama's garden again, to save the day.
Got more travel expectations vs realities to share? Sound off in the comments below!