Where to Stay in Kuala Lumpur: Affordable Hostels to Help You Plan a Budget Trip
Rates start at P507 per night!
by Ina Louise Manto | November 24, 2022
Known for its catchy tourism slogan "Truly Asia", Malaysia remains a popular vacation destination for Pinoys. After all, it's just a four-hour flight from Manila, it's visa-free, and it can also be a side trip when visiting Singapore. If you're planning a trip to explore its popular sights and experience its diverse culture but want to stick to a budget, we've prepared a list of hostels where you can stay around Kuala Lumpur:
Penthouse on 34
Location: C-33A-3A, Regalia Residence Jalan Anjung Putra, Off, Jalan Sultan Ismail, Chow Kit, 50480 Kuala Lumpur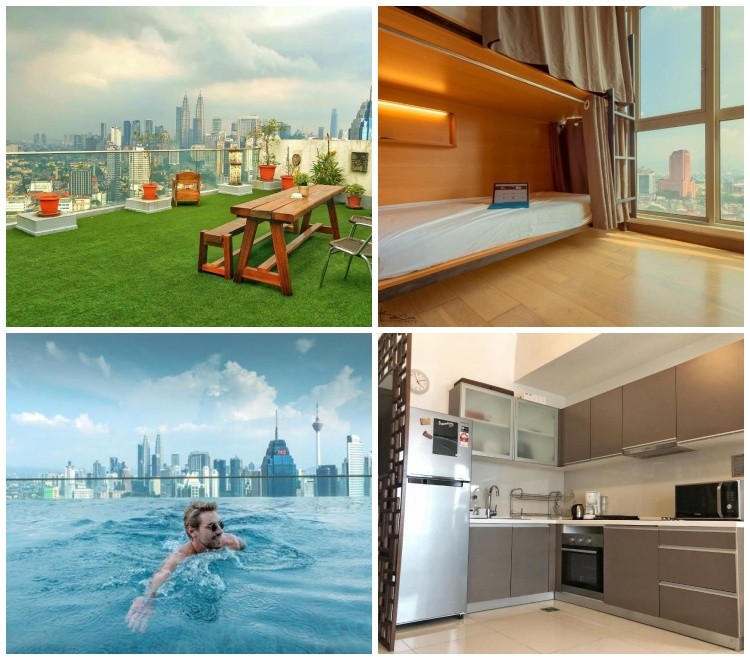 Offering one of the best views of Kuala Lumpur's skyline, Penthouse on 34 is a bang-for-your-buck stay that's ideal for solo travelers who love meeting new people. This hostel has different kinds of stays: from a shared 8-bed dormitory to a Superior Double Room when you don't want to share space with other people. If you're staying at one of the dormitories, you'll have an assigned locker, a private bathroom in your room, a private kitchen, and access to the rooftop area where all the fun is. There's an infinity pool and a patio here where you can chill after a day of seeing the city.
Rates start at P880 per night for an 8-bed Dormitory Room.
Kitez Hotel & Bunkz
Location: No 37 Jalan Petaling, 50000 Kuala Lumpur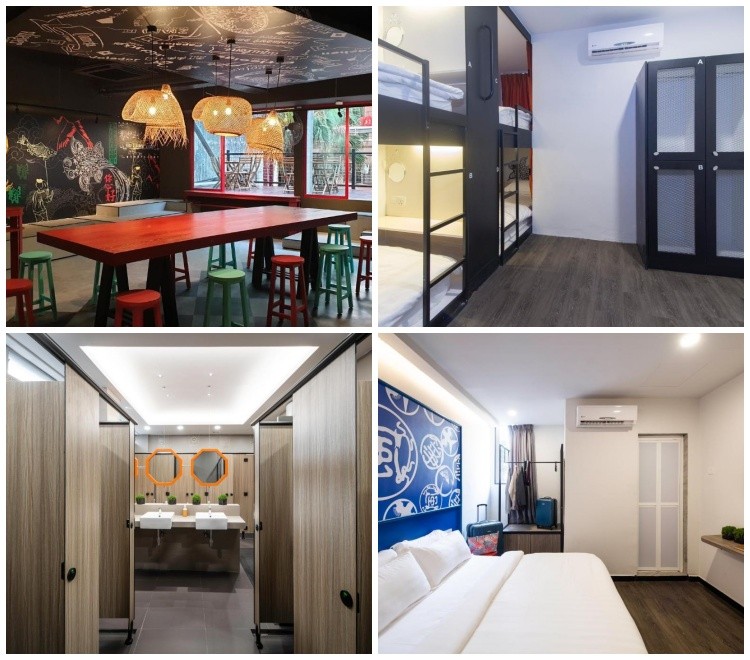 Starting at P564 per night, Kitez Hotel & Bunkz features air-conditioned rooms, shared bathrooms and showers, a 24/7 front desk, WiFi, and a spacious shared lounge in case you want to work remotely. They also have queen rooms, which are ideal for families traveling on a budget. Solo female travelers can also opt for an all-female dormitory room! Kitez Hotel & Bunkz is located right in the heart of Chinatown, which gives you plenty of restaurant, bar, and shop options to explore.
Rates start at P564 per night for a 6-Bed Mixed Dormitory Room.
Travelogue Guest House
Location: 118B Jalan Bukit Bintang, Bukit Bintang, 55100 Kuala Lumpur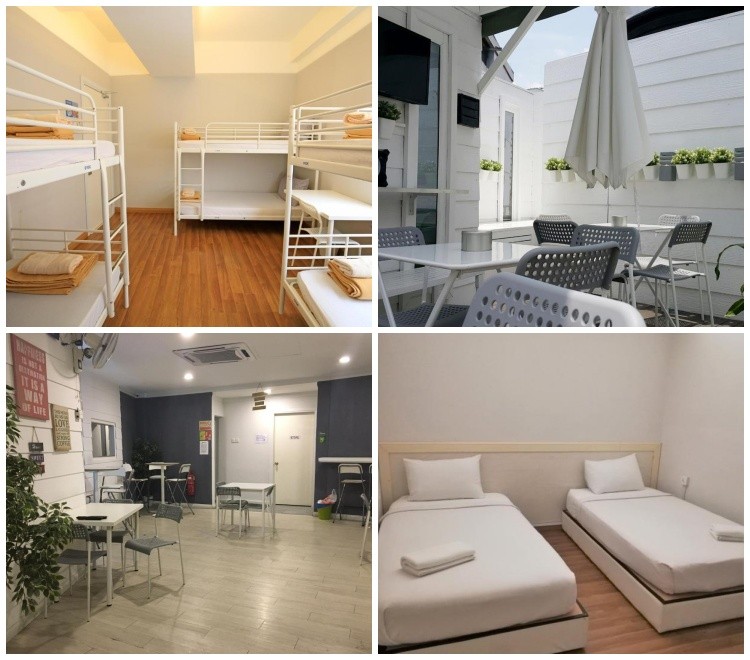 Set near malls and restaurants, Travelogue Guest House makes an ideal stay for tourists who wish to explore the city like a local. It's also located near Bukit Bintang Station, making commuting much easier. The guest house offers dormitories to private rooms, and access to shared spaces like the picturesque rooftop terrace and lounge. They also have an all-female dormitory!
Rates start at P507 per night for a bed in an 8-Bed Mixed Dormitory Room.
Amethyst Dorm KLCC
Location: A-12-01 Mercu Summer Suites Jalan Cendana, 50300 Kuala Lumpur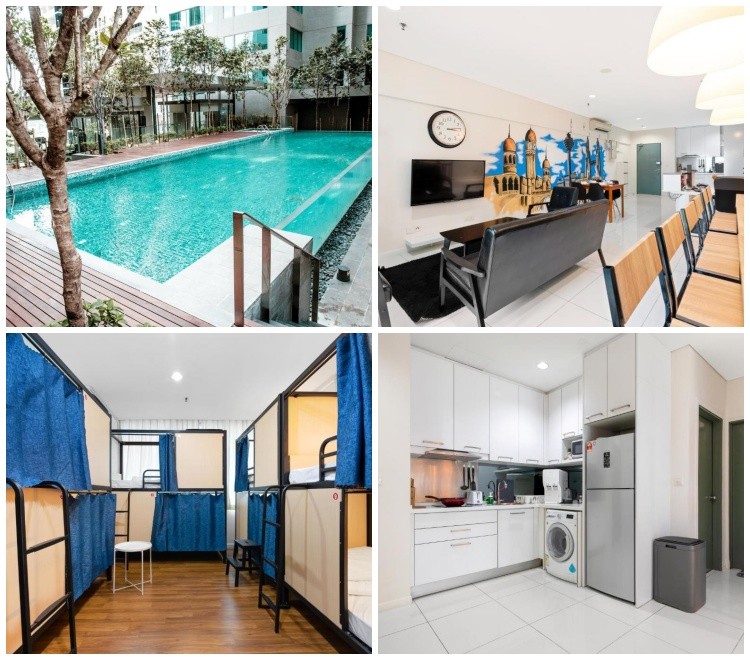 Nestled in between two famous tourist attractions in Kuala Lumpur, Petronas Twin Towers, and KL Tower, Amethyst Dorm is perfect for solo travelers and backpackers. They only offer a single bed in a 10-Bed Dormitory Room, which comes with an assigned locker for your belongings. You'll also have access to the building's amenities such as the gym and IG-worthy pool. Amethyst also has shared common areas such as a living room, a working area, and a kitchen with laundry.
Rates start at P980 per night for a single bed in a dorm room.
Mingle Highstreet
Location: 22 Jalan Tun H S Lee, 50100 Kuala Lumpur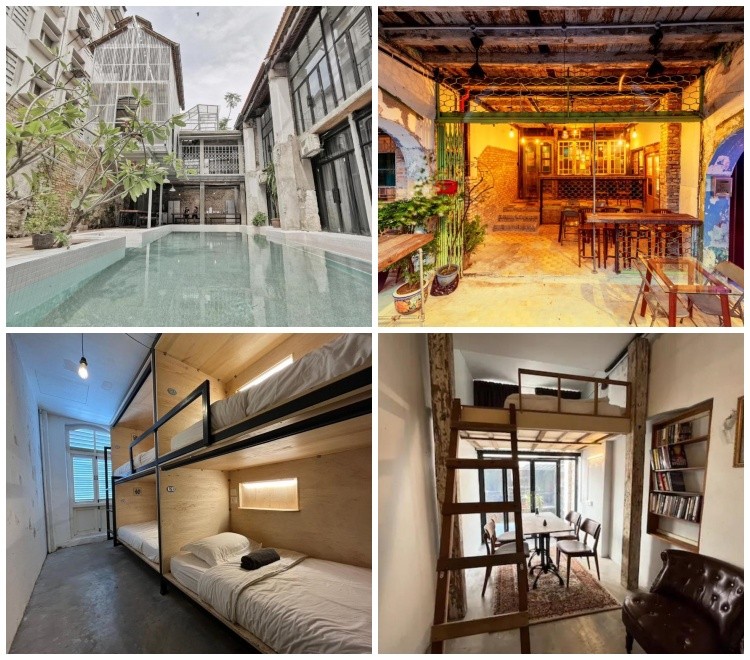 Nestled right in the heart of the city, Mingle Highstreet is a quaint hostel that offers shared dorm rooms and private rooms. Guests staying here have access to amenities such as a shared lounge, swimming pool, and a garden. A continental breakfast is also included in the fees! If you don't want to share bed space, the rates for a Single Room aren't that much different from a dormitory stay. Mingle Highstreet also has a private Double Room, which features loft interiors.
Rates start at P689 per night for a single bed in a Mixed Dormitory Room.
 The Bed KLCC
Location: 12 Jalan Sultan Ismail, 50250 Kuala Lumpur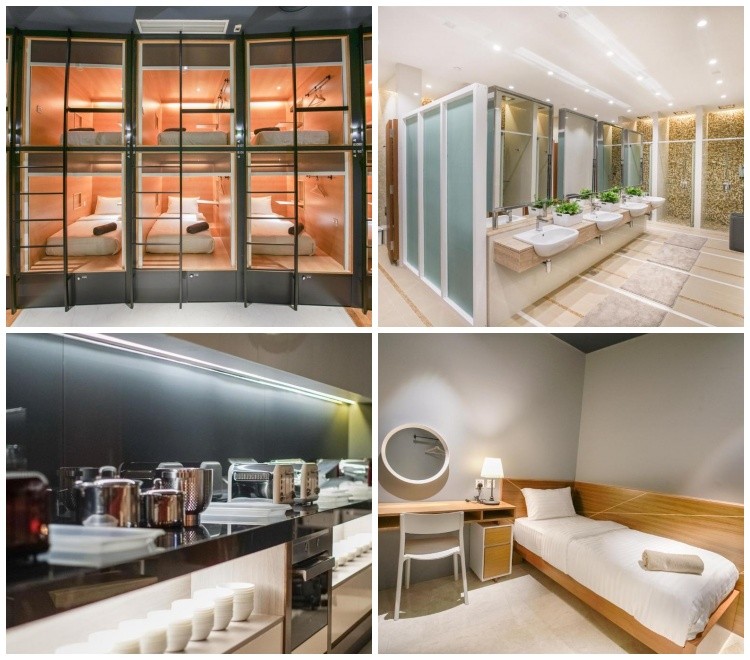 Nestled in Kuala Lumpur's central business district, The Bed KLCC offers different stays for every type of budget traveler: from solo to families. They have comfy pods in a shared room, a private queen bedroom, and a unique family room in pods. For more privacy, they also have a private single room but with a shared bathroom. This capsule hotel is also just walking distance from restaurants and convenience stores.
Rates start at P1,285 per night for a Single Pod in a Mixed Room.
Have you experienced staying at a hostel abroad? Share your experience and tips below!
Where to Stay in Kuala Lumpur: Affordable Hostels to Help You Plan a Budget Trip
Where to Stay in Kuala Lumpur: Affordable Hostels to Help You Plan a Budget Trip
Ina Louise Manto | Nov 24, 2022
​Looking for other places to explore? Join WindowSeat.ph's official Facebook community What's Your Trip PH for more recos!