Spend Your Next Beach Getaway at this Rustic Farm in Batangas
You don't have to travel far to experience different classic Filipino homes.
by Ina Louise Manto | November 10, 2020
Looking into spending the holidays enjoying the sun, sand, and sea? Check out this farm in Batangas that's perfect for appreciating the wonders of nature, whether it's being surrounded by trees and gardens or getting soaked in crystal clear seas.
Ybonita Farm and Villas
Located in the municipality of Calatagan, Batangas, Ybonita Farm and Villas is a 2.9-hectare family-run farm that can be your next holiday destination. The farm used to be a private vacation spot for the owners and their friends, but they eventually decided to open to the public. And we're glad they did, because the place is breathtaking.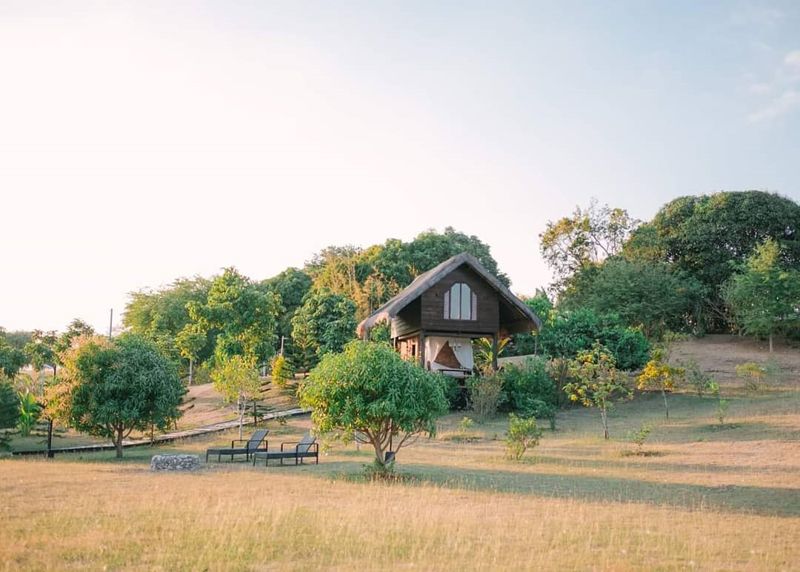 Surrounded by trees and gardens, the farm has grown into having four rustic villas that give homage to classic Filipino homes found around the country. You don't have to travel far to experience a traditional home from Batanes or Ifugao!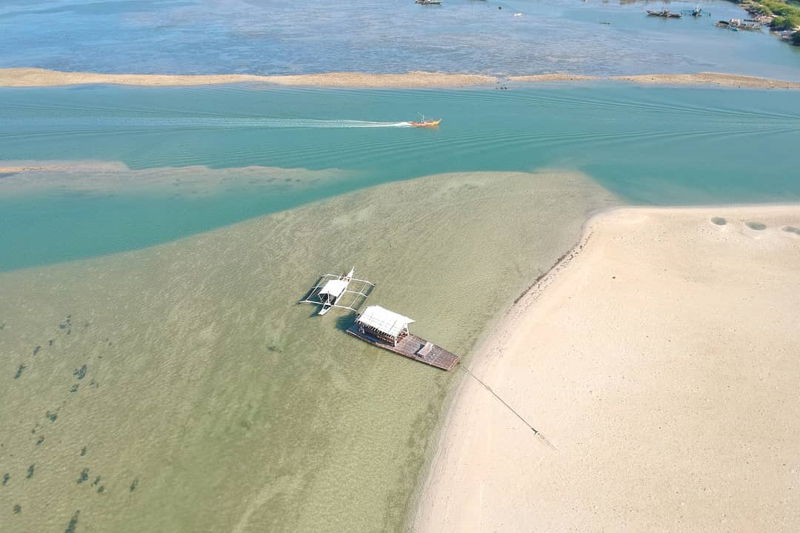 To make your stay better, Calatagan's sunny beach is just a few minutes' drive from the farm.
Caceres Villa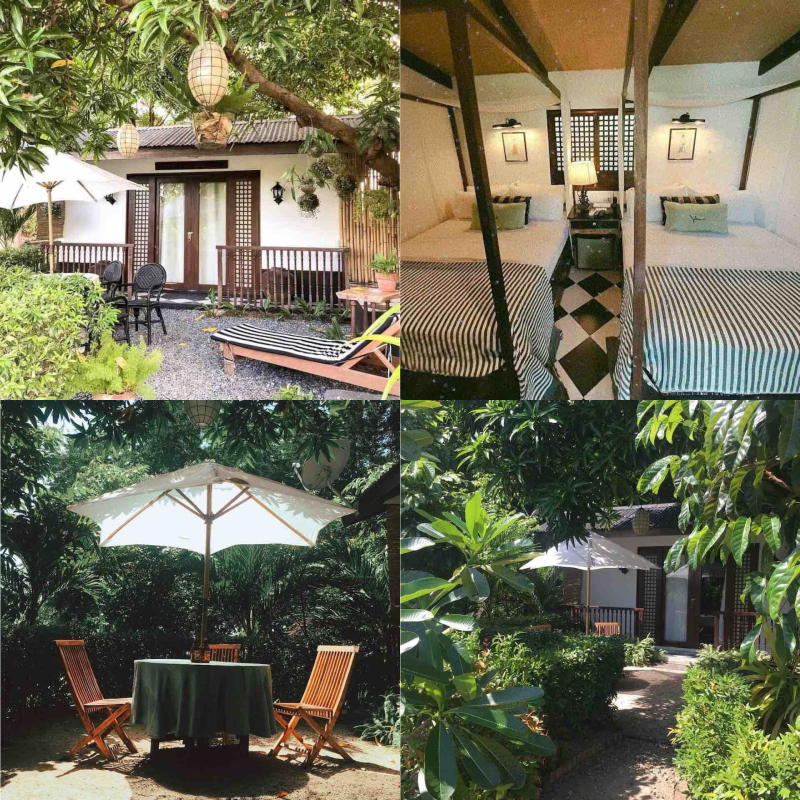 4 guests · 2 beds · 1 bath
The Caceres Villa is a Spanish-themed villa with an outdoor lanai. You'd find elements of a classic ancestral home in the Philippines built during the Spanish era in this stay, such as four-poster wooden canopy beds and the iconic Capiz shell windows and doorways. Surrounded by a lush garden, the lanai in front of the villa is perfect for enjoying the breeze from the plants. Lanterns are also hung on the trees to give a more romantic vibe, especially when dining al fresco in the evening.
Rates start at Php 4,699 per night.
I-pugo Villa
4 guests · 1 bedroom · 2 beds · 1 bath
The I-Pugo Villa gives a modern twist to a classic Ifugao house. This two-story home boasts brick walls on the first floor adorned with Capiz shell windows and doors and woven nipa walls on the second floor. Expect the house will be cool given its materials, and it also gives homage to the classic bahay kubo with its dried nipa roof. Found in the bedroom is a floor-to-ceiling glass window that gives a panoramic view of the farm; it's a view you'd want to wake up to every day!
Rates start at Php 5,899 per night.
Yvatan Villa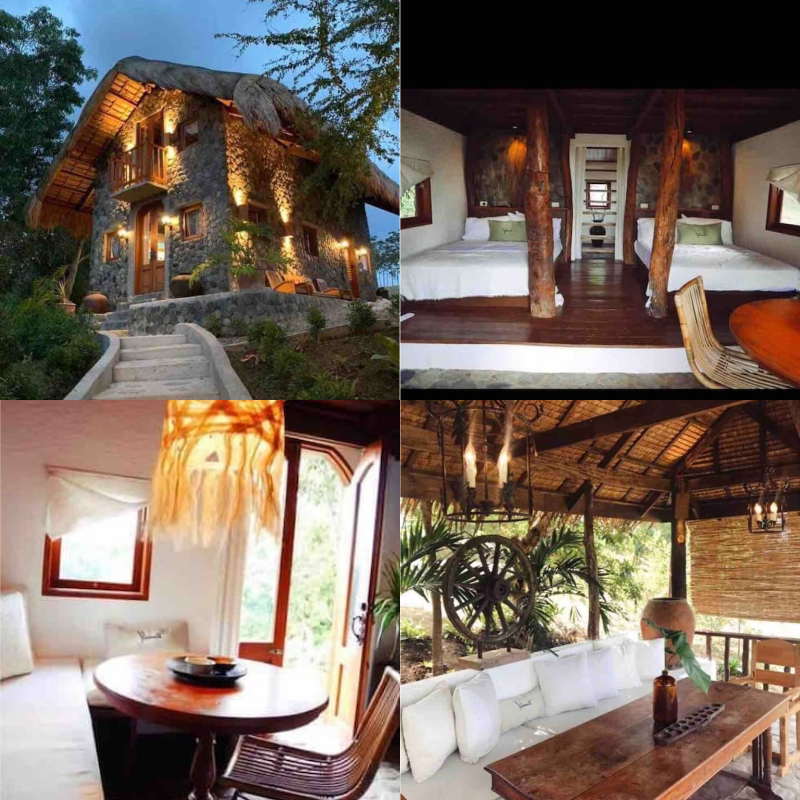 12 guests · 2 bedrooms · 7 beds · 2 baths
Perched on top of a small hill, the Yvatan Villa will give you a slice of Batanes living right on the shores of Calatagan. The gorgeous stairway leads to a two-story villa made of stone, the same architecture you'd find in Ivatan homes in Batanes. The classic home that's made to withstand harsh weather is given a modern twist by placing a small veranda on the second floor and lights around the house, which gives a more comfortable and home-y vibe. This villa is perfect for big families looking for respite in a rustic Filipino home.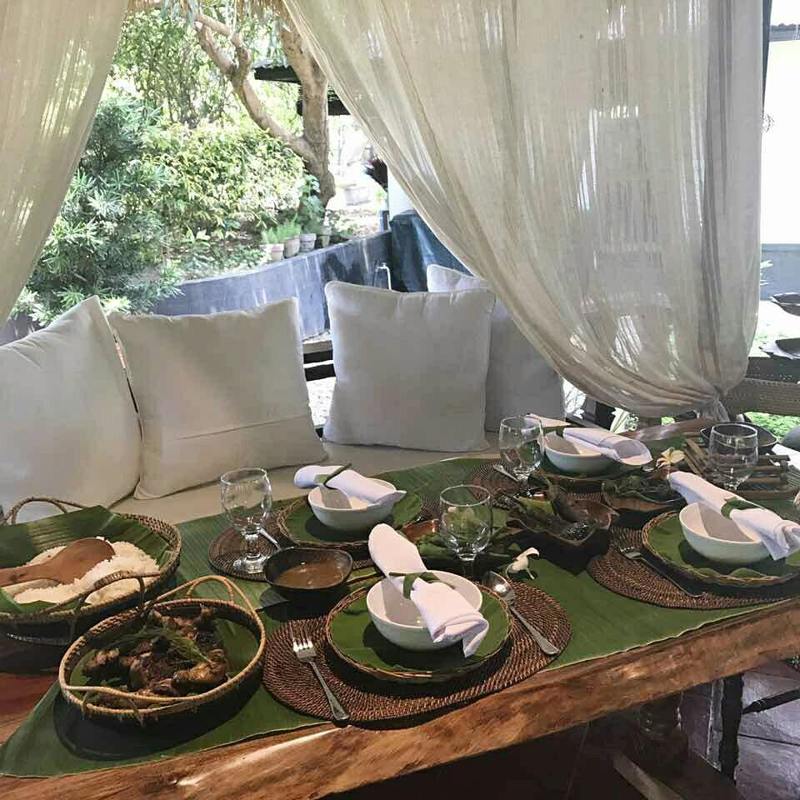 The Yvatan Villa also has a lanai for sharing a good meal with the family outdoors.
Rates start at Php 15,000 per night.
Coconino Villa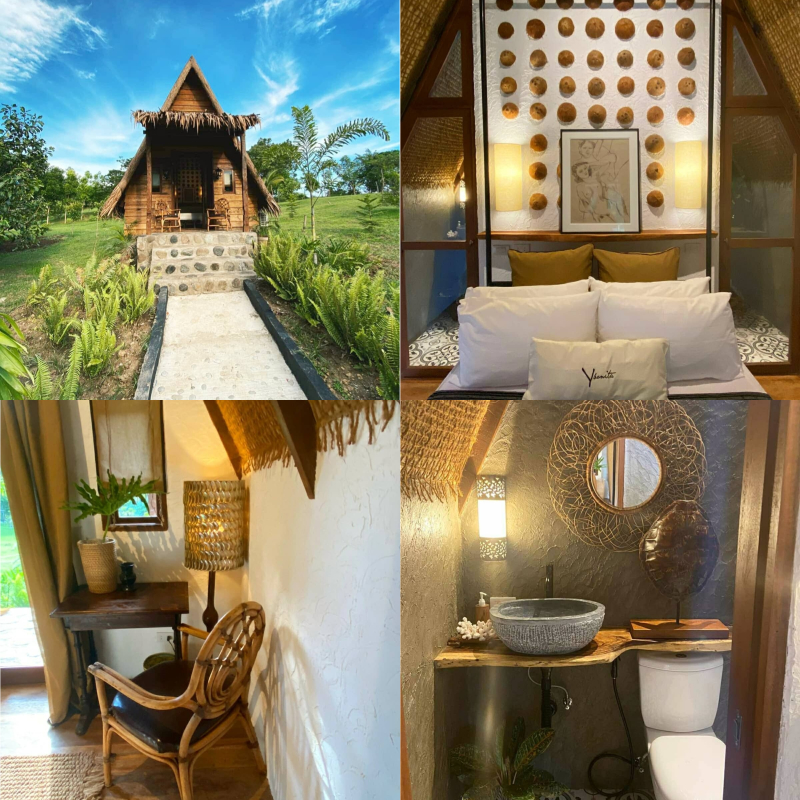 2 guests · 1 bed · 1 bath
The Coconino Villa is the latest addition to Ybonita Farm and Villas' lineup of rustic Filipino homes; it has a roof made of nipa as well. This tiny nook is for couples looking to recharge in nature for a few days or a short weekend getaway. The villa is the bedroom itself, where the bed is adjacent to the glass doors, giving a view of the farm. It may be a tiny home but its ambiance is very inviting and its interiors are well thought of, making you want to rest in bed all day.
Rates start at Php 3,999 per night.
Amenities and Activities
A trip to Ybonita Farm and Villas isn't complete without exploring the property and spending time feeding their grazing animals.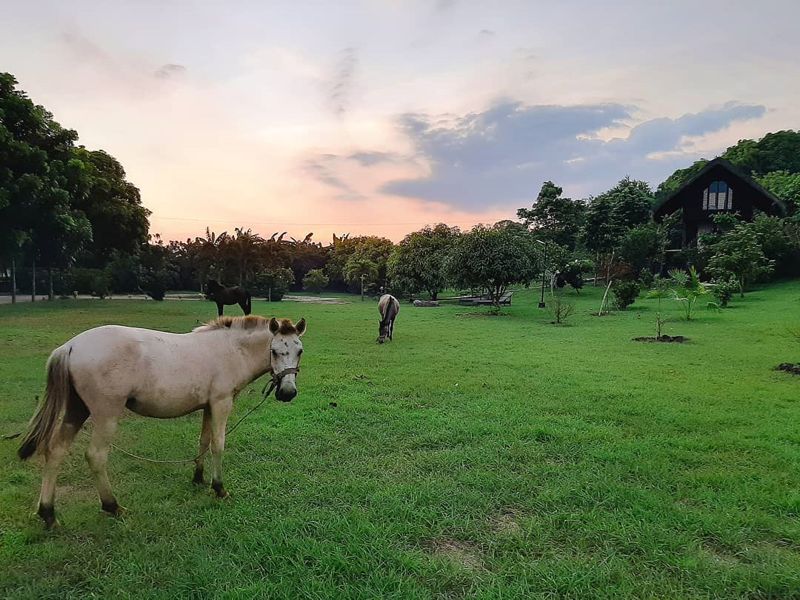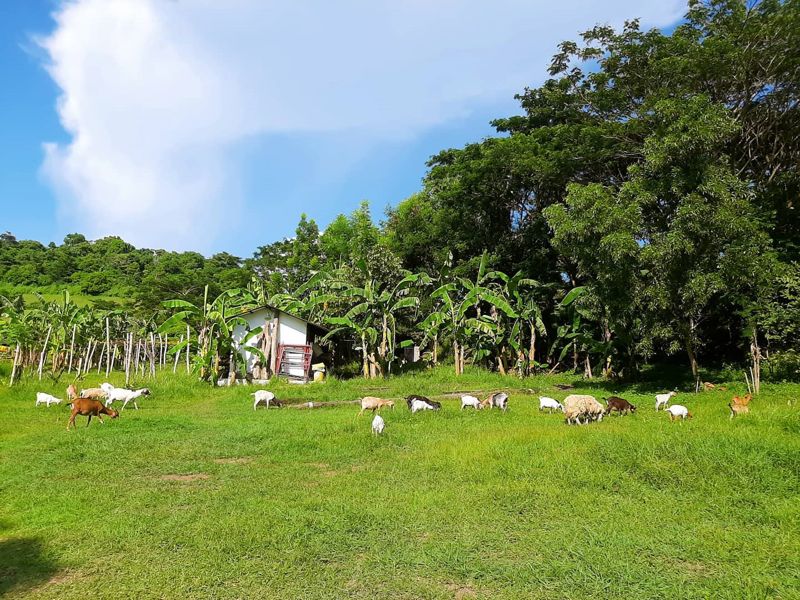 All villas also have bonfire setups outside, which is perfect for enjoying the evening's breeze while having s'mores and meaningful conversations.
Since the beach is just a five-minute drive away, guests can arrange a trip to their balsa and enjoy a sand bar tour on a private beach.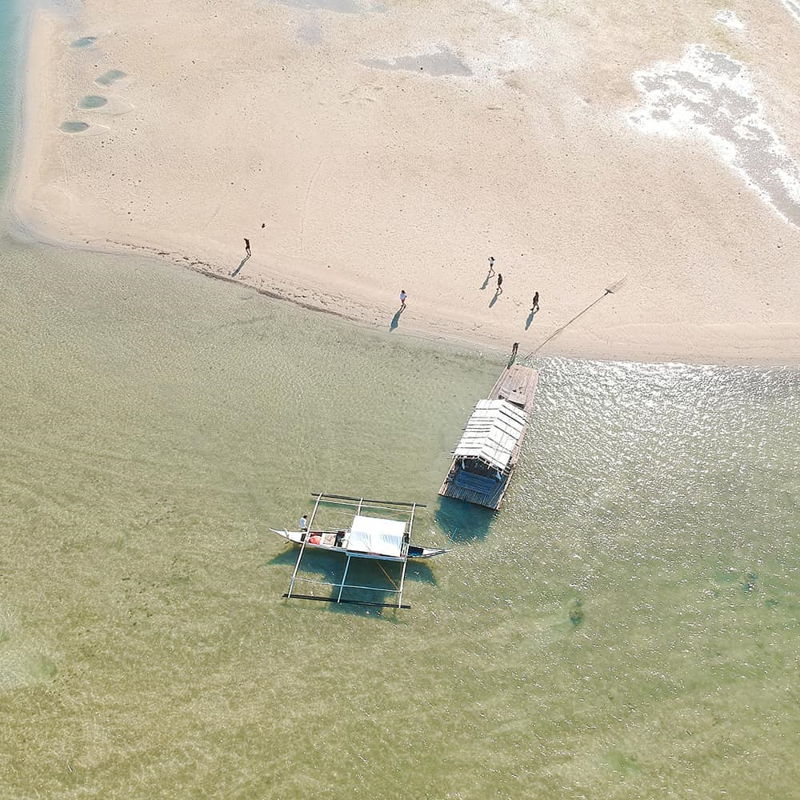 Ybonita Farm and Villas don't function as a resort, so you'll have to order and arrange meals in advance.
For more information or inquiries, visit Ybonita Farm and Villas' official Facebook page.