LOOK: Enjoy the Van Life at this Unique Volkswagen Airbnb in Subic Bay
This apartment is pet-friendly too.
by Ina Louise Manto | July 16, 2021
When thinking of the perfect staycation, you either dream of getting the best scenic nature views or spending a night at a boujee hotel with a restaurant serving dishes you can't even pronounce. These may be the usual choice but there are those who enjoy discovering unique stays, just like this vintage Volkswagen nestled in the heart of Subic Bay Freeport Zone.
A unique staycation at Yvon Kombi
Ever wondered what it's like to go on a road trip on a vintage vehicle you typically see in coming-of-age movies? Yvon is a 1971 Volkswagen Kombi Campervan that will give you a similar experience, minus the tiredness from driving and pit stops at random gas stations. Instead, you'll be stationed in a spacious backyard with a surrounding view of greenery and the sounds of wildlife.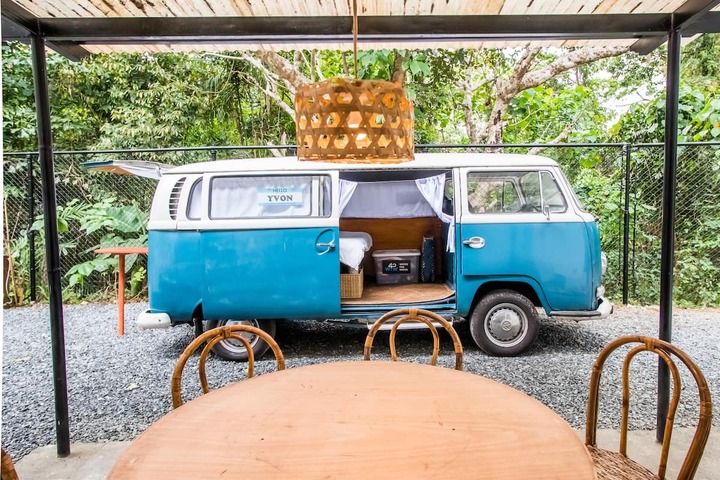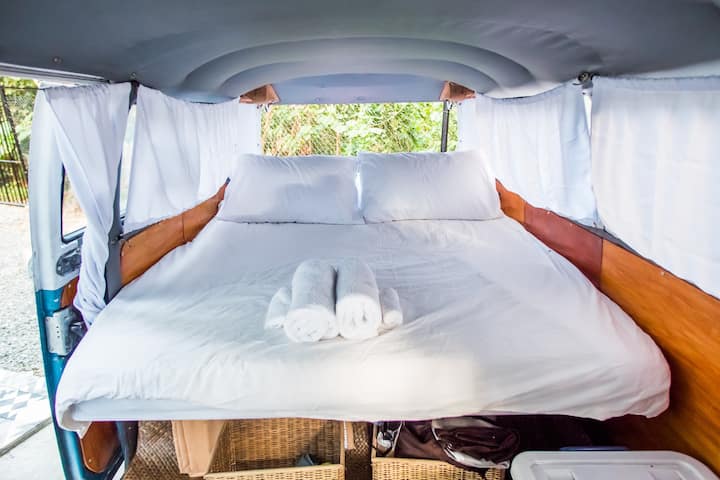 For P1,086 a night, you'll enjoy a cozy campervan for two, a small electric fan, and screens that'll keep insects away at night. However, Yvon Kombi is actually just an additional feature to another property, and can only be booked when you stay at Saya Nest.
Saya Nest
Nestled in the hills of Cubi, Saya Nest is one of the six cozy and stylish Nests found in Subic Rainforest Retreat. While it's close to the conveniences of Subic Bay Freeport Zone, it sits on the edge of the Ilanin Rainforest, which is perfect for those looking for a relaxing nature getaway. Whether you're staying with your family or with a group of friends, this 40-sqm apartment can accommodate up to four guests. Up to two additional guests can be accommodated, which will require you to book the campervan.
Upon entering the unit, you'll find the living room with couches made of wooden pallets. It overlooks the side yard, where you'll find six-seater dining table and Yvon Kombi. They also have an outdoor lounge perfect for tanning or a simple picnic.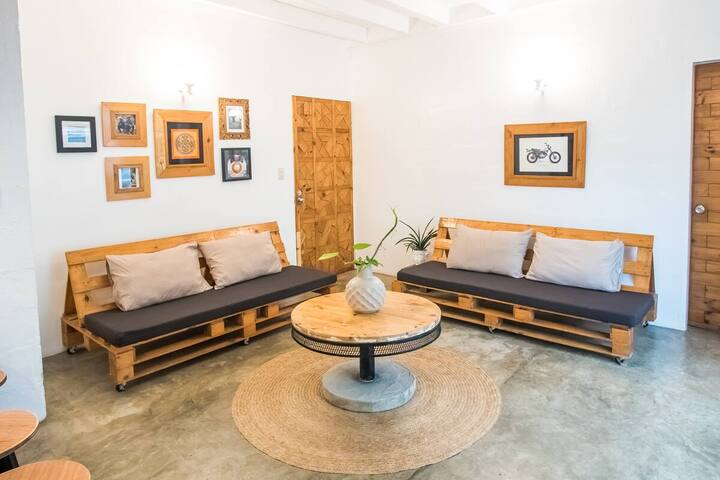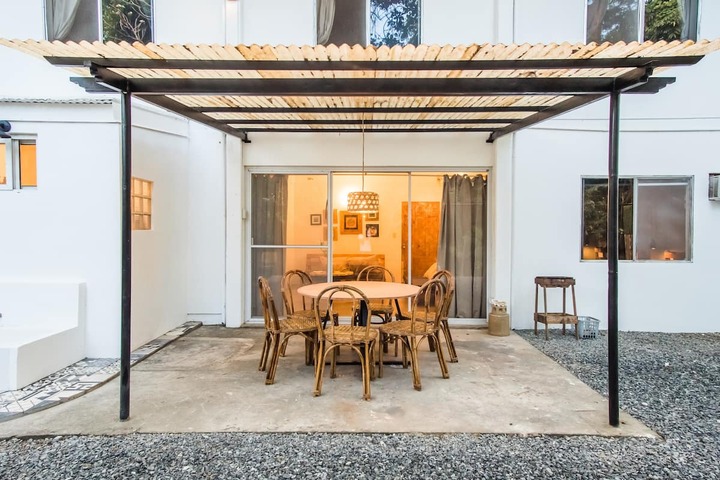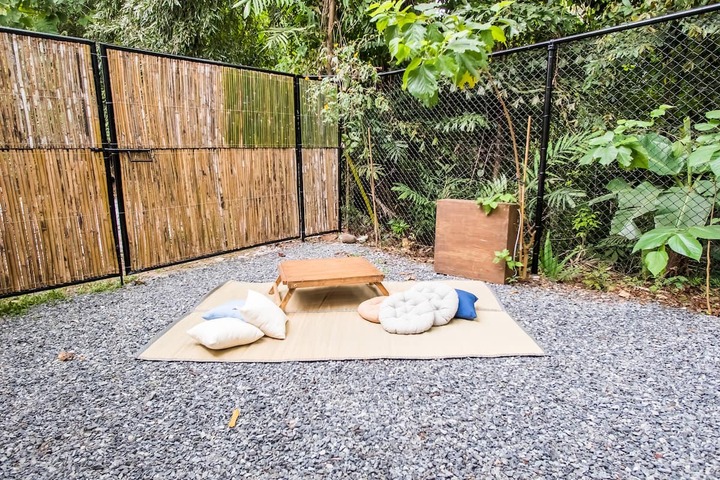 The Airbnb has an indoor bathroom, but it also has an outdoor bathtub so you can take a relaxing dip while enjoying the great outdoors!
Saya Nest has a bedroom with two double beds that feature the same pallet design used in the couches. The room also comes with a closet, just in case you plan on finding your next work-from-home location for the next week or two.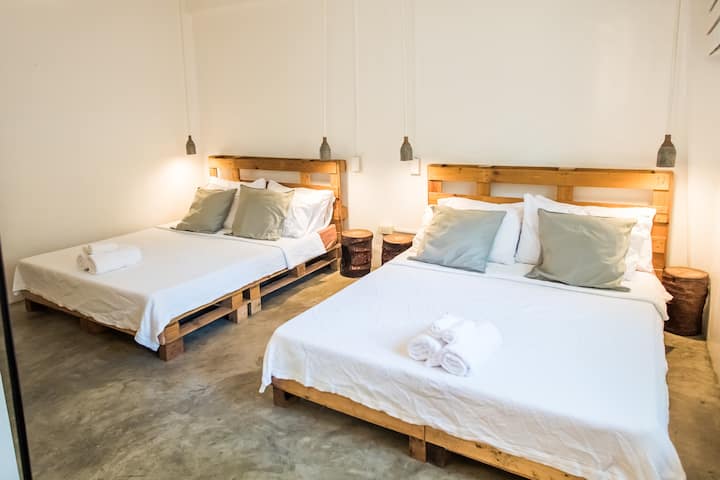 Having your meals cooked wouldn't be a problem. The unit has a fully equipped kitchenette with condiments readily available in the fridge. The kitchen is also stocked with food and beverages for breakfast, so help yourself to whatever you want.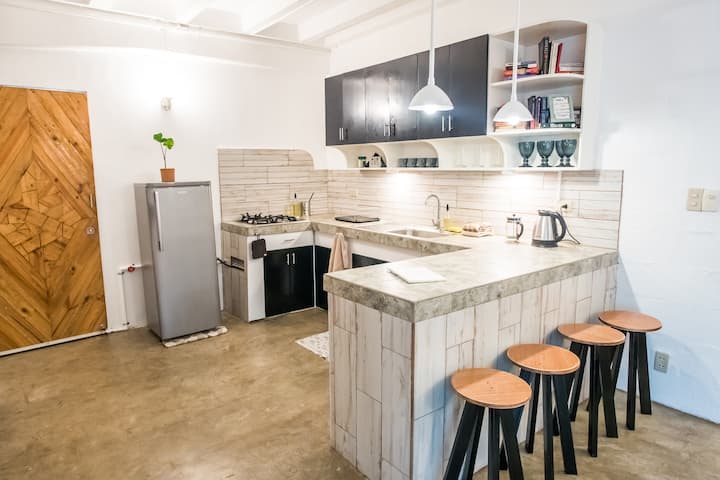 Nearby attractions
Saya Nest is nestled in Cubi, which is a great place for watching birds, bats, monkeys, and other wildlife. If you're traveling with kids, Bat Kingdom is just a four-minute walk from the Nest. Adventure seekers who wish to explore more of Subic can visit the nearby waterfall that would require you to go on a 20-minute hike.
For groceries and other items you might need, Subic's Central Business District is just a 15-minute drive away.
Rates at Saya Nest start at P3,999 per night.
Book your stay here. 
MORE: Live Out Your Boho Dreams at This Unique Trailer Airbnb Near Tagaytay