11 Activities Beyond the Usual Bohol Itinerary
A unique alternative to the typical Bohol trip.
by Gene Loves Acosta | July 29, 2016
Bohol is one of the top tourist destinations in the Philippines and it's exactly because it has a plethora of delights and a lot of exciting escapades to offer, a second visit–or more–is just inevitable.
Whether you're a first timer who wants to experience Bohol in a different way or you're one of those who fell in love with the province and want to see more of its beauty, here are some activities and tourist spots worth checking out:
Stand-Up Paddling Eco Adventure Tour (Loboc River)
Quiet time is best spent while re-connecting with nature so if you ever find yourself in Bohol, don't miss the chance to paddle across the Loboc River. Aside from being an eco-friendly way to explore the outdoors, this relaxing activity is great for all ages. It's easy, fun and surprisingly relaxing, too!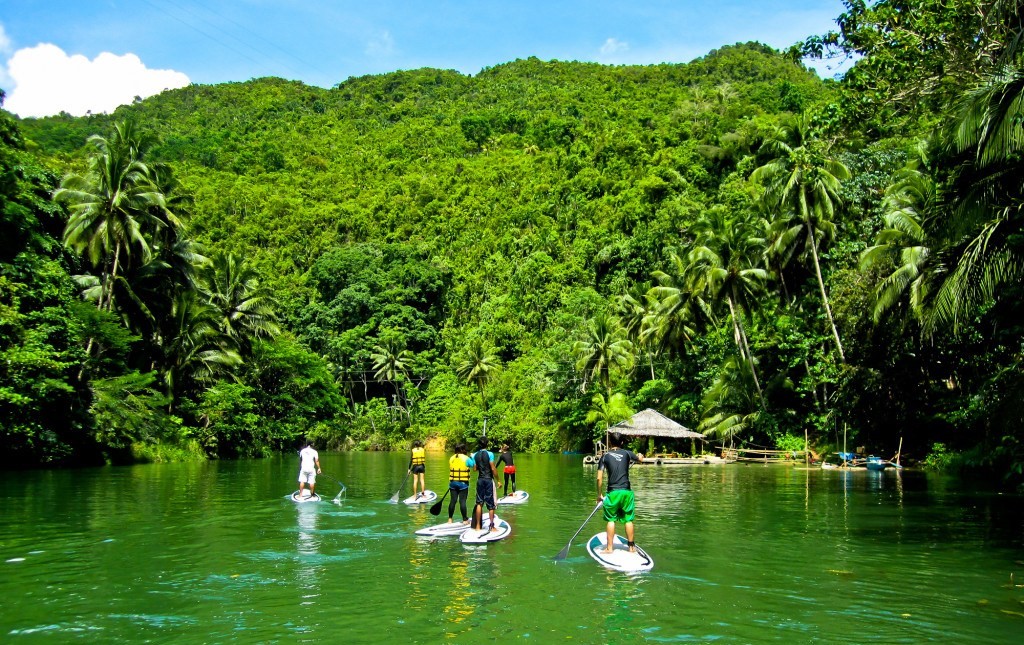 Heritage Walk Tour (Tagbilaran)
Get to mingle with the local folks while learning more about some of the city's famous historic spots and structures dating back to the Spanish colonial era. One of the first stops is the Holy Spirit School of Tagbilaran which was founded in 1926, followed by a visit to a few elite American colonial era houses with elaborate vintage interiors, including the house of a former Philippine president. Tourists will also get to ride a tricycle going to St. Joseph's Cathedral before proceeding to Sitio Ubos where Spanish colonial era houses with interesting back stories are found. (Fun fact: The city required all tricycle drivers to put Bible verses on their vehicle.)
To book the Tagbilaran Heritage Walk contact Dagohoy World Travel through the following: ecotours@dagohoyworldtravel.com; 0917 896 0486
Tree Planting for Legacy Experience Tour (Bilar)
If you're up to do something to help restore the breathtaking forests of Bohol, then head to Bohol Biodiversity Complex. The facility has a "training center, organic vegetable gardens, a greenhouse, vermi-composting facility, farm animal sheds, reforestation area, Karst trail, gene bank, and a dipterocarp mini laboratory". But most tourists go here for the tree planting activity where they can leave a "tree for legacy," their very own green thumb mark on the island of Bohol.
Hinagdanan Cave (Bingag, Dauis)
One of the most interesting places in Panglao Island, Hinagdanan ("laddered" in Cebuano) cave has a lagoon that's about 10-12 meters deep. The water here can be salty during high tide due to the rise in sea level which tends to combine with the natural waters of the cave. It's also naturally illuminated  by the sun through the holes in its rocky ceiling which creates some interesting lighting effects.
Balicasag Island Escapade (Panglao)
The crystal clear waters will entice you to go snorkeling and not to mention, its dive sites are among the world's best! Go here early in the morning and you might even find dolphins and turtles swimming beside you  with a multitude of small, colored fishes.
Anda Quinale White Sand Beach (Poblacion, Anda)
This place is a great destination for those who are a fan of white sand beaches minus the crowd. It's just a stone's throw from the municipal hall but Anda Quinale is the perfect hideaway if you want some peace and quiet. The no frills atmosphere (it doesn't have fancy accommodations) is such a plus for travelers who want to enjoy the beauty of nature at its best.
Savima Mangrove Adventure Tour (San Vicente)
Looking for a different kind of adventure like catching a snapping shrimp (takla) or gathering shells (imbao)? Bohol has the perfect place for you called The San Vicente Mangrove Forest Association. Here you can have a guided tour which will start in the wooden boardwalk heading towards the shallow part of the sea and through the dense canopy of mangrove trees. You can stay here overnight if you want to know more about coastal resource management and try their community immersion programs through staying with the locals.