Backpacking Guide: Camping in Pagbilao Beaches
A perfect trip for weekend warriors!
by Therese Aseoche | September 02, 2016
---
If you can't decide between having a beach vacation or a camping getaway, then why not combine the best of both worlds by pitching your tent on a seaside camping ground?
Pagbilao beaches in Quezon Province are just a few of the many offbeat getaways in the Philippines. Their white sandy beaches, crystal clear waters and peaceful atmosphere will make you think you're on the shores of Boracay or swimming the waters of Coron.
How to Get There:
By Public Transport:
From Manila, take a bus to Lucena City (we recommend the JAC Liner bus line). The fare will amount to around PHP220 for a 5-hour travel time. Once at the terminal, you'll have to take another bus to Barangay Basiao, Padre Burgos which will cost around PHP35-40 for an hour-and-a half ride. The small fish port at the barangay will be the jump off point going to Pagbilao Chica Island) and thence to Borawan Beach.
By private vehicle:
Take the South Luzon Expressway and continue on until Calabarzon Expressway. Exit to Lipa City. You'll pass by Tiaong Road, Candelaria Road, and Quezon Eco Tourism Road before reaching Pan-Philippine Highway. Follow the signs that point you to Bicol until you hit a fork. The left road will lead you to Bicol and to Padre Burgos on the right. Take the one to Padre Burgos road and enjoy the picturesque, winding roads that lead you to the Padre Burgos town proper. The drive will take around 4-5 hours.
Once at the port, you can choose which among the three beaches to visit first: Borawan, Dampalitan, or Puting Buhangin. All three are just less than an hour's boat ride away from each other and offers a unique experience separately.
Locals will proudly explain the name of Borawan beach to be a portmanteau of Boracay and Palawan; because of its features that remind visitors of Boracay's fine sand and Palawan's limestone rock formations. But Borawan Beach isn't just a place to settle for when flying to Visayas isn't an option; it is a splendor in its own right.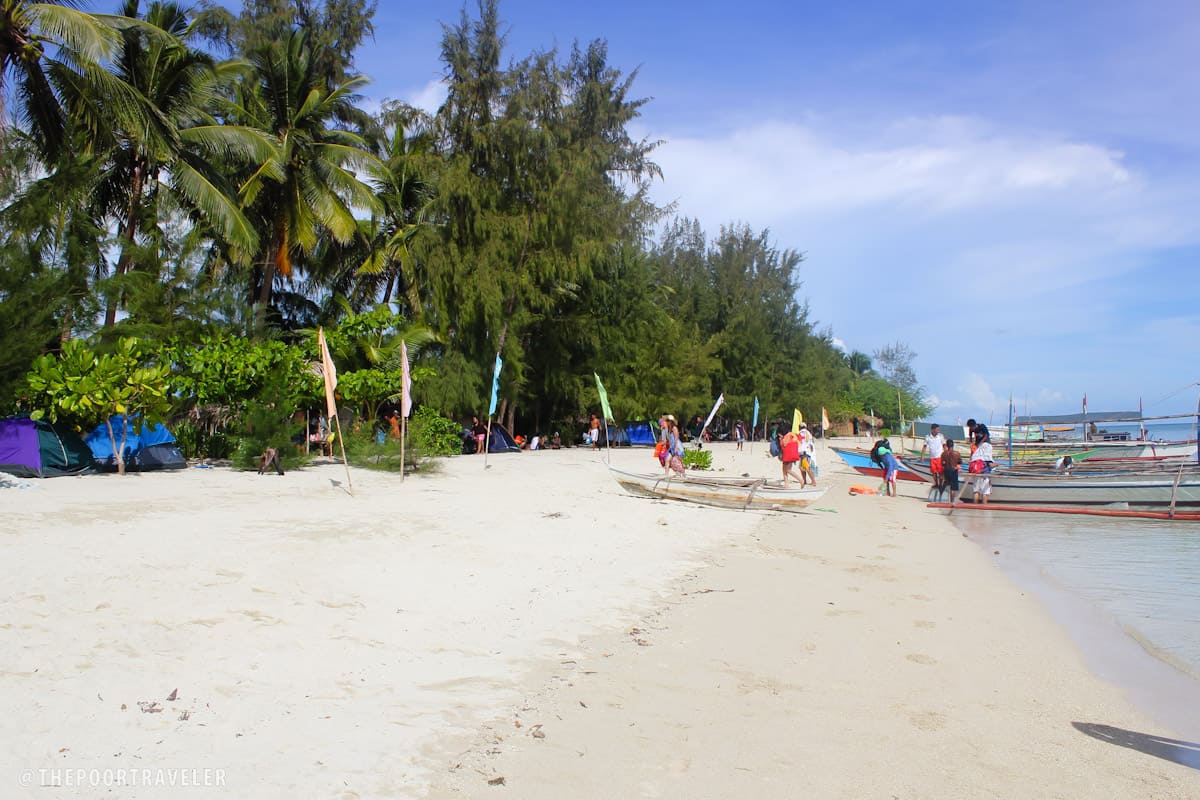 Nearest to the port, Dampalitan beach is loved for its creamy white sand, clear blue waters, and coconut palms and agoho trees. The beach, beautiful and almost pristine, is perfect for leisurely swims and lazing around.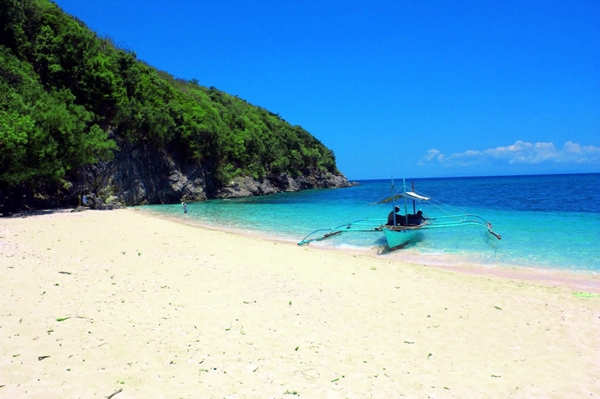 Puting Buhangin is the farthest beach from Basiao and just as the name suggests, this is where you'll find the whitest sand and the clearest waters out of the three islands. Visitors also come to check out Kwebang Lampas, a cave that's located just along the coastline, which you can swim through to get to the other side of the cliff.
Where to set up camp
There are plenty of activity options on each island, including kayaking, beach volleyball and rock climbing. And although there are cottages and beach rooms available for rent, visitors come for the complete experience of camping out by the shore.
The fees for renting tents vary on each beach, with Borawan's fees being the most expensive at Php500. Because of this, it's advisable for you to bring your own tent to cut costs.
At Borawan, regardless of whether you bring your own tent or not, you'll also have to pay a tent pitching fee (Php200 for medium-sized tents, and Php300 for larger tents).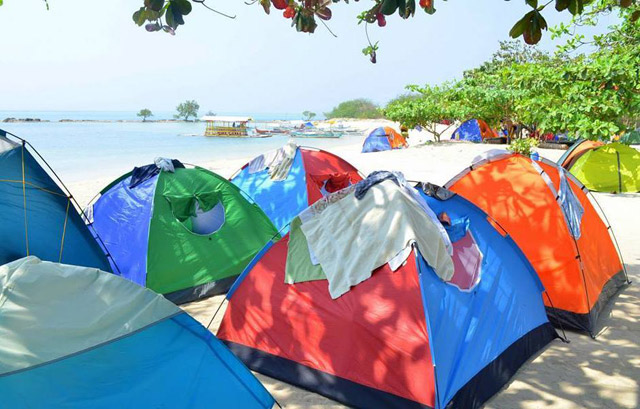 Borawan beach is the most expensive among the three, but it's mainly due to its having more amenities for a comfortable overnight stay. It's the only island with consistent running water, bathing facilities and a clean toilet. Borawan is also the most secure one, with a security guard roaming the area on a daily route to monitor guests and beach activity. It is also the only island that has electricity, but is cut off by 10P.M. The only downside to camping in Borawan beach is that it can get pretty crowded.
Dampalitan beach is the second best option for camping out because it's spacious, more peaceful and gives the best views especially of the sunset. It is also the only beach that will allow you to set up a bonfire in the evening. However, you'll have to purchase the water you'll need for showering.
Puting Buhangin has the least access to amenities and is the smallest but it is the best beach for when you want to swim all day long because it has the clearest waters.
No matter where you choose to camp, it's guaranteed that you'll have the best beach bumming experience that will keep you coming back for more!
Some Tips to Remember
Bring cash. Each beach has its own entrance fee which you'll have to pay at the very moment you alight your boat.
Bring your own food. Food prices from the sari-sari stores are quite steep. You can also bring your own cooking equipment to fully experience the beach camp out.
Go during off-peak season. Pagbilao beaches are increasingly getting crowded. For a more peaceful stay, avoid the summer peak season.
Pitch your tent far from the cottages where most visitors stay.
Mind the nets! The nets in the water prevent deadly box jellyfish from swimming too close to the shore. Always be mindful of how far you swim.
There is no electricity on the islands, except in Borawan where it goes out as early as 10P.M. Bring flashlights and power banks for charging your gadgets.
Intrigued yet? Check out Borawan Island Resort's official website for more details on how you can plan for your next weekend getaway to Pagbilao's beaches!