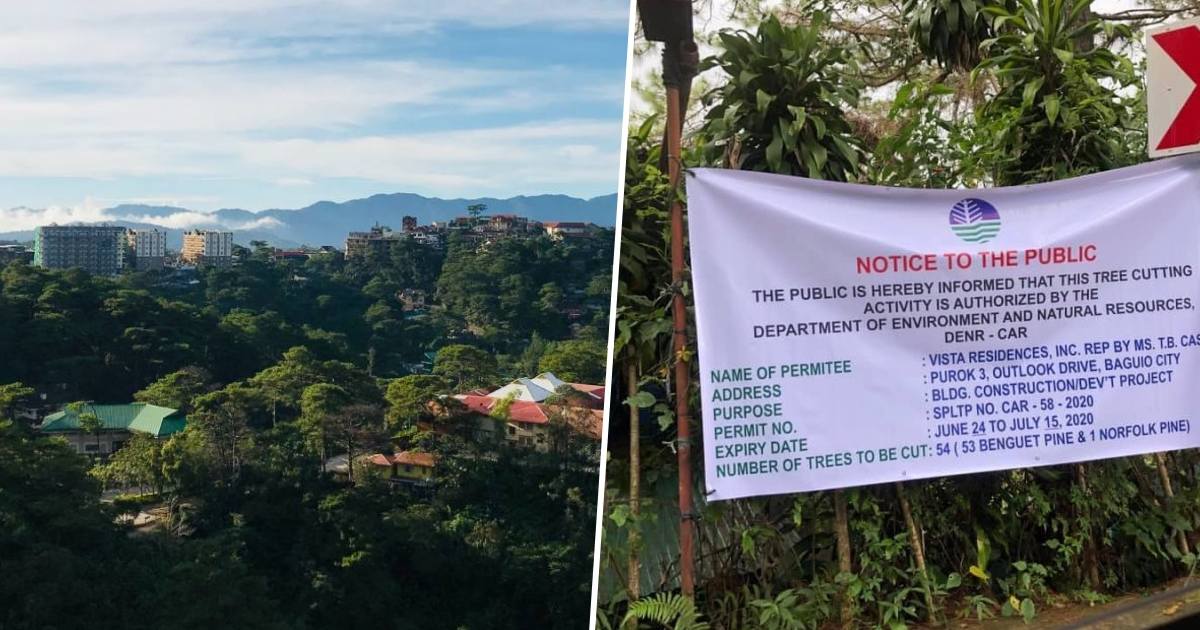 Baguio Residents in Uproar as DENR Allows Pine Tree 'Massacre' for Villar Condo
Vista Residences Inc. has already started cutting down 54 Baguio pine trees.
by Kyzia Maramara | June 30, 2020
While we enjoy the benefits of modern society and commercialized areas, these always come at a price. Sadly, nature often pays this price.
Manila-based developer Vista Residences Inc. (VRI) has become the proponent of the latest in the long line of deforestation cases in Baguio City. The Summer Capital of the Philippines is slowly, surely, and sadly becoming as commercialized and congested as the cities of NCR where tourists escape from. What's even worse is that the national government allows these things to happen, and the local government has very little say in the matter.
Online uproar
When VRI began cutting 54 pine trees (including one Norfolk fir) at Outlook Drive last week, Baguio environmentalists were quick to react. They started an online petition and urged Filipinos to sign and save one of Baguio's last pine forests.
The online uproar is supported by the Roman Catholic Diocese of Baguio which condemns the pine tree "massacre". "Tree cutting gravely rejects the moral principle of the social doctrine of the Church on safeguarding the environment," says Catholic Bishop Victor Bendico.
**UPDATE** Our Mayor said that the permit was from DENR Manila and he can't do anything about it. The only thing we can do is BE LOUD. Please continue spreading this petition! OUR BAGUIO is YOUR BAGUIO

— ⌷ (@herpinklaptop) June 27, 2020
Bad capitalism is bad for our lungs! Bad capitalism is bad for our environment!

Let us stand against the cutting of 54 trees in Baguio City for commercialization!!

SIGN THE PETITION: https://t.co/kHBS6va3fm
KNOW MORE: https://t.co/QhT0wjgyhl#cutthegreed #artph pic.twitter.com/gURYPTWCyz

— Artara (@artaraaa) June 28, 2020
The project even surprised Baguio Mayor Benjamin Magalong, who has been active in pushing for Baguio's Regreening Master Plan. Just last year, the local government sought to request a moratorium on tree cutting and high-rise commercial development from the Office of the President, which is yet to be granted.
"Circumstances like this emphasize the need to hasten the issuance of the moratorium on tree-cutting and construction of high rise buildings in the city," says Mayor Magalong in a statement posted on Facebook.
DENR granted Vista Land special permits
But these online petitions might have been in vain since the Department of Environment and Natural Resources (DENR) has already issued Vista Residences a special private land timber permit on May 4, 2020. In exchange for cutting down 54 old trees, Vista Residences has to donate 5,400 Benguet pine tree seedlings which, after a meeting with Mayor Magalong, later doubled to 10,800 seedlings.
"To reiterate, the cutting of the pine trees is covered by a permit duly issued by the DENR and was undertaken in full compliance with all relevant rules and regulations," said Vista Residences in a statement to the media.
The permit they hold is valid from June 24 to July 15, 2020. Baguio's Public Information Office revealed that DENR records showed that the property owner applied for a special private land timber permit back in 2018. It successfully complied with the requirements: Environmental Clearance Certificate issued in 2017, barangay certificate on September 11, 2018, and mayor's clearance on October 1, 2018. This was before the current Mayor Magalong was elected in office.
Character development: -99999999

A month ago, Sen. Cynthia Villar spoke to the importance of preservation of natural habitats. Howbeit, a month later, her realty group just cut 53 pine trees in Baguio which is a home for various life. pic.twitter.com/UJAPecU4vJ

— (@axcelquing_) June 26, 2020
Vista Residences is owned by former Senator Manny Villar who sits as the current Chairman of the Board. His wife, Senator Cynthia Villar, sits as the incumbent Chair of the Philippine Senate Environment and Natural Resources Committee, Agriculture and Food Committee, and Agrarian Reform Committee. Aside from Vista Residences, Vista Land also operates through Crown Asia and Camella Homes.
The sad reality
Even if Vista Land "pays back" by planting 10,800 trees, it will take decades for these trees to mature. This action has set back Baguio's efforts in preserving its natural environment. But the sad reality is that this isn't the first time it has happened and it most likely won't be the last.
Baguio now has its own SM City and a huge Sky Ranch amusement park — both the results of turning a blind eye and a deaf ear to the pleas of the people. The city has had problems with overcrowding and overdevelopment in recent years, which the local government is fervently trying to solve. At the end of the day, business is business and if the people don't complain enough and take action, soon there might be no forests left to save.
READ MORE:
Baguio as a 'Safe Vacation Spot': The City's Post-Pandemic Tourism Plans
This 24-Garden Open Space in La Trinidad Should Be In Your Baguio Itinerary
Vintage Lodgings to Book for Your Next Baguio Trip
This Glass Treehouse in Baguio Will Let You Sleep Under the Stars
9 of the Most Gorgeous Airbnbs in Baguio City to Cool Down In Style