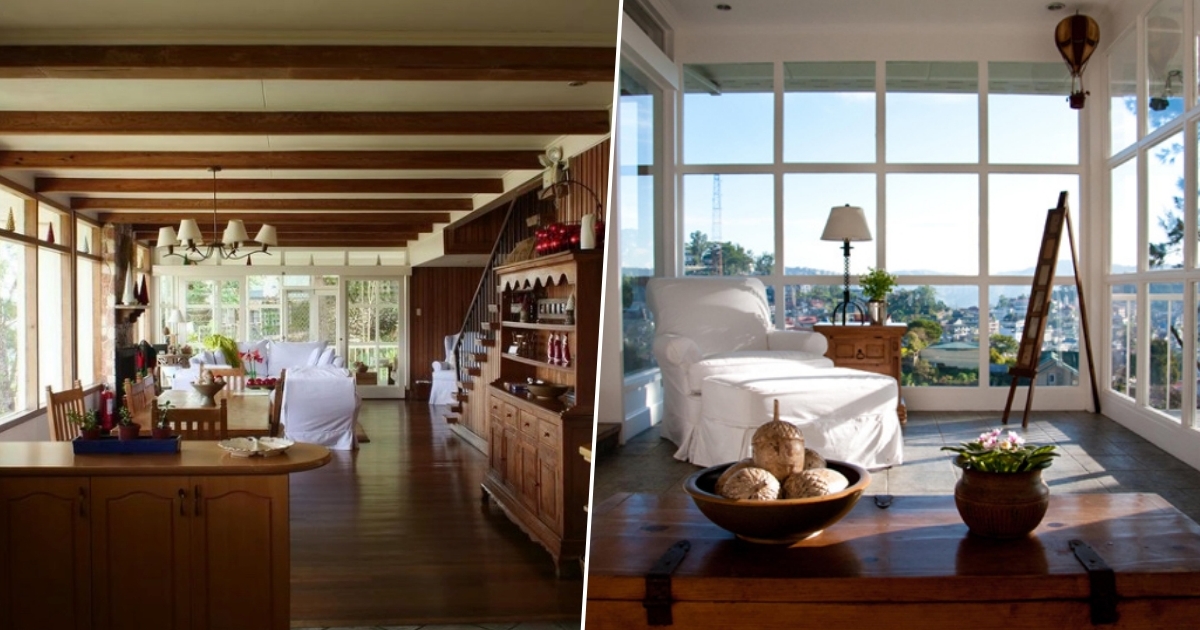 Cozy Up in Baguio's Cool, Foggy Weather at This Quaint Rental Home
Make your next trip to the City of Pines truly different in this country-style house
by Jon Christoffer Obice | July 29, 2021
Planning to get away from the city for a change of scenery? Now that the rainy season is here, a trip to the beach might not be as appealing. But no matter what the weather, a visit to the pine tree-dotted summer capital of the Philippines is always fantastic — yes, even when it's raining. Baguio offers a refreshing experience amid the beautiful mountain views paired with the cool, foggy weather. And what better way to witness Baguio in all its glory than by unwinding in a pretty country-style rental house?
Feel at home at The Country Place Baguio
Baguio's peak tourist season is typically from February to May, but the city is a popular destination all year long. Often, tourists stay at mainstream hotels and hostels near the town center, while some opt to spend the weekend at a traditional Baguio rental house. If you're looking to replicate a traditional family summer experience, The Country Place along Dominican Hill Road will make you feel right at home.
View this post on Instagram
Built on the side of a sloping hill, The Country Place looks like a small bungalow from the road. But once you see the other side of the home, you'll see that it's actually a multi-storey building. Originally constructed in the 19560s, this former ancestral home is perfect for big groups of friends and family. It also offers a stunning view of the mountain city and will give you that authentic Baguio experience that you just can't get from a run-of-the-mill hotel.
Cool and crisp all-white aesthetic of the 3 residences
Perched along Dominican Hill, The Country Place consists of three separate rental homes. Each residence has its own character and appeal, but you're sure to feel at home at any of them.  They can sleep up to 10 people comfortably, and each residence features elegant pinewood floors, as well as huge windows that let in plenty of natural light.
Residence 1
Located on the lowermost floor of the building, Residence 1 overlooks the home's beautiful garden. It has four bedrooms (including the master's bedroom), and two toilets and baths.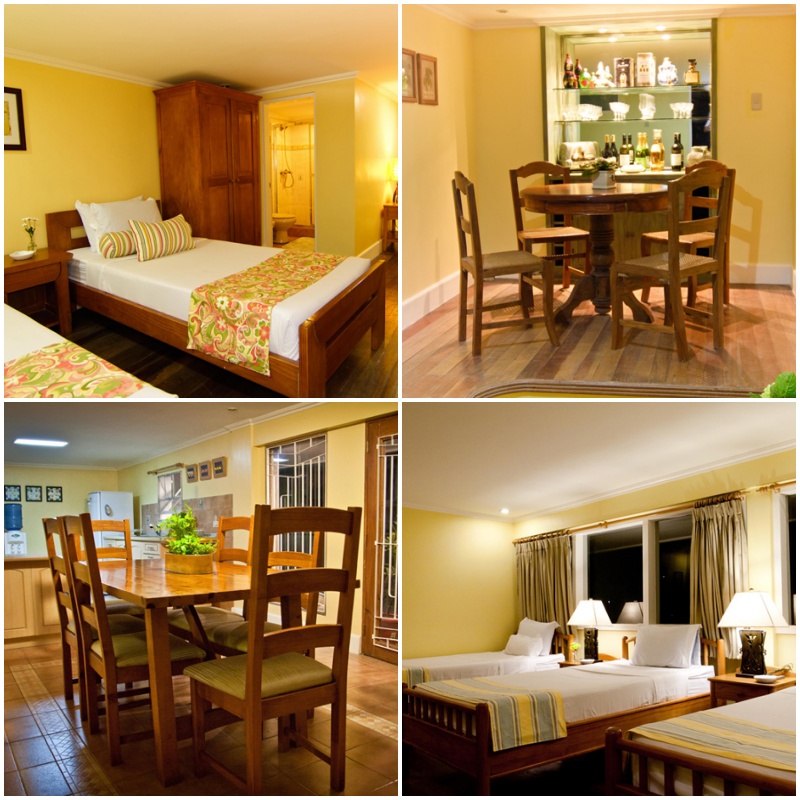 Residence 2
With stone and wood accents, Residence 2 is a stylish place that lets guests feel right at home. It has huge picture windows that open up to the view of pine trees, and guests have direct access to the garden.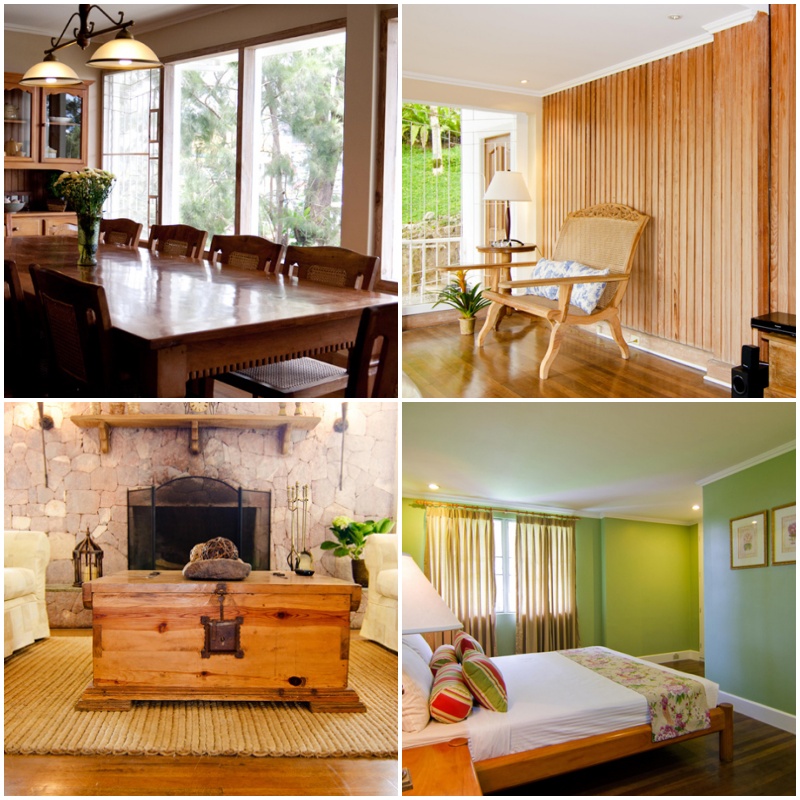 Residence 3
The largest floor in the house, Residence 3 is located on top two floors of The Country Place. A favorite spot among guests is the sitting-slash-reading nook, which has a high-back lounge chair surrounded by all-glass walls that reveal a gorgeous view of the lush garden and the city. It makes for a perfect spot for simply enjoying peace and quiet with a warm cup of coffee in hand.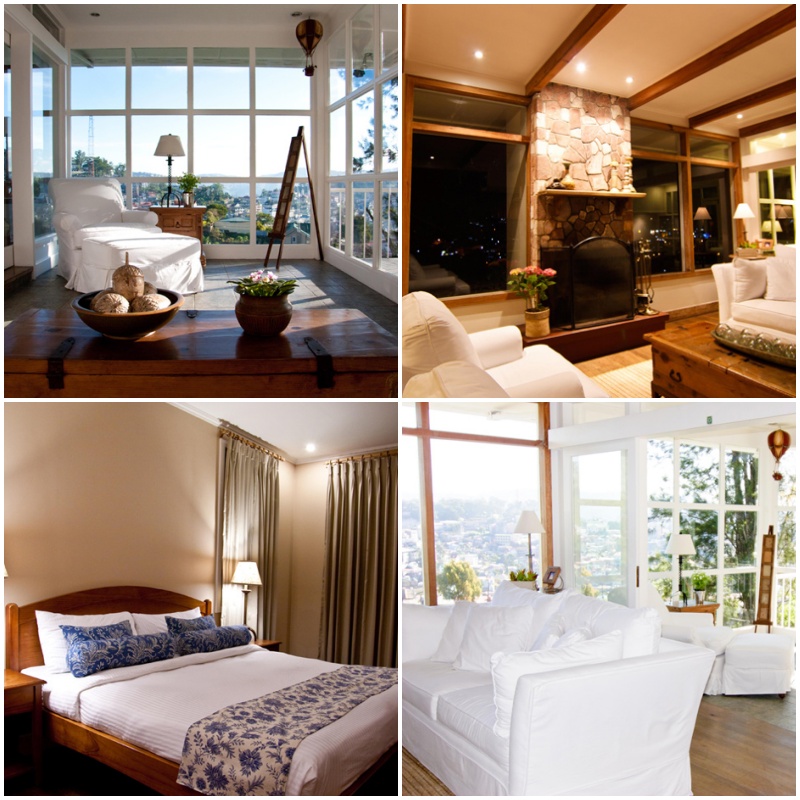 Each residence is equipped with a kitchen, so guests can cook their own meals. But The Country Place also has its own in-house cook to prepare meals for you — super convenient!
And in case you're wondering, there's no air-conditioning. But there's no need for one when you're in the City of Pines where the average temperature is 20 degrees celsius. So, make sure to take advantage of the extra comforters and blankets housed in the closets because it's bound to be chilly every night!
Lounge and hang out alfresco on bonfire night
The great thing about The Country Place is you don't have to venture out to get the full Baguio experience. You can relax and enjoy the mountain city away from the crowds — and we can't blame you if you choose to simply "stay home"!
When you want to take in the fresh air, simply open a window or venture outside to the garden, which is modeled after the Banaue Terraces and also features a greenhouse. The garden also has an outdoor sitting area that's perfect for enjoying a warm cup of coffee, or even a full meal.
View this post on Instagram
Just think of the great conversations you could have here!
View this post on Instagram
At night, you can ask the caretaker to set up a bonfire for you. Bring graham crackers, marshmallows, and chocolate for your s'mores!
View this post on Instagram
Nearby attractions
It's easy to reach the town proper from The Country Place, but the nearest tourist attraction is Mirador Eco Park, which recently became even more popular because of its bamboo forest.
View this post on Instagram
The Eco Park is also home to Cafe Inigo and The Our Lady of Lourdes Grotto.
View this post on Instagram
Rates at The Country Place start at approximately P12,500++ per night. For complete prices and inclusions, you can contact them at +63 917 8528228 or shoot them an email at tcp.baguio@gmail.com.
The Country Place is located at 20 Dominican Hill Road, Baguio City. You can also check out their official Facebook page for more information.
READ MORE:
Baguio City Drops Its Swab Test Requirement for Fully Vaccinated Tourists!
Feel on Top of the World at This Gorgeous Penthouse Airbnb in Baguio
This Stylish Condo Airbnb in Baguio Is the Perfect Mix of Modernity and Tradition
Missing Baguio? You Can Now Get Treats from the Summer Capital at SM!