How to Beach-Proof Your Baby
Make the first beach trip fun (and not traumatizing).
by Alexis Betia | April 07, 2016
Any parent will tell you that bringing baby out of the house can turn into an elaborate production number that can take hours just to prep. Most of us learn the hard way that it's better to bring too much than be caught unawares and unprepared.
That said, planning a beach trip with your bundle of joy can be stressful, to the point where you may be tempted to bring along your entire house—you know, just in case. When it comes to the beach, there are only a few important things that need to be on your list.
Apart from the usual multiple changes of clothes, bottles and toys, keep these in mind.
B is for beach blanket
A beach blanket is a must. Lagu beach blankets are not only comfortable, quick-dry and come in great colors, but they also use great sand-repelling cloth that ensures you don't bring home any more sand than you should.
S is for sun-safe swimsuits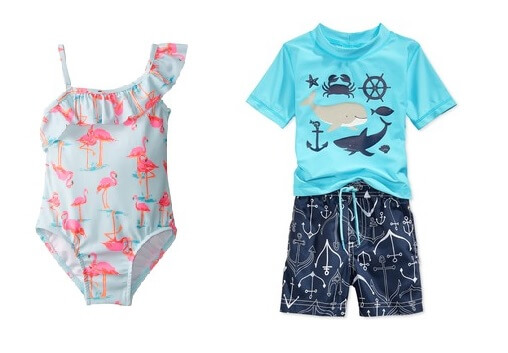 Carter's has great swimsuit options for boys and girls—the best part is that they're made with UPF 50+ fabric, giving your little one's sensitive skin extra protection from the sun. Check out their website here.
S is for safety from the sun
Find out why parents the world over rave about the Aveeno Sun Stick. The formula is made of an oil-free, fragrance-free and hypoallergenic broad spectrum SPF 50, not to mention it's water resistant for up to 80 minutes. Check out the Aveeno website here.
H is for headgear
Functional and cute to boot, a bucket hat is just the thing to protect your wee one's noggin as you lounge and relax on the beach. There are tons of options online and at your nearest department store, or you can take things into your own hands and make one yourself. You can find a tutorial here.
F is for flotation
Going to the beach would be pointless if you didn't have plans to get your baby in the water. Give yourself peace of mind while ensuring that your baby is comfortable with a Swim Ava baby ring, a neck floatation device that keeps their heads safely afloat while allowing them free range of movement under the water.
I is for inflatable pool
Bringing a pool to the beach may seem counter intuitive, but these baby pools from Toys R Us come with a canopy to grant your little one some extra cover from the sun. You can fill the pool with water if you don't feel comfortable with setting them down in the ocean, or you can pad the bottom with a comfortable to give them a safe place to crawl around and nap.
P is for baby powder
Here's a trick that will save you a lot of clean up time. Baby powder absorbs moisture, so simply spread some on hands, feet, face and tush and said sand will dust right off. It even works on hair!
Got any other tips to help beach-proof our babies?