Beautiful Destinations You Can Visit Via Ferry from Manila
Plan your journey.
by Andy Flores | August 04, 2016
Traveling in an island country like the Philippines, a lot of options in terms of transportation are available. But when land travel is not possible and the airfare is too steep for your budget, you might want to consider taking a ferry.
Although the travel time is comparably longer, traveling by water is a  whole lot cheaper. Besides, the journey is all part of the experience, so stretching it out a bit shouldn't be an issue for a wanderer  like you.
Here are six stunning, local destinations you can reach via ferry:
Coron, Palawan
Travel time: 15 hours
Budget: From PHP 1,794
While the province of Palawan is best known for its pristine, postcard-worthy white sand beaches (it's not called the most beautiful island in the world for nothing!) and Puerto Princesa's subterranean river, Coron sets itself apart as a natural rocky fortress in the midst of blue waters. The most fascinating features of Coron are Lake Kayangan and Lake Barracuda–two breathtaking jade green lakes nestled between  the mountain walls;  a hit among avid divers and adventurers.
Dumaguete City
Travel time: 26 hours
Budget: From Php1,880
Dumaguete is a provincial city pulsing with youthful energy, mainly because it's a popular destination for students in the Visayas and Mindanao who seek quality education. One of the must-visit schools in Dumaguete is Silliman University.
The 62-hectare campus is the first private university established by the Americans in the Philippines, and it  attracts thousands of students, including 300 foreign students from over 40 countries, yearly. Feel free to take a leisurely stroll around the university or get a Campus Ambassador to tour you around. In the evening, mingle with the locals at the harbor front, a cosmopolitan promenade with a string of bars, restaurants, and food shacks.

Bacolod City
Travel time: 20 hours
Budget: From Php1,680
The City of Smiles takes pride in their bustling and progressive urban scene, food culture (napoleones, piaya and inasal, anyone?), and their rich past, which is reflected by the well-preserved historic structures scattered  across the metro.
One of the most iconic buildings in Bacolod that you shouldn't miss during your visit is The Ruins in Talisay, the remains of a more-than-a-century-old mansion that stands today as a testament of true love. Another spot brimming with architectural beauty is Silay or the "Paris of Negros," where more than 30 heritage houses stand in perfect condition.
Want to take a trip soon? Ask any Bacolodnon and they will tell you that the best time to visit this colorful city is on the third week of October, when everybody goes full-on fiesta for the famous Masskara Festival.

Iloilo City
Travel time: 20 hours
Budget: From Php1,430
The upbeat city of Iloilo lets the old and the new commune together. It is a well-known hub of heritage sites, especially historic churches like Iglesia de San José de Placer, Sto. Niño de Arevalo Parish, and the National Shrine of Our Lady of the Candles or Jaro Cathedral. It also places itself in the forefront of Panay's night life.
For an upbeat evening, head to the Iloilo River Esplanade, where people of all ages–tourists and locals alike–come together for food, drinks, and, of course, to socialize. But if you want to join a bigger party in the city, swing by on the fourth week of January to experience the true, fun-loving spirit of the Ilonggos during the Dinagyang Festival.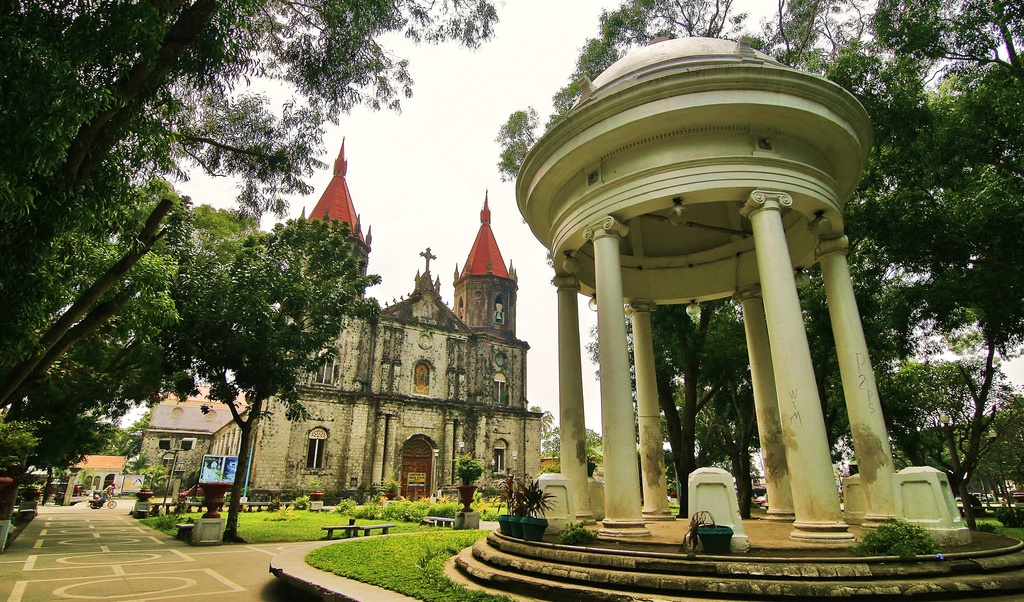 Dipolog City
Travel time: 32 hrs
Budget: From Php2,230
Tagged as the Gateway to Western Mindanao, the charming little city of Dipolog is the place to go if you want to escape the urban scene, but still want to experience a bit of the city vibe. History and architecture buffs would be awe-struck by the Our Lady of the Most Holy Rosary Cathedral, a grand stone structure built in 1895 by Spanish friars which features an altar designed by Jose Rizal. Fitness junkies would love taking a jog along the 3.5-km long Dipolog Boulevard at sunrise (it's also a great spot to catch the sunset).
Tree-huggers would find solace in Cogon Eco-Tourism Park or the magnificent 25-ft. Sungkilaw Falls. And, what's a trip without some awesome food? When the night falls, barbecue stalls line Dipolog Boulevard to serve you with delicious and cheap grilled goodies. The city is also well-known for their sardines, so you better grab a few jars for pasalubong or for yourself to enjoy!
Zamboanga City
Travel time: 42 hours
Budget: From Php2,155
Not a lot of people know that there is an abundance of flora in Zamboanga City. It is home to 600 species of orchids and an astonishing variety of ferns. If you're not up for a botanical field trip, visit the Yakan Weaving Village for a unique cultural experience.
Watch artisans craft various weavings such as bags, table runners, and shirts, all which you can purchase from them directly. When hunger hits, have a go at the monstrous curacha, a type of lobster that can be found only in Zamboanga, also served in local restaurants. A festival you certainly shouldn't miss in the city is the Zamboanga Hermosa festival, which is highlighted by the colorful vinta boat race.
Also read: Beautiful Destinations You Can Visit Via Bus from Manila