Where to Rent a Bike in Metro Manila
There's one in Intramuros!
by Kyzia Maramara | January 21, 2020
The normal workweek of an employee always consists of getting stuck in traffic on public transportation and relying on their gadgets for entertainment. Once they get to the office, they will stare at their computers for the better part of the day working the hours away. The same traffic and the same boredom-killer method repeats on the way home.
We're getting increasingly disconnected to the world around us and this is why it's important that we make it a point to experience things outside work and outside the digital world.
This weekend, why don't you make plans? Hit up the nearest bike rental in Metro Manila (read below), disconnect from the online world, and reconnect with your surroundings and your family. Renting a bike and breezing past the trees, historic streets, and parks might just be what you need to re-energize for another week to come.
Intramuros: Bambike
There's no better way to explore the historic walled city of Intramuros than to hop on a bamboo bike and pedal away. Booking tickets online gives you the option to rent a bambike for Php 175 an hour, Php 350 two hours, or Php 400+ for an entire day. Bambike also offers Ecotours, a guided tour package that starts at Php 999 for 1.5 hours of Intramuros Express Tour.
Quezon Circle: QMC Bike Station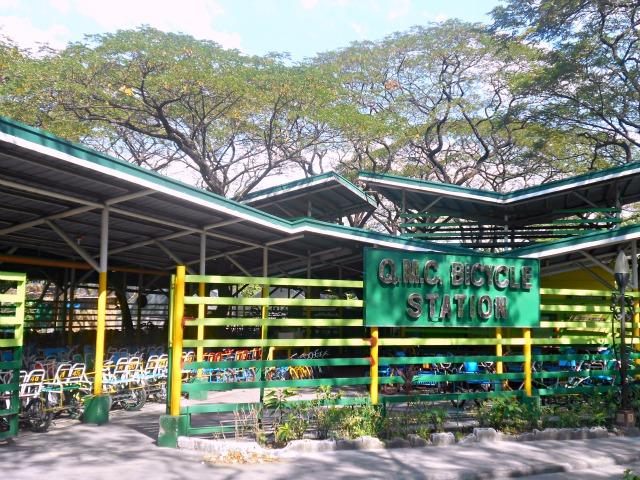 Elliptical Road, Vasra, Quezon City
Spending a weekday at the heart of Quezon City can be quite relaxing. Quezon Memorial Circle has a museum, a huge area where you can jog or even just hang out with your friends and family, stores selling goods from food to succulents, and a bike rental area. QMC Bike Station has BMX bikes, mountain bikes, and family bikes for rent from Php 80-150 an hour. It's a great place to bring the family on the weekends.
Circulo Verde, Pasig: The Bike Playground
7 A.M. to 8 P.M.
Calle Industria, Bagumbayan, Quezon City, Metro Manila
Bike rentals, as well as bike lessons, are available at The Bike Playground in Pasig. Their tracks are designed to resemble terrain for outdoor biking and they also have an equipped pump track indoors. Renting a kid's bike is at Php350/2 hours while adults are at Php500/2 hours. They also offer coaching for first-timers, lessons on basic skills, and advanced lessons to level up your ride.
Quezon City: La Mesa Eco Park
8 A.M. to 5 P.M.
Novaliches, Quezon City, Metro Manila
Not a lot of people know that in the middle of the concrete jungle that is Quezon City, there's an actual rainforest, botanical gardens, a park with swimming pools, bike rentals, and other activities. And the best part is, La Mesa Eco Park's entrance fee will only cost you Php 50/person! Bike rentals start at Php 80/hour and you get to bike at a moderately large dirt road.
UP Diliman: UP Bike Share
UP Diliman has recently launched its Bike Share system that allows students to rent bikes to and from various stations within the campus. This particular system is exclusive to UP Diliman students on the weekdays but during the weekends non-UPD students can avail of the services by appointment. They only need to approach the UP Bike Share rental booth along the academic oval on select Sundays. For more updates, follow them on Facebook!
Pasig Bike Share
Bike rentals could also be for the benefit of saving the environment. Residents and workers at Pasig City can rent bikes from the local government's Bike Share Program. It was first introduced in 2018 and applications for Bike Share Access Cards have been open since. There are 10 stations with about a hundred bikes around Ortigas Center easily accessible by those working in the populated Ortigas Business District. For more information, check out Pasig Bike Share's official Facebook page.
Know other bike rentals in Manila? Share them with us below!