Adventure in Nature: 8 Campsites Near the Metro to Visit this 2023
Camping rates start at P200 per head.
by Ina Louise Manto | January 12, 2023
A well-planned holiday with a detailed itinerary will always be fun, but for those who don't have the luxury of time and budget, short weekend trips are the way to go. There are plenty of beautiful stays with the best views, beach resorts, and condos, but if you're looking for a little adventure, camping is a healing activity to try. From mountains to beaches, here are some campsites near the metro for your weekend plans this 2023:
Lake Mapanuepe
Location: San Marcelino, Zambales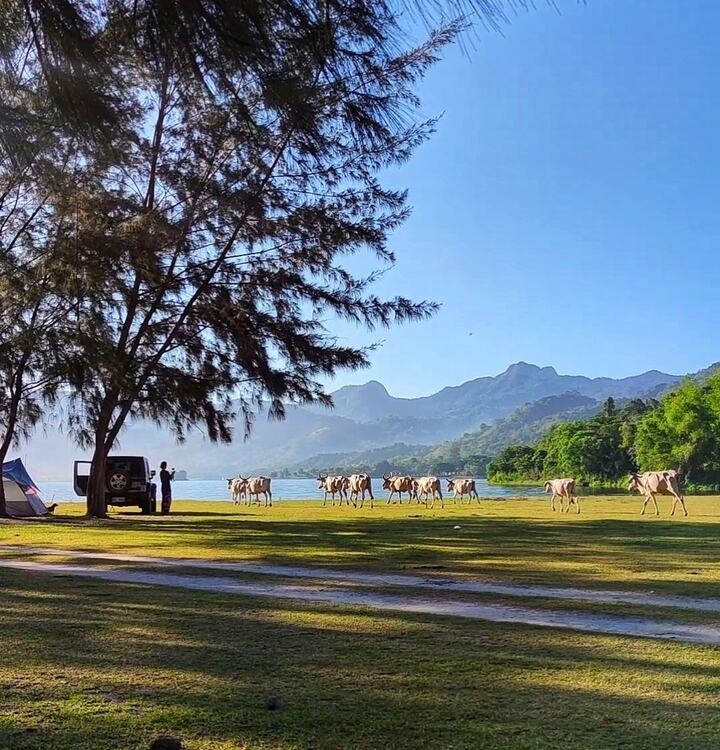 Dubbed the "New Zealand of the Philippines", Lake Mapanuepe is a tranquil setting that's perfect for going off-grid for a night or two. There are no resorts or stays by the lake, so you either drive or go on a boat ride and pitch a tent. Make sure to bring camping gear, especially lights, because there's no electricity here too. The lake is also ideal for car camping.
Camp Morri
Location: Veterans Kaysakat Road, Antipolo, Rizal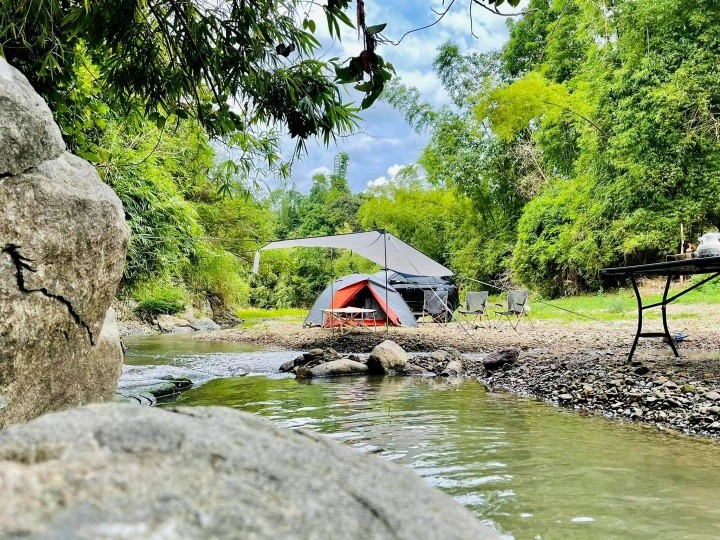 Want to go riverside camping? Head to Camp Morri for a day trip or an overnight camping experience. Their day tour starts at P200 per head for adults with an additional P100 for tent pitching. If you plan on going car camping, you only need to pay an extra P200 per car. Camping gear may be rented as well, such as folding chairs, tables, and sunshade tents. When you don't feel like sharing the campsite with others or plan on holding a group outing, you can rent it exclusively for P15,000 a night.
Find more details on Facebook.
Kamp Lema
Location: Barangay Bagong Silang, Real, Quezon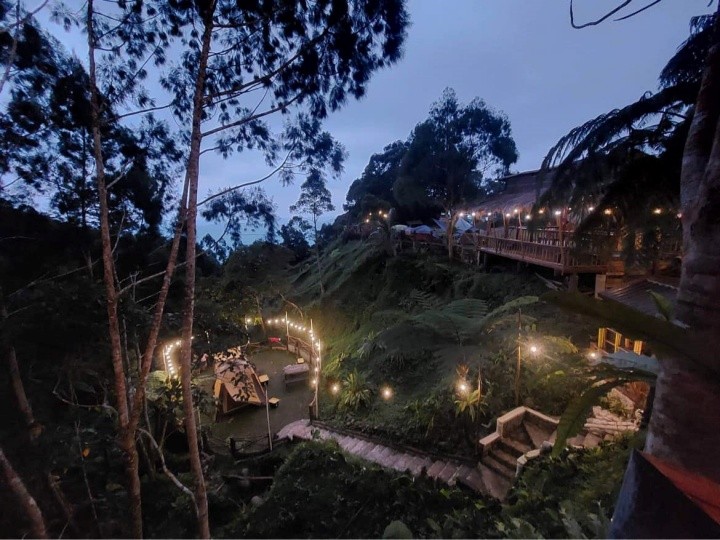 If camping in the mountains is your cup of tea, you would love Kamp Lema. The site is nestled in Quezon's Little Baguio, where you'll get to wake up to views of the Sierra Madre Mountain range. At Kamp Lema, you can either bring your own tent and pay a pitching fee of P350 or choose to stay in one of their comfy accommodations starting at P900 per night on a Tent House.
Find more details on Facebook.
B. Glamp
Location: Chapis Village, Baguio City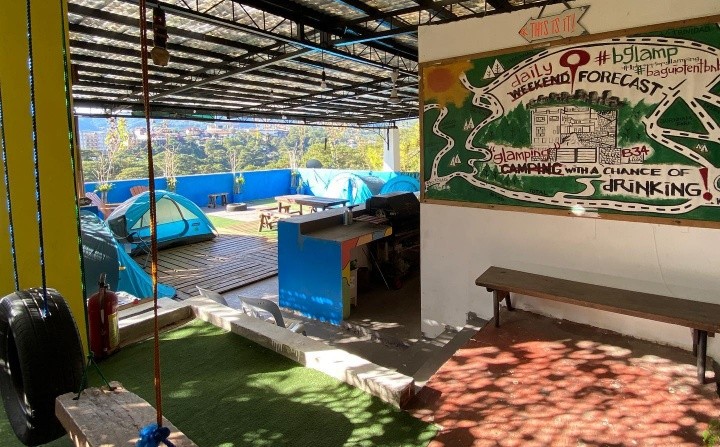 When in Baguio, you often think of cozy cabin stays and transient houses. But if you're looking for a different experience the next time you visit the cool city, visit B. Glamp. They offer the country's first rooftop glamping experience; tents are pitched on the fifth floor of a bed and breakfast, and it's one of the best places to meet new like-minded friends when on vacation. You can have a bonfire experience here too.
Find more details on Facebook.
Make the Most Out of Your Baguio Getaway at These Cozy Cabins for Rent
Make the Most Out of Your Baguio Getaway at These Cozy Cabins for Rent
Ina Louise Manto | Jun 21, 2021
Kahilom Campsite
Location: Calayo Cove, Nasugbu, Batangas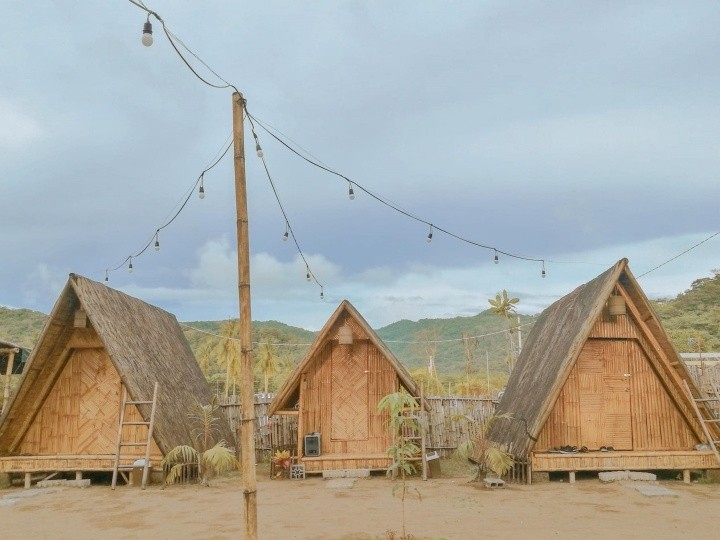 Driving to Batangas is a no-brainer when it comes to beach getaways near the metro. The province has plenty of coastal towns, one of which is Nasugbu where you'll find Calayo Cove. You'll find Kahilom Campsite here, and choose to stay in either tents or one of their kubos. Rent a tent for P300 a night (for two) and you'll have access to the beach, common comfort room, and free use of a griller and tables and chairs.
Find more details on Facebook.
Marahuyo Cove
Location: Sitio Nagsasa, Pandaquit, San Antonio, Zambalez
View this post on Instagram
Getting to Marahuyo cove starts with adventure: after the three-hour drive to Zambales, you'll have to go on a boat ride to reach the hidden campsite. If you're traveling with your barkada, they have a 2D/1N tent accommodation package that's good for 10 persons. For P1,499, the fee includes rent for the tent, boat transfers, a cottage, an entrance fee, swimming pool access, and more.
Find more details on Facebook.
Borawan Island Resort
Location: Barangay Lipata, Padre Burgos, Quezon Province
View this post on Instagram
You don't have to travel far and ride an airplane to experience Palawan and Boracay – you can do so when you drive to Quezon and discover Borawan Island. The island boasts a white sand beach and limestone cliffs, reminiscent of the two popular destinations, hence its name. The entrance fee is only P200 for an overnight stay and tent pitching is P300 per tent. If you don't have your own, you can also rent a tent for P500, which is good for two to three people.
Find more on Facebook or on the official website.
Kalmado Campsite
Location: Zambal Road, Tagaytay City
Planning to try car camping this year? After a day trip around Tagaytay City, recharge and enjoy the cool weather at Kalmado Campsite. They have a vast garden space where you can park and camp in a jiffy. Car camping only costs P200 per head, which is perfect for spontaneous trips and those sticking to a budget.
Find more details on Facebook.
Where is your go-to camping spot? Share with us below!
Looking for other places to explore? Join WindowSeat.ph's official Facebook community What's Your Trip PH for more recos!