LOOK: This Tagaytay Bed & Breakfast Will Give You a Majestic View Of Taal Lake — Even From Your Bathroom
Could this be the prettiest bathroom in the country?
by Bianca Katipunan | November 16, 2020
For many Metro dwellers, Tagaytay is the go-to place for quick getaways from the city. Known for its many tourist attractions and cool climate, one will surely find a lot of things to do in this beautiful city. In case you're planning to spend a weekend in Tagaytay, why not check this bed and breakfast that sits on top of Tagaytay's ridge?
The Carmelence View Tagaytay 
Named after the late Carmen Aguinaldo-Melencio, who is the property's original landowner, The Carmelence View is located along the Tagaytay Ridge. Choose from any of its 7 1/2 unique rooms (the cabana is treated as a half-room), and you'll be treated to amazing views of  Laguna Lake, Taal Lake, and Batangas Bay.  You'll also be able to see different mountains like Makiling, Makulot, and Banahaw.
The original structure of the hotel was based on contemporary Filipino design. National Artist for Architecture Bobby Mañosa designed the hotel's structure in the 1990s. The rooms have high ceilings, lots of glass, mirrors, and plenty of light.
Mid Pines Suite 1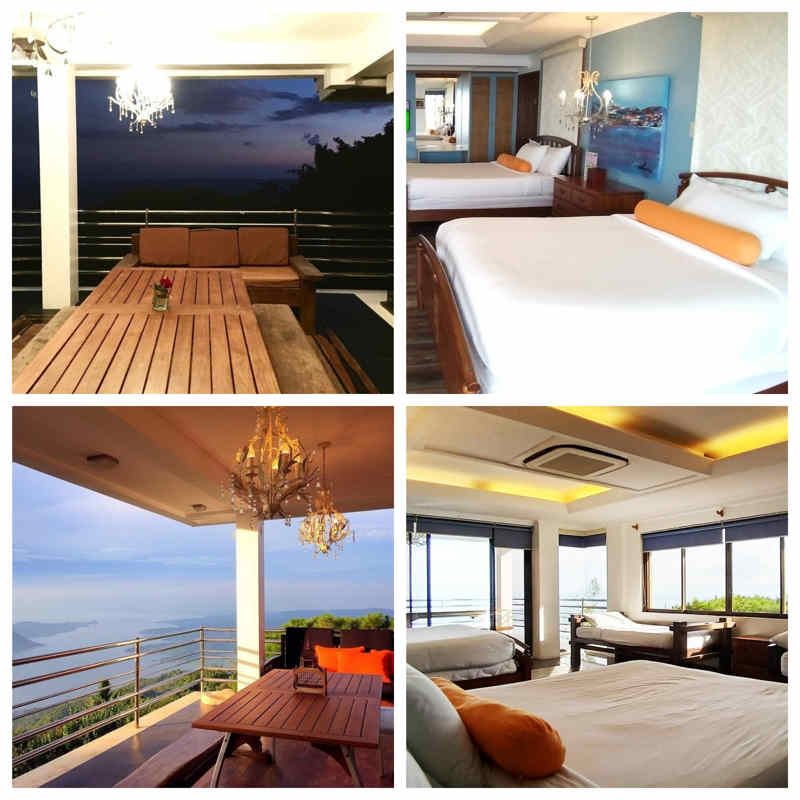 Their Mid Pines Suite is a one-bedroom corner suite that has two balconies that will give you a breathtaking view of Taal Lake from above. The room features floor-to-ceiling picture windows, so guests will enjoy waking up to the view of Tagaytay.
Mid Pines Suite 2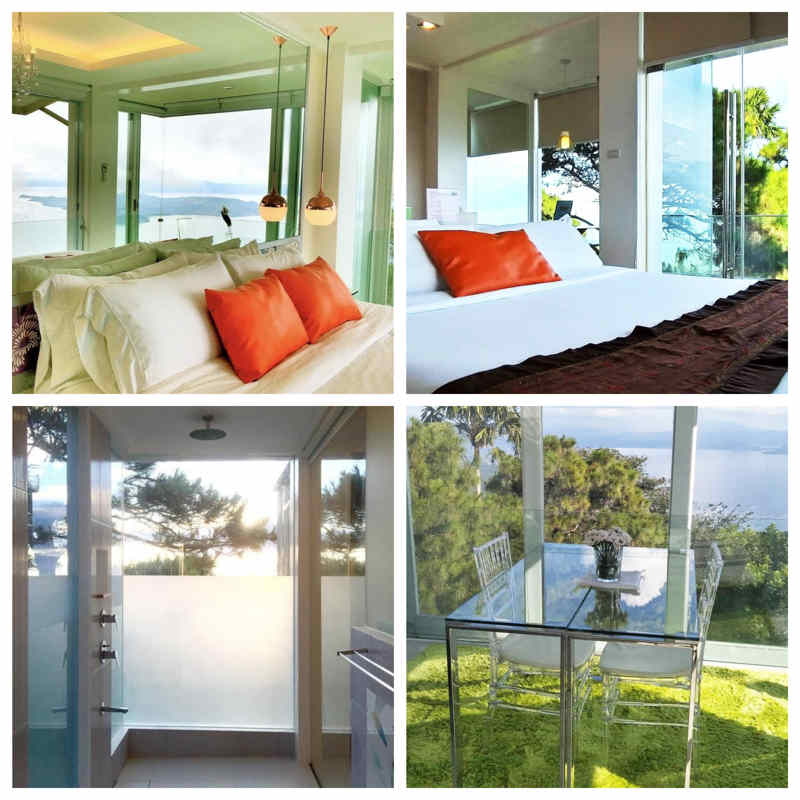 This suite features an all-glass concept with breathtaking views of the lake. Guests will be welcomed with the majestic views of Taal once they step inside the room. The suite boasts floor-to-ceiling windows, as well as an all-glass bathroom wall with a rain shower and an all-glass dining table.
Family Suite
Perfect for families, this suite has two Ethan Allen queen beds and 2 daybeds. The room's balcony is the place where a family can gather and look at the beautiful view of Tagaytay. The extendable teak wood dining table can seat up to 6 persons.
Sky King Suite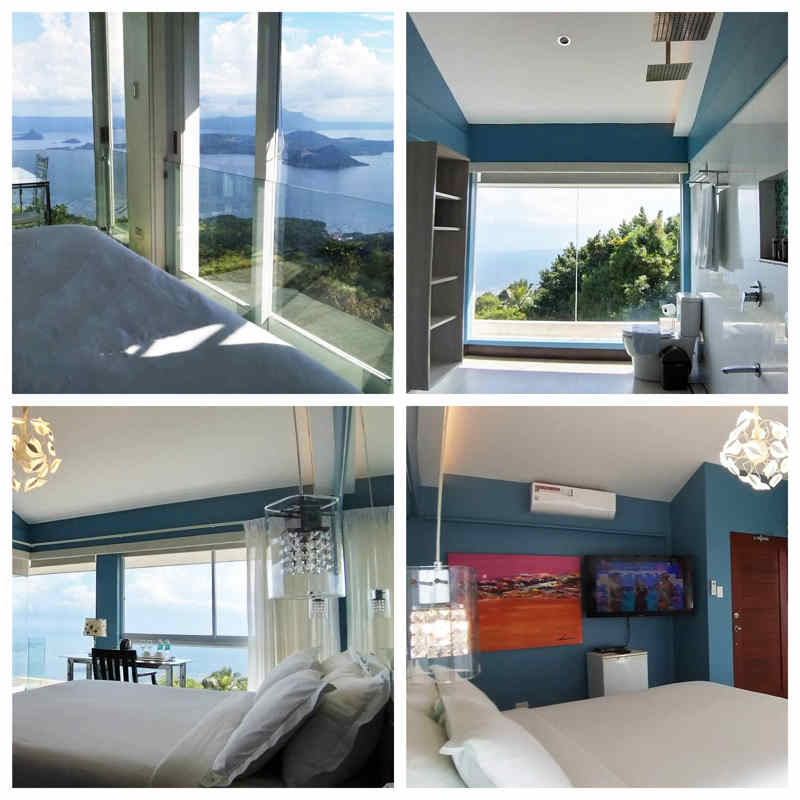 If you want to go for a more luxurious suite, their Sky King suite is for you! The room also offers amazing views of Taal Lake — even from the bathroom. The room has a memory foam king bed, the tables and countertops are made from solid hardwood and stainless steel, and the floors are delicately made with some of the finest Italian porcelain tiles. The suite also has a sprawling bathroom and a beautiful balcony.
Jacuzzi Suite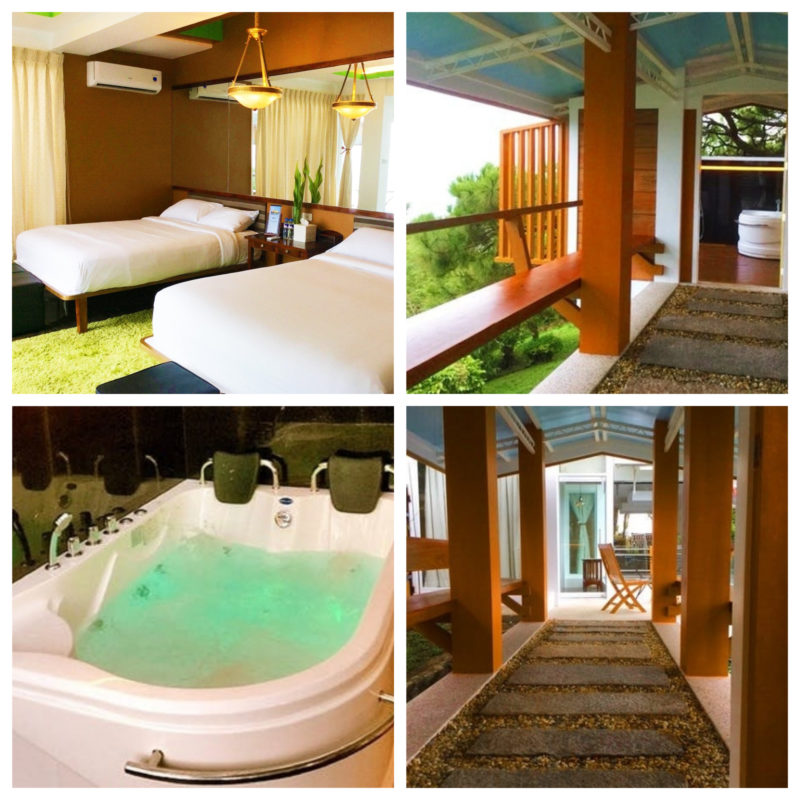 The newest addition to the hotel is their Jacuzzi suite, which not only offers the best view of Taal Lake but also has its own hot tub! The room is a  10 square meter structure that has its own bridge way that's perched 12 feet above the garden. The bridge way is designed with antique Piedra China flooring for its walkway and Yakal. So guests staying in the room will surely feel like their royalty. At night, guests can also enjoy the beautiful night sky because of the room's clear glass windows.
Murano Suite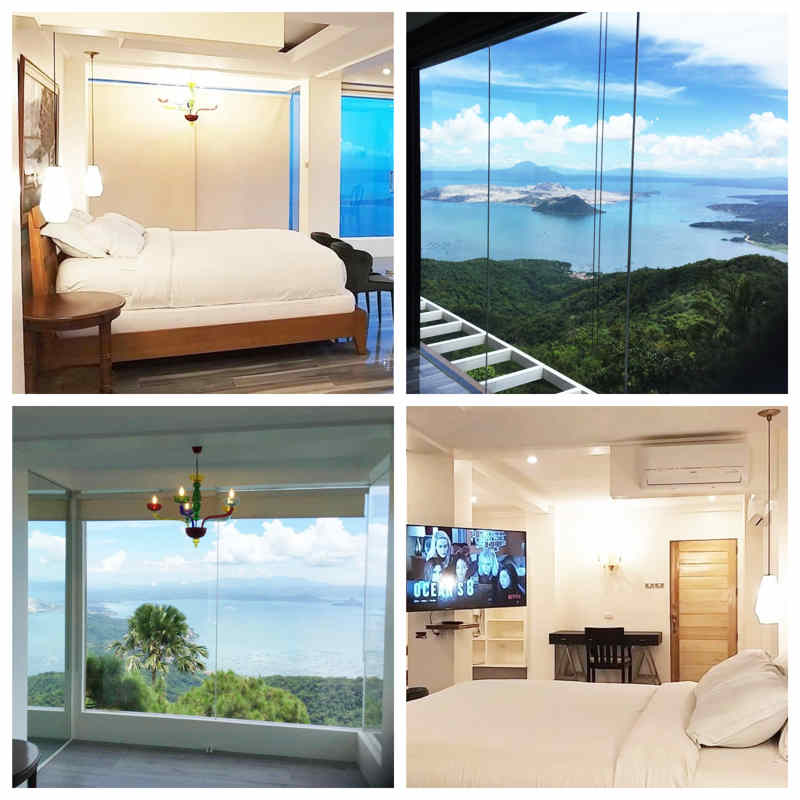 The Murano Suite features an assortment of fine Venetian glass lighting fixtures, from chandeliers to scones to drop lights, all shipped by air from Murano, Italy. The suite has floor-to-ceiling glass walls in an exceptionally spacious area. The design is given its character by an exquisite combination of Italian and Spanish porcelain tiles, juxtaposed with intricate Venetian glasswork lighting.
For more information about bookings and prices, visit their page here.