Find Your Zen at This Picturesque Resort Between the Banks of Pagsanjan River and Mt. Makiling
Breakfast by the river. Could it get any better?
by Jon Christoffer Obice | May 24, 2021
When you envision a perfect postcard picture of the countryside, you might think of Switzerland-like or New Zealand-ish nature elements we see on fresh milk ads. These include clear skies, mountains, and any flowing body of water. Without even flying out of the country, you could get this view too just a few hours south of Manila.
Casa Marina Bed and Breakfast Resort in Pagsanjan, Laguna is an affordable way to get your postcard-perfect, idyllic R&R. If finding your zen is the goal of your trip, this is the perfect resthouse that will give peace and serenity. Once you settle in this cozy guesthouse, you'd feel as if it's an extension of your home — only the extension has a river, a mountain view, and a choir of chirping birds. If you crave exclusivity, Casa Marina could put you inside a time warp. In the midst of all hustle and bustle in these attractions, you can just allow yourself to get absorbed by the calming surroundings.
All kinds of visitors welcome — from solo travelers to big groups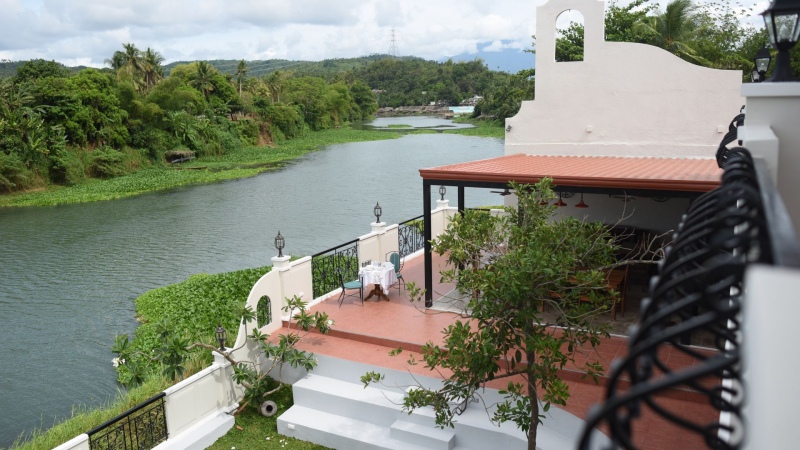 Here you'd appreciate the balance between the old and the new; the traditional and the modern. You'll get vintage vibes from the wooden materials used in furniture and flooring. But when it comes to amenities, they are up to date with the latest appliances.
There's also room for every type of traveler, depending on the level of privacy and exclusivity they want. For solo travelers who are down to make friends with strangers, the Luxury Hostel Beds are just for you. When we say hostel, oftentimes, it's attached to the connotation of being rugged and makeshift. But here in Casa Marina, they elevate the hostel experience with added comfort and security.
Their shared rooms are equipped with air-conditioning, private lockers, WiFi, hot water, and the best of all, free breakfast. They have three shared rooms with 20 beds in total. So if you're a social butterfly who thrives with the company of new people, this is your haven.
If you want more privacy, they also have 25-square meter Private Suites that either have one king-sized or two full-sized beds. These posh rooms come with bathtubs, air-conditioning, large flat screens, closet space, Wi-Fi connectivity, and free breakfast too! The Riverside King Suites could host up to three people for P3,900 a night. The bigger Riverside Deluxe Suites could hold up to four people per room for the rate of P5,070. But if you have a bigger group comprising of eight to ten people, the Family Room Riverside and Family Room Courtyard is available for rates ranging from P7,000 to P10,270 a night. Click this link to book a room!
Breakfast with nature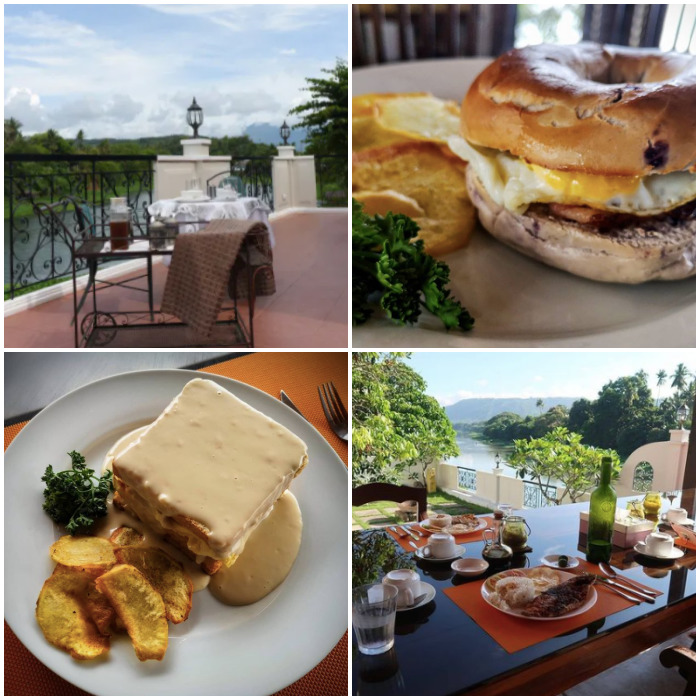 Casa Marina Bed & Breakfast wouldn't be named as such if it doesn't take pride in its best-selling morning kickstart menu. You could go on a traditional Filipino power breakfast with classic staples like tapa, daing na bangus, and Lucban longganisa. If you want to go for a light, Continental meal, you could go for their breakfast bagels. But if you're ready to stuff your stomach with a heavy meal, Army Navy Club sandwich's large serving doesn't disappoint.
But to top it all, what really makes breakfast at Casa Marina more special is the energy you get from nature. If you've been used to fast-paced morning routines and instant microwave-heated meals, then forget about those. Your breakfast in Casa Marina could be the most scenic first meal of the day you could ever have. The sound of birds chirping, the babbling river, and the dappled sunlight on your face might seem like a luxury in Metro Manila. But here, it's free for all.
If you want to have an overview of the Pagsanjan River, go to their famous Bell Tower. It gives you a 360-degree view of the river and Mt. Makiling from afar.
As the center of tourism in Laguna province, the town of Pagsanjan is easily accessible from Metro Manila. It's just a two-hour drive from the metro if you pass through the Los Baños National Highway or the Santo Tomas — Bay Connection Road. To be specific, Casa Marina is located at Kilometer 92, General Taino Street along the National Highway in Pagsanjan.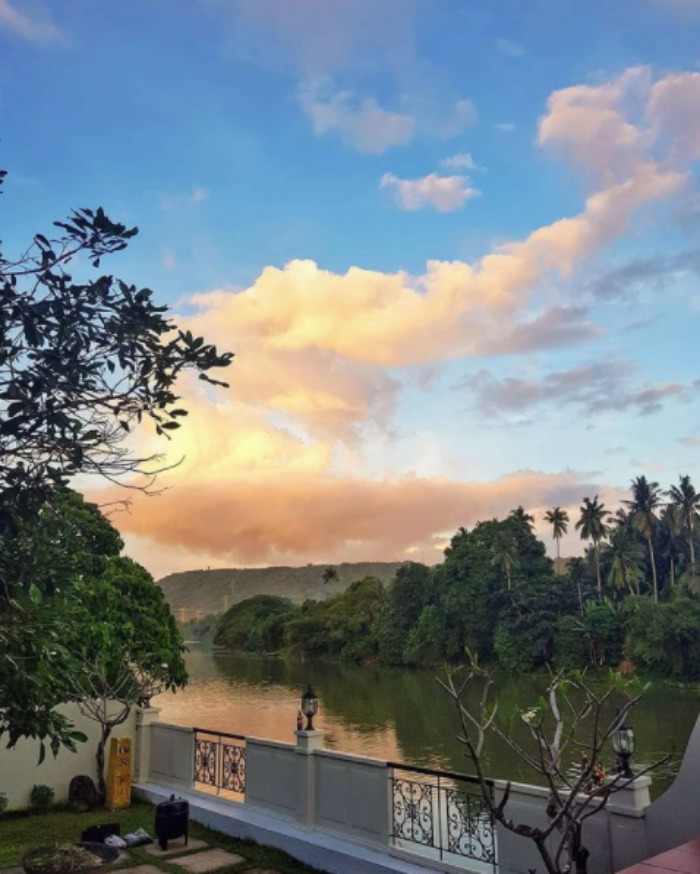 BY BUS
Go to JAC Liner or LLI bus terminals in Buendia
Pick the bus with the signboard "Sta. Cruz" and tell the conductor to drop you off at the JAC bus terminal in Pagsanjan
From there, ride a jeep heading to Kilometer 92 and tell the driver to drop you off at Poblacion Uno at the Tawiran to Magdapio.
BY CAR
Via Los Baños
Take SLEX and exit to Calamba
From Calamba Junction, turn right to National Highway and pass through the municipalities of Los Baños, Bay, Victoria, Pila, and Sta. Cruz before reaching Pagsanjan
Via Sto. Tomas, Batangas
Take SLEx and exit to Sto. Tomas
Take the Lucena Highway and turn left to Sto. Tomas – Bay Connection Road
Go past the Makiling Foothills, exit to Bay Town, before turning right to National Highway
You'd pass through the towns of Victoria, Pila, and Sta. Cruz before finally arriving at Pagsanjan
Nearby destinations
Aside from the Bell Tower and the Pagsanjan River, Casa Marina also has its own "sunken garden" where you could mount fire pits and grill barbecue. For those who seek indoor activities, you could have your "quiet time" in their mini library where you could also donate books.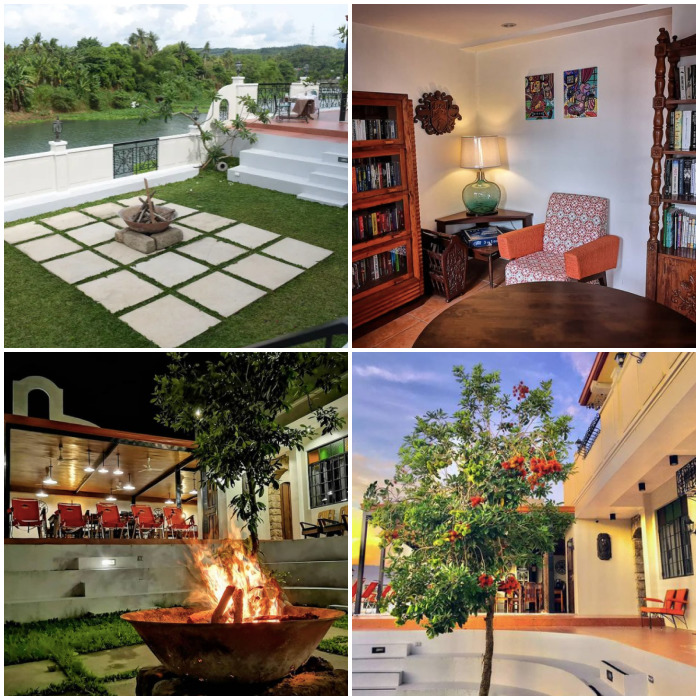 The roads leading to Pagsanjan are lined up with old churches, themed restaurants, and artisanal, local craft shops. If you take the Santo Tomas – Bay Connection Road, you'd be rewarded with stunning views of Mt. Makiling. As you go through the outskirts, the tourist destinations come one after the other.
First off, of course, is the Pagsanjan Falls. From there you could just hop to other nearby attractions like Caliraya Lake, San Pablo Seven Lakes, Cavinti Underground River and Cave Network, and Nagcarlan's underground cemetery.
For more details, visit Casa Marina's Facebook page here or contact them through their mobile number +63.49.2535034 or email them at reservations@casamarina.ph
READ MORE:
Uncle Rod's Private Cabin in Laguna Will Let You Embrace the Farm Life
Go on a Tropical Escape at the Heart of Pansol, Laguna at This Private Villa
This Lake House in Laguna Is the Perfect Place to Get Away
Go on a Relaxing Getaway at this Idyllic River Front Resort in Laguna
We Found the Chillest Camping Grounds for You and Your Friends and It's Just in Laguna