Here are the Best Places in the Philippines to Spend the Holidays
Maligayang Pasko!
by Tynne De Leon | November 30, 2016
Christmas in the Philippines is definitely one of the biggest (and the longest) in the world. Every corner of the archipelago definitely has their own way of celebrating the occasion, but here are the best places in the country for the holiday vibes you need.
Bacolod City
Visit the renowned Christmas village at San Juan Street and be amazed by the collection of miniature Christmas houses and objects that Bamboo Tonogbanua started in 1994. You can also pass by the Christmas light-filled houses of Sy brothers, which are two of the main attractions every December. One is located at Gonzaga Dos Street, owned by Joemarie Sy and the other at San Agustin Street owned by Jerry Sy.
Since it's the season of giving love, you can extend a helping hand to the families of Negros Occidental inmates when you buy Christmas lanterns at the Burgos-Gatuslao Street.
Makati City
This bustling business district transforms into a joyful Christmas land during December. There's a host of visual treats for the whole family—from the amazing spectacle of lights and sound at the Ayala Triangle Gardens. There's also a 56-foot Christmas tree at Circuit Makati until January 8.
Ayala Triangle Gardens will also host Thanksgiving masses from December 15 to 23, and there will be a Makati Inter-High School Caroling Competition on December 19 at the Globe Circuit Events Grounds, a perfect pre-Christmas serenade to get you into the holiday mood. Malls will be open by noon, and there are a lot of restaurants to choose from. What else can you ask for?
Click here to see hotels in Makati and nearby cities with the best holiday deals.
Davao City
The whole of Davao City is a galaxy of lights every Christmas, so there's always an amazing place to feast your eyes on even on a tight budget. Every year, people anticipate the grand spectacle of Christmas lights from Mana Davao (Mana Casa de Artes y Antiguas), an antique showroom that almost transforms into a mini Christmas park every December.
You can also go to Rizal Park, a haven of bright lights and delicious street food, and People's Park, which boasts its yearly Christmas productions such as the Pasko Fiesta and Lamdag Parada.
To experience the best of Davao, click here.
Baguio City
The crisp environment of Baguio is the closest you can get to a winter holiday in the country. Head to the Baguio Country Club's Christmas village for carols and (artificial) snow. There's also the Manor Christmas Village at Camp John Hay where you can join fun activities and be entertained with live performances. Burnham Park is also in festive spirits with its own version of a Christmas village where you can take pictures for as long as you want.
Click here for the hippest Airbnb and hotels in the city.
Legazpi City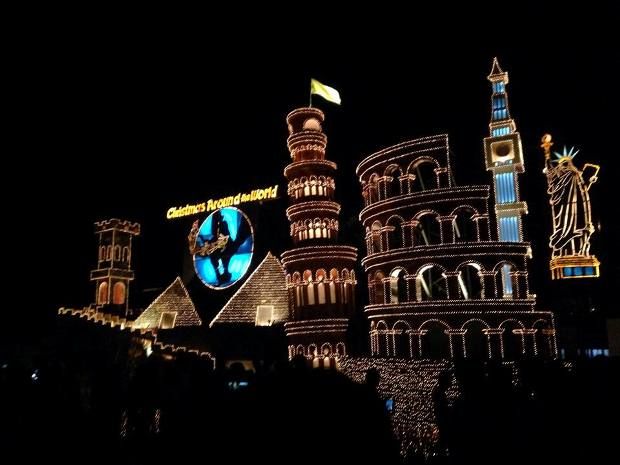 Aside from the delicious spread of Bicolano food, there's a lot to look forward to in Albay this Christmas season. Pastores, the musical reenactment of the Christ's child story, is a Bicol festival tradition not to be missed. It's their version of caroling, but with extravagant props and costumes.
Pampanga
The country's lantern capital has so much in store for you aside from the kaleidoscopic display of world-class, giant lanterns at their annual festival. For one, you can witness the Kapampangan's traditional lubenas, a nine-day religious procession of the patron saint and lanterns shaped in bible symbols. It's held in different barangays, particularly in the towns of Mabalacat, Angeles, San Fernando, and participants converge in front of the parish church on Christmas Eve to attend the midnight mass. They also do simbang gabi, which they refer to as simbang bengi.
When it comes to local cuisine, the Kapampangan food is just one of the best in the land. Get your belly ready for a sumptuous culinary treat and try their specialties like the bringhe, azucena, pochero, and even their exclusive delicacies like tibuk-tibuk, calame biko, calame ube, turrones and puto lazon.
Cebu City
Cebu City's Kasadya sa SRP is a well-loved carnival in Talisay you must visit this season if you want that local perya vibes. Launched in 2013, Kasadya, as people call it, opens in December and has the local perya games, food plazas, rides and local performances.
The city's focal Landmark, Fuente Osmena Circle, has the annual "Pasko sa Sugbo" which features nightly shows for the young audiences and even senior citizens. The lighting of a 120-foot Christmas tree opens the celebration, with different designs every year that will shine bright as the background of your photos.
Got other places? Share with us in the comments section below!