LIST: 8 Places to Admire Christmas Lights for the Holiday Cheer
We don't know where the year went, but we know where we're going this Christmas season!
by Ina Louise Manto | November 15, 2021
Christmas is right around the corner – where did the year go? No matter what your age is, colorful and twinkling Christmas lights will always be a delight to watch. Whether you simply want a quick breather to enjoy the cool weather at night or wish to bring kids to a fun outdoor activity, here are eight places within and near the metro where you can admire Christmas lights and get on that holiday cheer:
Lakeshore Pampanga
Nestled in Mexico, Pampanga, Lakeshore Philippines offers 3.2 hectares of open-air Christmas Park where you'll have access to various food stalls, an outdoor cinema, family activities, live music, and over 250,000 Christmas Lights. You can also book romantic alfresco dinners, where you'll get to dine by the lake under dreamy lights. Open daily from 8 AM to 10 PM.
Find more details on Facebook.
Crosswinds Tagaytay
Planning to spend a weekend staycation in Tagaytay? Don't forget to include Crosswinds' Trail of Lights in your weekend itinerary as enjoy the city's cold weather and try different restaurants and cafes in the neighborhood. Just a quick reminder, individuals below 18 and over 65 may not enter the Trail of Lights. Open daily until 9 PM while restaurants will be in service until 10 PM.
Find more details on Facebook.
Take Your Furbabies on a Staycation at These Pet-Friendly Tagaytay Airbnbs
Take Your Furbabies on a Staycation at These Pet-Friendly Tagaytay Airbnbs
Ina Louise Manto | May 06, 2021
Grand Lantern Festival
The yuletide season is officially on in the City of San Fernando — the Christmas Capital and Home of the Giant Lanterns as lanterns and decorations were lit-up on Friday evening.

Photo by : Chris Navarro

Posted by Sun.Star Pampanga on Friday, October 29, 2021
Another attraction in Pampanga, the Grand Lantern Festival is an annual competition held in the city of San Fernando. In this year's festival, Sparkling Holiday, visitors will witness gigantic Christmas lanterns, some of which are as big as 20 feet with over 10,000 light bulbs. The night display will begin at 6 PM from December 16 to 23, December 25 to 30, and January 1 to 2 at Robinsons Starmills.
Ayala Triangle Gardens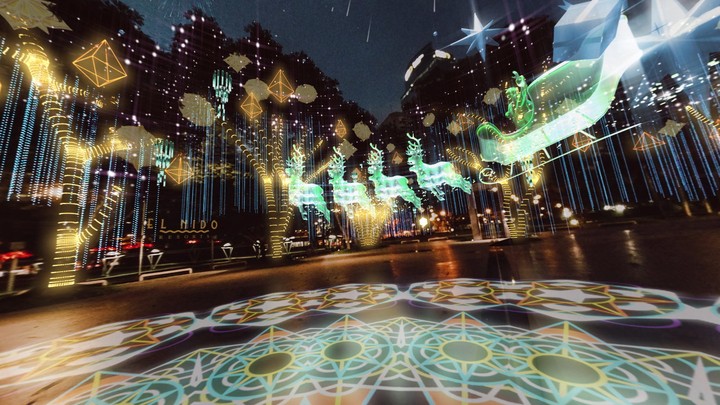 It isn't just the Christmas season without seeing Ayala Triangle Gardens light up in thousands of lights for the Festival of Lights. Though we still won't see the lights IRL, the yearly tradition continues with Festival of Lights: Virtual Edition, which is now in its second year. Made better, bigger, and brighter, this year's virtual show will include not only a 360-degree animation but also a medley of Jose Mari Chan's iconic holiday songs.
Post on social media with the augmented reality filters and you could also win prizes! One Grand Prize winner will receive a 4-day 3-night all-expense-paid trip to El Nido, Palawan for two, inclusive of airfare, free food, and RT-PCT testing. Runner-ups will also get Seda Hotels Gift Certificates and roundtrip airfare tickets from Manila to Boracay. To join, contestants must post their entries on their Facebook page, Instagram Feed, and Instagram Stories with the official tags and hashtags: @makeitmakati @ayalaland #FestivalOfLightsVirtualEdition, #ChristmasInOurHearts, #MakeItMakati, and #AyalaLand from November 20, 2021 to January 9, 2022.
You can catch the light show at Make It Makati's Facebook page or through on-ground QR codes you may scan in different areas around Makati Central Business District and Circuit Makati.
Parish and National Shrine of St. Padre Pio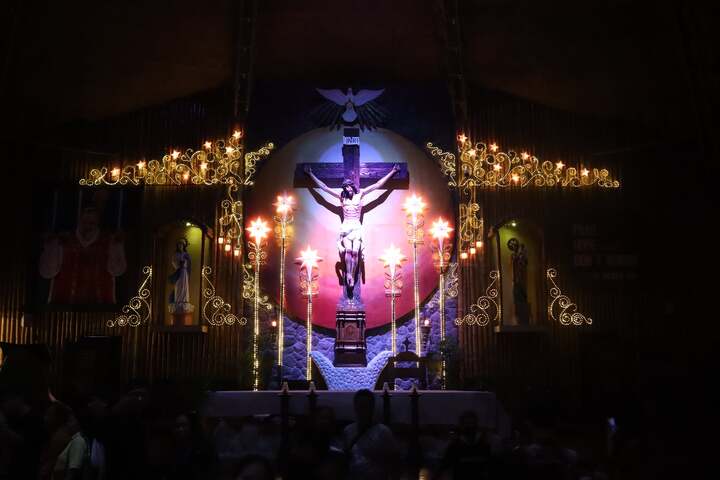 If your family's planning to go on a road trip to Batangas to hear mass at the Parish and National Shrine of St. Padre Pio, make sure to hear the late afternoon mass, which will finish just on time for you to catch the light display. On full display since November 8, the facade of the church, the altars, and various areas of the National Shrine is now decorated with lanterns and lights to explore before driving back home.
Find more updates regarding mass schedules on Facebook.
Ayala Avenue
Whether you work in Makati CBD or simply driving by, it's also a yearly tradition to see Ayala Avenue decorated with lights and lanterns. This year, the avenue's adorned with gigantic lanterns designed by Zenas Pineda and made with capiz shell, recycled materials, and indigenous woven fabrics.
Eastwood City
View this post on Instagram
Planning to go early Christmas shopping? After a day of going through your loved ones' wish lists, make the most out of your shopping day by admiring the gigantic and colorful light sculptures by Filipino artist Leeroy New. The seven-meter-high Festive Fungi, Merry Mycelium sculptures are inspired by fantasy and sci-fi elements and lights up in different colors as Diego Mapa's rendition of Christmas carols plays in the background. More Christmas displays can be admired around Eastwood City too, which both kids and kids-at-heart will enjoy: a 40-foot Christmas tree at Eastwood Mall Open Park, Magical Christmas Carousel Garden at Eastwood Mall's 4th floor, and a Neon Lights Display at Eastwood Central Plaza.
Baguio Country Club Christmas Village
View this post on Instagram
Now that a drive to the Summer Capital has now been cut to a few hours, there's no wonder why more are planning to spend the holidays up North. If you've got your stays secured, don't forget to include the Christmas Village at Baguio Country Club in your itinerary. Aside from various lights and installations, fun activities wait for visitors including a nativity pageant, snowfall, picture taking with Santa, a wishing wall, and live musical entertainment. Remember, visitors above 18 years old must be fully vaccinated to be allowed entry.
You may visit the Christmas Village until January 9, 2022, from 2:00 PM – 10 PM. Tickets start at P70 for adults and P20 for kids for Baguio residents. For tourists, tickets start at P75 for adults and P25 for kids. Book your visit here.
Make the Most Out of Your Baguio Getaway at These Cozy Cabins for Rent
Make the Most Out of Your Baguio Getaway at These Cozy Cabins for Rent
Ina Louise Manto | Jun 21, 2021
Which location will you visit? Let us know below!