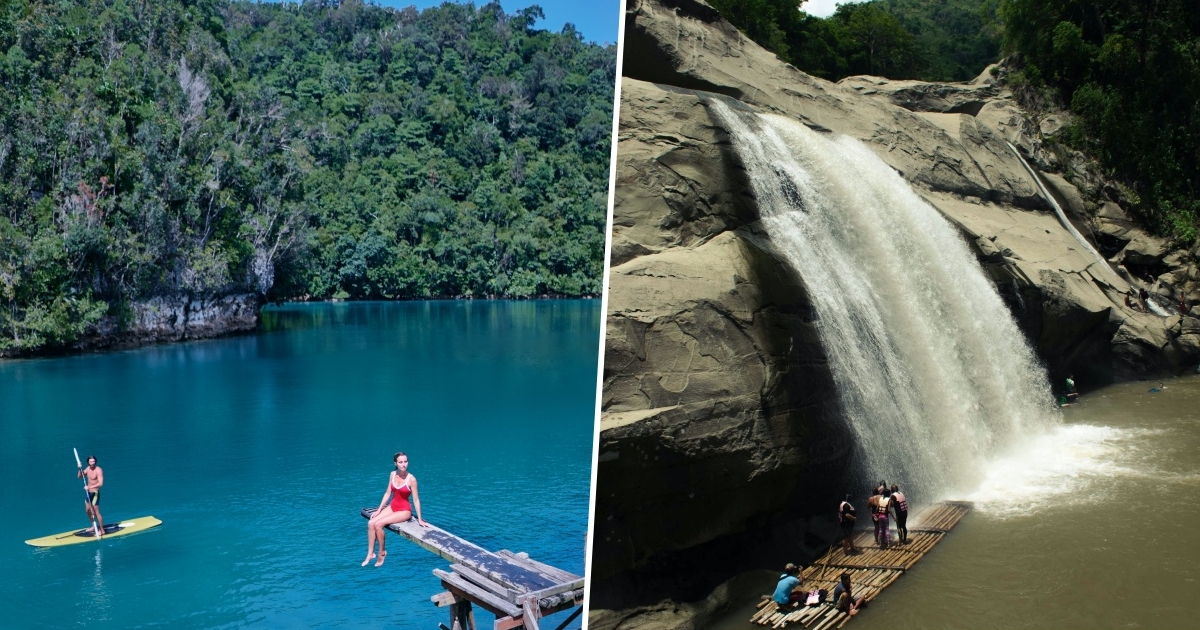 Up For An Adventure? These Cliff Diving Spots Are for You!
Go on an adventure of a lifetime.
by Bianca Katipunan | August 26, 2020
If you're up for an adventure of a lifetime, these cliff diving spots will give you that adrenaline rush you've been craving for. Enough with sticking with the rules — just jump. Reward yourselves with a thrilling vacation and visit these beautiful cliff diving spots in the Philippines.
Sugba Lagoon, Del Carmen, Surigao del Norte
View this post on Instagram

Located on Caob Island, the lagoon's blue-green will have you in awe. The place has a 2-story boathouse where you can chill after enjoying hours of swimming. Besides cliff diving, you can also enjoy rafting, kayaking, and paddleboarding.
Tangadan Falls, San Gabriel, La Union
View this post on Instagram

This hidden waterfalls in La Union is perfect for day tours. Visitors will need to hike a few meters to reach Tangadan but it's very worth it because you'll be greeted by the majestic beauty of this falls. There's a specific part of the waterfalls where you can cliff dive so it's better to ask where it is before daring to jump.
Salagdoong Beach, Siquijor Island
View this post on Instagram

This breathtaking beach is one of the best beaches to go cliff diving. Salagdoong beach is famous for its two concrete platforms which are about 7 meters and 10 meters high. When visiting the beach, one must take note about if its high tide since it's not allowed to go cliff diving if it's low tide.
Tali Beach, Nasugbu, Batangas
View this post on Instagram

Imagine admiring the beautiful night sky after a day of swimming. Tali beach offers guests a wonderful adventure by letting them experience cliff diving at their beach. The place also has a pool for those who don't like swimming in the sea.  At night time, you'll also be able to relax and admire the beautiful stars.
Magpupungko, Siargao Island
View this post on Instagram

Who needs to go to another country when this kind of beach exists in the Philippines! Magpupungko's crystal clear waters are perfect for diving because you can see everything from above. Admire the beautiful corals and swim side to side with different fishes at Magpupunko.
Which of these places would you like to visit first? Tell us below! 
ALSO READ:
The Best Cliff Diving Spots in the Philippines
These Trendy La Union Stays Are Perfect for Your Next Weekend Getaway
These Breathtaking Airbnbs in Siargao Will Make You Long for the Sand and Surf Even More