Hate the Crowds? Enjoy a Quiet Vacation in This Exclusive Bamboo Villa in Baler
Experience true island life.
by Kimberly Hipolito | July 14, 2022
Sick of your screen? It's time to go out and take an adventure of a lifetime in the surfing capital of the Philippines! The five-hour trip from Manila is all worth it once you see the beauty of Aurora. Swim, snorkel, and surf – the wild waves of Baler are waiting for you!
Jovanne's Bamboo Villa
Connect with nature, enjoy the sandy shore, or ride some big waves – immerse yourself in this sacred space. If you hate the crowds and just want some private time exploring Baler, this exclusive villa is perfect for you. This spot is fronting the mangrove beach and is directly accessing the Cobra Reef break, one of the best surfing and hydro foiling spots for all levels. No worries if you are just starting to learn how to surf. Fall, fail, and figure it out – no one's going to stop you!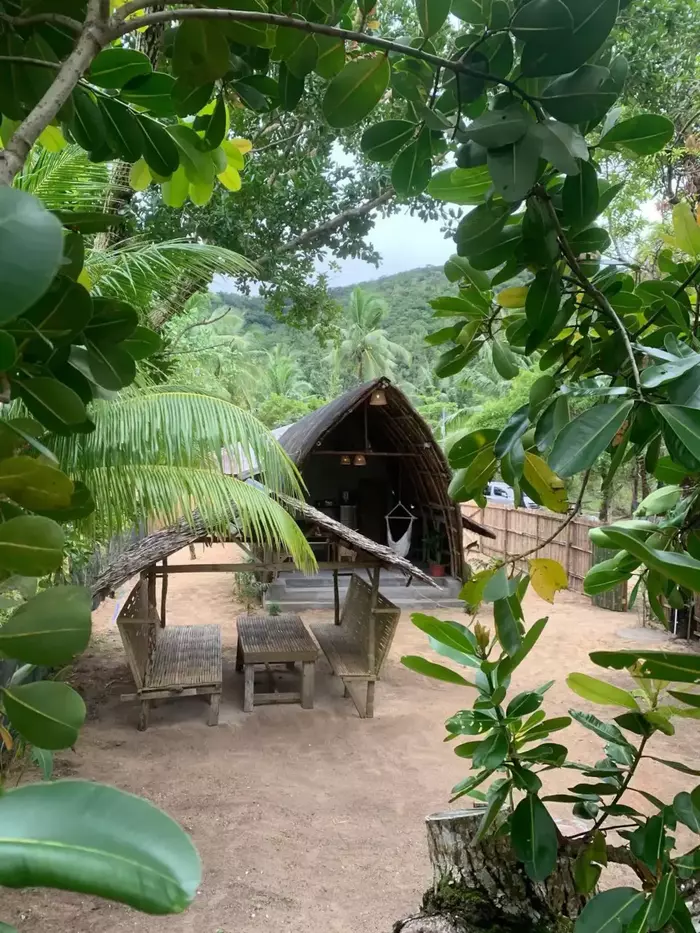 Find peace and recalibrate yourself in this beautiful space. Make new memories and ground yourself in this peaceful yard. Take some photos, feel the breeze, or just meditate. This little hut is the place to be for your life reflections or some good food.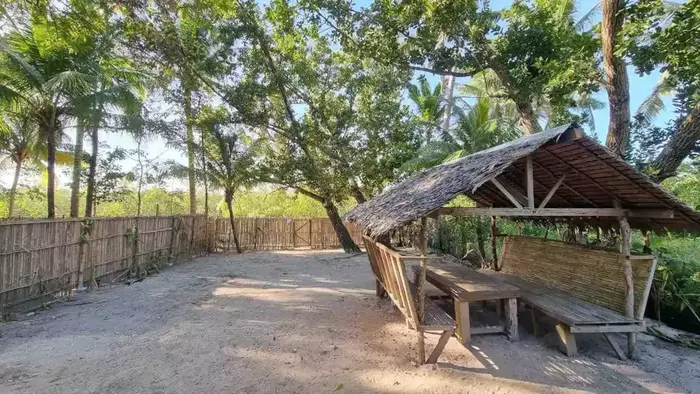 Upon entering the house, you'll find an open area where you can cook, dine, and rest. It's complete with essentials from basic condiments to a hammock where you can read your favorite book.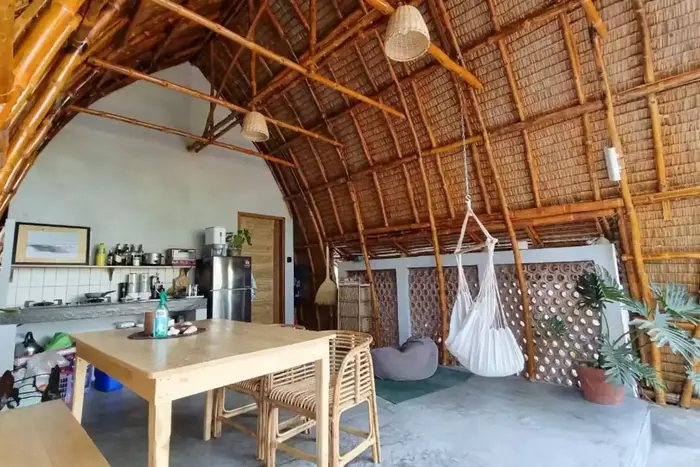 The place has got a beehive-looking design called Terra Wall. It has solar-powered water flowing through and it filters the heat from the sun. This lets cool air inside which is essential for a hot summer day! Study, work, or meditate. You can do whatever you want! The host also left you some yoga mats in case you want to exercise.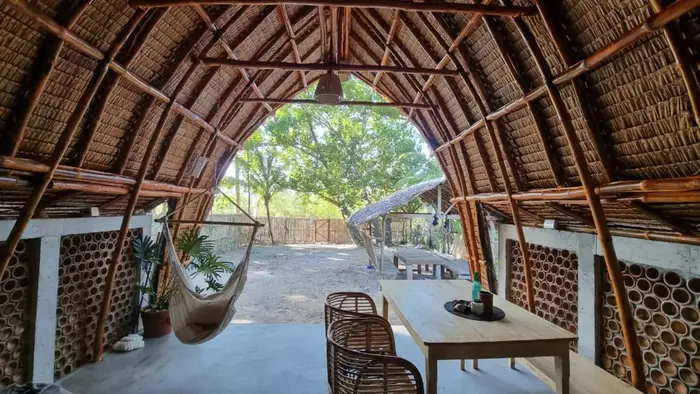 Shop from the local market nearby and cook your comfort food! Here is a closer look at the kitchen. It has all the basics from pans, pots, chopping boards, to Filipino condiments and spices. You also have a refrigerator, mini toaster, and silverware for your convenience.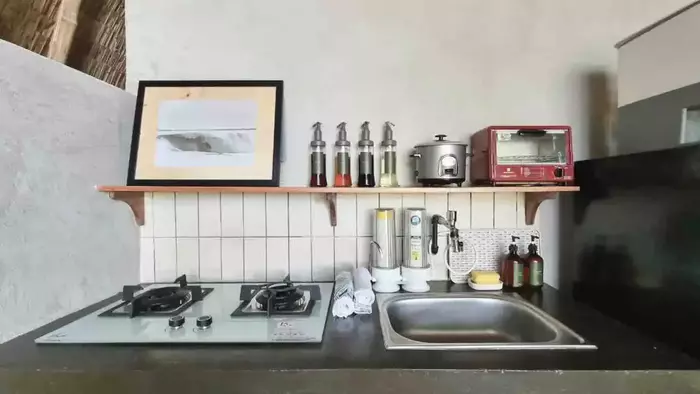 This is the bedroom where you will be staying. The spot is well-lit and well-ventilated. It has a queen size bed and an air conditioning unit. You don't have to worry about entertainment because the whole place has wifi connection. You can still scroll through social media before dozing off. (It's an important part of your night routine, we know about it.)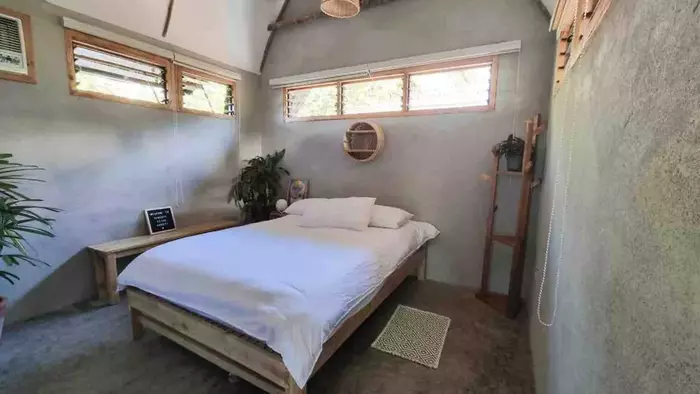 The bathroom is also spacious. It is equipped with a bidet, hot and cold shower, and your hair and body essentials.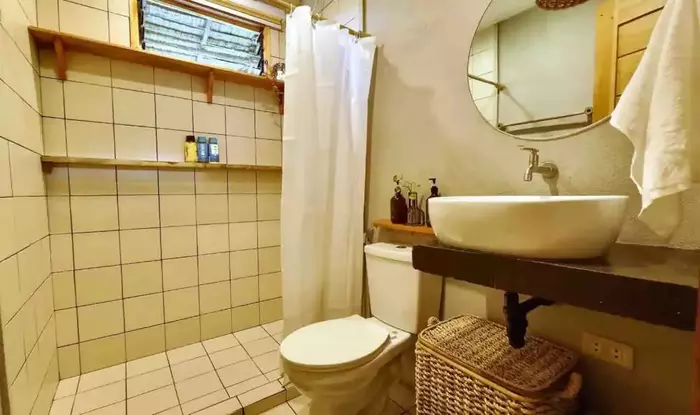 The whole villa is ideal for couples who want a little romantic getaway. Anywhere you look, there is a spot that will feast your eyes. There is a garden and ocean views the moment you leave your bedroom. These wonders are just a few steps away! Here is the aerial view of the space.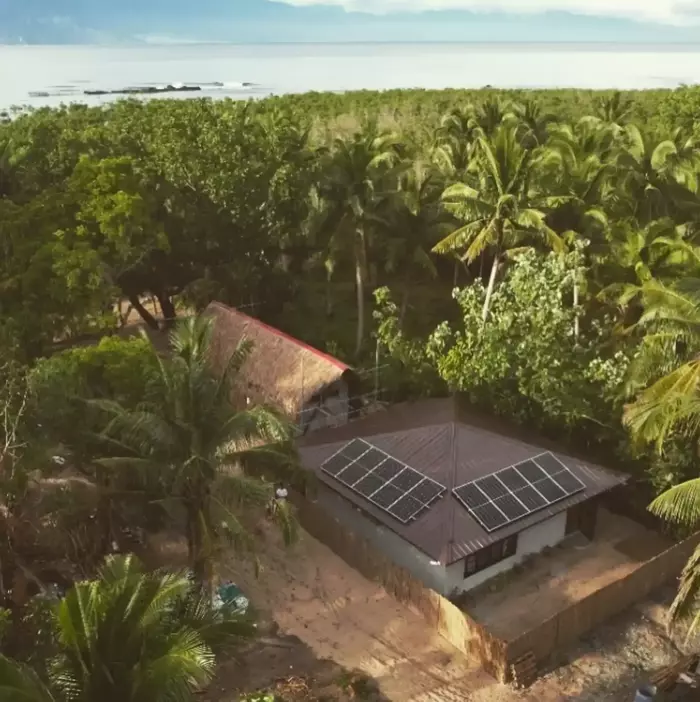 You can also tag your furry friends along and they will enjoy the open backyard. No worries because it is fully fenced!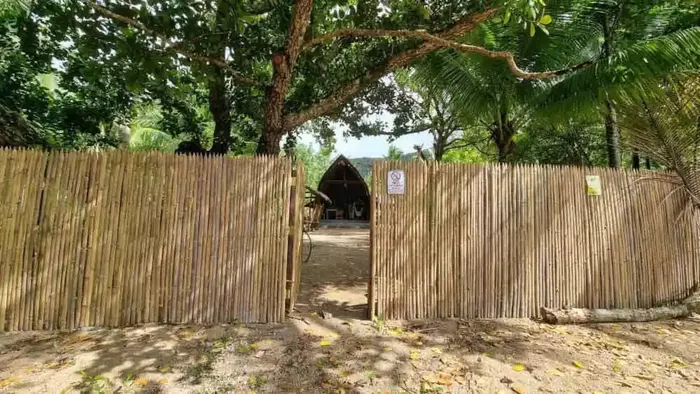 Up for a Road Trip? Have a Surfing Weekend at this Beachfront House in Baler
Up for a Road Trip? Have a Surfing Weekend at this Beachfront House in Baler
Ina Louise Manto | Jul 11, 2022
Rates at this villa start at P 2,970 per night. Book it here.
For booking inquiries and more information about the place, contact the Airbnb host.