Leave the World of Muggles at this Harry Potter-Themed Airbnb in Tagaytay
The wizarding world awaits!
by Ina Louise Manto | September 22, 2020
Tagaytay remains a favorite destination for its cool weather, picturesque views of the Taal Volcano, restaurants and cafes, and the selection of properties for a quick staycation. With the city opening to tourists again, there's no doubt that Airbnbs will be in demand again. If you're looking for a unique staycation experience and want to leave the world of muggles for a while, check out this Harry Potter-themed Airbnb in Tagaytay.
Wizarding World of Harry Potter Airbnb
Located in Tagaytay Prime Residences, this Harry Potter-inspired Airbnb by Sky Suite PH is the first of its kind in the Philippines.  The 55-sqm property was fully renovated and decorated to let you have a magical experience of a lifetime while enjoying Tagaytay's scenic views and cool weather.
You don't have to travel to the Warner Bros. Studio and Universal Studios to experience the set of Harry Potter. All the merchandise and decorations were brought and imported from these studios, down to the potions, wands, and the Golden Snitch you'll see in the glass display, most of which are collectibles.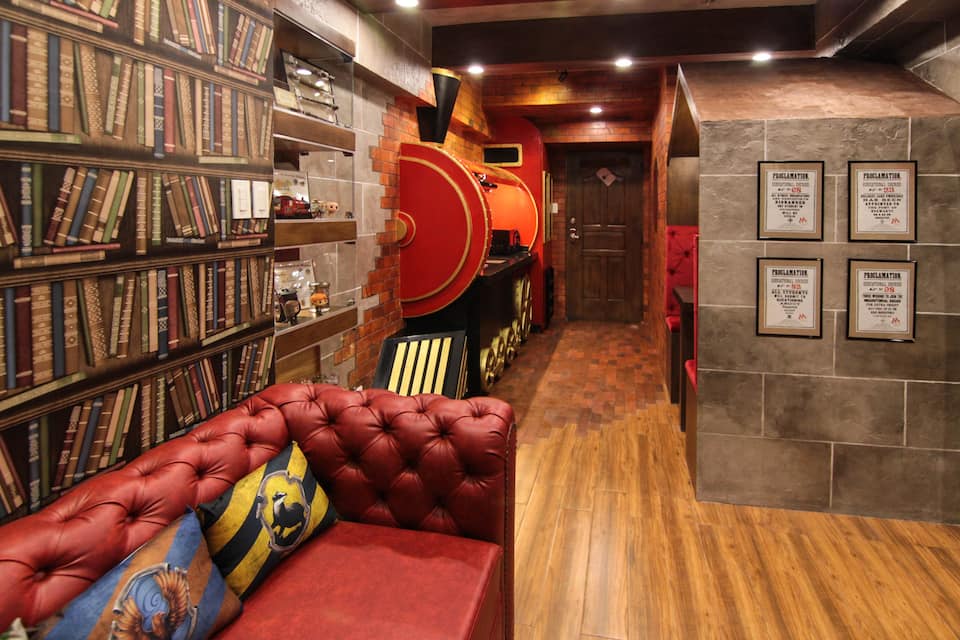 Up to six people are allowed to stay including children, which is perfect for hosting small to medium groups of friends or families. The room comes with two custom-made four-poster beds that are designed to look like Harry and friends' beds at the Gryffindor dormitory. They also come with one roll-away bed that can sleep two adults.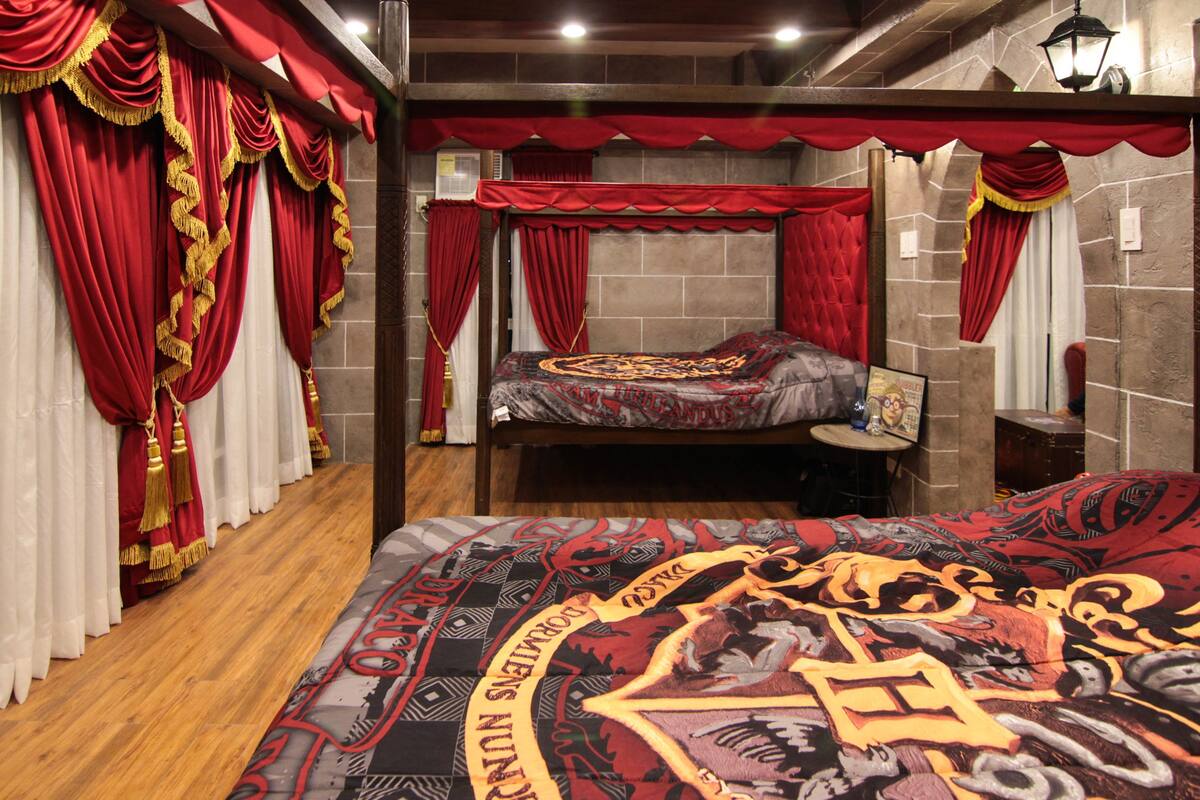 The fully-functional kitchen is made to look like Hogwarts Express. You don't even have to go to Platform 9 ¾ at King's Cross to catch the train. How many chocolate frogs are you buying from the train's trolley?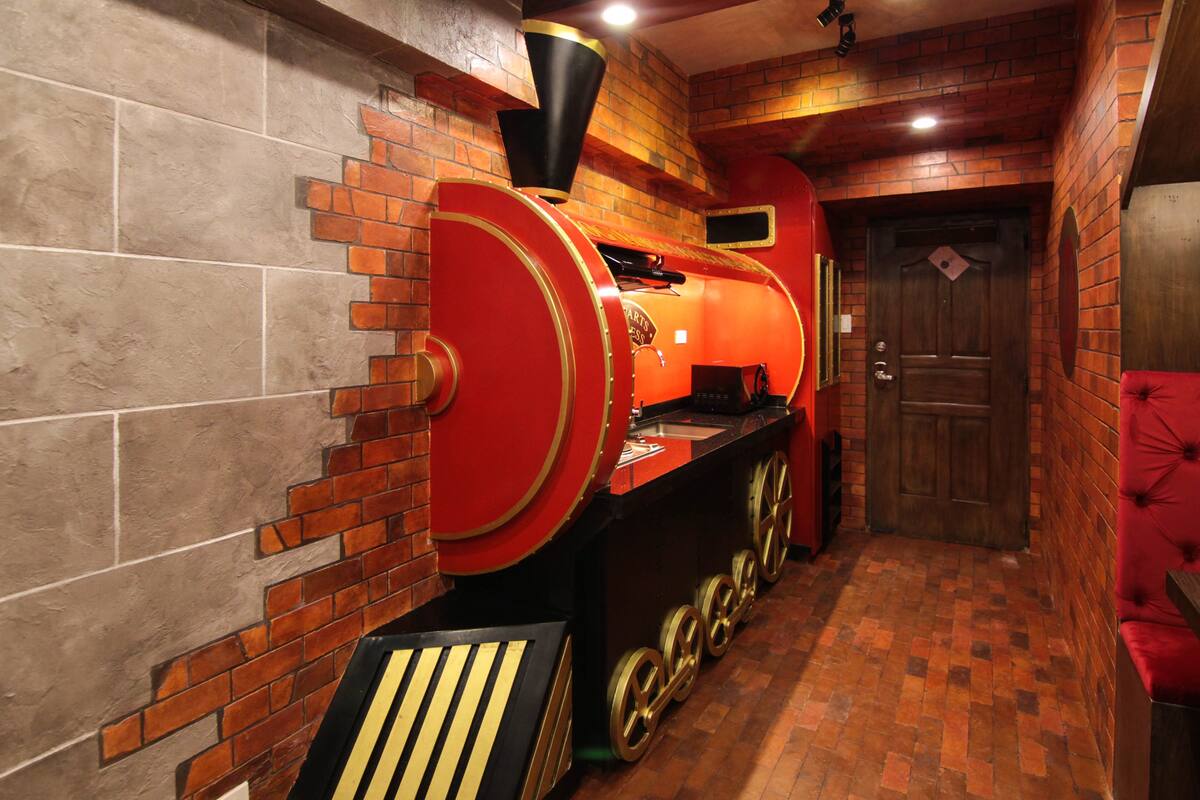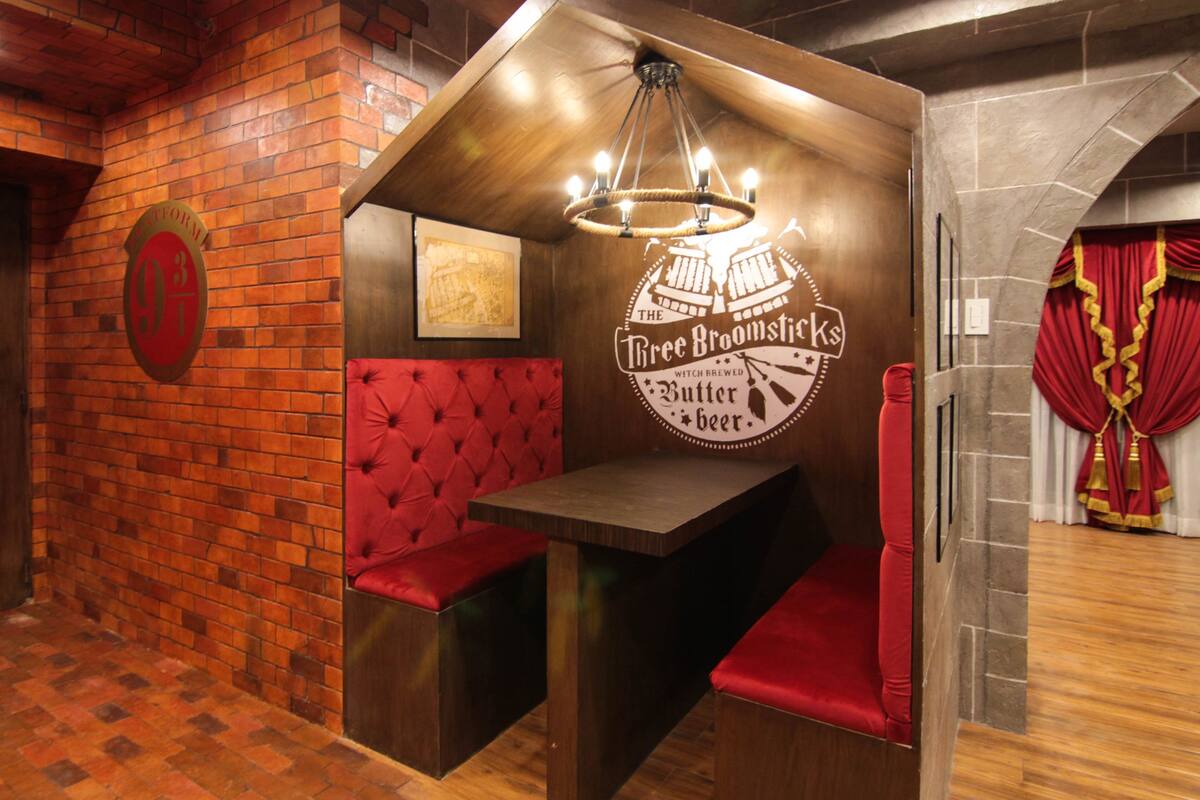 Just across the train is a replica of Three Broomsticks, which would make you feel like you're meeting in secret while visiting Hogsmeade. Clippings of the Daily Prophet are framed on the walls but without the moving pictures. There's no butter beer, unfortunately, but you can always try making your own!
Some wall decorations include the ridiculous Educational Decrees made by Dolores Umbridge when she took over Hogwarts. The cabinets in the bedroom are also made to look like stacks of students' luggage.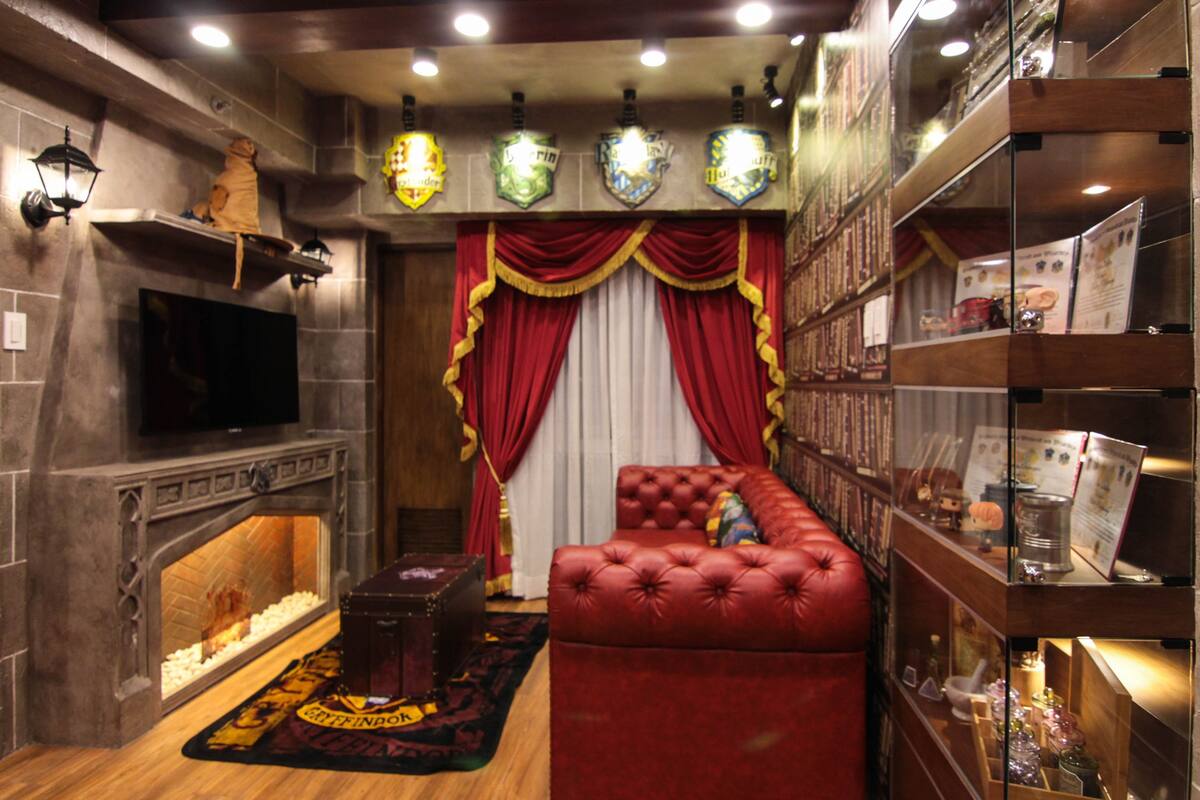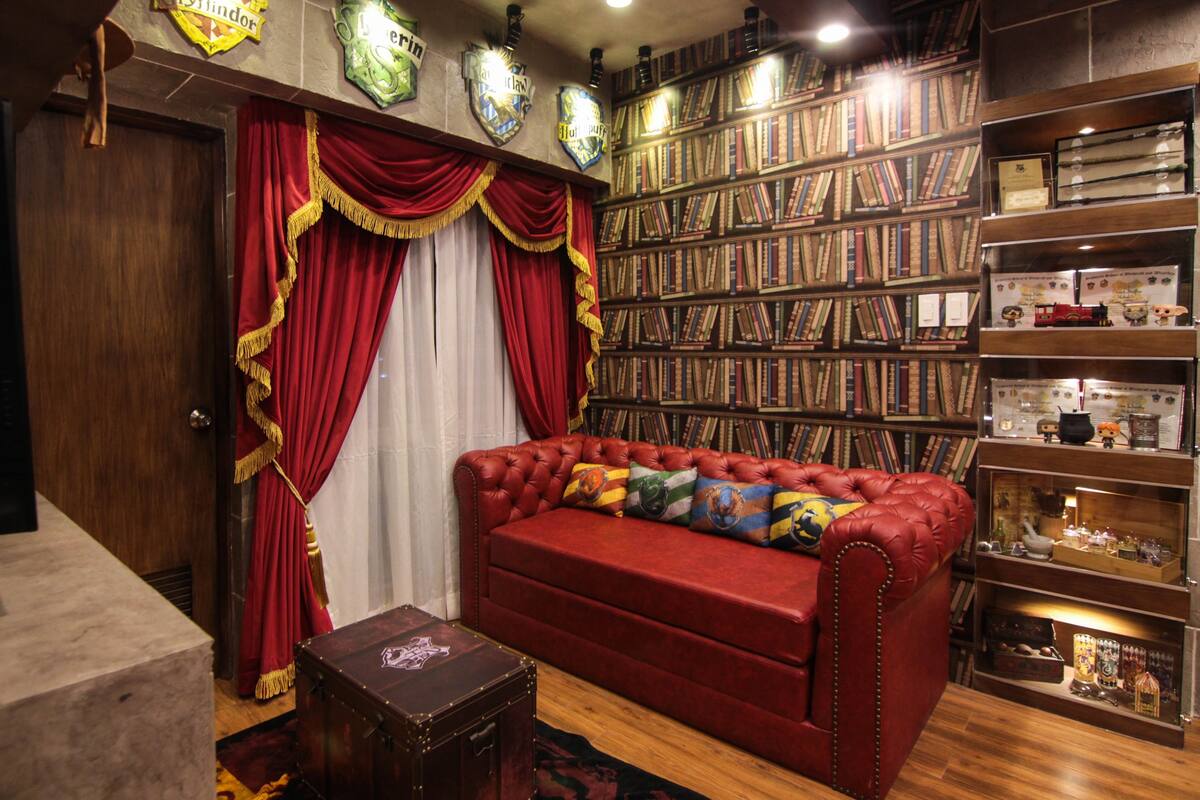 The entertainment area is decorated to look like Gryffindor's common room, boasting its house colors and complete with all the House's badges and the Sorting Hat.
Even the huge bathroom is themed as well.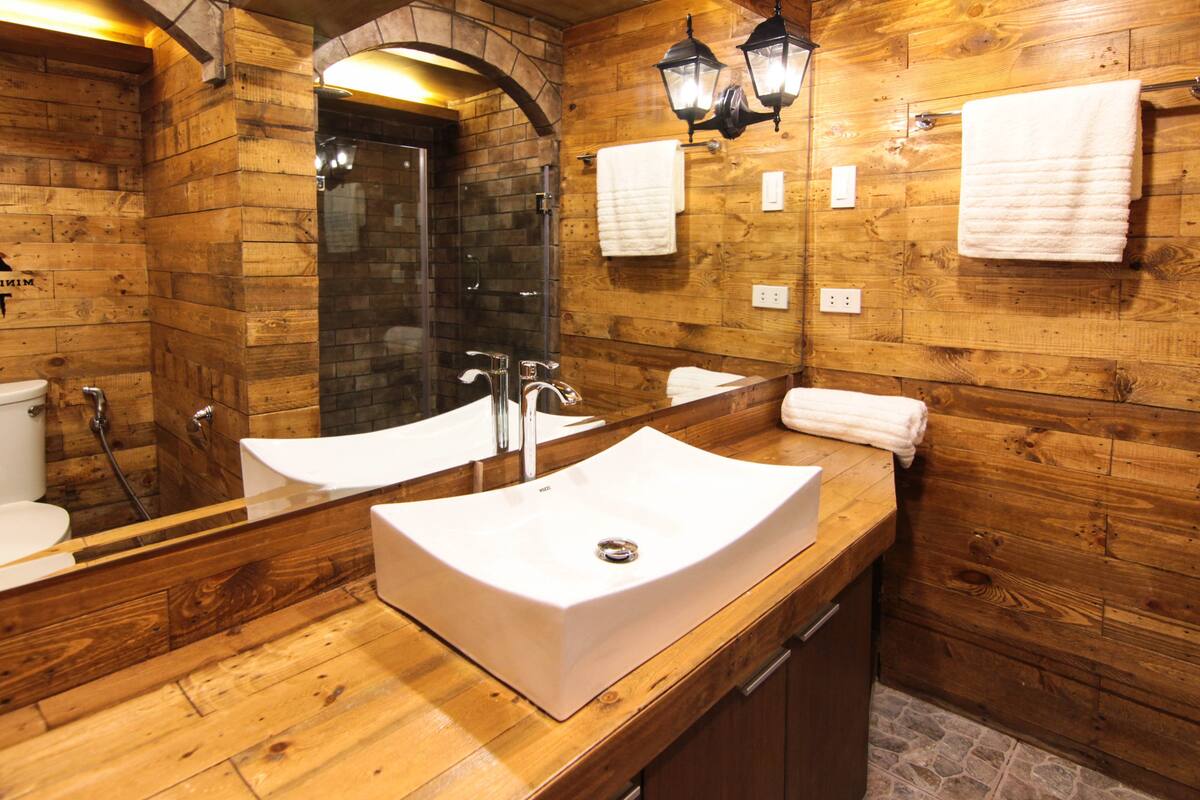 The place was renovated by one of the country's top construction and design companies, and everything is authentic and custom-made. The designers built the suite to give guests the best experience, which is truly magical.
Amenities
The suite comes with WiFi and a Smart TV with access to Netflix and Youtube. Guests also have access to the condominium's swimming pool and parking.
For celebration setups like birthdays and anniversaries, guests need to notify the host and pay extra charges before their stay.
Location: Tagaytay Prime Residences, Tagaytay-Calamba Road, Tagaytay, Cavite
Rates at the Wizarding World Suite start at Php 3,500. For more information, visit Airbnb.