Find Your Flow at this Unique Vegan Beach Resort and Glamping Site in Zambales
Ano ang kwentong dagat mo?
by Ina Louise Manto | November 27, 2020
With its many picturesque coves and mountains and proximity to the Metro, Zambales has become a favorite spot for weekend getaways. You may already have a couple of go-to locations that your barkada or family keeps coming back to during the summer but if you're looking for a new unique stay, this charming vegan beach resort and glamping site is definitely worth the visit.
Kwentong Dagat
Stay, feast, and flow: that's what the Kwentong Dagat experience is like. Nestled at a fishing village in San Felipe, Zambales, this humble beach resort is the perfect getaway for those looking into experiencing the probinsya life and nature. It's far from a five-star hotel experience, but it's one of their biggest charms.
View this post on Instagram
View this post on Instagram
Surrounded by tall pine trees and just a few steps away from the sea, Kwentong Dagat is the place for a peaceful retreat. On top of the beauty of nature, travelers looking for something new would enjoy the resort's choice of menu: they serve all-vegan dishes!
View this post on Instagram
Some you wouldn't think are entirely plant-based. Good food and a picturesque environment? Sign us up!
Kwentong Dagat has four kinds of stays on its grounds:
Nipa Cabin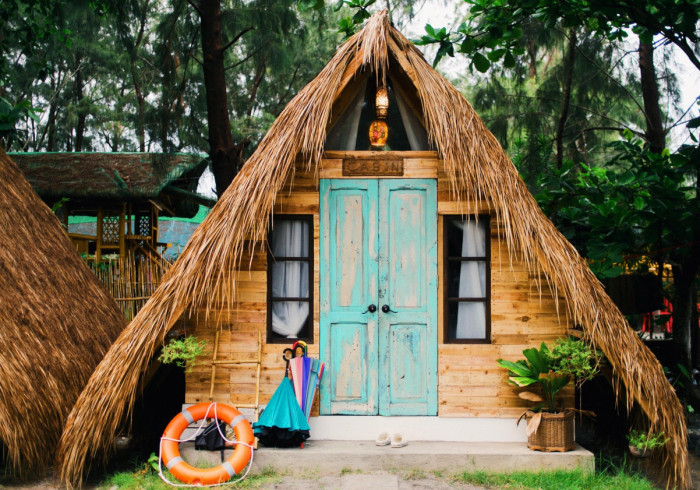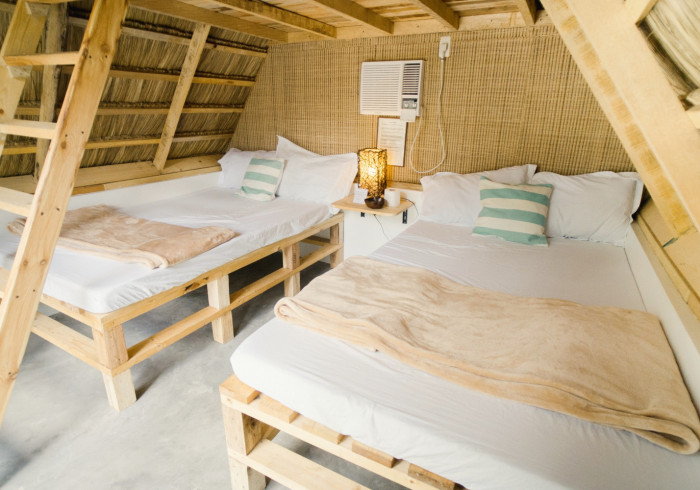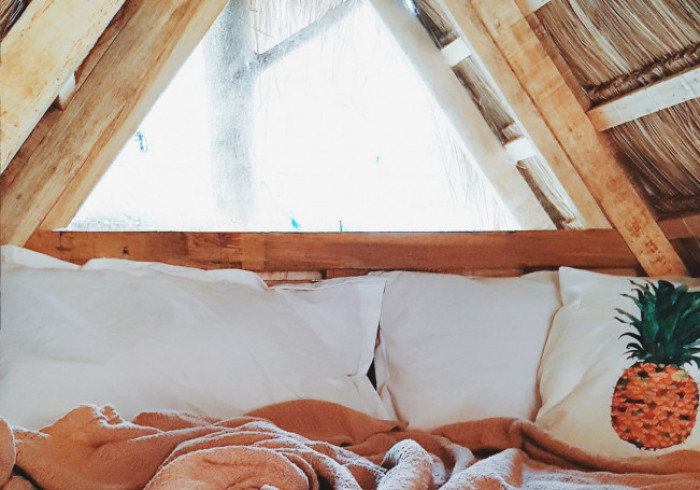 Featuring the classic Pinoy home and wooden walls, the Nipa Cabin is perfect for barkadas or families as it can accommodate up to six persons. It may seem small on the outside but don't underestimate its size: the air-conditioned cabin has a loft! It has two double beds on the first floor and another on the loft. Talk about maximizing space.
Rates start at Php 4,448 per night for weekday stays and Php 5,488 on weekends and holidays.
Deluxe Nipa Cabin
View this post on Instagram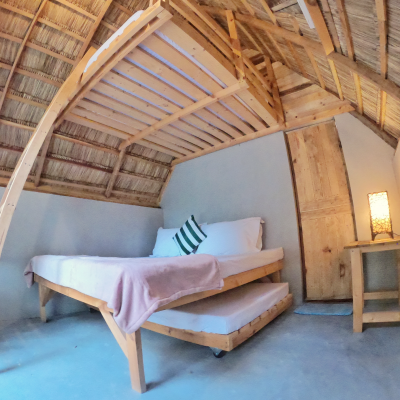 Boasting the same bahay kubo design, the Deluxe Nipa Cabin can also accommodate up to six guests and has a queen-sized loft bed. Nestled on the ground floor is a queen-sized bed with one pull out bed. Unlike the Nipa Cabin that uses a shared bathroom, the Deluxe stay has an en suite bathroom.
Rates start at Php 5,488 per night for weekday stays and Php 6,488 per night for weekend and holiday stays.
Abaca Rooms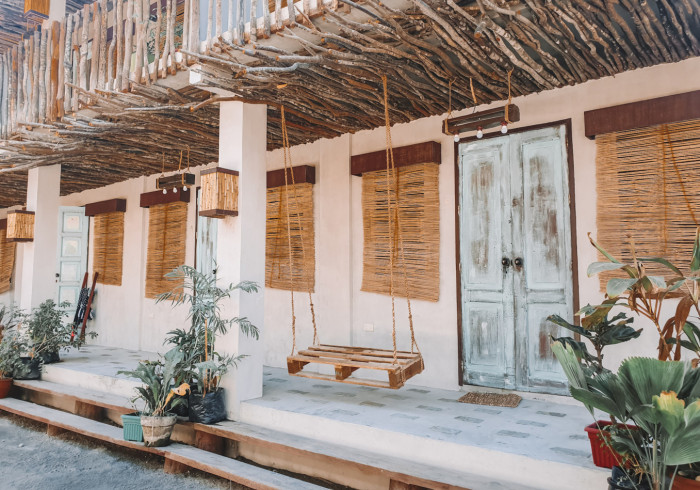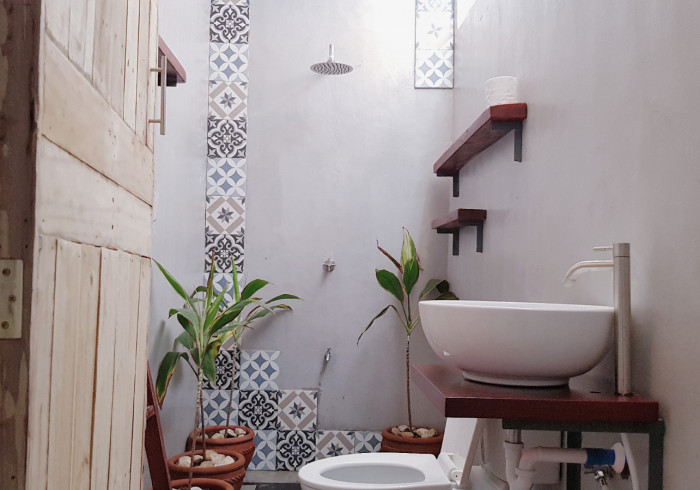 If you want a hotel-like stay, the rustic Abaca Rooms are the way to go. Featuring an industrial and rustic design with its bare concrete walls and nipa ceilings, this room can accommodate up to four guests. It has one queen-sized bed and a pull-out double bed, en suite bathroom, and porch. The room's mural wall and front porch are IG-spots!
Rates start at Php Php 3,988 per night on weekends and Php 4,688 per night on weekends and holidays.
Camping site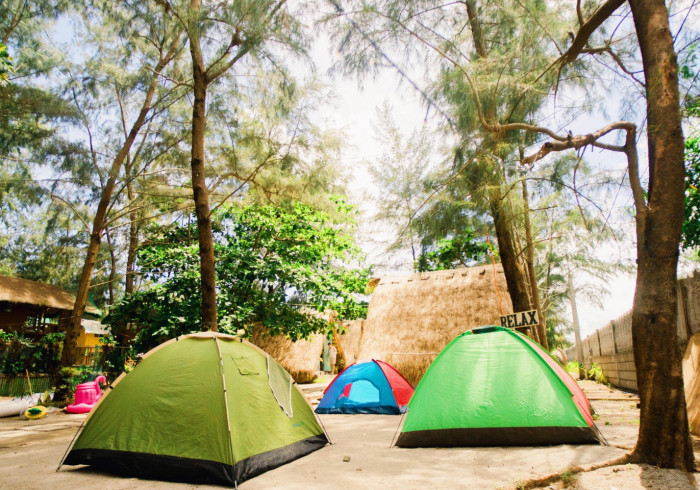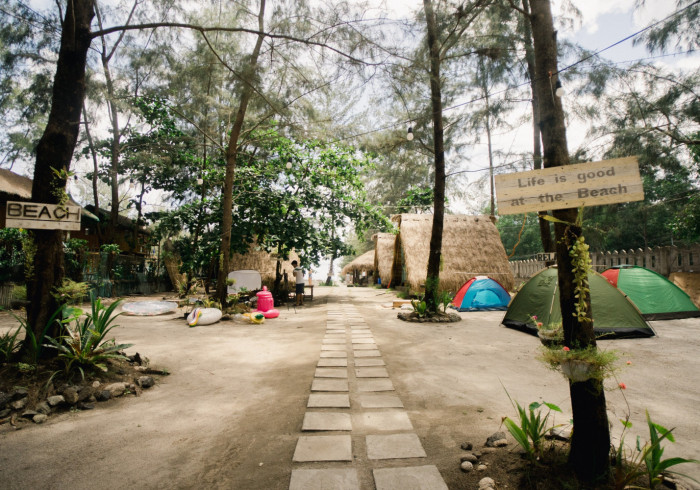 Planning to have the full nature experience? Located in the middle of a little pine tree forest, Kwentong Dagat's camping grounds are a sight to behold. Guests may bring their own tents but if you don't want the hassle of setting it up and bringing other camping needs, Kwentong Dagat allows the rental of tents, mattresses, blankets, and pillows to make your stay more comfortable.
Rates start at Php 250 per hear on weekdays and Php 350 per head on weekends and holidays. Tent rates start at Php 750 per night, which can accommodate two to three guests.
Activities
View this post on Instagram
Your Kwentong Dagat experience wouldn't be complete without experiencing any of their Flow Activities. Learn about mindfulness and feel zen with their Sunrise & Sunset Yoga, sweat your worries away with Jiujitsu, Muay Thai, or Boxing Classes, get lost in the waves through Surfing or Skim Boarding, visit Anghao Falls, traverse sands with ATV Rides, and explore nearby hidden gems with Island Hopping.
You can also book a Beach Bonfire experience to enjoy the sea's cool breeze at night. Kwentong Dagat also hosts free activities from movie nights to fun board games and books.
Learn more about their rates here.
Location: Sitio Liwliwa, Baranggay Sto. Nino, San Felipe, 2204, San Felipe, Zambales
Ready to go on a trip to Kwentong Dagat? Visit their official website for more information and their FAQ page before booking your stay.