What's New in Hong Kong: 10 New Attractions You Should Check Out on Your Next Visit
New attractions for your next trip.
by Ina Louise Manto | June 14, 2023
Hong Kong may be one of the last countries to reopen to tourists, but its tourism efforts are through the roof. From free flights to fun gifts and vouchers, HK isn't skimping on welcoming back tourists. Along with these goodies are new attractions around the city, which you can add to your itinerary for your next trip. Check them out:
teamLab Future Park Hong Kong
View this post on Instagram
Ready for an immersive light and sound show? There's no need to go on a separate trip to Tokyo as the world-renowned art collective is coming to Hong Kong in July for teamLab Future Park. The exhibit will be open from July 9, 2023 to January 14, 2024, and the 10,000 sq. ft. space will be in MegaBox Kowloon Bay. Early bird tickets have been available for purchase since June 8, starting at HKD198 for adults and HKD 148 for children. The early bird period will be until July 9 and regular ticket prices will apply thereafter, starting at HKD 220 for adults and HKD 148.
Water World
View this post on Instagram
Ocean Park Hong Kong is a must-visit for families and the fun-filled park is now better with the addition of Water World. This new attraction opened to the public in 2021, and ready your trunks and swimsuits as you discover its 27 indoor and outdoor attractions. This includes VIP Cabanas on the rooftop terrace, a Daredevil Drop for the ultimate water slide experience, and Surf Striker, Hong Kong's first indoor surfing simulator. Tickets start at HKD 560 for adults.
Hong Kong Palace Museum
View this post on Instagram
Visiting museums is the way to go if you want to learn more about a destination's culture and history. The Hong Kong Palace Museum opened in July 2022, with a commitment to promote and preserve Chinese Culture. This includes a collection of over 200 gold artifacts spanning over three thousand years. It has nine galleries to explore, with tickets starting at PHP 365.
Find more details on the official website.
Hong Kong Museum of Art (HKMoA)
View this post on Instagram
The Hong Kong Museum of Art isn't new, but it closed in 2015 for renovations and reopened in 2019, just a few months before the global lockdowns due to the pandemic. HKMoA has been around since 1962 and it's the city's first public art museum. It showcases over 18,800 items that represent Hong Kong's unique cultural legacy.
Find more details on the official website.
Hong Kong Disneyland's Castle of Magical Dreams
View this post on Instagram
No one's too old to get into the magic of Disney. After closing down for renovations, the old Sleeping Beauty Castle is now the Castle of Magical Dreams, which pays tribute to Disney Princesses and Queens. You can look forward to daytime shows in front of the castle and a mesmerizing firework display on certain days.
Xiqu Center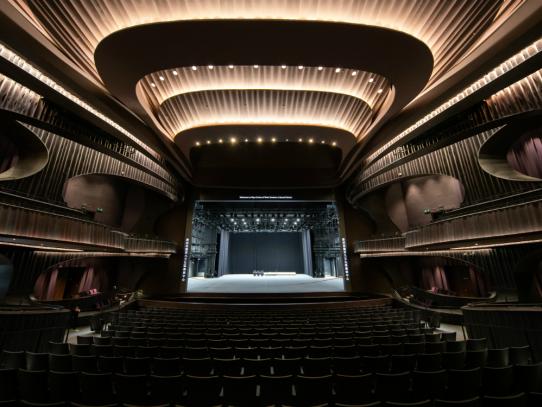 Located in West Kowloon, Xiqu Center is an arts venue that focuses on the promotion of Chinese traditional theatre. This world-class establishment showcases contemporary and high-quality traditional performances by artists from Hong Kong, the region, and mainland China.
Find more information on the official website.
M+ Museum
View this post on Instagram
The M+ Museum in West Kowloon District is one of the world's largest museums of contemporary and modern visual culture. Aside from its galleries, the museum also has a cinema, M+ Cinema, which is open from Fridays to Sundays. Ticket prices start at PHP 876 for a General Admission ticket.
Wan Chai Promenade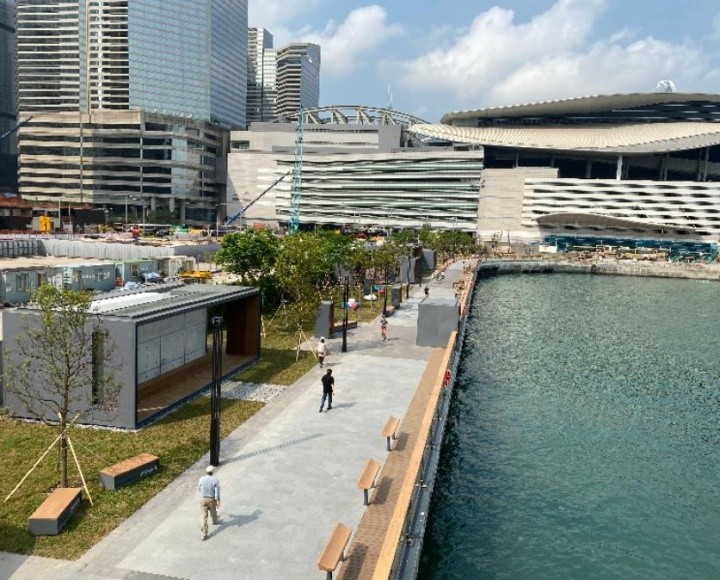 Have you got a free day during your HK trip? The city has a number of parks to explore, including the newly-opened Wan Chai Promenade between Wan Chai Pier and the Hong Kong Convention and Exhibition Center. At this pier-side promenade, you'll enjoy panoramic views of the city and its surrounding waters, playgrounds for children, and lounging areas where you can sit, relax, and enjoy the scenic view. There's also a pet garden so no pets are left behind.
The Grounds
View this post on Instagram
Outdoor cinema in HK? The Grounds at AIA Vitality Park in Central Harbor is Hong Kong's ultimate socially distanced entertainment experience. When you book a space, your group will be in a 2.5m x 2.5m picket-fenced garden with four deck chairs, a lamp, and a table. From snacks to a big screen for movies, it's the venue to visit on a breezy and relaxed evening for families and groups of friends.
Find more details on the official website.
World of Frozen in Hong Kong Disneyland
View this post on Instagram
Be ready to explore Arendelle as the World of Frozen opens in Hong Kong Disneyland in November 2023. This themed land features a restaurant, merch shop, and exciting rides such as Wandering Oaken's Sliding Sleighs, the first Frozen-themed roller coaster.
What's New in Japan: 15 Attractions to Add to Your Itinerary
What's New in Japan: 15 Attractions to Add to Your Itinerary
Ina Louise Manto | May 23, 2023
Looking for other places to explore? Join WindowSeat.ph's official Facebook community What's Your Trip PH for more recos!