This Hidden Glamping Gem in Aurora Lets You Sleep on the Sand in Style
It's well worth the trip!
by Meryl Medel | March 01, 2021
Beach na beach ka na ba? After nearly a year of being stuck in your city, seeing the same four walls of your home, you're probably itching to see the beach once again. This simple yet beautiful resort in Aurora is the perfect location for your first post-lockdown beach trip.
Sand and Stars
Just an hour away from Baler is Dinadiawan Beach, where you can find this hidden gem called Sand and Stars Beach Resort. They have standard accommodations, as well as glamping spots where you can enjoy the fine sand and blue waters at an affordable price.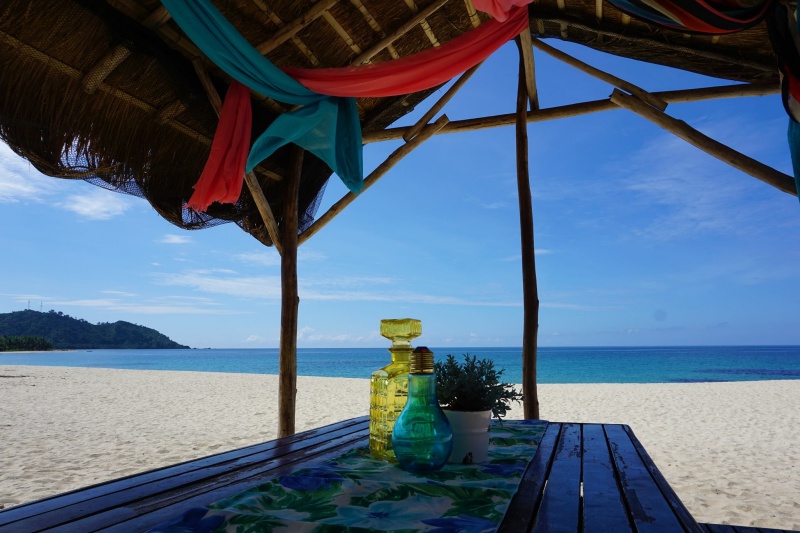 Depending on your preference, you can book cottages with airconditioning or fans or glamping tents.
Designed modestly, the resort's rooms are made simply for the purposes of sleeping and keeping your luggage safe. If you're going solo or booking for you and your S.O., you can simply go for a room with a standard twin-size bed. If the beach trip is for you and your friends, then your barkada can choose a cottage with a double-deck room, which can accommodate up to 4 people. A room ranges from PHP 2,100 to PHP 2,600, depending on whether you want airconditioning or not.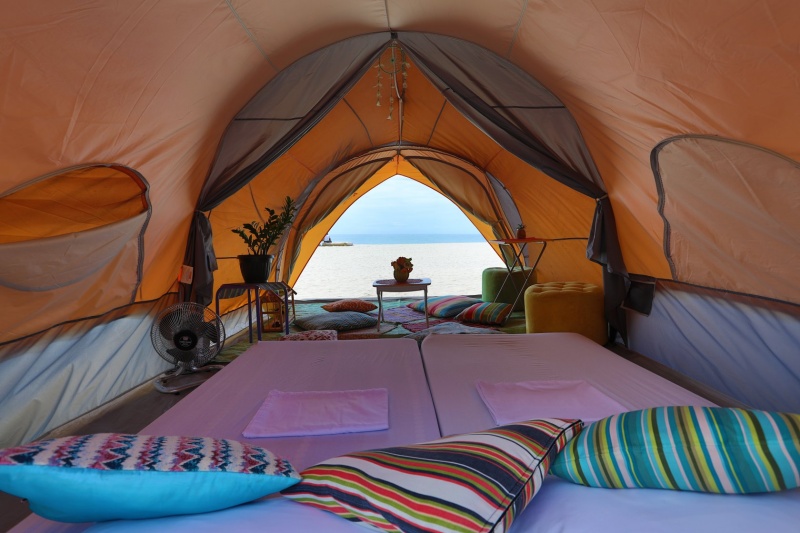 If you went there to go glamping by the sea, there are more options for you. Tent Vega and Tent Rigel are perfect for couples who simply want to experience glamping even without its more luxurious aspects. They are simple and straightforward, with a lot of pillows all around the tent. Tent Sirius and Tent Mars are more spacious, able to accommodate small chairs and tables in addition to the bed inside. Each one costs PHP 1,800. For a bigger glamping space, the resort also offers Tent Supernova, which has four single beds inside and still a lot of space. One night in a Tent Supernova costs PHP 3,000.
All around the resort are several open-cottage lounge areas where you can cook your own food or simply relax and take in the scenic view. If you want some physical activities, take a dip in the blue waters or play some beach volleyball with your friends. If you want to see the stars, the best time to view them is around 3 to 4 AM. Then you can also appreciate the sun rising at dawn.
Getting there
Over six hours away, Sand and Stars is a little farther from the usual holiday spots, but it's well worth it. The resort is located at Baler-Casiguran Road, Dinadiawan, Dipaculao, Aurora.
You can take a bus from the metro going to Baler (the resort recommends JoyBus). Upon arriving, you can take another bus or a van to Casiguran and ask the driver to drop you off at Dinadiawan, about one and a half hours away from Baler. Once in Dinadiawan, you will be able to find the resort by the highway.
If you're bringing a car, you can also find it through Google Maps as "Sand and Stars."
Book your stay here.