In Need of a Breather? Go on a Mountain Retreat at this Scenic Home in Tanay
A three-story house ideal for hosting big families.
by Ina Louise Manto | January 19, 2022
Though living in the city is convenient, it can feel stifling, especially now with the heightened lockdown restrictions. The city only has a limited number of green spaces where you can just relax and there's too much pollution. Nestled in the mountains, Tanay Getaway offers a quiet retreat for families or a group of friends looking for a quick break from the noise of the city.
A mountain getaway in Tanay
Boasting three floors, this house in the mountains in Tanay is an ideal staycation for those looking for a much-needed breather. Lots of greenery, fresh air, and scenic views – these are just some of what the cozy home offers. This home is designed to host big families; the common sleeping area alone already has 10 single beds. It's like having one big sleepover with your cousins – just like the old times. The entire third floor is dedicated to this room alone.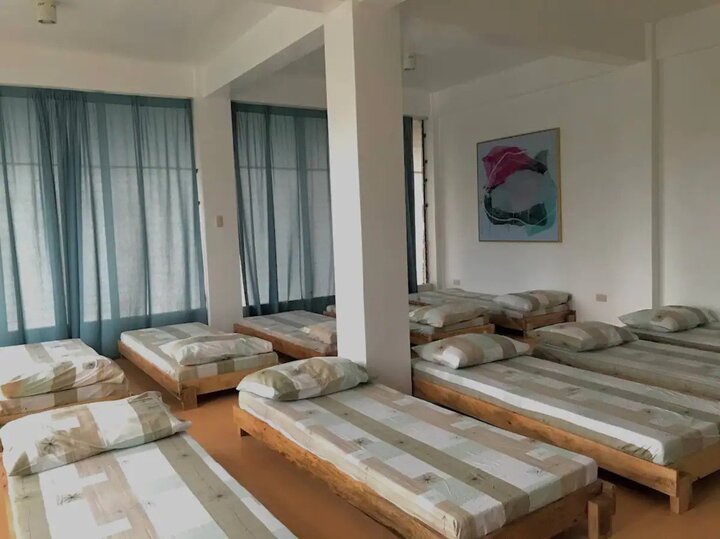 On the first floor, you'll find the two other bedrooms in the house, that feature different sleeping arrangements. You'll also find a kitchenette, small living room, and dining area, as well as a separate toilet and bath.
Common areas
The main common spaces can be found on the second floor, which includes two large dining tables and the main kitchen. Jalousie windows are used in this area too, which adds more nostalgia during your stay. The second floor also has a patio where you can enjoy the surrounding view even more.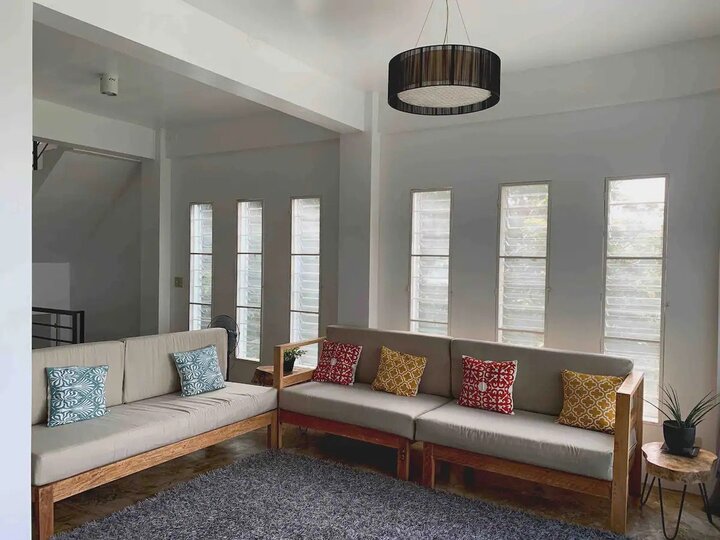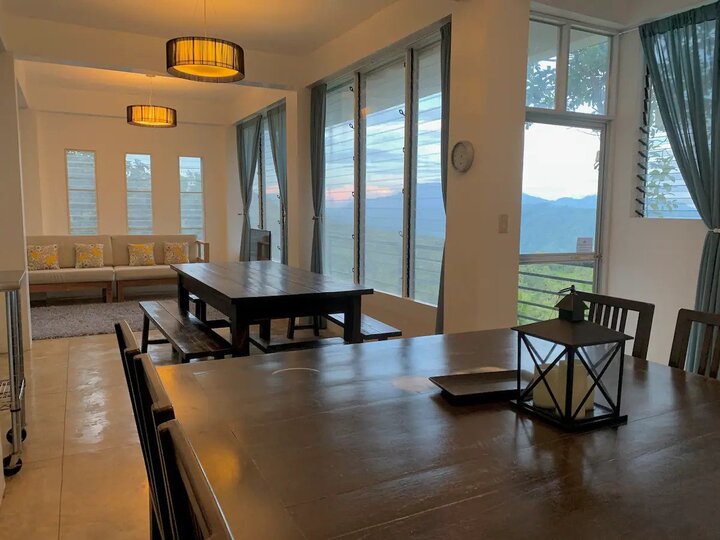 The sleek kitchen is already equipped with everything you'll need for cooking, including appliances, basic pots and pans, and cutlery. All you have to do is bring your fave recipes and ingredients.
Due to its location where you can enjoy cool weather all year round, air conditioning units are no longer needed at the house. It gets chillier at night too, so prepare your favorite jacket and make the most out of the weather by hanging out at the bonfire area.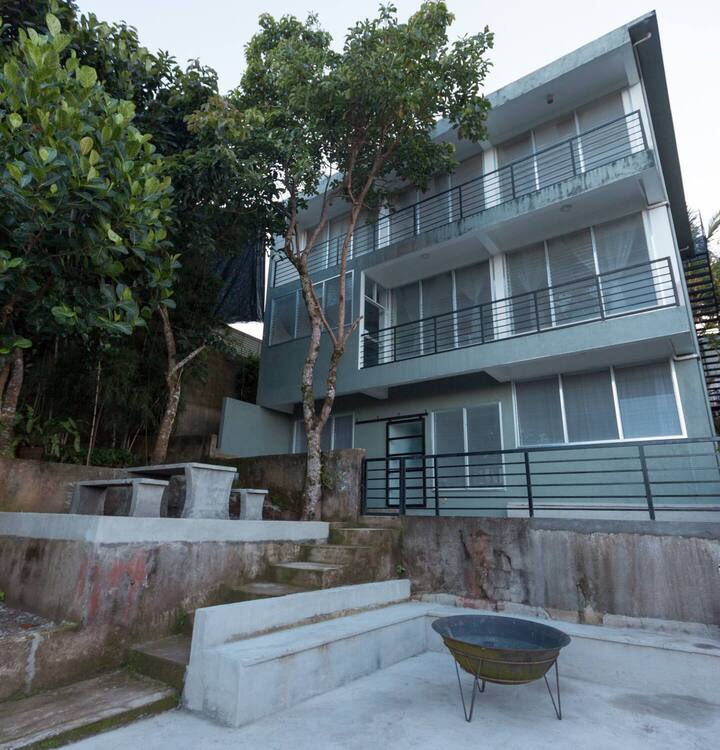 Aside from the bonfire area, one of the best areas for lounging area at the rooftop where you'll get to enjoy a view of the surrounding mountains. It also has tables and chairs, which is perfect for when you wish to dine alfresco.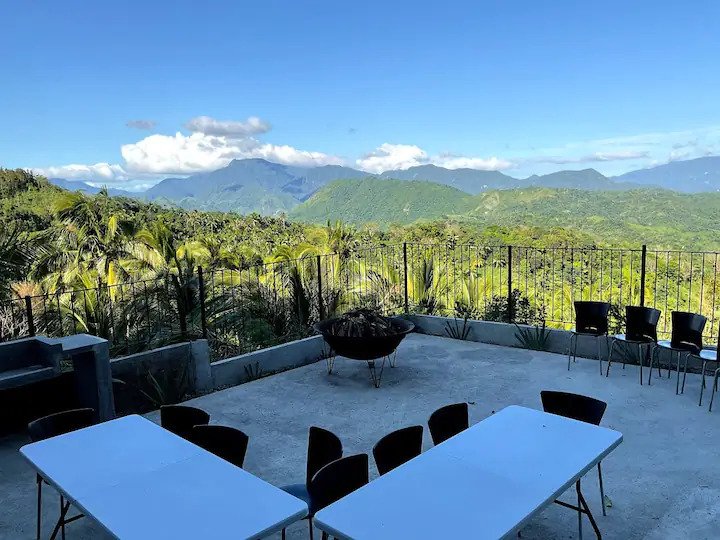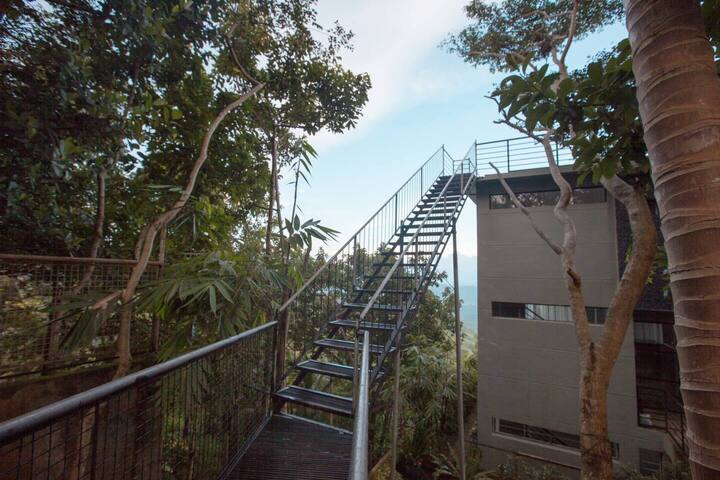 Tanay Getaway also has enough parking space for five cars and you can also access the rooftop directly from here.
Rates at this mountain home start at P9,571 for 7 people. Additional guests are charged P800 per head. Book your stay here.
10 Relaxing Airbnb Getaways in Rizal for When You Need to Recharge in Nature
10 Relaxing Airbnb Getaways in Rizal for When You Need to Recharge in Nature
Kyzia Maramara | Mar 09, 2020
For inquiries and more information on travel requirements, contact the Airbnb host.