Siargao on a Budget: These Hostels Start at PHP300 a Night
A trip to Siargao doesn't have to be so expensive.
by Ina Louise Manto | October 11, 2023
Still dreaming of living the island life in Siargao? It's currently surfing season in Siargao, so take this as a sign to book that trip for the next long weekend. Having the best time here doesn't have to be so expensive, especially if you plan on staying at a hostel. Aside from affordable rates, hostels also offer the opportunity to connect with different types of people from around the world. Whether you're visiting Siargao for a well-deserved vacation or making it your next remote work location, here are some of the most affordable hostels that we found on the island:
Disclaimer: The rates in this article are based on the published prices available at the time of writing. Please note that these prices are subject to change and may vary depending on factors such as seasonal fluctuations, promotions, and availability. For the most accurate and up-to-date pricing information, we strongly recommend contacting the property directly.
Sinag Hostel – PHP 529/night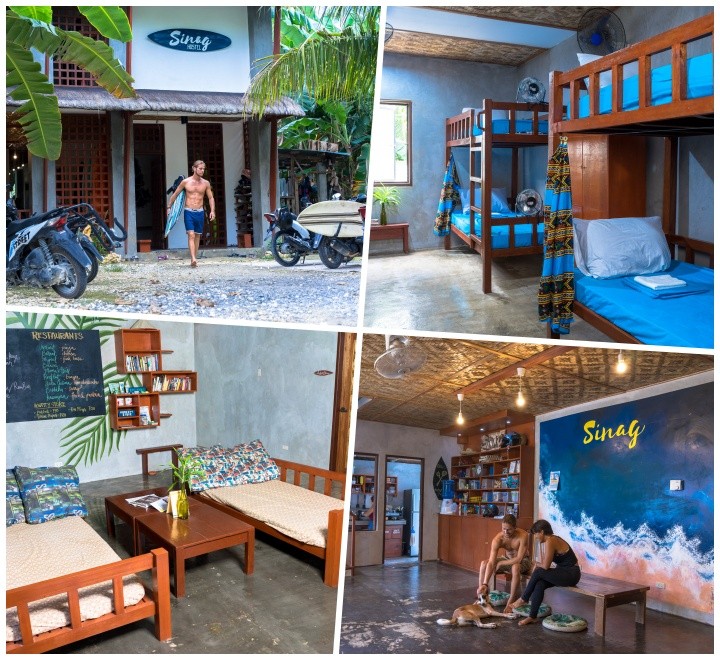 Planning to stay in Siargao for a long time? Many tourists suggest staying at Sinag Hostel for the best deals. They cater to tourists who plan to stay long-term, with their bang for the buck deals. Their weekly rates start at PHP529 per night for a bunk bed in an 8 pax dorm. This fee is inclusive of WiFi, access to a fully equipped kitchen and working space, and laundry services, among others.
Find more information here or on Facebook.
La Boheme Siargao – PHP 700/night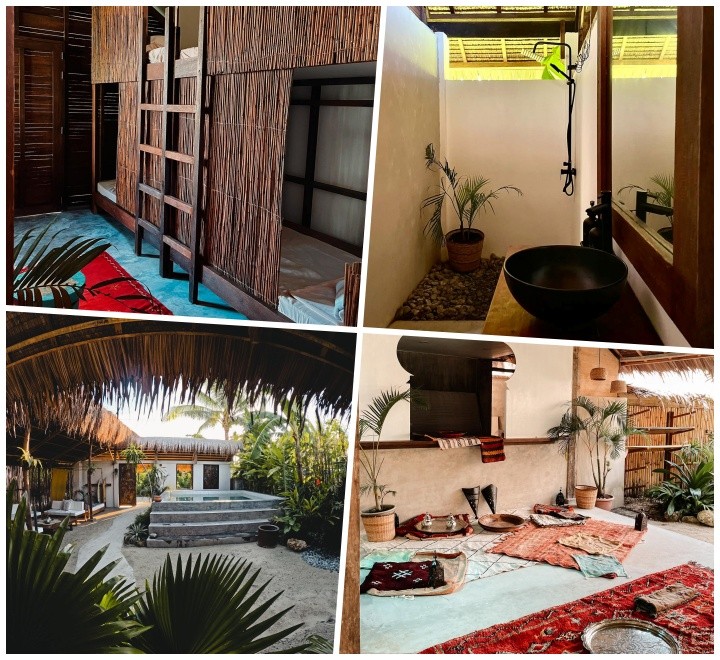 If you're traveling solo, this Bohemian-themed hostel is the perfect stay for you. There are plenty of corners for when you wish to have me-time, as well as communal areas where you can meet new friends from different corners of the world. The best part is, that an overnight stay at the dorm room is only PHP 700 a night. And if you're traveling with barkada or family, then you can opt for a Triangle Jungle Hut or Family Room.
Find more information on Facebook.
Lukay Hostel – PHP 300/night
Location: Lukay Resort, Purok 5, General Luna, Siargao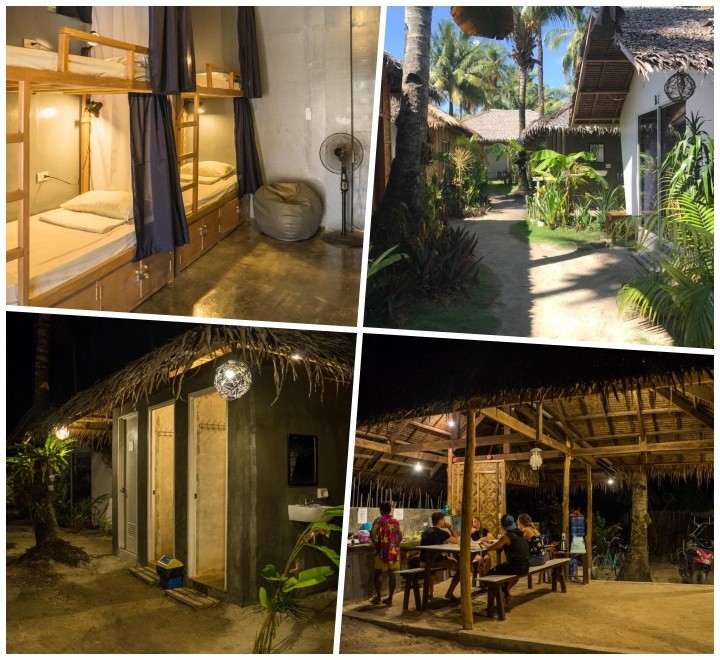 Lukay Hostel's overnight rates are the cheapest we found on this list. Go for this hostel if you're traveling solo and wish to stay long-term because their overnight rates start as low as PHP300. But take note that they require a two-night minimum stay, so plan accordingly.
Book a stay here.
Happiness Hostel – PHP 1,000/night
Location: Tourism Road, Brgy. Catangnan, General Luna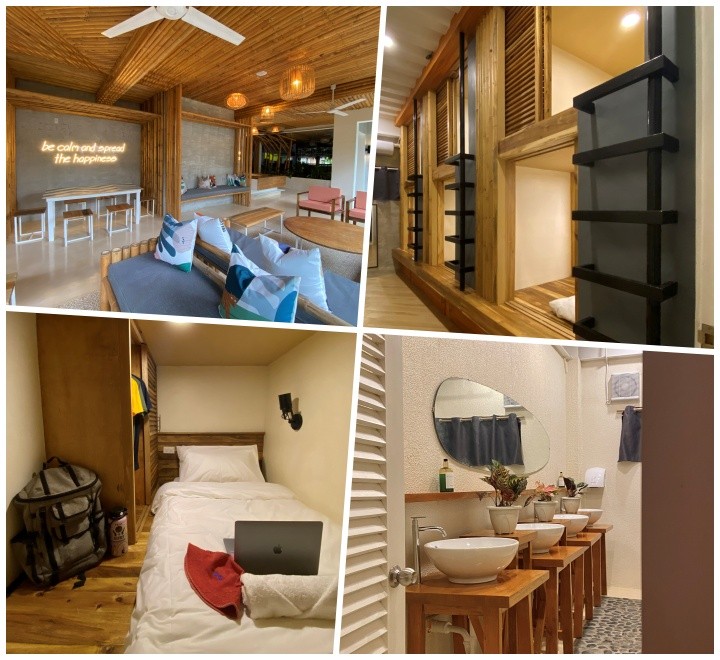 Even if you're staying in a dorm room, you'll still have your little space as you have your own wooden pod at Happiness Hostel. Inside, there's ample space to move around; you'll also have shelves, plugs, and even a rack for your clothes. Happiness Hostel is also in a central location, which is near good restaurants and the beach. Some shared amenities include the shower, toilet, lounging and dining areas, kitchen, a bar, and swimming pool.
Rates start at PHP1,000 per night for a bed in an 8-bed mixed dorm room.
Book a stay by contacting them on Facebook.
Hiraya Surf Hostel – PHP 600/night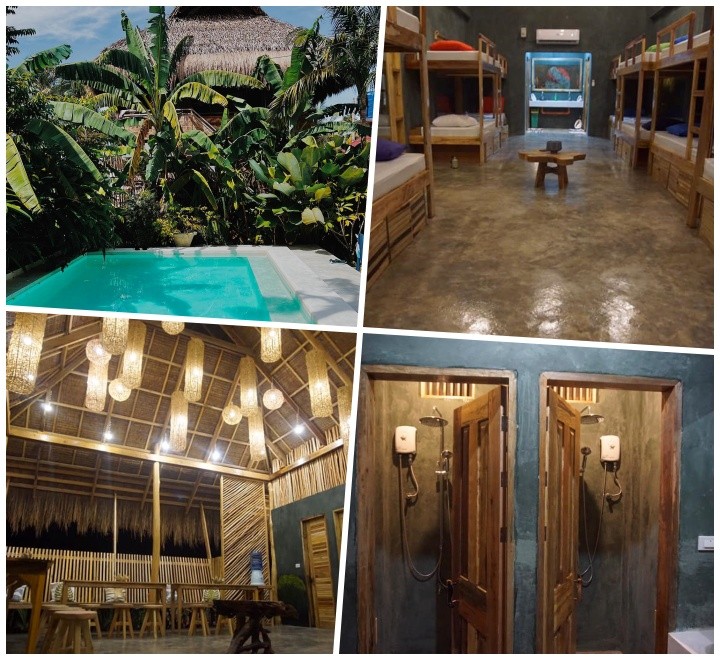 If you're the type to enjoy meeting and connecting with different types of tourists then Hiraya Surf Hostel is for you. They don't cater to group travelers – they only have dorm rooms with bunk beds. Each room can accommodate up to 18 people, so that's plenty of new friends for you. For PHP 600 a night, guests have access to Hiraya's facilities such as shared bathrooms, a swimming pool, and a common area.
For bookings, send a message on Facebook.
Tres Islas Hostel – PHP 500/night
Location: Catangnan, General Luna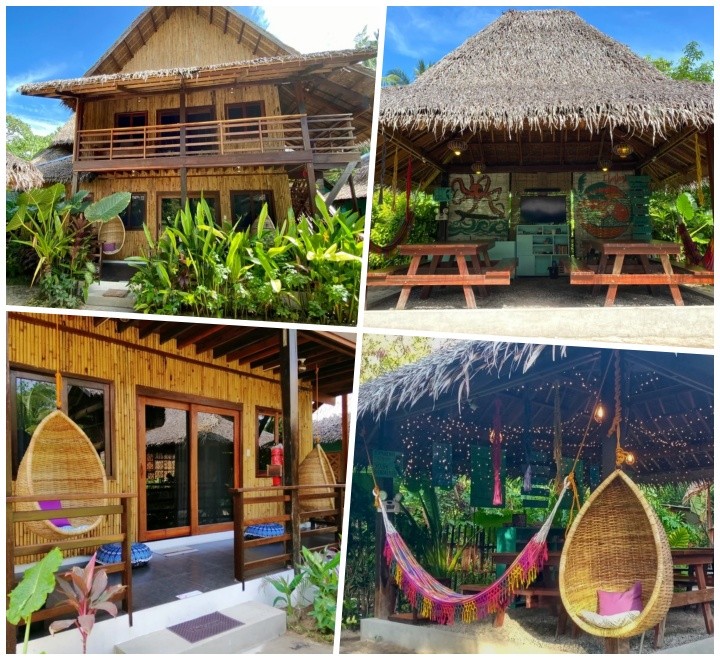 Planning to go surfing? Tres Islas Hostel is just five minutes away from Cloud 9, and they have family rooms, triple rooms, and dormitory rooms. Their dorm room rates start at PHP500 per night, which is a bed in a 10-person room.
Book here.
Ilakai Hostel – PHP 600/night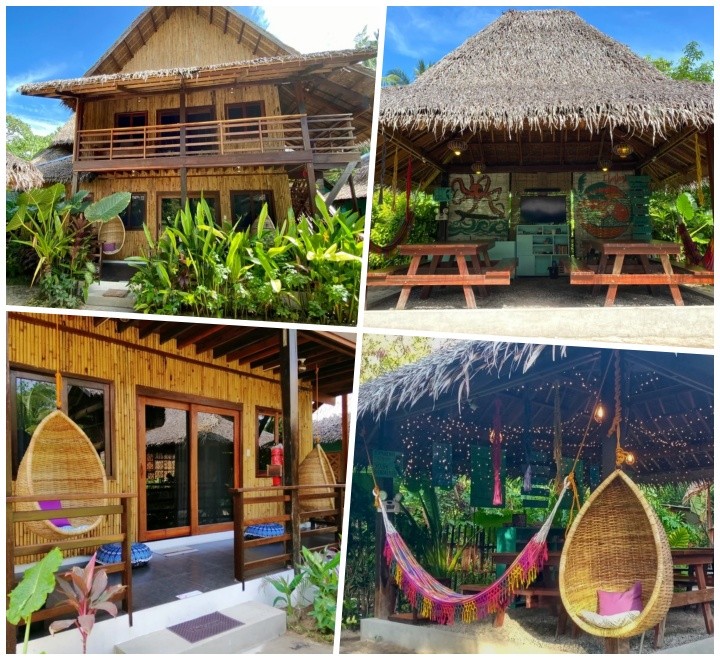 Ilakai Hostel is another crowd fave budget stay on the island. At PHP600 a night, guests already have access to a gym, laundry services, WiFi connection, lounge area, and a shared kitchen. You can also rent surfboards and motorbikes here too. Ilakai also has an in-house café, so if you're staying long-term, you don't have to go out frequently for meals.
Find more information on their official website.
Mad Monkey – PHP 800/night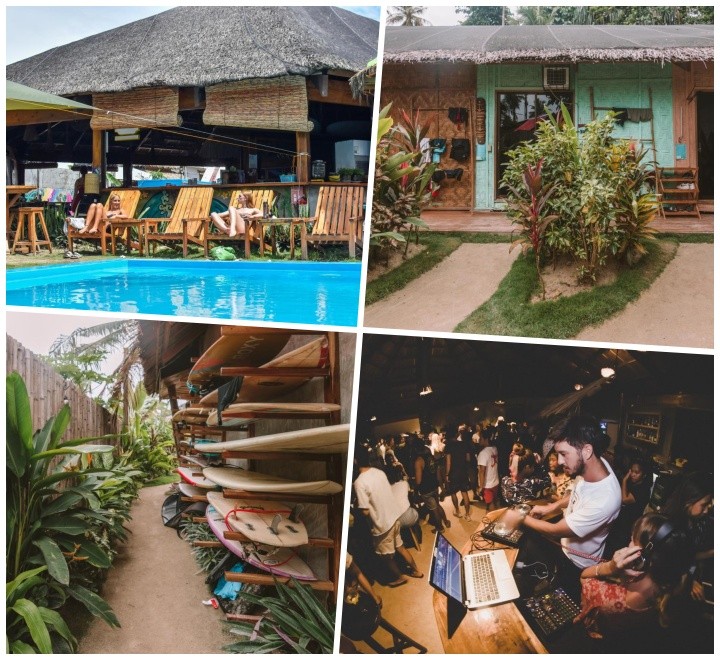 You've probably already heard of Mad Monkey – their Siargao branch is one of their four locations around the country. It's the hostel to be if you're visiting the island for a full vacation; Mad Monkey is also known as a party hostel. They have a tiki bar, a restaurant, a swimming pool, and luggage storage, among other amenities. From partying to acoustic nights, this hostel suits the crowd who love to play. Plus, their dorm rates start at PHP800 a night.
Visit their official website for more information and bookings.
Have you stayed at a hostel in Siargao before? Share your experience below!
Looking for other places to explore? Join WindowSeat.ph's official Facebook community What's Your Trip PH for more recos!
Up next:
Tired of Siargao, Baler, and La Union? Here are 7 Lesser Known Surfing Spots in the Philippines That Also Have Rad Waves!!
Tired of Siargao, Baler, and La Union? Here are 7 Lesser Known Surfing Spots in the Philippines That Also Have Rad Waves!!
Jon Christoffer Obice | May 14, 2021