LOOK: This IG-Worthy Glass Café in Cavite is Worth the Drive down South
Be ready to take lots of photos for the gram!
by Ina Louise Manto | June 06, 2021
Looking for new cafes to try near the Metro? Known for its chic interiors and comfort food, this family-owned cafe is worth the short drive.
Café Agapita
Although it has only been a little over a year since Café Agapita's opening, this chic café in Silang, Cavite has already built patrons who keep coming back not only for its ambiance but also for its comfort food. Boasting glass tall glass windows, it's hard to miss this family-owned café.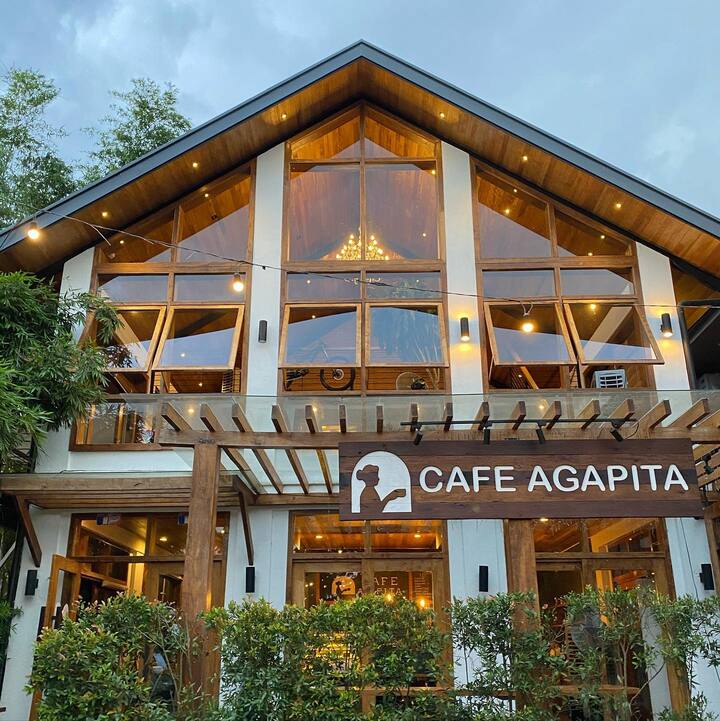 Its façade is where most visitors have their photos taken, as it's surrounded by a lush garden where intimate celebrations like weddings and birthdays can also be held. The garden is ideal for al fresco dining, which is perfect for the current outdoor dining protocols.
View this post on Instagram
Beside the café is also a mini tunnel that lights up with twinkling lights at night, perfect for picture taking!
View this post on Instagram
Café Agapita's interiors are just as IG-worthy. Guests will get a clear view of the outdoors while having servings of freshly-brewed coffee and house-made pastries. Its tall glass windows add to the relaxing ambiance of the café too, where you'll feel like you're still outdoors.
View this post on Instagram
The café also has a mezzanine perfect for picture taking, where you'll get a clearer view of the front yard as well.
The Menu
All of Café Agapita's pastries and cakes are made in-house. One of their best-sellers includes the Agapita Bun, which originated from the owners' grandmother's recipe. She's also the inspiration behind the café! This delicious bun is stuffed with menudo, perfect for when you're craving something savory.
View this post on Instagram
View this post on Instagram
If you want something savory, they also have a selection of pasta and rice meals.
View this post on Instagram
They also have a wide variety of drinks both coffee and non-coffee lovers will enjoy, from iced lattes to blended non-coffee drinks.
View this post on Instagram
Café Agapita is located at 11 Kapitan Sayas St., Sabutan, Silang, Cavite.
READ MORE:
Picture-Perfect Cafes and Restos You Must Visit In Cavite (That Aren't in Tagaytay)
Hiraya Restaurant and Cafe in Rizal is Set in a Refreshing, Charming Backyard That Becomes Beautifully Lit Up at Night
This Intramuros Café Lets You Dine Underneath Manila Cathedral's Church Bells