Relive Your Childhood Memories at These Private Garden Villas in Batangas
A five-hectare private estate for you to enjoy.
by Ina Louise Manto | November 10, 2021
While modern and stylish interiors are instant eye candy, nothing still beats the feeling of entering a cozy home that looks like a provincial house you'd visit during summer breaks from your childhood. Tucked in a private estate in Tanauan, Batangas, these villas will rekindle your childhood memories without driving too far from the metro.
Your next favorite vacation home
Hidden from where the crowd is, Casa Anahao features two rustic villas surrounded by nature – five hectares of farm lot to be exact. There's just something about old Pinoy homes that bring comfort, from the earth tones and wood to capiz shell windows. Made better by the surrounding lush garden with trees and blooming flowers, there's no wonder why this private estate is the perfect place to disconnect and make new memories with family.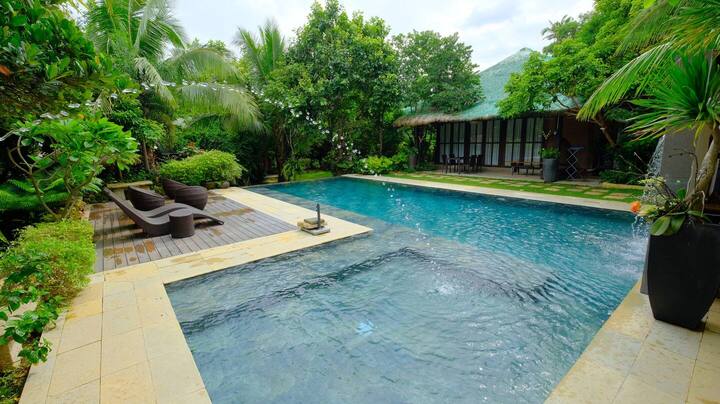 The entire estate will be yours exclusively during your stay, including the two fully-airconditioned villas that can accommodate up to 25 guests. There are actually three villas in the property, but the one by the pool is exclusive to the owners only. Whether you're visiting to enjoy a few days of RnR or planning to hold a reunion, Casa Anahao has plenty of space to make everyone feel at home.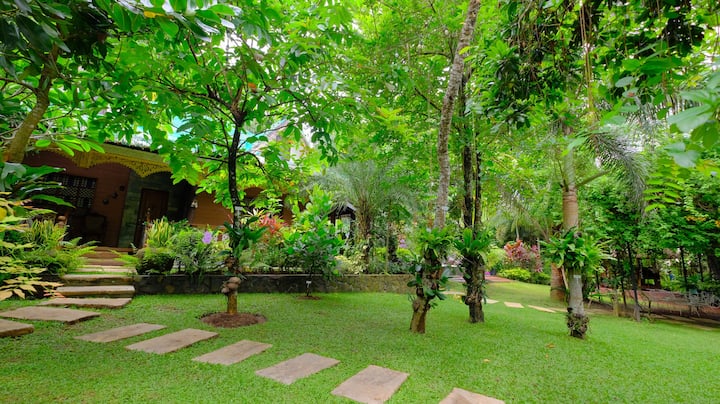 The first villa has a main bedroom with a queen-sized bed and a bunk bed that can accommodate up to 5 pax. It also leads to the loft where more sleeping arrangements for 4 pax can be found.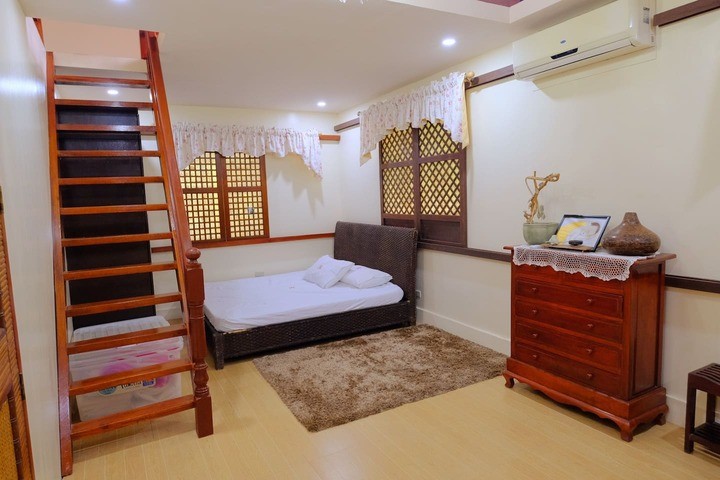 More guests can be accommodated at villa 2, equipped with two bedrooms that have queen-sized beds.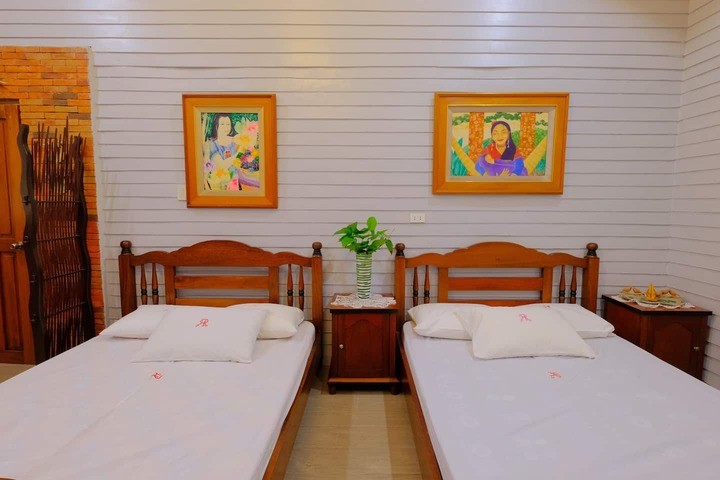 Both villas also have spacious lanais where you can lounge, enjoy reading a book, and breathe in the fresh probinsya air.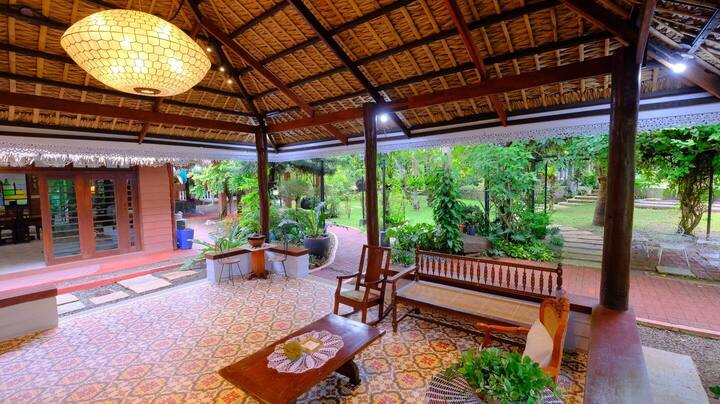 This Art Gallery in Batangas is Located Inside a Farm Ancestral Home
This Art Gallery in Batangas is Located Inside a Farm Ancestral Home
Meryl Medel | Dec 21, 2020
Common spaces
The gardens will be your playground at Casa Anahao but its indoor spaces are also eye candy. Villa 1 has a living area featuring wooden furniture. The high ceilings make the space feel more spacious too!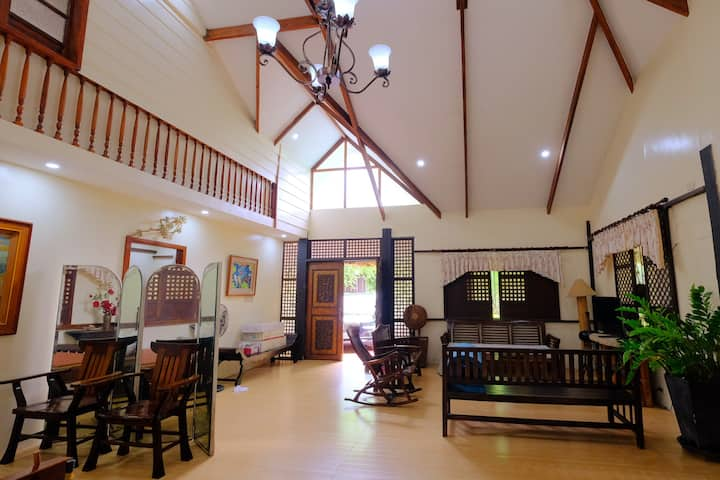 No relaxing vacation is complete without good food, which you can enjoy in the spacious dining hall. It's pretty much open to the outdoor space, allowing you to still enjoy the cool fresh air when dining.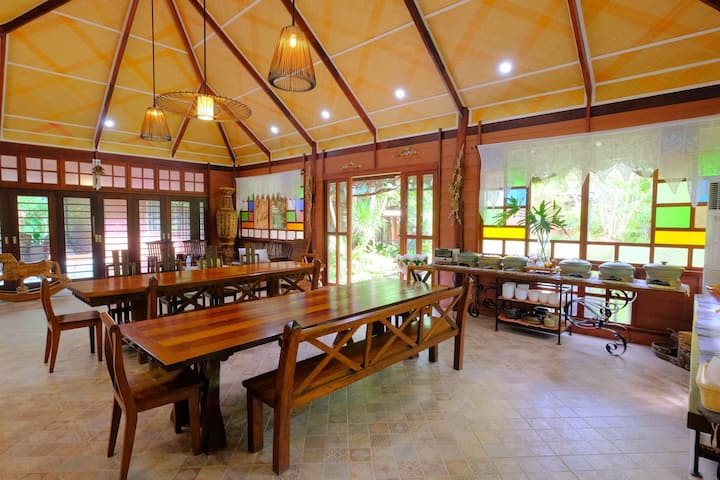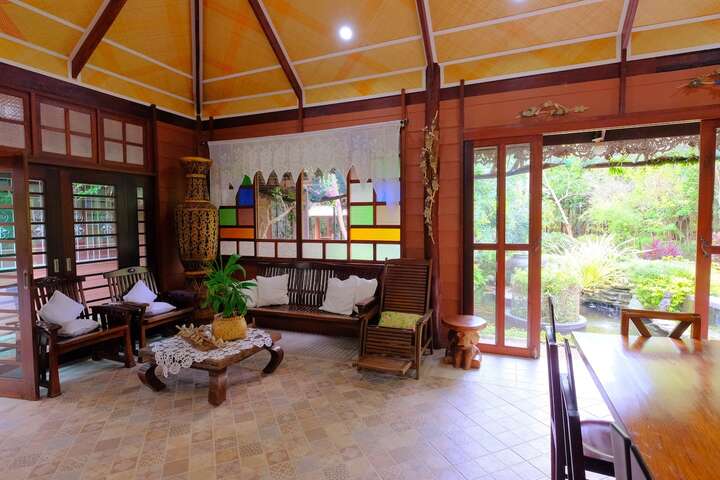 A koi pond can be found just across the dining hall, providing relaxing sounds of flowing water as you enjoy your favorite dishes. There's also a lounge area in the corner – the property really knows what relaxation means!
Amenities
From a tambayan under a tree to a pool table, there are plenty of spaces and activities to enjoy at Casa Anahao. When you don't feel like lounging around the lanai or garden, you can go swimming lazily around the cool pool, which also has a corner where kids can safely swim.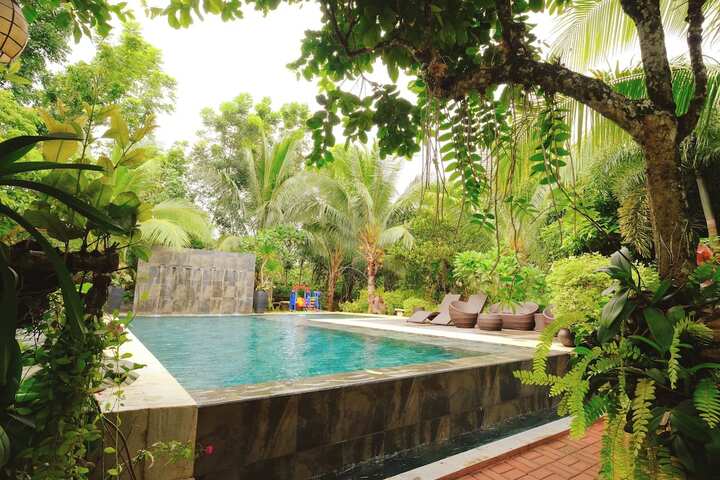 Casa Anahao also has a basketball court and children's playground.
Rates at Casa Anahao start at P32, 880 per night. Book your stay here.
Escape Near the Metro: Batangas Airbnbs That Have Private Pools
Escape Near the Metro: Batangas Airbnbs That Have Private Pools
Ina Louise Manto | Oct 13, 2020
For inquiries and more information on travel requirements, send a message to the Airbnb host.