Go Forest-Bathing in Style at These Luxurious Glamping Domes in Batangas
It's the first of its kind in the Philippines!
by Jon Christoffer Obice | July 31, 2021
If you're tired of the concrete jungle but aren't exactly sold on the idea of roughing it, glamping is the answer. This secluded resort in Batangas lets you enjoy all the trappings of a luxurious hotel stay, with Mother Nature as your lobby.
Domescape
Located in Nasugbu, Batangas, Domescape is about an hour away from the Tagaytay City proper. This private resort features luxurious geodesic domes surrounded by lush greenery and natural pools, letting nature-lovers experience the great outdoors without compromising comfort.
View this post on Instagram
View this post on Instagram
Domescape is the first resort of its kind in the country. While geodesic domes are often used as emergency shelters, greenhouses, or temporary equipment sheds, Domescape was able to turn theirs into comfortable accommodations, complete with hotel-like facilities.
Idyllic Amenities
Domescape is the ideal destination for those of us wanting an escape from the stresses of daily life. For an authentic glamping experience, a large part of the resort remains untouched, so you can enjoy nature in its pure, unadulterated state.
View this post on Instagram
Aside from the lush greenery, there's also a natural stream within the property where you can swim your cares away. At night, you can watch the stars, hear the sounds of nature, and bond with other guests by a campfire at the resort's common area.
View this post on Instagram
View this post on Instagram
Ready your best poses and OOTDs, because every part of this alluring resort is worthy of gracing your Instagram feed!
IG-Worthy Domes
Domescape features six fully air-conditioned domes, each furnished with comfy beds and mattresses, a mini-fridge, water heater, microwave, and a humidifier fan. Every dome also has its own natural pool, outdoor kitchen, and outdoor dining area.
View this post on Instagram
Dome 1
Dome 1 can accommodate up to four guests. It's got a nice hammock area by the natural pool, as well as an extra sofa bed facing the dome's windows. Rates start at Php 8,113 per night.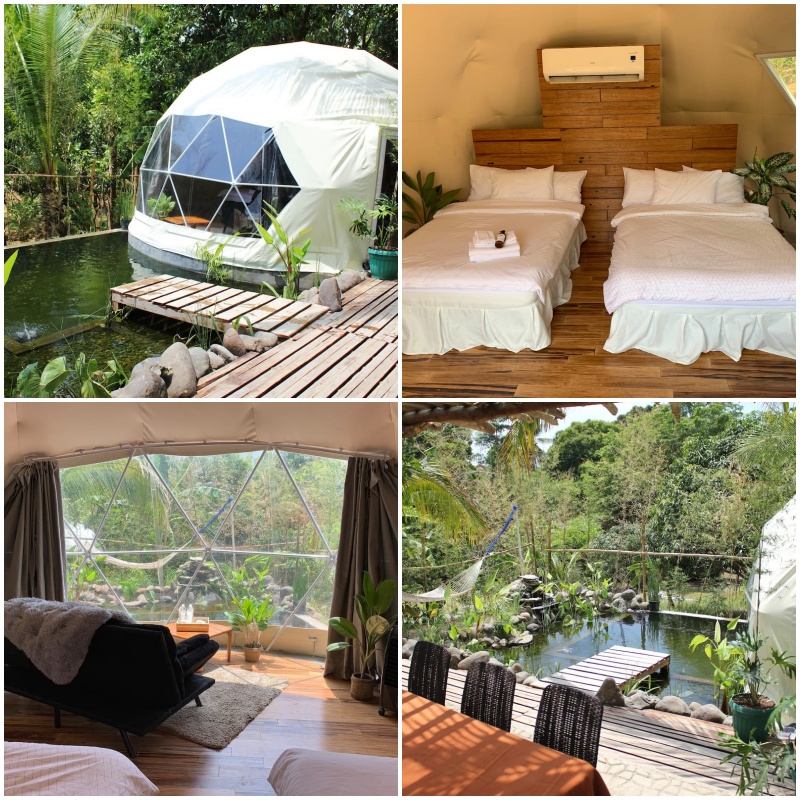 Dome 2
The second dome also sleeps up to four people. It has a boho-style swing and a cozy nook by the windows — perfect for curling up in with a book! Rates start at Php 7,006 per night.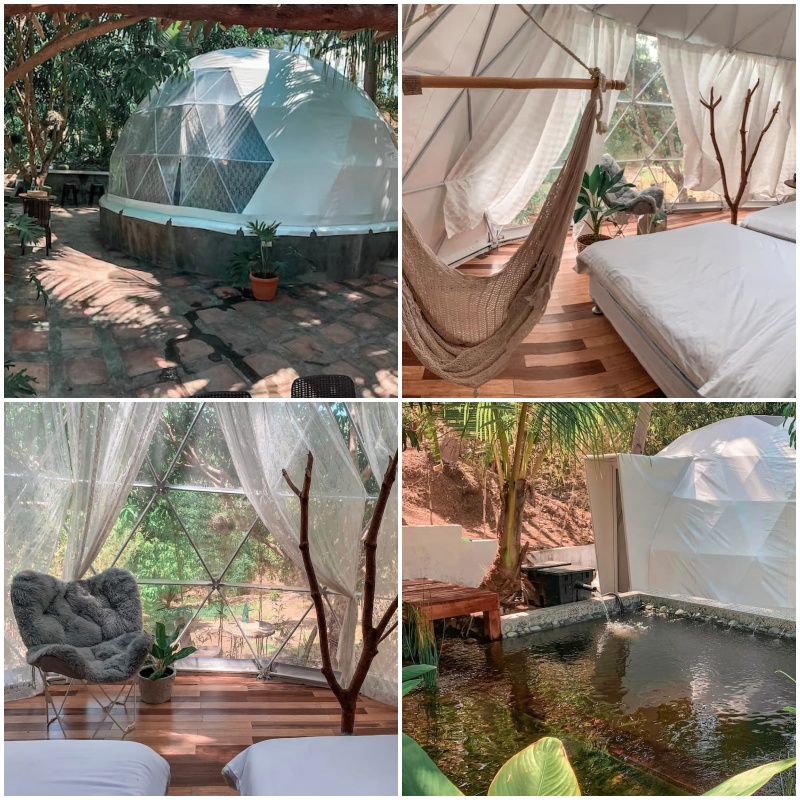 Twin Domes 3 and 4
Meanwhile, the Twin Domes are ideal for a group of up to 12 people. The Twin Domes also come with a special feature: a couple of hot tubs on the roof decks. Rates start at Php 15,521 per night.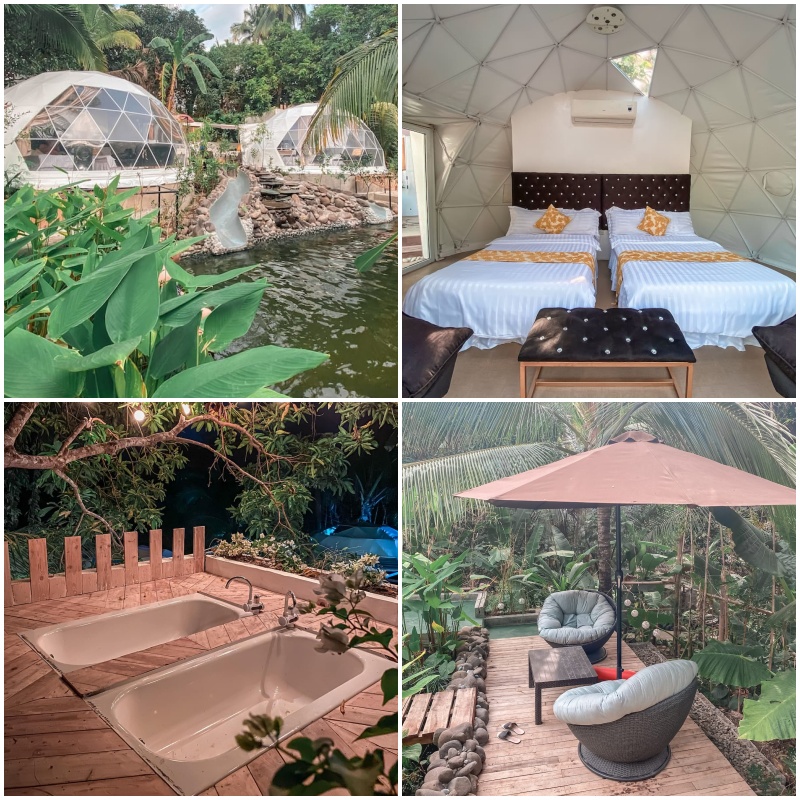 Dome 5
The Bohemian-themed Dome 5 has two floors, perfect for a group of up to six guests. Rates start at Php 8,500 per night.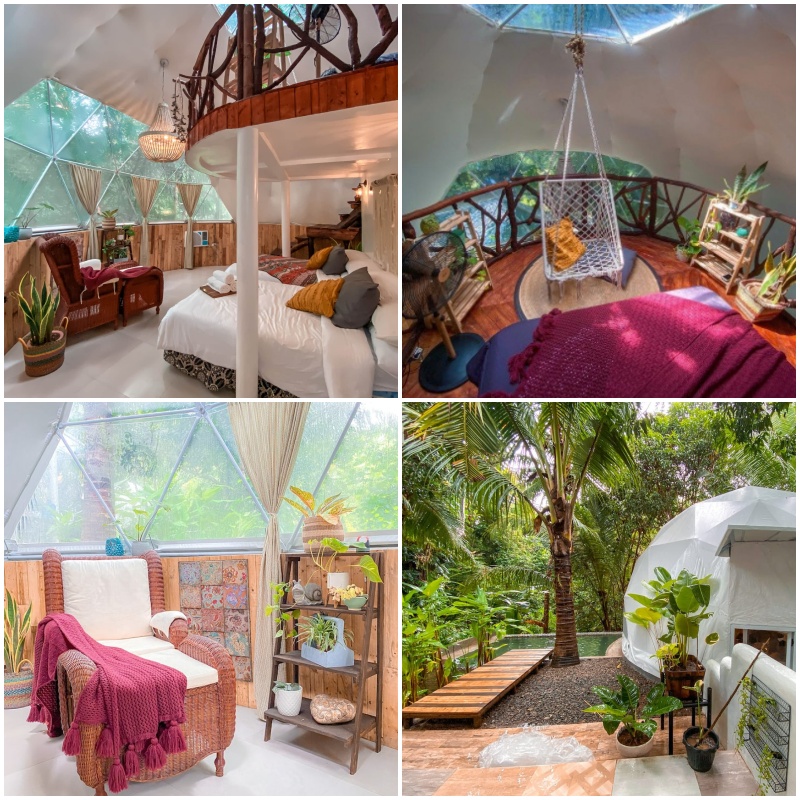 Dome 6
The latest addition to the resort, Dome 6 features a Moroccan theme and can accommodate up to four guests. Rates start at Php 8,036 per night.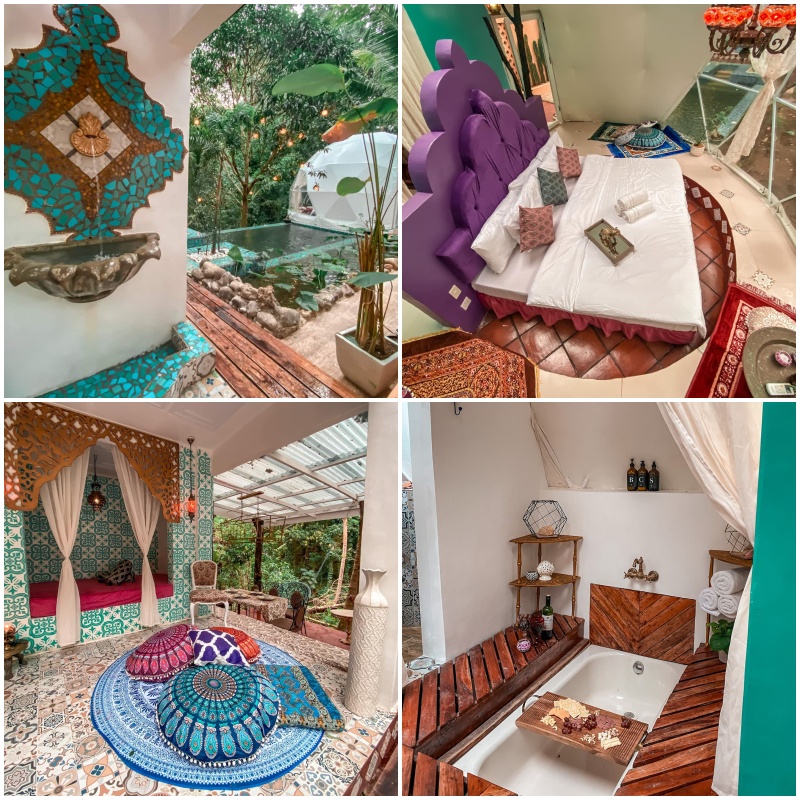 Make sure you bring your own food and drinks as the nearest store is about 15 minutes away. If you want, the resort can also prepare boodle fight-style meals for your group.
View this post on Instagram
Some reminders: Since the property is surrounded by nature, it's advisable for you to bring an insect repellant. If you're bringing your kids with you, accompany them at all times as the resort has uneven terrain.
How to book
You can book your stay via Airbnb. For more information, check out Domescape on Facebook and Instagram. You can also contact them at domescape.ph@gmail.com.