LOOK: You Can Rent this Exclusive El Nido Island for Your Dream Beach Wedding
A whole island for your dream beach wedding.
by Ina Louise Manto | June 24, 2021
Weddings only happen once in a lifetime, for most at least, that's why there's no wonder why couples never skimp on celebrating such a memorable day. While most weddings are held in churches or gardens, some couples prefer being taking a more rustic and adventurous route. If you've been dreaming of tying the knot while having a dreamy beach as your backdrop, this exclusive island in El Nido is worth booking for your big day.
A dreamy beach wedding at Dryft Camp
If you want your wedding to feel like a tropical getaway, be ready to start your journey to the island with an adventure. Nestled in Darocotan Island, an exclusive stay at Dryft Camp begins with a 45-minute drive from El Nido town and a 20-minute boat ride to the island. Exclusivity and privacy are what Dryft is best at, among other things, which you'll enjoy during your stay. You'll get the best El Nido Island experience where you'll have long private beaches, clear blue waters, and vibrant coral reefs all to yourself.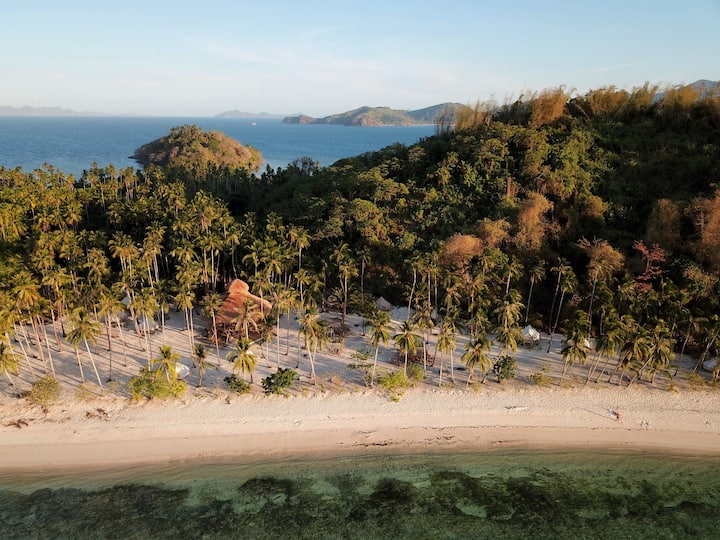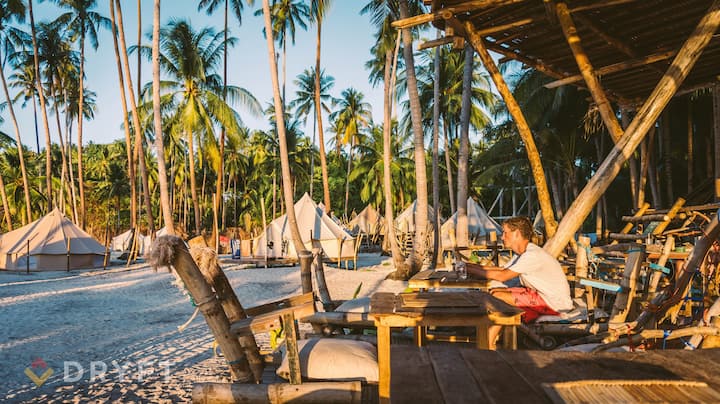 Dryft Camp is a one-of-a-kind glamping island built with sustainability in mind. It's located on a remote island, runs entirely on solar power, and has accommodations made by local artists using native and recycled materials. During your stay, you'll be helping the environment while experiencing beach glamping in stylish and comfortable rooms, and enjoying the raw beauty nature has to offer.
Accommodation
There are 20 glamping tents and seven Hive Huts on the island, all of which can accommodate up to two guests each. Meaning, 54 guests can be accommodated on the island, which is just perfect for an intimate wedding!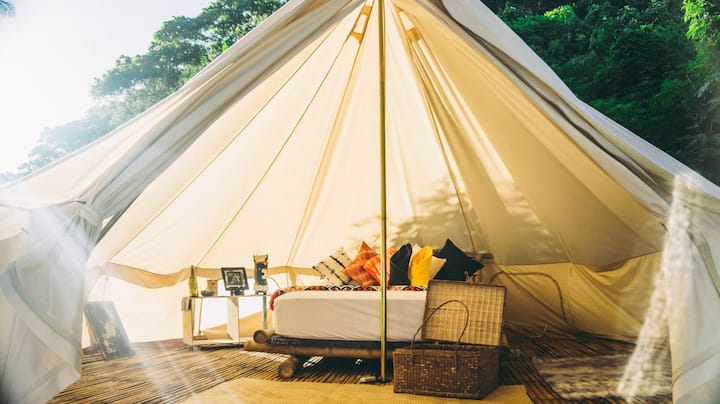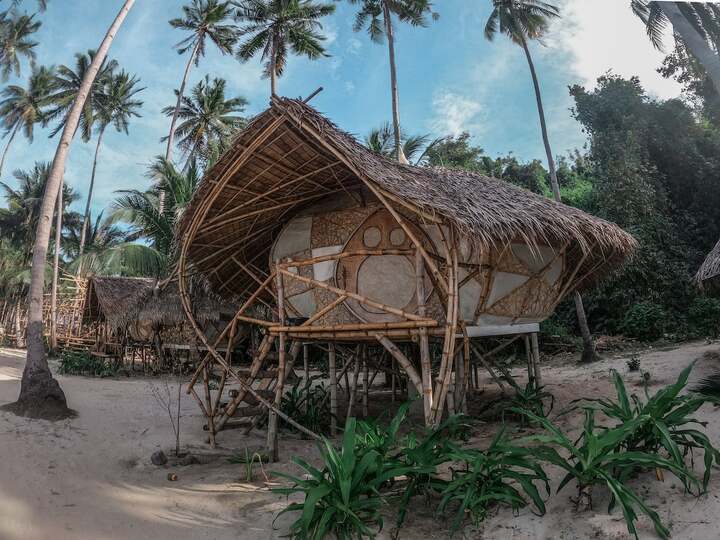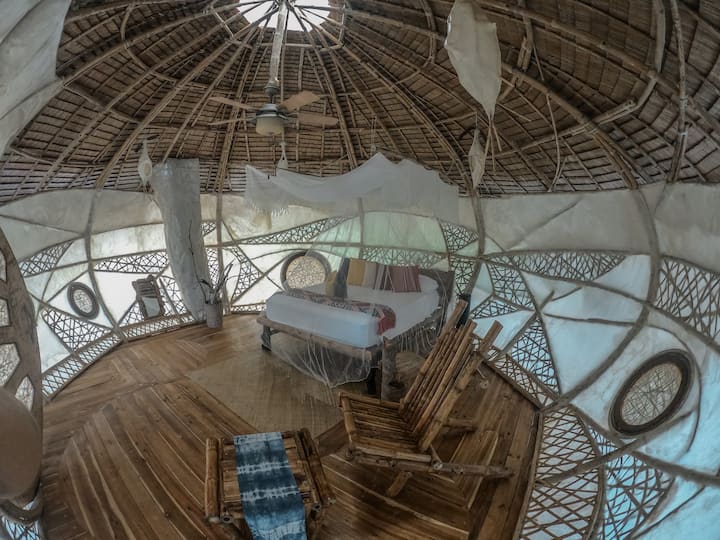 The Hive Huts look even more stylish at night, where you can see the intricate patterns on its walls.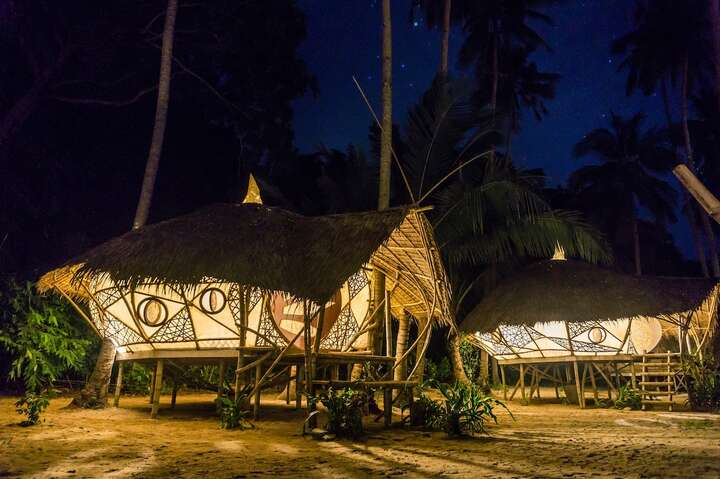 Larger groups can be accommodated as well and camping tipis can be arranged for the overflow.
The main hub on the island is the four-story treehouse restaurant that's made entirely made of native wood and bamboo. Here's where you can order scrumptious meals, have fresh fruit shakes or cocktails during happy hour, or simply enjoy a good book and the sea view. The fourth-floor Bird's Nest will give you an even more panoramic view of the island and sea.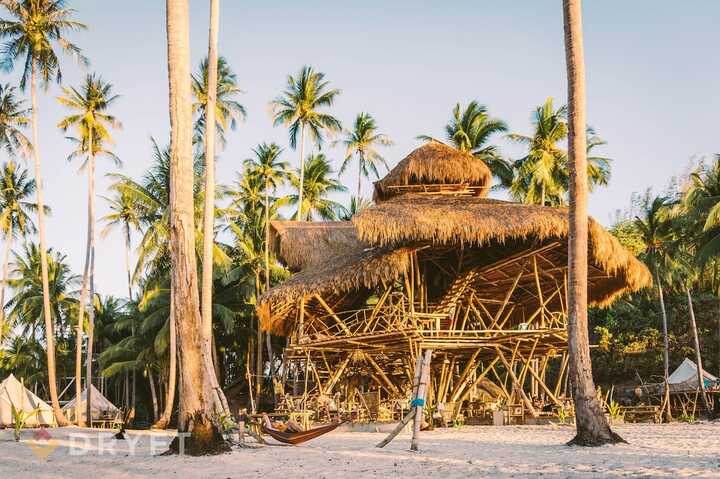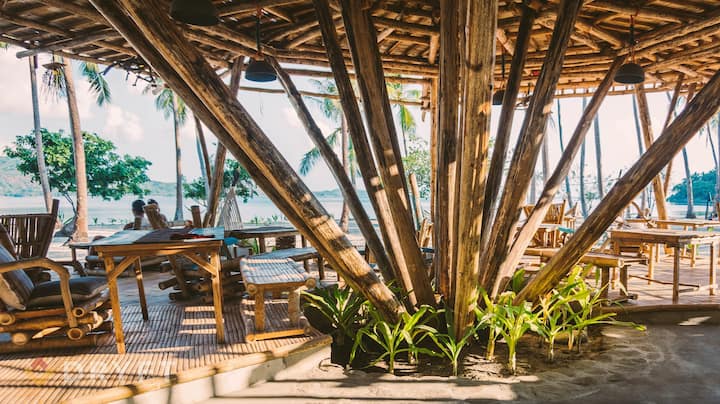 Bonfires can also be set up at night, which is the perfect activity after a day of celebrating a special day. Drown yourselves in good music and company, be lullabied to sleep by the sounds of waves, and wake up to a new day to go see the rest of the island.
Rates at Dryft Camp start at P40,000 per night. They've also just started accepting bookings for work-from-paradise setting for 2022-2023. Find more details here.
Book your stay here.
MORE: This Private Island in El Nido Could Host Your Next Barkada Reunion for P15,000 a Night