The Most Instagram-Worthy Spots You Can Visit in Cebu
The perfect background for your snaps!
by Gene Loves Acosta | August 19, 2016
Who doesn't want a feed full of incredible travel photos? They're proof that you, traveler, have clocked in miles and miles on your travel bucket list, so you keep your #feedgoals alive by being on constant lookout for effortlessly beautiful places to add to your gallery. Luckily, the Philippines is full  of breath-taking destinations that are worth the spot in your Instagram feed.
Here's a roundup of must-visit places if you ever find yourself in the Queen City of the South!
Sirao Flower Farm, Busay
With a view of colorful celosia flowers carpeting a vast land, this flower farm is actually dubbed as the "Little Amsterdam of Cebu"—so much so that the owners decided to install a windmill to complete the vibe. The flowers are in bloom all year round, but if you want to see the whole hillside covered with flame-like colored flowers, it's best to visit around October to November. Aside from celosias, they also grow daisies, sunflowers, chrysanthemums and gypsophila or baby's breath.
How to get there:
Go to JY Square Mall then take the road going to Busay. After about 30-45 minute ride, you'll reach Ayala Heights where there's a fork road. Take right to Canada Drive and the signs leading to Sirao Flower Farm are already available from there.
Temple of Leah, Busay
The temple of Leah is Teodorico Adarna's tribute to his wife—which is why a lot of people say it's our own version of Taj Mahal. It has an art gallery, museum, and a library showcasing all of his wife's favorite pieces. When you're done checking out what's inside, you can relax on the deck, which offers a perfect view of Cebu. The interesting thing is that it's open 24 hours every day of the week, so imagine exploring this place at night! (Entrance fee is at PHP50).
How to get there: From JY Square Mall, you can ride a jeepney with a sign 04i (PHP7) and ask the driver to drop you off at Plaza Housing. From Plaza Housing, ride a motorcycle (PHP30-50) going to the temple.
Taoist Temple, Lahug
The architectural design of the place is simply enchanting—and don't worry, this temple is open to all worshippers and non-worshippers (unlike the Phu Sian Temple, which is also located in the neighboring Taoism worshipping place). It was built in 1972 by the Chinese community and is situated in the posh subdivision of Beverly Hills.
How to get there: From JY Square, you can ride a taxi (PHP50) to take you straight to Cebu Taoist Temple.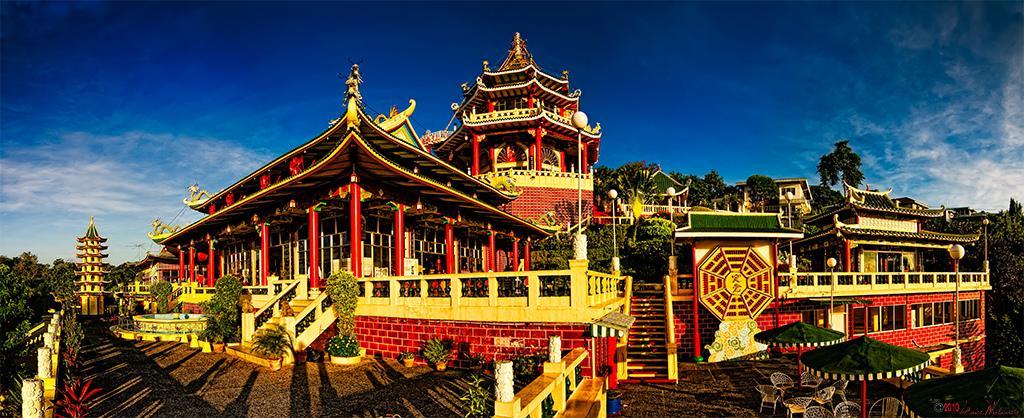 Simala, Lindogon, Sibonga
Tourists don't go here just to pray for divine intervention or give thanks for their blessings—they also go to see the castle-like architecture of the place. The design will remind you of European cathedrals, and the forested mountain where it's located also lends a sense of whimsy to the beautiful landscape.
How to get there: Go to South Bus Terminal in Cebu City and ride a Ceres Bus going to Sibonga. It will take you about two and a half hour to get to the church.
Also read: Cebu: Adventures off the Beaten Trail