9 Wondrous Waterfalls that You Can Visit in Laguna
Have you seen a waterfall up close?
by Gene Loves Acosta | June 09, 2016
Waterfalls are such a magical natural beauty – the kind that'll make you work hard before having a glimpse of its view. Is it worth it? Definitely! Luckily, we have a lot of impressive options located just a quick drive away from Manila.
Buruwisan Falls (Mt. Romelo, Siniloan, Laguna)
The 180-foot tall Buruwisan Falls is just one of the seven falls that stem from Siniloan River, but it became the most popular among climbing noobs because of its accessibility. It's situated between mossy rock boulders and the water cascades smoothly against the vines that grow on the falls itself – definitely a sight to behold.  If you're feeling adventurous, you can also try to rappel down the falls!
How to get there: Take a bus going to Infanta, Quezon and hop off at Siniloan where the jump-off point of Mt. Romelo is located.
Buntot Palos Falls (Pangil, Laguna)
Buntot Palos Falls stands at 262-feet and is considered as one of the highest waterfalls in the Philippines. From Sierra Madre's upper slope, the water flows into its natural, deep basin then goes to Pangil River before it ends in Laguna Lake. The trek going here will take around two to three hours through Pangil Eco Park or the Barangay Balian trail. The locals also call the falls as the "Hidden Falls" of Laguna.
How to get there: Ride a bus going to Sta. Cruz, Laguna then ride a jeep going to Siniloan and hop off near Balian outpost.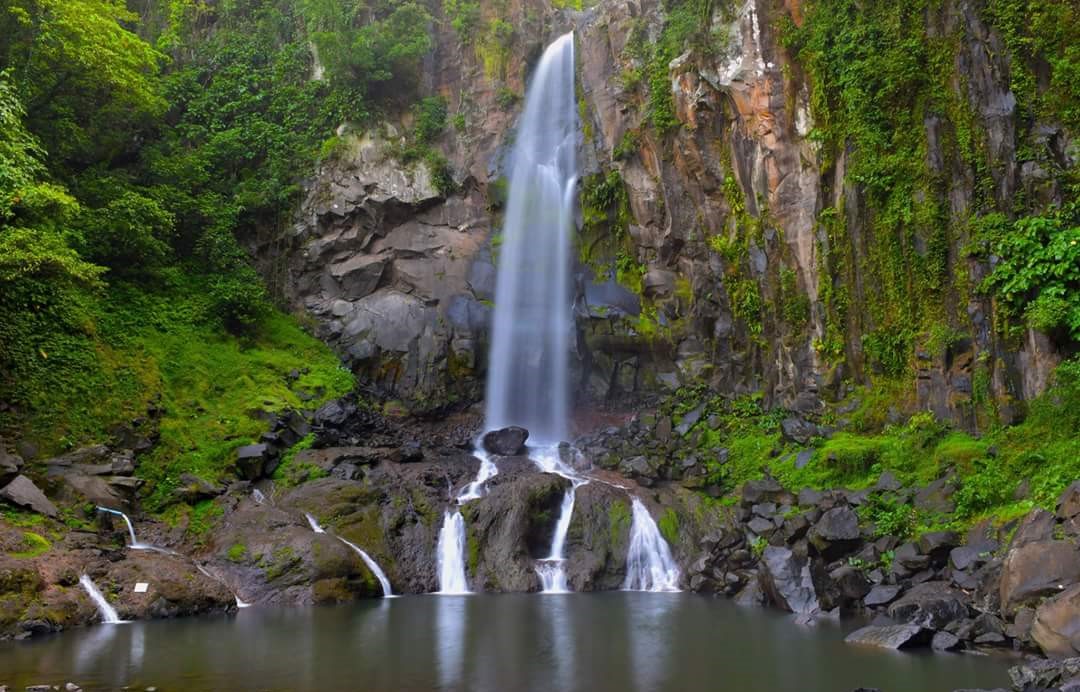 Hulugan Falls (Luisiana, Laguna)
According to locals, the falls got its name after a cow fell from its peak. Going here, you have to first walk on top of the falls before going down to the catch basin, but don't worry because the view is worth the sweat. Most visitors go here during the afternoon when they can see a mini rainbow while enjoying the soft mist coming from the falls.
How to get there: Ride a bus going to Sta. Cruz, Laguna then take a jeep going to San Salvador, Lusiana. From there, ride a tricycle to the Kapitan's house to register and start your trek.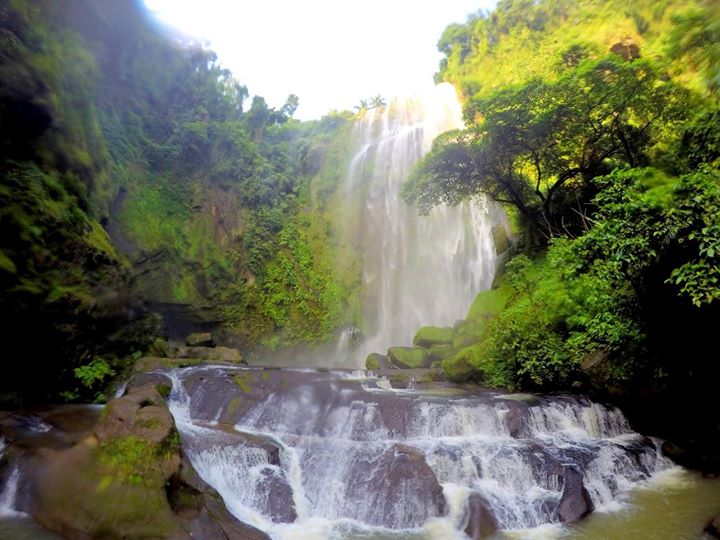 Aliw Falls (Luisiana, Laguna)
Aliw falls is usually just a side trip after visiting the Hulugan Falls, but it definitely deserves more credit than that. While it's only at 65-feet, the jagged edges make the water pour into large layers creating a beautiful view. You can also climb to the top of the falls or cliff dive on the other side.
How to get there: Ride a bus going to Sta. Cruz, Laguna then take the jeep bound to Lusiana. From there, take a tricycle to San Salvador where the trek starts.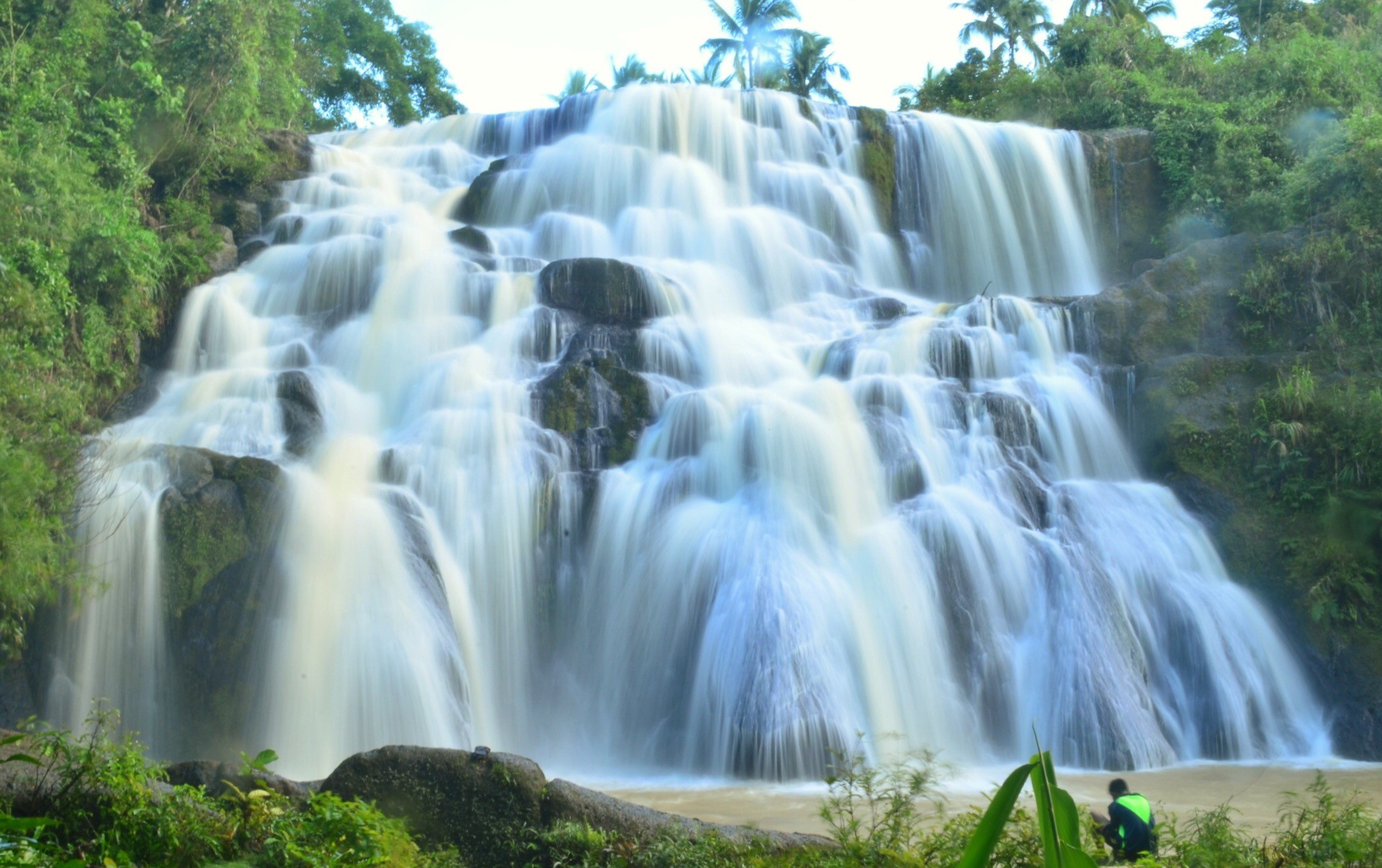 Bunga Twin Falls (Nagcarlan, Laguna)
It may not have the towering height that most falls have, but its distinct appeal lies in its two falls descending side by side. Those who have been in Bunga Twin Falls have been enchanted with the verdant rain forest and the relaxing sound of the rushing stream. For adventure-seekers, you can try cliff diving from the top with a 32-foot deep natural pool basin waiting below you.
How to get there: Take the bus bound to Sta. Cruz, Laguna then ride a jeep going to Liliw. From there, ride another jeep to Nagcarlan and alight at the Nagcarlan market. Hire a tricycle to take you to the jump-off point going to the short trek.