Best of 2016: Our Favorite Hostels in the Philippines
2016 was the year of great hostels. Here are just some of our favorites around the Philippines.
by Meg Santibanez | December 20, 2016
Budget accommodations are always in our radar when traveling but it's also important to note that one doesn't necessarily have to sacrifice quality and comfort just to get a cheap deal. There a good number of hostels who doesn't sacrifice comfort for a cheap price, but instead combines both which resulting into a simple yet charming place to be.
Here's a list of our favorite hostels which combines both these elements. We highly recommend that you check them out after reading this round up!
Z Hostel – Makati 
5660 Don Pedro Street, Makati City
+63 2 856 0851,  +63 917 889 8531 |Facebook | Website
Trip Advisor Rating: 4.5/5 | Starts from PHP649 to 5,500/night
Tucked in a hip and happening neighborhood, Z Hostel remains to be one of the best hostels in the Philippines. It's best to describe Z Hostel as a simple, sophisticated combination of everything you'd want in urban accommodations: crisp clean interiors, soft beds, excellent staff, impressive food and drinks and an accessible location in the heart of Makati. Plus, there's a roof deck that's sure to amaze you with its view of the CBD's skyline.
Reggae Guesthouse – Bohol 
Tawala, 63 Tawala, Bohol, Philippines, Tawala, Bohol
+63 949 319 1946 | Website
Trip Advisor Rating: 4.5/5 | Start from PHP500 to 3000/night
Nestled in a serene location, the Reggae Guesthouse is a lovely hostel to look at with its lush garden setting. It is also a ten minute walk to Alona beach and restaurants making it an ideal location when in Bohol. The setting is simple but the bungalows are comfortable and perfect for a quiet laid-back relaxation. As the name hints, its theme is Reggae from music to the lifestyle.
Anilao Backpackers – Batangas
118 Barangay San Jose Mabini, Batangas
= 63 999 970 7654 | Facebook | Website
Trip Advisor Rating: 4.5/5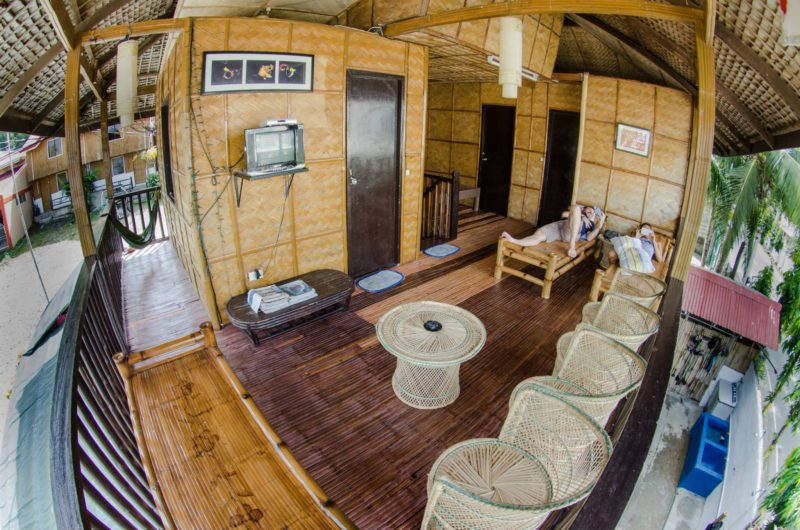 Run by a family of divers, Anilao Backpackers promises a no-frills base for a great diving experience. The quiet ambiance and excellent service offered by the hosts are the key reasons why this spot has produced patrons who keep on coming back.
Flotsam & Jetsam – La Union 
12500 MacArthur Highway, Urbiztondo, San Juan, La Union
+63 917 802 1328 | Facebook | Website
Trip Advisor Rating: 4/5 | Starts from PHP680 to 3,200/night
If there's a place to celebrate life, arts, music, good food and drinks, then Flotsam and Jetsam could perhaps be one of the contenders for the complete experience. It's one of the hippest places in La Union, and all year round it draws plenty of  attention from working millennials looking for a quick getaway from the hustle and bustle of the city.
Bungalow Hostel – Dumaguete City
Valencia Road, Barangay Bagacay, Dumaguete City, Negros Oriental
+63 927 591 0724 | Facebook
Trip Advisor Rating: 4.5/5 | Starts from PHP650/night
Bungalow Hostel is a cozy and artsy hostel located in the heart of Dumaguete, the serene and scenic capital of Negros Oriental. It's nothing short of homey with its lovely hosts Roci and Joe whose passion to host led them to turn their home into one of the hottest hostels in Dumaguete. And because the hosts are locals, one can expect to get the best tips and advice in getting around Dumaguete — they even have in-house tour guides that are ready to help you explore.
Circle Hostel – Baler
Buton Street, Brgy. Sabang, Aurora, Baler
+63 917 501 0235 | Facebook | Website
Trip Advisor Rating: 4.5/5 |  PHP500 to 1,350/night
A staycation at Circle Hostel Baler is a sanctuary for beach lovers, artists, skaters, backpackers and surfers. There's nothing but chill vibes in its cozy common areas where one can hang loose on a hammock. Circle is known for its friendly staff that can always be relied on no matter which branch it is (Zambales and La Union), and their Baler spot is no exception.
What's your favorite hostel in the Philippines? Comment down below!