Escape the City and Go on a Farm Retreat at this Picturesque Cabin in Nueva Ecija
Just a three-hour drive from the Metro.
by Ina Louise Manto | May 27, 2021
On the hunt for more cozy stays where you can relax in nature? Just a three-hour drive away from the metro, Farm Ridge by Desmond Farm offers a quiet retreat where you'll appreciate the farm life and the beauty that Pantabangan offers.
Farm Ridge by Desmond Farm
Nestled on top of a scenic hill, the Amihan Cabin by Farm Ridge will be an experience for the books, especially if you've been looking for a quiet retreat away from the noise of the city.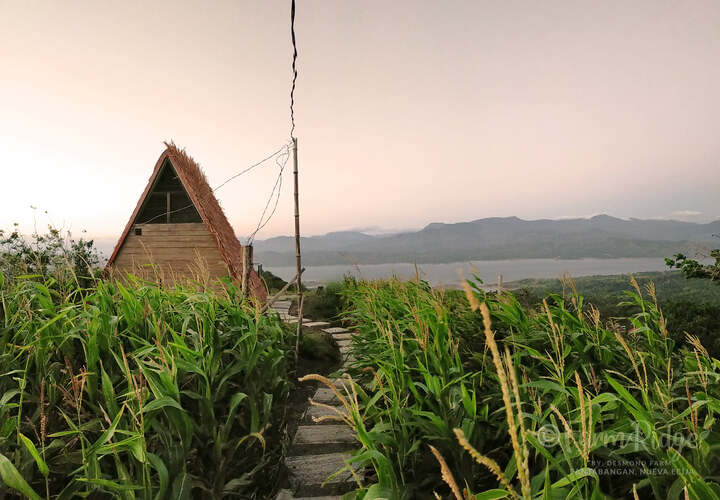 The cozy cabin is a newly opened stay by Desmond Farm, which is an e-commerce site that promotes organic farming and holistic agribusiness. You'll find a selection of fresh organic farm products that support local farmers from all over the country. They also focus on promoting sustainable cacao farming in the country! Farm Ridge opened as a new attraction in the farm grounds in February to accommodate nature-lovers and serenity-seekers.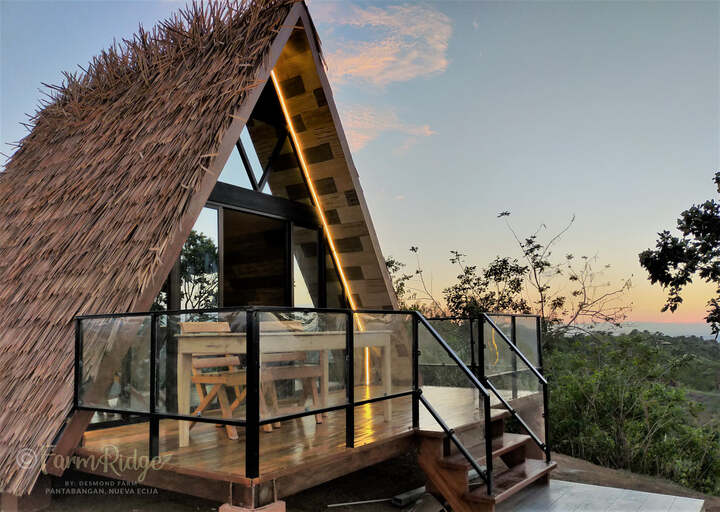 Surrounded by a panoramic view of Pantabangan Dam in Nueva Ecija and the Sierra Madre mountain ranges, the Amihan Cabin boasts a unique a-frame structure with a nipa roof. It has a porch overlooking the view where guests can enjoy a hot cup of coffee or perch a small tent at night.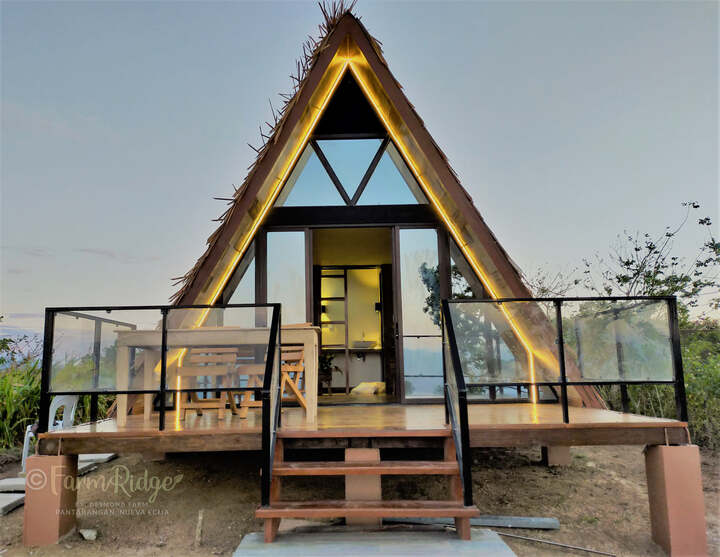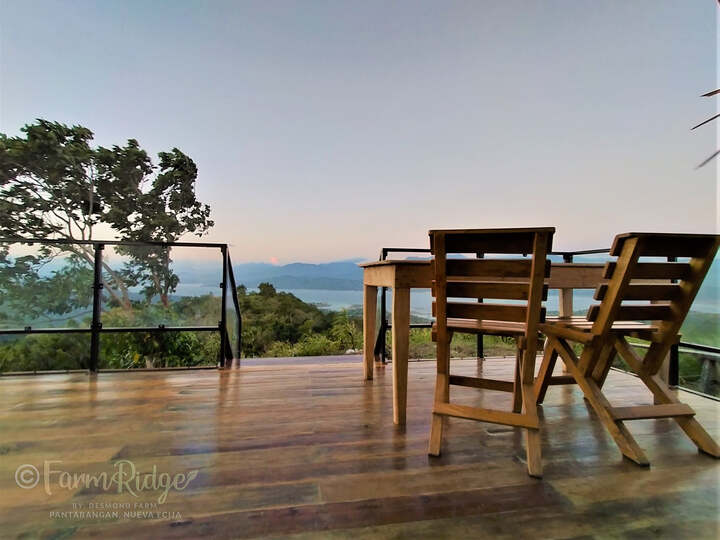 Inside, the cabin boasts wooden interiors and two floors. The ground floor has a spacious living area, which also doubles as a sleeping space at night. A private bath is also located on the ground level. The doors are made of glass, so you'll still get the beautiful view even indoors.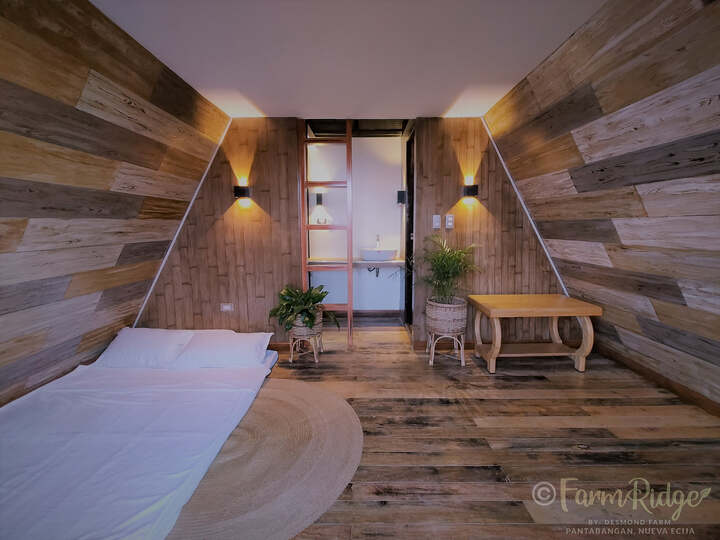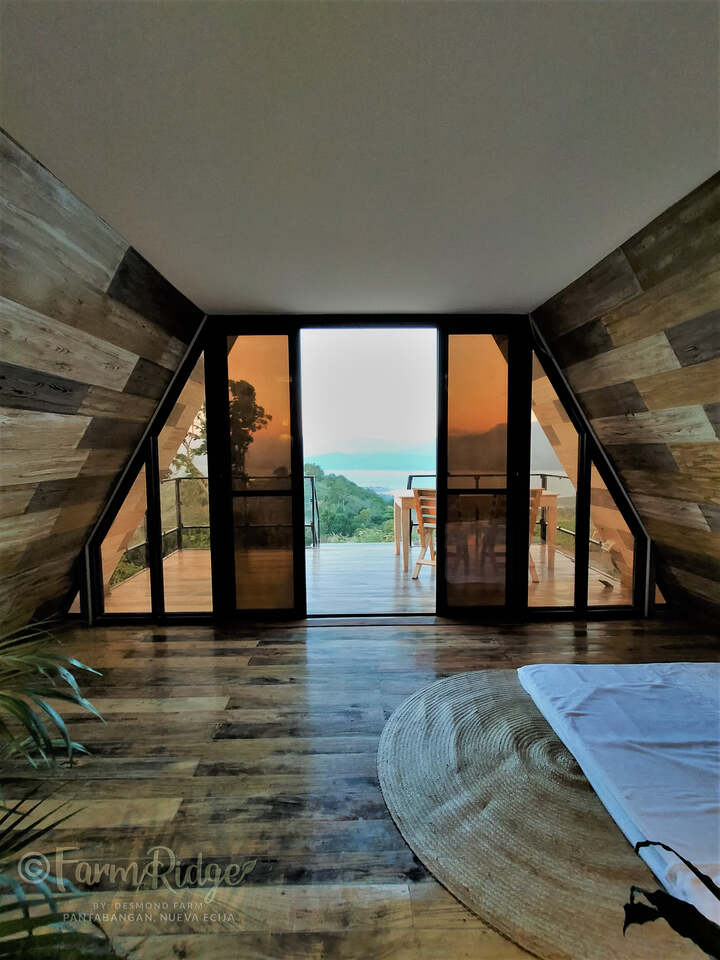 The attic also offers the same view, better even, where you can wake up to the Pantabangan Dam's glistening waters or fall asleep under the stars.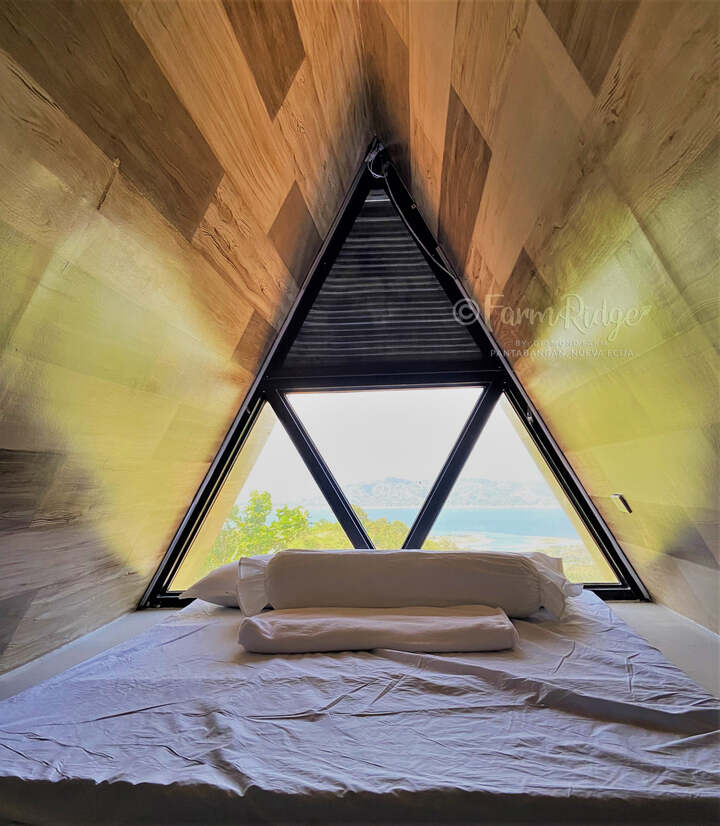 The Amihan Cabin is ideal for couples and a small group of friends or family. Should you plan to bring more people for the getaway, Farm Ridge also has a bigger accommodation, the Matahum House.
Rates at the Amihan Cabin at P2,500 per night for a weekend stay for four people. Weekday stays are at P1,500 per night.
Location: KM 3, Malbang, Pantabangan, Nueva Ecija
To book your stay, send a message to Farm Ridge's official page.
READ MORE:
This Private Resort in Nueva Ecija Is the Perfect Instagrammable Getaway for Your Barkada
This Lakeside Resort in Nueva Ecija Will Make You Feel Like You're in Bali
This Flower Farm in Nueva Ecija is a Hotspot for Beautiful Prenups and Romantic Dates