These Elegant Cottages Floating Over Water Have a Beautiful View of the Ocean and Mountain Tops
Can you believe this place is just three hours away from the metro?
by Meryl Medel | March 02, 2021
Need some peace and quiet away from the urban jungle? Or just want a change of scenery from your work-from-home set-up? This elegant sanctuary nestled between the lush rainforest and the glittering waters of Nabasan Bay is just three hours away from the metro. Check out why you need to put down Kamana Sanctuary Resort as your next travel destination.
Kamana Sanctuary Resort and Spa
Located in the Subic Bay Freeport Zone, Kamana Sanctuary is an all-in-one paradise that can bring you anything from tranquility to adventure. With the rainforests behind, the resort offers you privacy and quiet from the rest of the world while letting you enjoy a beautiful view of the sea.
Kamana Sanctuary's rooms and suites are luxurious and elegant, but also comfortable and relaxing. The big and spacious accommodations are made to let you easily unwind and forget the stresses of daily life. Each one is equipped with at least one California queen- or king-size bed and the usual amenities. And each one also overlooks either the glittering sea or the high mountain tops.
If you want some R&R time, you can opt for an afternoon on the hammocks around the property. Or you can go down to the beach and simply kick back and relax on the lounges while taking in the magnificent view right in front of you. If you simply want to indulge in some good food, their in-house restaurant also offers sumptuous dishes that would surely satisfy your tummy.
But if you're looking for more physical activity to move your body, the resort also has a lot to offer you. You can rent a kayak or paddleboard and row your way to the middle of the sea where you can have an uninterrupted panoramic view of the wonders of nature. You can also opt to dip further into the deep blue waters when you go snorkeling.
If you have a big group wanting to do activities together, there are several sports options on the property like basketball, beach tennis, beach volleyball, and frisbee.
Casitas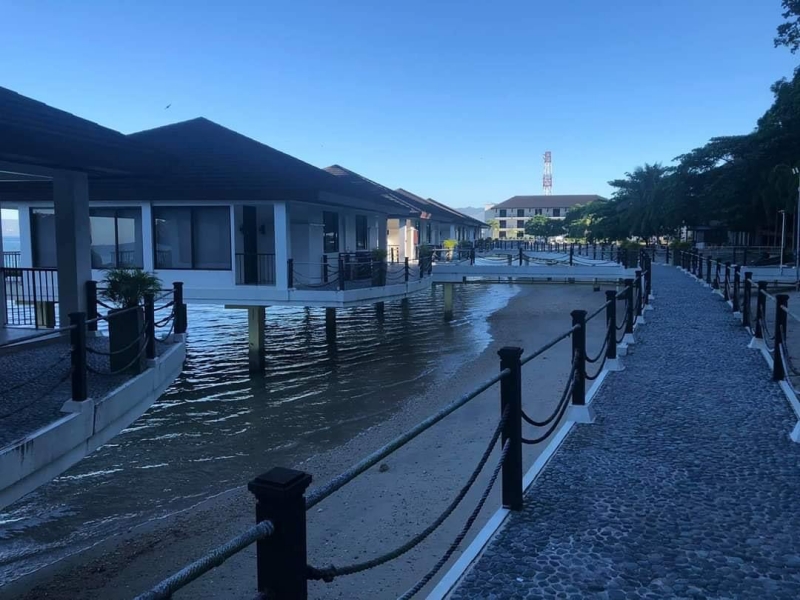 While guests can choose from a variety of rooms and suites that Kamana Sanctuary has to offer, the most luxurious accommodations in the property are the Casitas. A Casita is a stilt room above water with a 70-square meter floor size, which makes for a spacious area you can easily relax in. Each one comes with a California king-size bed and a big bathroom with a rain shower bath and two sinks.
This one's truly perfect for a getaway for couples, but if you're flying solo, why not?
Health and Safety
The resort has received a certificate to operate from the Department of Tourism, so you can rest easy that they are following strict health and safety guidelines. Depending on where you're coming from and the length of your stay, the resort requires you to present documents, which is in line with the requirements of the Subic Bay Freeport Zone.
If you're staying less than three nights, you don't need to present a swab test or a travel pass. Simply prepare a health certificate from an accredited health clinic or hospital within three days before check-in, a proposed itinerary, and a valid government ID with a home address. If you're staying much longer than three nights, check out Kamana Sanctuary's guidelines here.
Once at the property, you must abide by their health and safety guidelines, including the mandatory wearing of a face mask and shield throughout your stay.
Book your stay through the Kamana Sanctuary website.