Enjoy a Romantic and Safe Dining Experience Under the Sky at SM Baguio Sky Terrace's New Bubble Pods
And enjoy the cool Baguio breeze!
by Meryl Medel | February 09, 2021
With the ongoing pandemic, dining out has now become a novelty for most of us. But establishments have found a solution to entice guests into enjoying one night outside while still giving them a safe dining experience. In the new normal, bubble pods offer privacy and intimacy that guests can enjoy, a new Instagram-worthy aesthetic, and a safe distance from other guests. This is exactly what SM City Baguio's Dine Under the Sky is offering.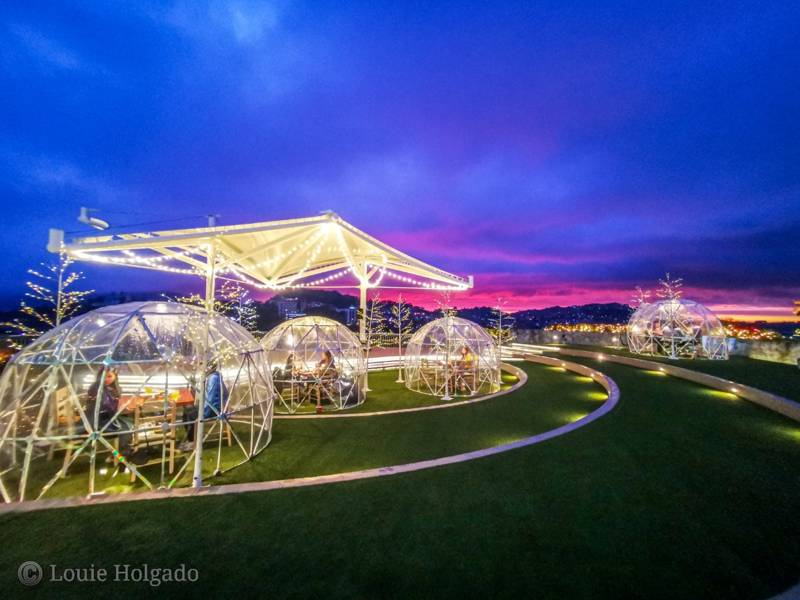 Dine safely inside the Sky Pods
Last January 29, 2021, SM City Baguio unveiled their new Dine Under the Sky feature at the Sky Terrace, where guests can enjoy a night dining out while being kept safe inside bubble pods they aptly named Sky Pods.
The Sky Pods are perfect for a romantic date night, especially when you and your significant other are surrounded by lush greenery and fairy lights with a magnificent view of the city. All around each Sky Pod is an Instagram-worthy backdrop that you would definitely love to put on your feed. On occasion, musicians would come by and station themselves at the nearby gazebo to serenade you and your S.O. with some sweet melody.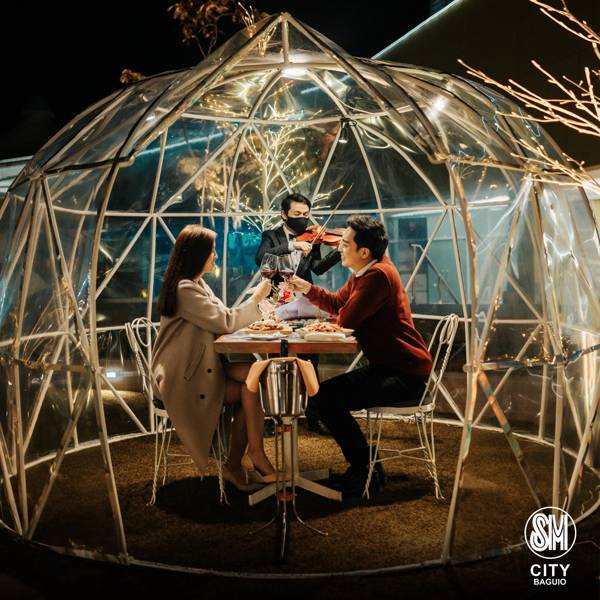 After a good meal, you can walk around the Sky Terrace to enjoy the cool breeze. You can also take more snapshots with the city skyline as your backdrop. When you visit at the right time, you can see the sun set over the horizon for a truly magnificent view while dining under the sky.
Reservations
You can book a Sky Pod when you message SM City Baguio's official Facebook page. Each Sky Pod can accommodate up to four people. Once booked, you will be asked to order food worth at least PHP 2,000 from any SM City Baguio restaurant in advance. You don't have to select food from just one restaurant — you can order from multiple establishments if you and your S.O. are looking to satisfy a lot of cravings.
For one booking, a guest can enjoy an hour and a half inside the Sky Pod. Before and after each reservation, each pod is disinfected thoroughly by SM's sanitation team. The Sky Pods are open every day from 10 AM to 9 PM.
Would you book a reservation in SM City Baguio's Sky Pods?