Too Hot for the Summer? These Falls Just Outside Metro Manila Will Help You Cool Down!
You can't really stop yourself from chasing waterfalls in this heat, can you?
by Jon Christoffer Obice | May 03, 2021
That iconic '90s song might have told you to "don't go chasing waterfalls," but in the heat of this dry season, we can't help but yearn for the cold and refreshing waterfalls, especially those near Manila.
When travel protocols permit, you know what to do. Here are some of the waterfalls near Metro Manila that you might want to chase soon.
Hulugan Falls (Luisiana, Laguna)
View this post on Instagram
When it comes to falls, lakes, and lagoons, Laguna is a hotspot. Almost every town here takes pride in their waterfalls, and some of those like Luisiana even have more than one. After all, Laguna wouldn't be named as such if it doesn't stay true to its Spanish/Italian meaning that is "lagoon."
But for the town of Luisiana, we chose Hulugan Falls simply because it became a sensation. From previously being almost a virgin spot that only a few know, now the tourism in the area has given livelihood to its citizens. There are two smaller falls beside it, the Talay Falls and Hidden Falls but Hulugan Falls has the most impressive sight with its towering height. Visit from December-February if you don't want the weather to ruin your trip. But for those who want less crowd, March-May is advisable, just make sure to ask the local guides first if there is enough water, otherwise, it might not look as impressive as it should be.
How to get there: Go to bus stations in Cubao or Taft and ride a bus heading to Sta. Cruz, Laguna for P160. From the Sta. Cruz terminal, ride a jeep going to Lucena or Lucban and alight at San Salvador where there is a P30 tricycle ride going to Luisiana and tell the driver to drop you off at "Bahay ng Kapitan." The guide fee is P100.
Taytay Falls (Majayjay, Laguna)
View this post on Instagram
And since you're now in Laguna, you might want to visit the nearby quiet town of Majayjay which lies at the foot of Mt. Banahaw. If you used to watch the teen series Tabing Ilog before, you might recall the cast frolicking in a falls, that is the Taytay Falls. This 12m-high oasis in the middle of the jungle is actually a series of seven waterfalls. The hike going to the final waterfall, which is the largest of them all, is 30 minutes. Also known as Imelda Falls, named after ex-first lady Imelda Marcos who financed the tourism of the falls, this attraction has become popular because of its crystal clear and cold waters. Campers are also welcome here!
How to get there: Go to Buendia Bus Terminal in Taft and ride a bus going to Sta. Cruz, Laguna and alight at Sta. Cruz Market. Ride a jeepney and tell the driver to drop you off at Majayjay Jeepney Terminal. Take another jeepney going to Taytay Falls. Upon getting to the entrance, you have the option to take another tricycle or walk, if you're more adventurous.
Buruwisan Falls (Siniloan, Laguna)
View this post on Instagram
The last stop from our Laguna series (there are just too many falls in here) is the pride of Siniloan, a town situated in the northeastern part of the province, near the provinces of Rizal and Quezon. Buruwisan Falls is located 15 minutes away from the foot of Mt. Romelo, another famous campsite in Laguna. There are nine waterfalls in this area but Buruwisan is the most eye-catching of all, with a height of 50 meters. With such altitude, you can also go rappelling from the top before finally indulging yourself in its cold, turquoise waters.
How to get there: From Shaw Boulevard, ride a van going to Tanay, Rizal for P70. Take a jeepney with a signboard, Tanay-Siniloan for P50. Upon arriving in Siniloan, pay P10 for a day trip or P50 for overnight camping. If you're going to get a guide, it will be P1000 for four persons, or at least P250 each.
Daranak Falls (Tanay, Rizal)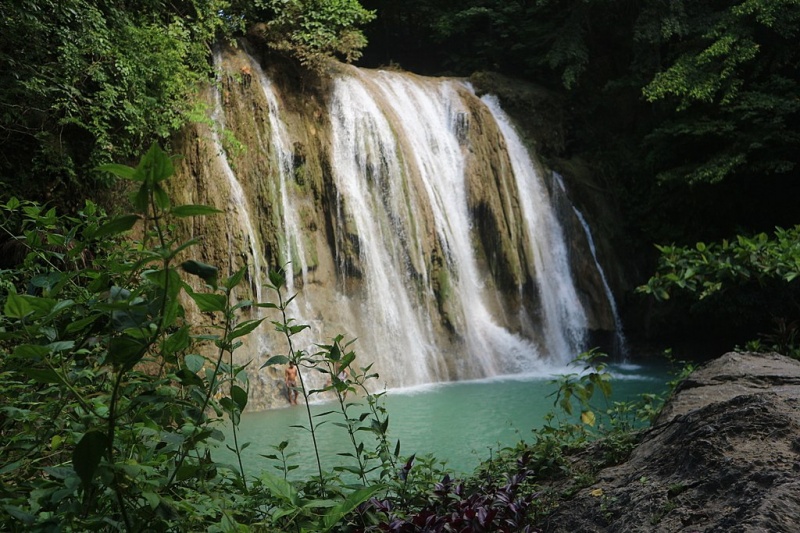 We've pretty much explored the under-the-radar gems of Laguna, it's time to visit another hotspot for falls—the province of Rizal. One of the more popular ones is Daranak Falls, mainly because of its clear turquoise waters, almost similar to Kawasan Falls in Cebu, but it's just near to the metro. It has also become a famous spot for bikers. The descent on the road heading to the falls is also steep, make sure to be extra careful.
If you're brave enough, you can also do cliff-jumping from these 14m-high falls, just be mindful of where the shallow and deep areas are. There are also shaded areas for you to enjoy your picnic. Bear in mind that plastic is not allowed here.
How to get there: Take a bus to Taytay and alight at Cainta junction. From there, take a jeep going to Tanay Public Market Transport Terminal and tell the driver you're going to Daranak Falls Tricycle Terminal. The tricycle ride going to the falls would be P200 and can accommodate up to four people. Pay P50 for the entrance.
Eva Falls / Talon ni Eva (Doña Remedios Trinidad, Bulacan)
Let's head further to the north. DRT for short, this municipality takes up almost a third of the entire province of Bulacan and now it's gaining traction as a popular destination for bikers and motorcycle riders. This is also a hotspot for waterfalls. Eva Falls is one of the easily recognizable ones. Fun fact, Talon ni Eva is actually named after a guy called Evaristo, an ancestor of the Dumagat tribe that settles here. the
Talon ni Eva is a 30m-high gem surrounded by hills and forest of Sitio Tubigan, Barangay Kalawakan in DRT. The trail going to the falls is 4km. Part of the adventure is crossing the Malpisa River before finally arriving at the cascades of Talon ni Eva.
How to get there: The easiest route would be coming from Commonwealth Avenue in Quezon City that passes through SM Fairview and North Caloocan. Once you get past the border of NCR, head into Bulacan province by traversing through the municipalities of San Jose Del Monte, Norzagaray, and finally DRT. Pay P40 for the environmental fee. For guide, P500 is good for 5 persons, with an additional of P100 for another extra person.
READ MORE:
This Rest House in Cavinti Gives You an Exclusive View to Breathtaking Falls
Go on a Tropical Escape at the Heart of Pansol, Laguna at This Private Villa
Who Says Cabins are Only for Mountains? This Cabin Resort in Bulacan Will Take Your Breath Away
This Staycation Spot in Tanay Has a Villa with an Instagrammable Hammock for Stargazing