5 of the Most Exciting ATV Destinations around the Philippines
Let's get ready to rumble!
by Kara Santos | December 01, 2016
Mountain bikers and motorcyclists know that one of the best ways to explore the countryside is by going off the beaten path. Still, for those who don't know how to bike but want to experience the thrill of going off-road, an ATV is your best option.
All-terrain vehicles or quad bikes are open vehicles operated like motorcycles. But since they have four wheels, they are more stable going over a wide variety of rough terrain at slower speeds.
Here are five destinations around the Philippines you can explore via ATV.
Mayon Lava Trail, Albay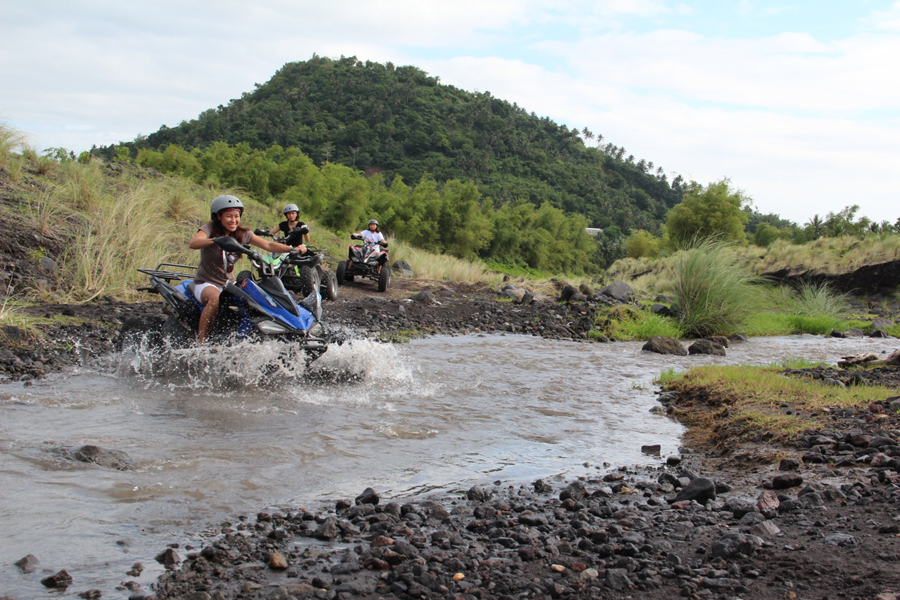 One of the most popular destinations for ATV tours in the country is Mayon Volcano in Bicol. The route here shifts from smooth grass-lined soil and dirt paths to a sea of rocky terrain. It's a thrilling and tricky ride to navigate over the huge boulders, steep descents, small streams and volcanic turf. All the while, you get a gorgeous view of Mayon Volcano's perfect cone.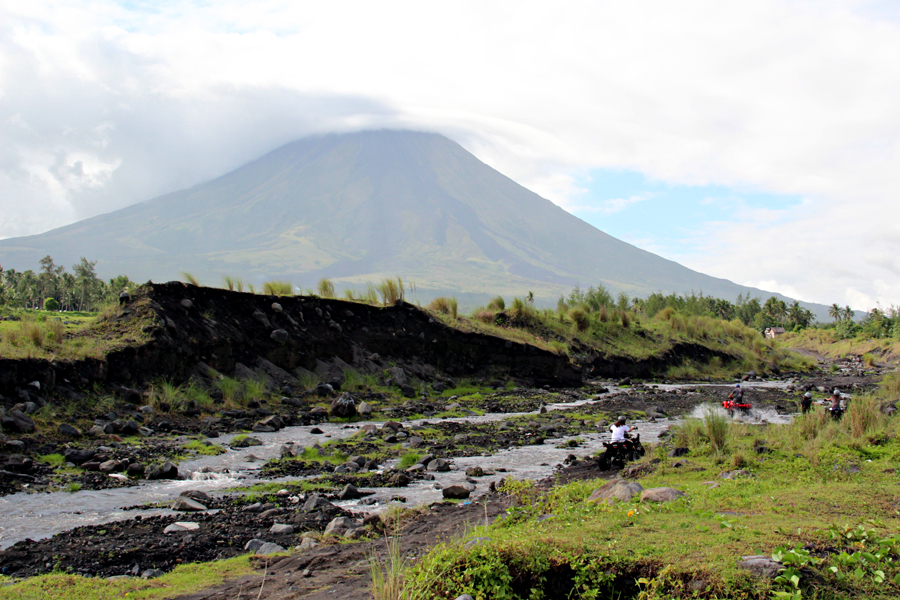 While simply sightseeing Mayon is already a tourist draw in itself, the two-hour long, 18-km (back and forth) rough ride and hike up to the lava front is a thrilling adventure you can add to your adventure bucket list.
Cost: Tours start at Php 599 (45 minutes) to  Php 7,500 (4 hours) depending on the ATV model and route difficulty (Mayon ATV Challenge, Mayon to Base Camp, Advanced Trail, Mayon ATV Summit)
Tour operator: Your Brother Travel and Tours ATV Service Provider. Legazpi City Albay.
Chocolate Hills, Bohol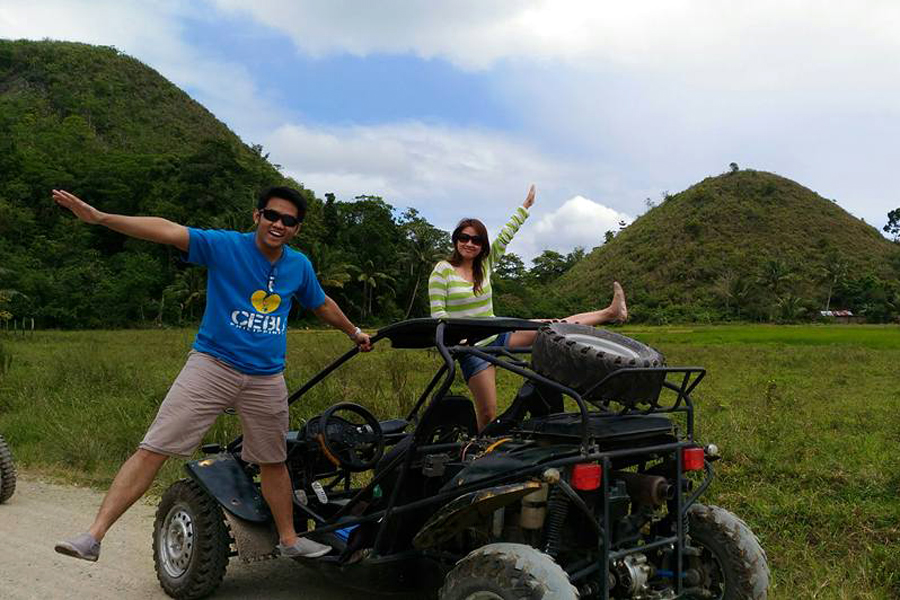 Anyone who has been to Bohol has admired the Chocolate Hills from afar. Usually, the most common vantage points are view decks are the "Chocolate Hills Complex" in the town of Carmen and Sagbayan Peak, a mountain resort in Sagbayan town.
But you can also explore the Chocolate Hills in a more adventurous way with the ATV Eco-Adventure Tour. The tour can range from 30 minutes (five kilometers) to an hour (12 kilometers) following established routes around Three Sisters and Eight Sisters Hills, driving through the hills, unpaved muddy roads and mini rice terraces.
Aside from the standard ATVs, Bohol also offers Dune Buggies that can seat two people, which makes this a perfect date for adventurous couples.
Cost: ATV – Php 450 (30 minutes) to Php 850 (1 hour); Buggy –  Php 850 (30 minutes) to Php 1,500 (1 hour), P250 per head if you ride in the back
Tour operator: Graham ATV and Bug car Rental and Chocolate Hills ATV Rental, Buenos Aires Carmen, Bohol
Pinatubo Crater Trail, Tarlac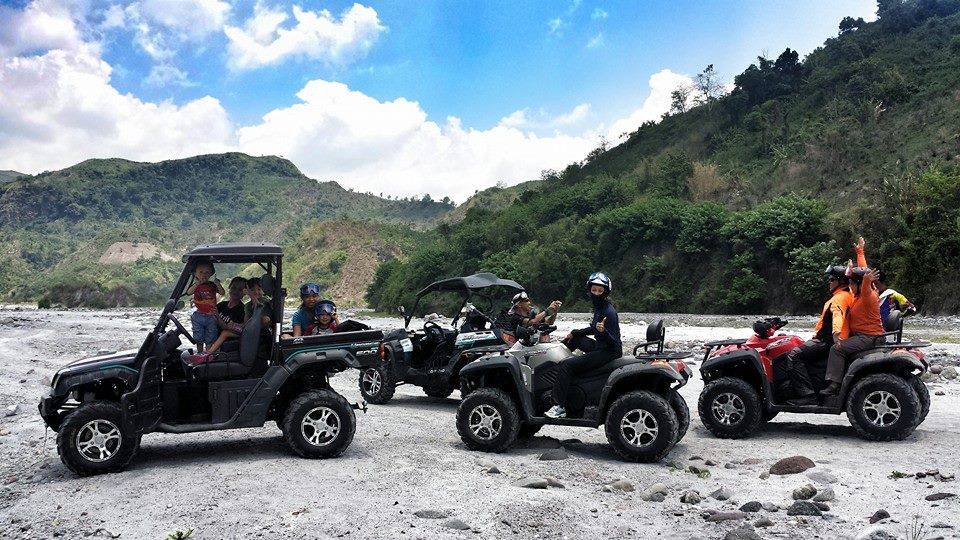 The terrain surrounding Mt. Pinatubo is a desolate landscape that wouldn't look out of place in a Mad Max film. On this dusty desert crossing, the rock gardens and streams is just surreal.
While most visitors who come to hike to the lake hop on a 4 x 4 jeep, you can drive there yourself on an ATV!
Capas ATV Adventure provides guided tour to several locations navigating the rugged terrain. Expect to get wet and wild as drive through the apocalyptic landscape of lahar-filled boulders, passing through towering valleys and dusty river streams along the two-hour long Tambo Lake Route or 7-8 hour long drive all the way to the scenic Pinatubo Crater Lake in neighboring province Zambales.
Cost: Php 1,800 (45 mins) to Php 9,500 (7-8 hours) depending on the ATV model and route (Lahar Short Trail, Tambo Lake Trail, Pinatubo Crater Trail)
Tour operator: Capas ATV Adventure, Sta. Juliana, Capas, Tarlac.  
Danasan Eco-Adventure Park, Cebu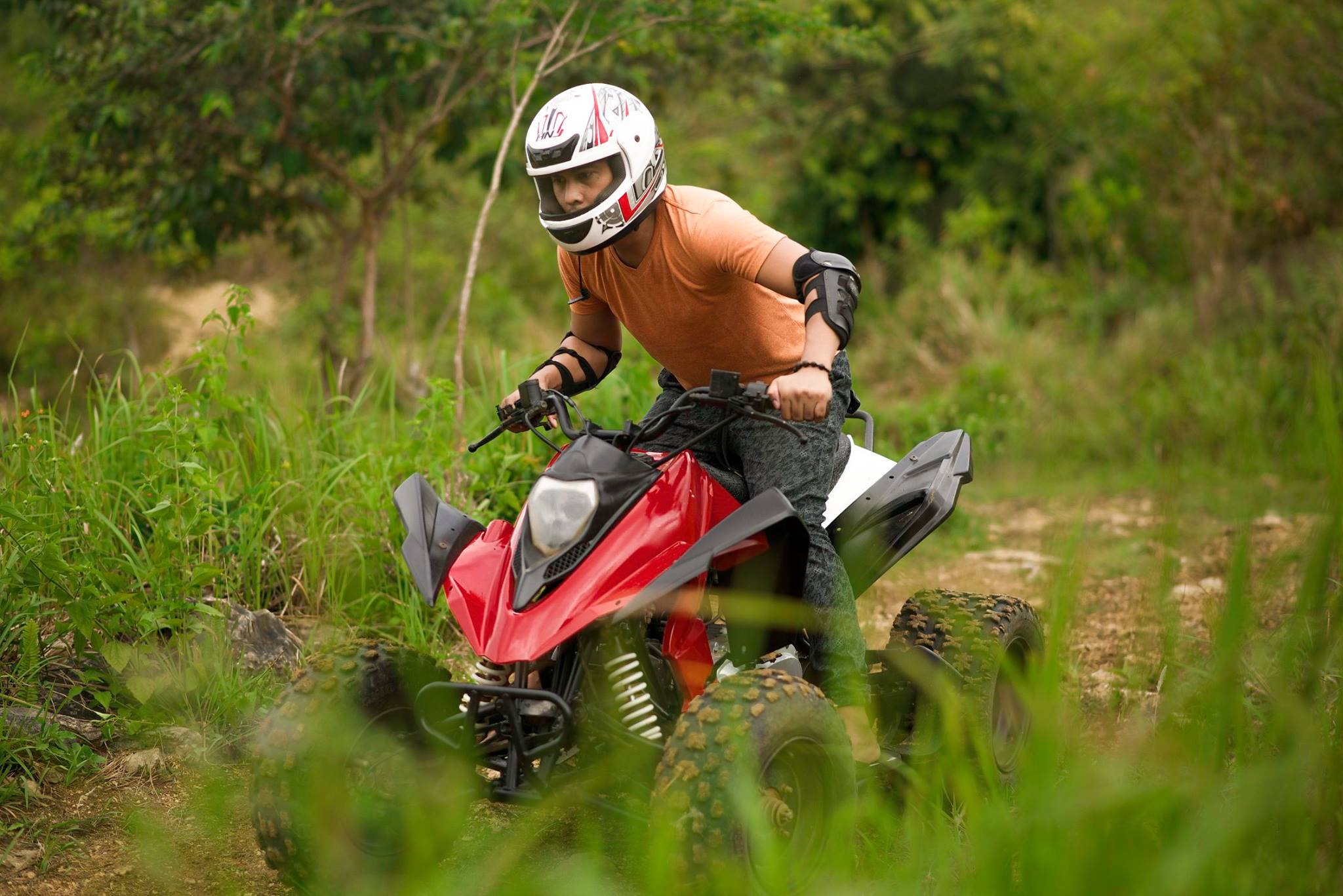 Danasan Eco Adventure Park is an adventurers playground in the highlands of Danao, roughly two hours away from Cebu City. Here, you can rappel down waterfalls, go spelunking in caves, hike up mountains, try a Tyrolean traverse and do a host of other fun activities.
Because of the rough winding roads on the mountainsides, getting to the park attractions usually requires riding on a modified tractor, horseback or 8×8 vehicle. For the ultimate thrill, hit the hillside trails that wind around the inner part of the park compound instead.
Cost: The ATV ride costs Php 500 or one yellow adventure pass per head.
Tour operator: Danasan Eco-Adventure Park, Cebu.
Forest and River Trail, Rizal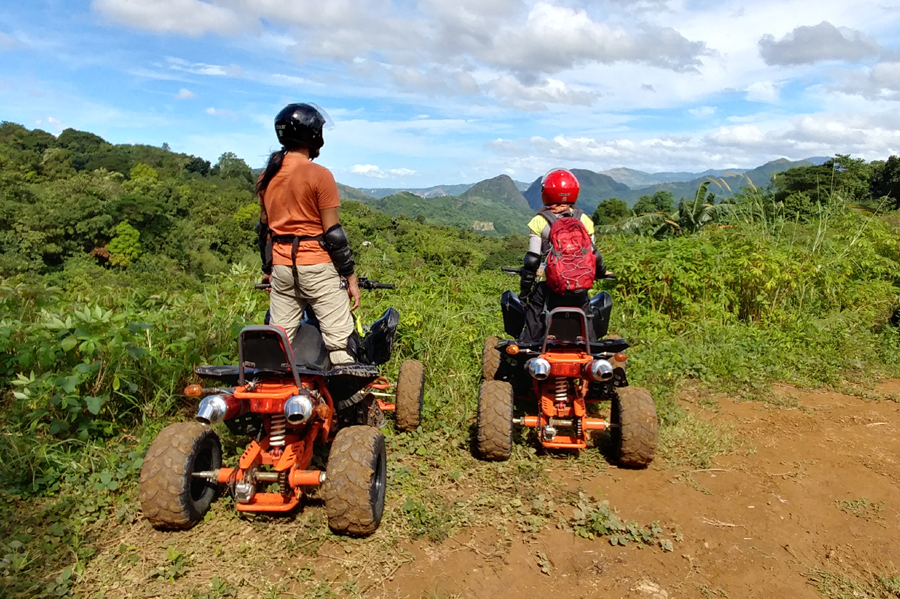 Probably one of the places closest to Manila where you can try riding an ATV is Rizal. The Sierra Madre mountain range east of Manila offers numerous off-road trails where you can ride through forests, beside river trails, or visit scenic spots with overlooking views.
ATV Adventures Rizal offers two types of tours where guests can drive 150cc ATVs/Quad Bikes. The two-hour forest trail passing pine trees and forested areas along muddy off-road trails is ideal for beginners. You get to enjoy a lookout point where you can see the whole of Metro Manila.
Meanwhile, the River Trail passing through remote trails and local communities, will take about three to four hours. It's a 14 kilometer-long trail leading down to a portion of the Marikina River, where you can swim or take a dip (during the dry season). There is a stop off point with some great mountain views. This tour is more challenging than the forest trail since it involves a lot of technical downhill and uphill sections.
Cost: Php 2,500 (forest trail) to Php 3,500 (river trail) per person
Tour Operator: ATV Adventures Rizal, Sapinit Road in Antipolo, Rizal, just 50 metres from Bikers' Camp Antipolo. 
Know of other awesome destinations for ATV tours around the country? Let us know in the comments.