Top Places You Can Rent For a Fun Getaway with Family and Friends
Here are vacation spots that can easily accommodate large groups!
by Seph Montajes | June 21, 2016
It's never too late or too early to plan your vacations. Besides, one of the best things about living in a tropical country is that you can always have that exciting summer vibe. The best people to spend your getaways with? Definitely everyone you're closest with – and we mean everyone. Here's a list of places to spend a gratifying weekend when you're with a large group.
Sundowners Vacation Villas (Bolinao, Pangasinan)
Accommodations cost PHP13,000/night for 20 pax
Santorini is now within your reach – Santorini-inspired vacation villas, at least. Only 5 hours away from Manila, Sundowners Vacation Villas offers a tranquil experience away from the city. Villas vary in size and you can rent one depending on the size of your group. The largest villa can house up to 20 persons, and what's good about these villas is that you can bring and cook your own food, allowing you to feel that "home away from home" vibe. The place doesn't have a beach, but pool areas are exclusive to guests. If you want to go to the beach though, Patar White Beach is only 20 minutes away from Sundowners by car.

Acuaverde Beach Resort and Hotel (Laiya, Batangas)
Accommodations cost PHP2,000/cabana for 10 pax
Acuaverde is the ideal place to hold group activities under the sun. The place boasts of white sand and the sapphire waters of Laiya Beach. Although a cabana rental is only available for a day tour, package inclusions are the following: use of resort facilities from 8:00AM to 5:00PM, welcome drinks, AM snack, lunch, and PM snack, use of team building activities for corporate bookings, free use of kayak, and WIFI Access. If your group really wants to stay overnight or longer, you may opt to stay in separate rooms. Acuaverde is also pet-friendly so your furry friends can join the trip.
Tan's Guesthouse (Boracay, Aklan)
Accommodations cost at least PHP8,500/night for 10 pax
There are already a lot of budget hotels in Boracay, but not all can house a large group of people. Tan's Guesthouse has received a number of positive feedback: the staff is accommodating, the rooms are clean, the location is quiet, the beach is accessible (although it is not beach front), and the place makes guests feel safe. The best part? It's located in Station 2 where D'Mall is.
Woodsborough Log Homes (Tagaytay)
Accommodations cost PHP4,857/night for 14 pax
If your group prefers to stay in a cold, cozy place, then this Airbnb house is for you. These houses have a country-inspired architecture and this particular property has 3 bedrooms, 3 bathrooms, and 6 beds. It is situated in a quiet and exclusive subdivision on the road leading to Antonio's and The Puzzle Mansion.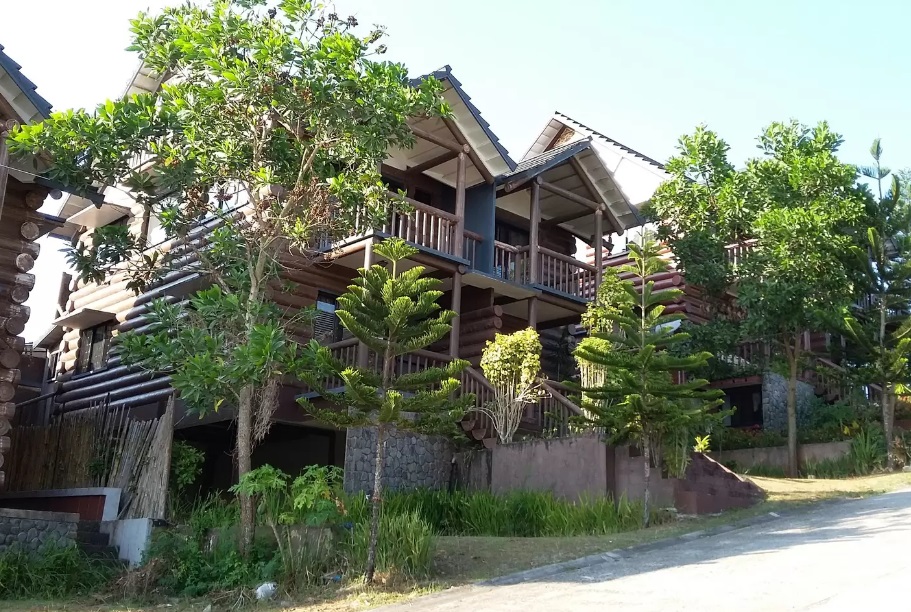 Tali Beach House (Tali Beach, Batangas)
Accommodations cost at least PHP18,000/night for 20 pax
Tali Beach is an exclusive gated community only two and a half hours away from Manila. This one has a swimming pool and is near the famous Tali Cliff where you can go cliff-diving. It has three bedrooms, 5 toilet and baths, a parking space, basic kitchen amenities, and a billiard table in the attic. Who's in for an epic house party?